The 2024 Ford F-150 doesn't look much different than the outgoing model, but don't let that familiarity fool you. Engineers have made some hugely important upgrades to this truck for the latest model year, particularly regarding the PowerBoost hybrid powertrain.
As you would expect for a midcycle refresh, the 2024 F-150 still rides atop a fully boxed, high-strength steel frame. This truck's body and bed are made of "military grade" aluminum alloy and the popular pickup promises best-in-class payload and towing capability, no surprises here. Really, the biggest changes are to the powertrain lineup and how Ford has repackaged options and features.
But before diving into all that, there is one major change of note. The '24 F-150 debuts the new Pro Access Tailgate, Ford's retort to GM and Ram's gussied-up bed-end swing panels that have been on the market for several years now. In simple terms, engineers have fitted a door to the middle of the tailgate. Swinging open from the driver's side, this design gives you easy access to cargo the box.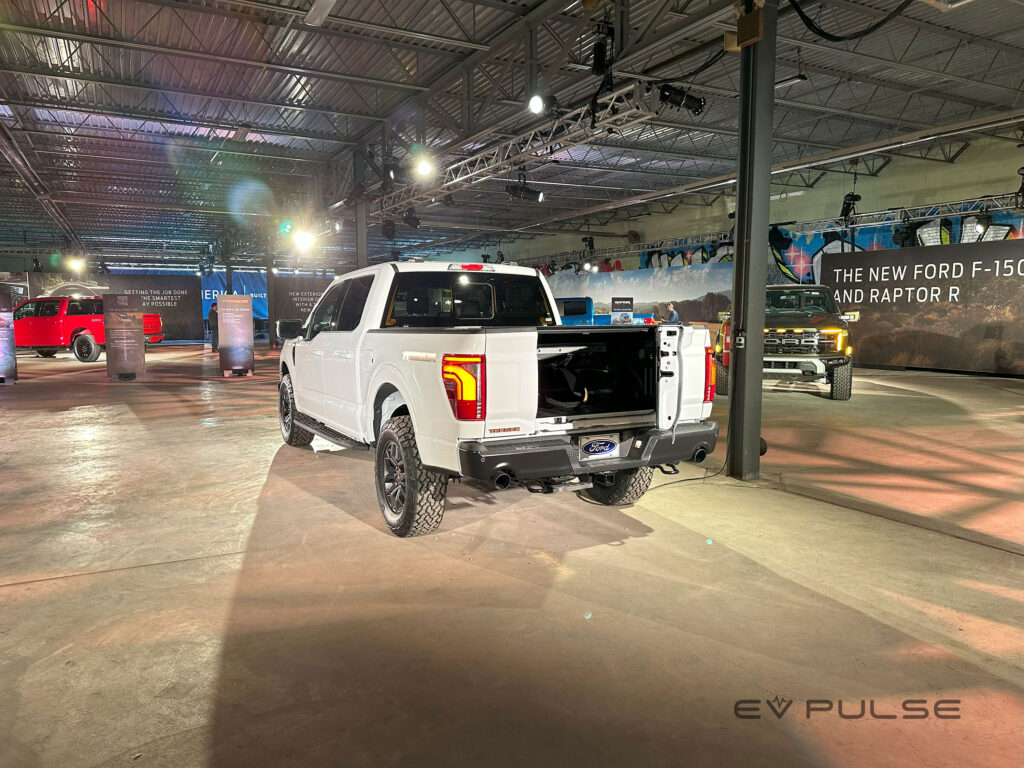 The Pro Access Tailgate has checks at 37, 70 and a generous 100 degrees. The narrowest angle allows you to carefully climb into the bed with a trailer or camper attached, the detent keeping the door from crashing into the trailer jack or other parts. The bumper cutout has also been deepened and widened to make it a better step, there's a convenient hand grip location and (depending on model) the trailer electrical ports have been moved to the passenger side, so there's no risk of tripping over them when climbing aboard. Of course, if all this fanciness is too much for you, a conventional tailgate will also be available, including one with an integrated step like Ford has offered for years.
The Pro Access Tailgate isn't as versatile as GM's ingenious MultiPro Tailgate, which looks like a tailgate within a tailgate, but this setup is still ingenious and very similar to Ram's barn door-style Multifunction Tailgate.
There are no earth-shattering surprises under the '24 F-150's hood, but the automaker is pushing the PowerBoost hybrid drivetrain in a big way by doubling production for the latest model year. Broadening its appeal, this gasoline-electric setup will be priced the same as the 3.5-liter EcoBoost V6, a savings of about $1,900, which is nothing to sneeze at. This drivetrain will be available from the XLT trim up to the new Platinum Plus grade and will deliver the same 430 horsepower and 570 pound-feet of torque as before.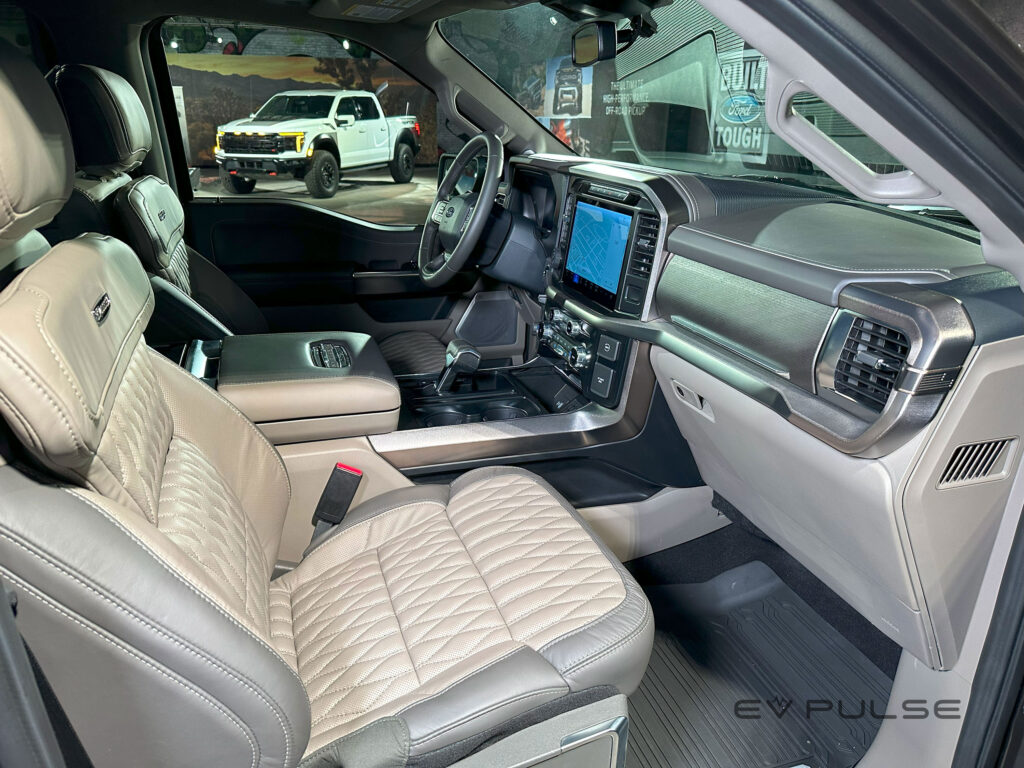 For those of you not interested in a hybrid, there's one other powertrain change of note. The naturally aspirated 3.3-liter V6 has been dropped; the 2.7-liter EcoBoost V6 will be the new base powerplant, and what a lovely little engine it is — potent, smooth and efficient. Depending on the model, you'll also be able to get a 5.0-liter V8, a 3.5-liter EcoBoost V6, a high-output version of that engine and, of course, a supercharged 5.2-liter V8 in the Raptor R, a powerplant that Ford is hinting will get a boost, but nothing is confirmed at this time.
Another major change for the new F-150 is how options and features have been repackaged. This is kind of boring but also hugely important. Basically, engineers have eliminated the number of orderable build combinations by 90% compared to the outgoing model. This sounds bad for consumers, but it shouldn't be because they took away no features, just repackaged the ones everyone is already buying. This will make purchasing an F-150 far easier, plus it should reduce costs and improve vehicle quality.
There's very little to cover inside the updated F-150. The 2023 model's cabin is excellent, and this one is nearly identical, though there are a couple important upgrades. A 12-inch digital instrument cluster is now standard across the range, ditto for a 12-inch touchscreen. An ever-helpful head-up display is newly available for 2024 as well. BlueCruise 1.2 will now be offered in the F-150, complete with in-lane repositioning and automatic lane change capability. And finally, 10 advanced driver aids will be standard equipment, amenities including automatic emergency braking, blind spot monitoring and lane-keeping assist to name a few. An exit warning system will also be offered, to help prevent people from opening doors into pedestrians or other traffic.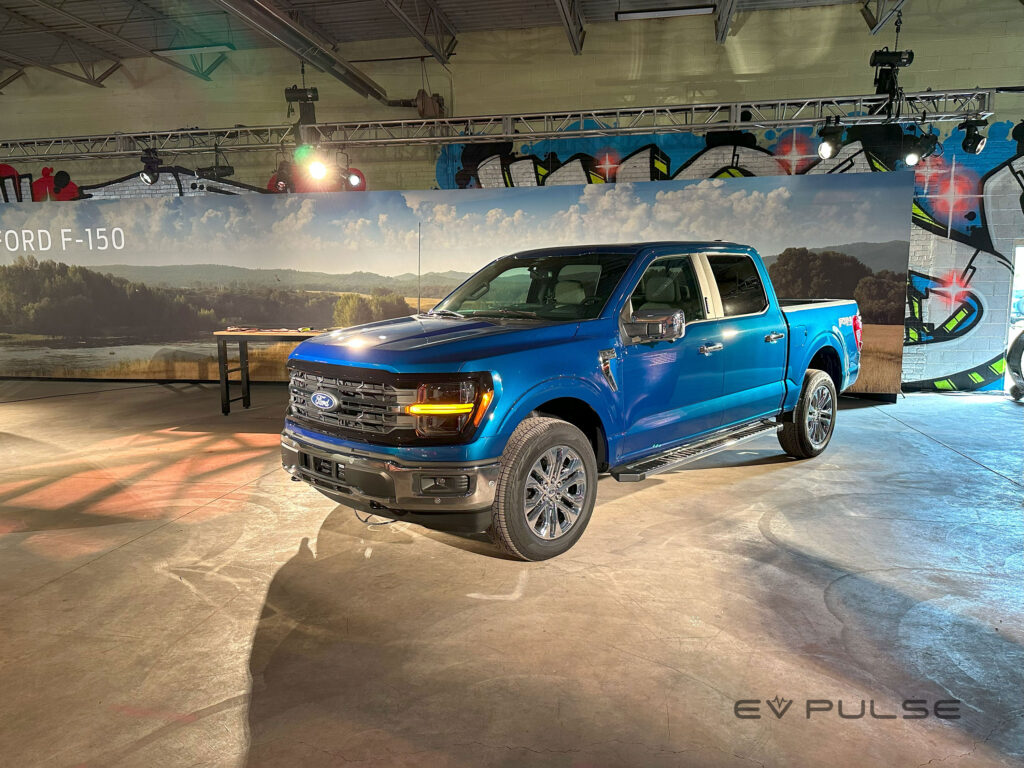 At the end of the day, the updated Ford F-150 is all about careful optimization, not complete overhaul. Engineers have taken an already great truck and made it even better for 2024 by making a host of small – but significant – changes. As for availability, you should be able to preorder one of these pickups right now. Expect the new F-150 to start at around $36,000 for a base model and go up from there, way up in the case of the Platinum Plus and Raptor R trims.
Watch our first look video