Are you looking to expand the cargo capacity of your EV? Perhaps you and your family often take road trips and can't always pack everything into your vehicle. Whatever the reason is for needing more cargo capacity, you have a few options available; but in this post, we'll be focusing on hitch cargo carriers.
You can think of hitch cargo carriers as a bit like a trailer, but less intrusive and much easier to use and install. A foldable carrier is even more convenient, since you can just leave it on your vehicle even when it's not being used. Basically, a hitch cargo carrier connects to your hitch and expands your cargo capacity in the form of a large basket. They're rather simple in their design, with most of them boasting a mesh floor and easy ways to strap down your cargo.
Shopping for a hitch cargo carrier isn't very straightforward however. While many of the products do look similar, it's difficult to gauge the quality of their construction without being able to see the welds up close. Typically, to keep costs down, most cargo carriers will be constructed from mild steel and is powder coated to help resist rust and corrosion. This means that rust is always a possibility unless you get a stainless steel or aluminum cargo carrier. It's something to consider if you live in an area that sees a lot of rain or snow and your cargo carrier is often left outside.
One of the main factors you need to consider when shopping for a hitch cargo carrier is the size that you need. These carriers do come in different sizes and we did our best to give you a variety of options to choose from in our list of recommendations. We picked from reputable brands within the industry, while a couple of our recommendations do come from overseas manufacturers but have positive user reviews.
Following our recommendations, you can find more information about hitch cargo carriers, what to look for when shopping for one, and how to pick the best one for your needs.
1. Top pick: CURT basket hitch cargo carrier (60″ x 24″)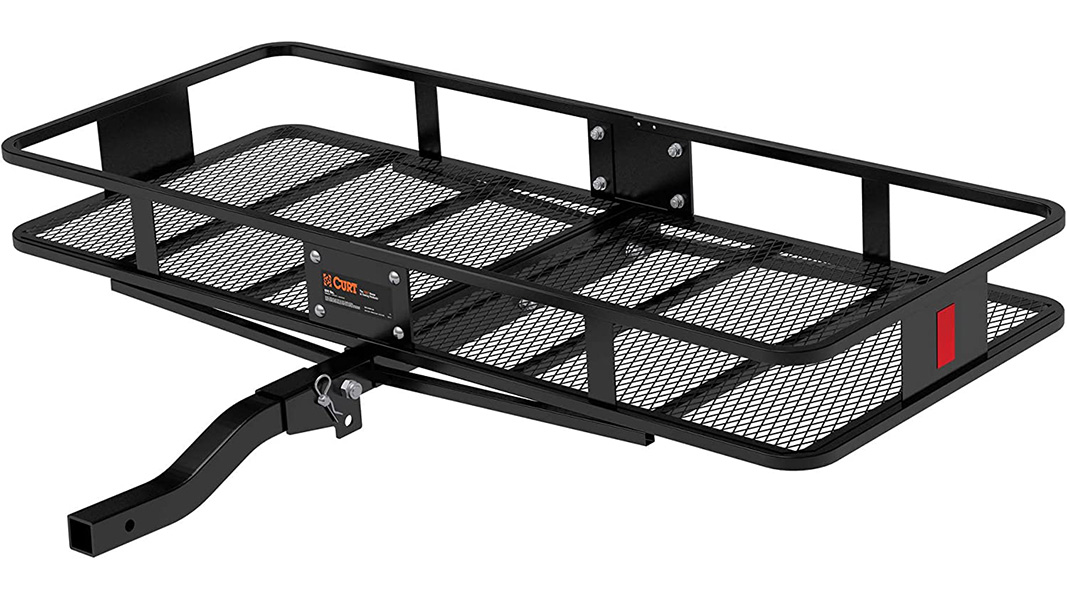 CURT is one of the most well-known brands in the towing industry, with the company's history beginning in 1993 as a trailer ball distribution business. Two years later, CURT designed and manufactured its first custom-fit receiver hitch and in 1999, it built a 75,000-square-foot facility in Eau Claire for its headquarters. Most recently in 2019, CURT joined the Lippert family, a leading and global manufacturer in the leisure and mobile transport industries. It goes without saying that CURT knows a thing or two about trailer accessories and has the manufacturing experience to support its products.
That's why this hitch cargo carrier from CURT is our top pick, made from heavy-duty carbide steel with a tubular construction. One of the reasons why we like this cargo carrier over others is its 6″ high sides, which helps ensure the basket's contents stay where they should during your trip. This specific recommendation has a 2″ by 2″ bent, folding shank for extra ground clearance and it can fold up when it's not being used. The mesh platform can support up to 500 pounds of cargo.
Rounding off its features is a durable, black powder coat finish that helps fight against rust, scratches, and UV damage, while integrated reflectors ensure visibility of the cargo carrier at night. This hitch cargo carrier fits 2″ receivers and measures 60″ by 24″ by 6″.
2. Runner-up: MaxxHaul hitch cargo carrier (53″ x 19.5″)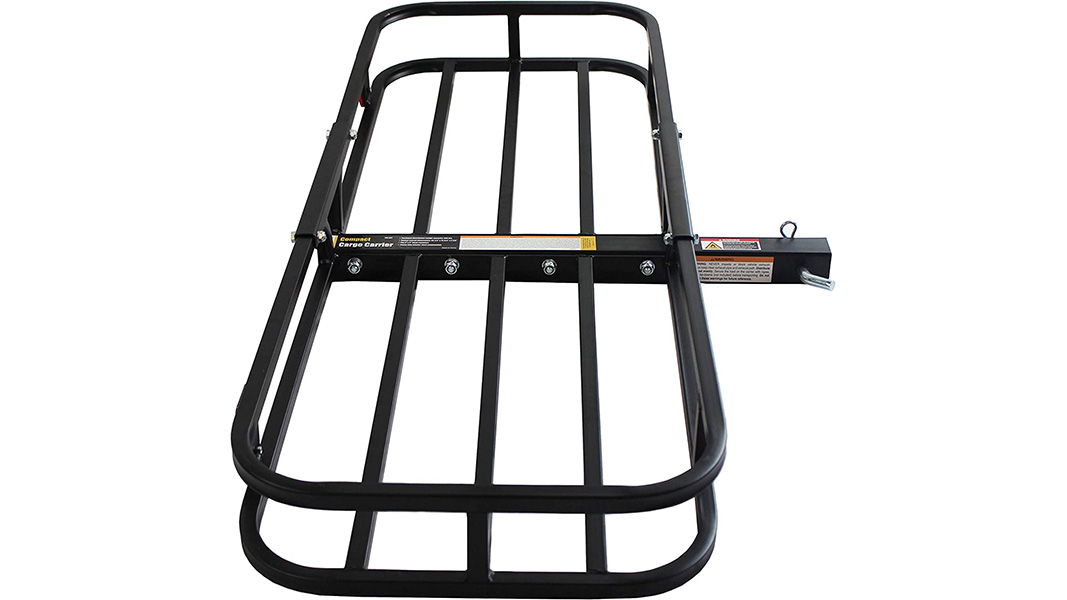 If you plan on only using a hitch cargo carrier once or twice a year and want something more affordable, this recommendation from MaxxHaul should fit the bill. With its affordable price tag, it's little surprise it's manufactured overseas in China, but the company does have a U.S.-based headquarters to support its customers. Still, for occasional use, this hitch cargo carrier will get the job done without having to spend hundreds.
It's constructed from heavy-duty steel and fits 2″ hitch receivers (Class III and IV), with a cargo capacity of 500 lbs when distributed. Built-in reflectors enhance safety, while the powder coat finish will help fight against rust and corrosion. The outer basket dimensions on this cargo carrier measure 53″ by 19.5″ by 4″, while the inside basket dimensions are 51.5″ by 17.5″ by 4″.
Again, we'd recommend this hitch cargo carrier for occasional use. It's a good balance of price and performance, which is why it's our runner-up option.
3. Compact pick: Reese Pro Series hitch mounted folding cargo carrier (48″ x 20″)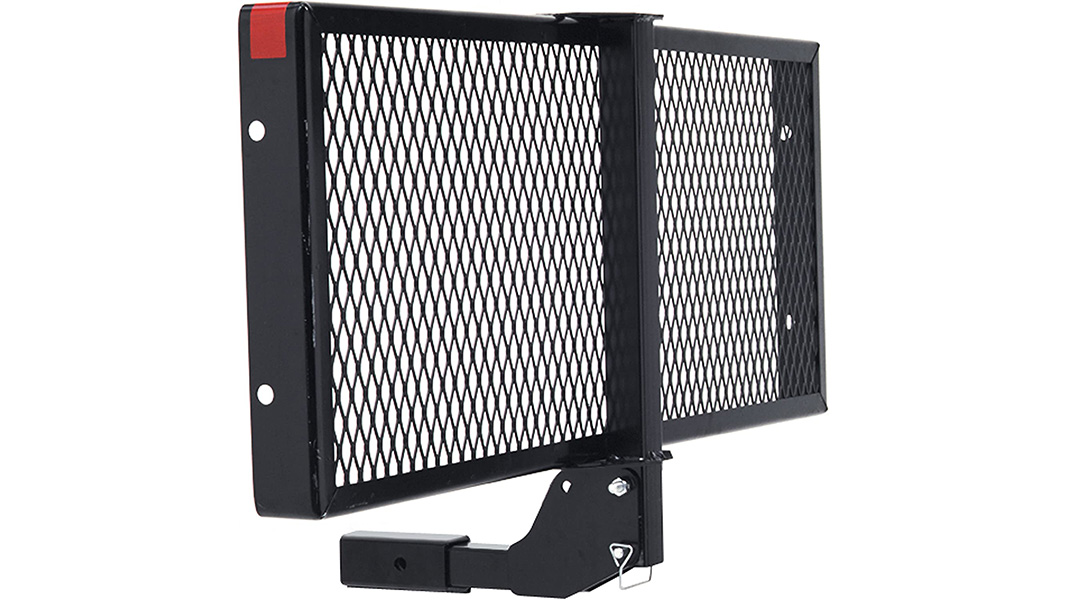 Those who are shopping for a smaller hitch cargo carrier should consider this option from Reese's Pro Series lineup. The inside dimensions measure 48″ by 20″ with 3″ side rails, and it's rated to hold up to 500 lbs of cargo. This option will connect to your 2″ Class III or Class IV receiver and it does have a foldable arm and a rise-shank design for additional ground clearance. On the bottom of the carrier is a mesh floor, while the holes on the side rails make it easy to connect straps or cargo nets. Like many of our recommendations, this hitch cargo carrier is constructed from heavy-duty steel with a powder coat finish to resist rust and corrosion.
The Reese brand has been manufacturing towing-related products since 1952 and is now part of the Horizon Global Corporation, which also owns other well-known brands including Draw-Tite, BULLDOG, Fulton, and Tekonsha. This recommendation is a great option for shoppers who are looking for something smaller and want something that can fold up when it's not being used. It comes from a very reputable brand that has a wide lineup of towing accessories.
4. Complete package: Mockins folding cargo carrier with cargo bag and net (60″ x 20″)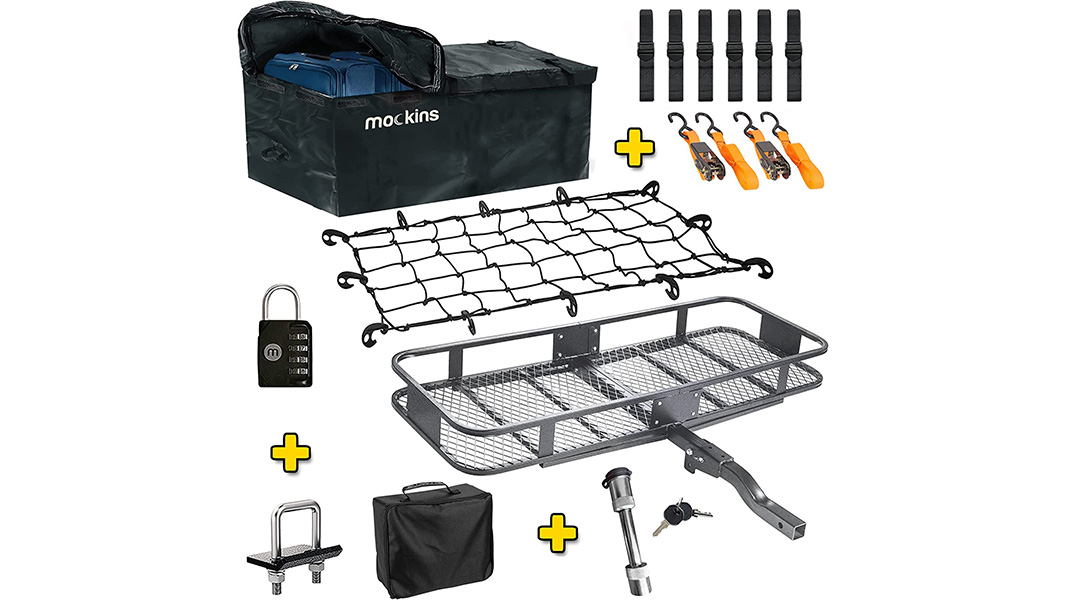 If you're one of those shoppers who just want a complete package that has mostly what you need to expand your cargo capacity, you'll want to take a closer look at this recommendation from Mockins. It bundles a cargo carrier, cargo bag, cargo net, storage bag, a pair of ratchet straps, six standard straps, a hitch stabilizer, hitch lock, and bag lock into one competitively priced option.
The cargo carrier is constructed from heavy-duty steel, measures 60″ by 20″ by 6″, and has a cargo capacity of 500 lbs. The mesh floor is easy to clean and we do like the 6″ sides. Attached to the carrier is a hauler with a 2″ rise for better ground clearance, and the entire carrier is foldable. It'll work with a 2″ receiver, and the included cargo bag measures 57.7″ by 19.4″ by 24″, offering 15.5 cubic feet of storage.
Given the price, all of these products are manufactured overseas in China, so you'll likely run into your typical quality control issues. Most users have been satisfied with their purchase, although there are your complaints about average quality. We'd recommend this for occasional use — if you take multiple trips per year and live somewhere that has lots of rainy or snowy weather, we'd recommend one of our top options instead.
5. Also consider: ARKSEN folding cargo rack carrier with cargo bag and net (60″ x 25″)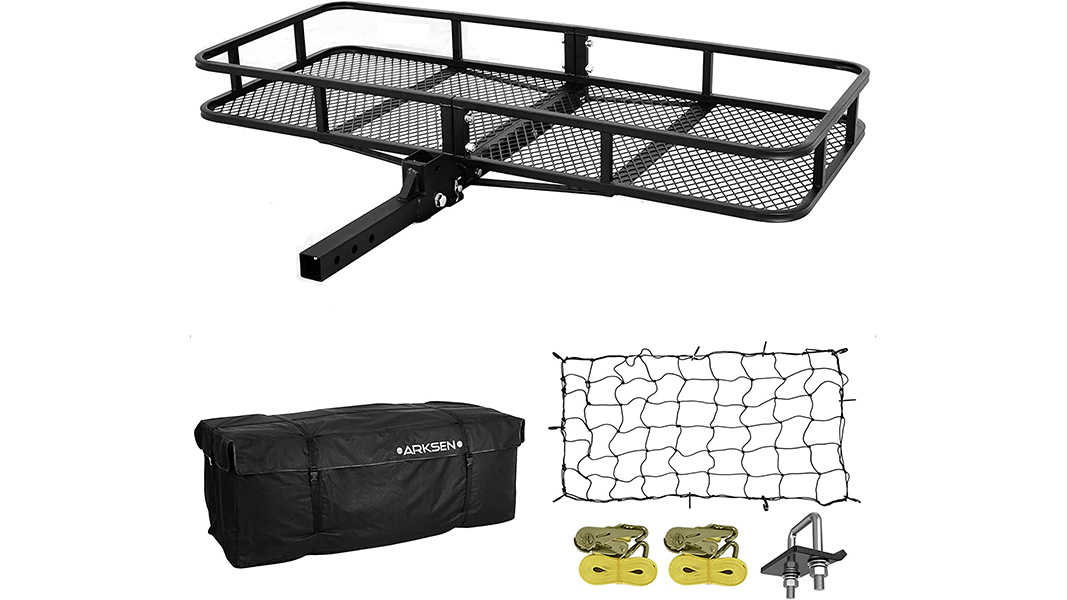 Our final recommendation offers several different options, based on what you need. You can get just the cargo carrier, or a package that includes a cargo bag, net, stabilizer, and straps. There are combinations with just the cargo bag or just the cargo net, cargo bag and cargo net, and even a larger cargo bag.
The hitch cargo carrier from ARKSEN measures 60″ by 25″ but has an inner dimension of 58″ by 23″. It does have 6″ sides, which we like. It's foldable as well and has your typical 500-lb load capacity and black powder coat finish.
If you opt for the complete package, you'll get a water-resistant cargo bag, cargo net, two sets of 16-feet ratchet straps, and a stainless steel hitch stabilizer. The standard cargo bag measures 56.5″ by 19.68″ by 20″, while the "pro" bag measures 58.27″ by 23.62″ by 23.62″. The cargo net has 5mm diameter webbing and measures 60″ by 36″.
Again, at this price the package is manufactured overseas in China and like our previous recommendation, there are some expected quality control issues. The majority of shoppers have had good results but it's definitely more ideal for occasional use. Also, it's worth noting this carrier doesn't have a rise to it, so ground clearance may be an issue for some vehicles.
Hitch cargo carrier or a roof cargo carrier?
This is a very common question, as a roof rack with a cargo carrier is another viable option to expand your vehicle's cargo capacity. When you're comparing these two options, hitch cargo carriers give you easier access to your cargo, without having to reach up to the roof of your car. It's also generally much safer to use. Along with better accessibility, hitch cargo carriers are typically better for fuel economy. Roof racks and roof carriers will affect your vehicle's aerodynamics, reducing your vehicle's fuel efficiency.
What type of trailer hitch do I need?
Every hitch cargo carrier out there should let you know what size trailer hitch it needs. Most commonly, you'll need a Class III or Class IV trailer hitch, which is 2″. Class I and Class II hitches are 1.25″. Naturally, the larger opening on trailer hitches will safely support more weight.
Do I need to install lights for my hitch cargo carrier?
If the cargo carrier or its contents are blocking your vehicle's taillights, then you'll need to install a light kit. We do recommend installing a light kit for extra visibility to other drivers regardless, even if your cargo carrier is equipped with reflectors.
Are hitch cargo carriers safe to use?
Like many accessories for your vehicle, hitch cargo carriers are completely safe to use if they're properly installed. Of course you'll also want to securely strap down your cargo so it stays where it belongs. If your cargo carrier is incorrectly installed however, it poses a danger to you and others on the road. You also don't want to go over the cargo limit, since that can risk breaking the carrier. This goes without saying, but use caution when driving with a hitch cargo carrier. While it's not as intrusive as a trailer, it is difficult to see the carrier itself and whether it's going to accidentally hit something. It can also block your rearview camera, so use all those mirrors like it's the early 2000s.