The Ford F-150 Lightning is one of our favorite electric vehicles here at EV Pulse because it does just about everything extremely well. But what about the base Pro model? Is this stripped-down truck a rolling penalty box or something actually worth buying? The answer might surprise you.
This entry-level version of the Lightning lacks many of the amenities offered on higher-end models, though it by no means feels stripped down or cheap. You still get plenty of welcome features, just no frou-frou fripperies – no BlueCruise, no power-adjustable pedals, no twin-panel moonroof, no fancy leather – in short, no BS.
Aimed primarily at commercial customers, the Pro trim has somewhat limited availability. Everyday drivers can purchase one of these trucks, but only with the standard-range battery, which provides a mere 240 miles of range, probably not enough. The larger pack, with its generous 131-kilowatt-hours of usable capacity and EPA-estimated range of 320 miles is, regrettably, only offered to fleet customers.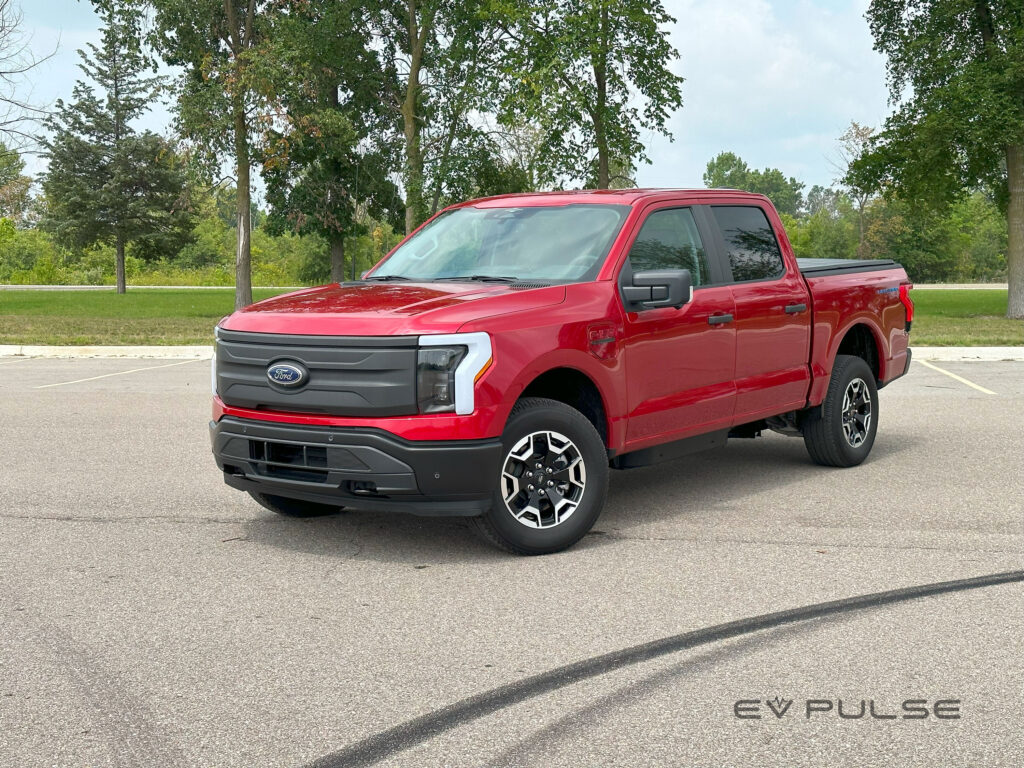 Visually, the Pro trim stands apart from higher-end Lightnings in several ways. The bumpers, for instance, are black instead of body color or chrome. The grille is a slab of matte-black plastic, the mirror caps and door handles are made of the same material, there are no running boards to step on and the truck rolls on relatively small (for 2023) 18-inch wheels.
Two welcome features on this Lightning are optional Rapid Red Metallic Tinted Clearcoat paint, a $495 extra, and a spray-in bedliner for the 5.5-foot cargo box. This latter item is a must-have feature, as it makes the bed nearly impervious to scuffs, scrapes and gouges, plus it's only $595.
Inside, the Lightning's interior is similarly no-frills. Vinyl covers the floors and seats, a material that's durable and should be easy to clean. Ahead of the driver is an injection-molded steering wheel. Usually these look terrible and feel even worse, but this unit is surprisingly nice, being made of a dense foam and treated to a smooth finish. A manual tilt-and-telescoping steering column helps drivers of diverse sizes get comfortable behind the wheel.
Of course, there are plenty of hard plastics inside this all-electric F-150. Most of the dashboard is made of rigid polymers, as are upper portions of the door panels. The armrests are, however, soft, if just barely. A little more padding for elbows would be appreciated.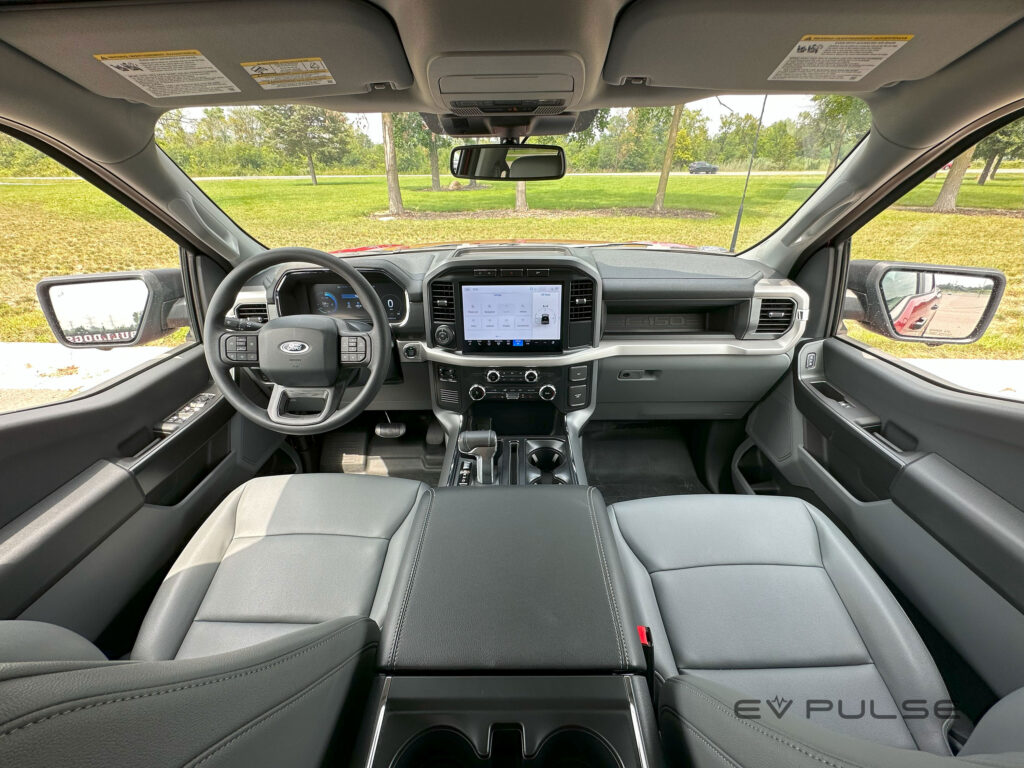 You also get amenities like power windows, locks and mirrors, so no surprise there. There's an easy-to-read digital instrument cluster and a massive 12-inch touchscreen that runs a Sync 4 infotainment system. This setup is intuitive and mostly responsive, though it does stutter on occasion, in particular, pinching and zooming on the navigation map can be pretty janky. Apple CarPlay and Android Auto are included, and both smartphone-mirroring systems can connect wirelessly.
The manually adjustable front buckets are all-day comfortable and rear seat passengers are well taken care of, too. This truck's SuperCrew body is gargantuan, with vast amounts of headroom and legroom. Passengers in the rear seat are also treated to several USB ports, a 120-volt household outlet, a 12-volt power socket and air vents, though there is, unfortunately, no fold-down armrest. Additionally, the comfortable rear bench seat is divided, with the split lower cushion flipping up, making it easy to haul large amounts cargo. With a nearly flat floor, it's also a breeze to slide bulky items right inside.
Aside from a nice paint job and spray-in bedliner, this Lighting Pro is fitted with a few other options. The $1,950 Tow Technology Package lets you steer the pickup with a dashboard-mounted knob while reversing a trailer. This options group also includes a trailer brake controller and a much-appreciated 360-degree camera system. The $1,100 Max Trailer Tow Package allows this truck to drag up to 10,000 pounds, and the available $500 mobile power supply conveniently lets you either Level 1 or Level 2 charge; just swap the plug end and you're good to go.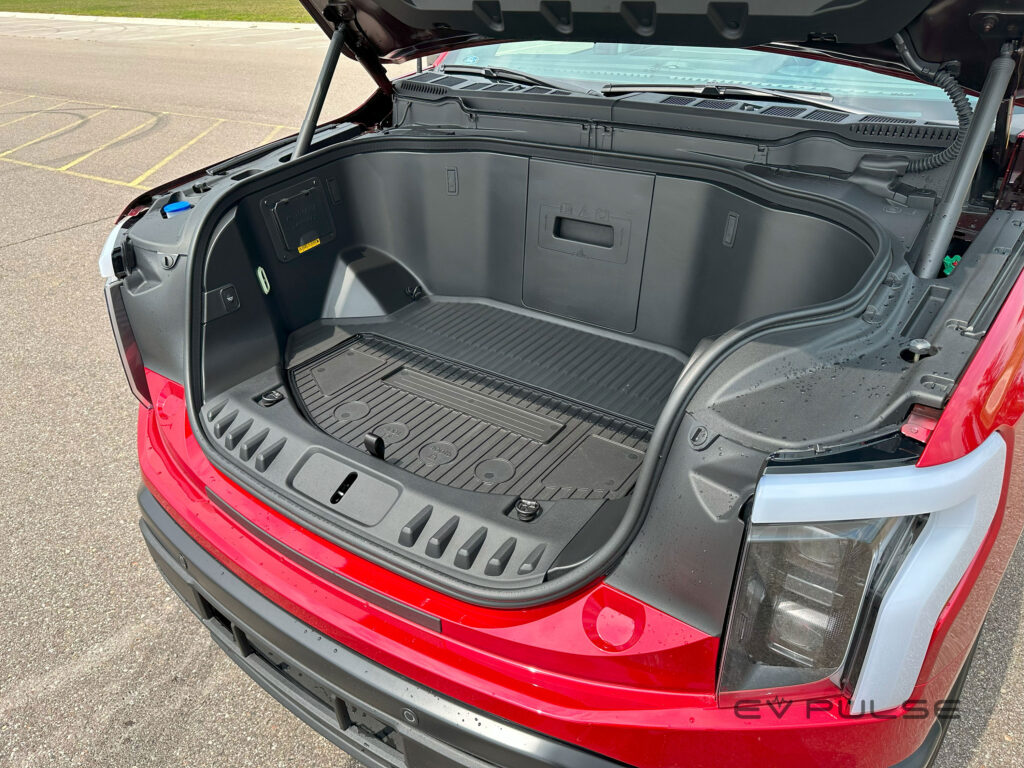 One particularly useful option is Pro Power Onboard. This basically turns your F-150 into a massive, mobile power supply. Included as standard equipment, the Lightning can export up to 2.4 kilowatts of juice, but for an additional $1,200, you can have up to 9.6 kW of electricity at your beck and call in the front trunk, cabin and bed. With a phalanx of 120-volt household outlets, a passel of USB ports, several 12-volt sockets and even a 240-volt outlet, this truck is ideal for power outages, camping or even powering whole job sites.
Trucks fitted with the extended-range battery pack not only have an estimated 320 miles of range, they also pack a wallop in the form of 580 horsepower and 775 pound-feet of torque. Just like fancier Lightings, this truck is a beast. Acceleration in normal driving is absolutely effortless. You are never, ever wanting for torque, just roll on the accelerator and this thing moves. Punch it from a standstill and the Lighting explodes off the line, shoving you into the seat and sometimes even squawking the tires. It's hard to believe something this big can move so quickly.
As for steering, it's fine for a truck. The ratio is neither too fast nor too slow. But the ride is firmer and busier than expected. When we conducted our towing and range test with a Lariat model last year, that truck's ride was much smoother and more composed.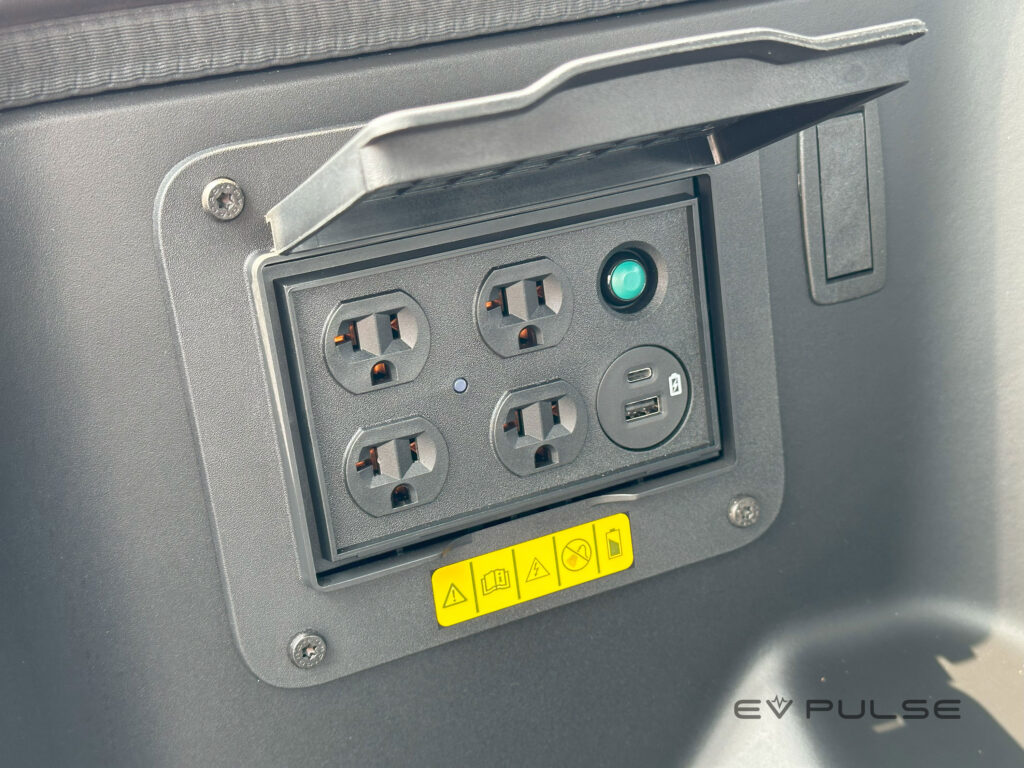 As for DC fast charging, it tops out at a decent 150 kW, though in our EV Pulse Charging Challenge test, the truck did a little better than that, peaking at 155. In our testing, the Lightning needed 46 minutes to go from a 10% state of charge to 80%.
Of course, the Lightning also comes with a one-pedal driving mode that you engage through the infotainment system. Unlike other EVs, this setting is either on or off, there are no gradations in between. Still, the system works well, slowing the truck down to a stop smoothly yet aggressively enough that you never need to touch the brake pedal if you drive with even a modicum of care.
Even though the Pro trim is just the base model, there's still plenty to love about this entry-level Lightning. As it sits, our tester has many worthwhile features, yet it doesn't go overboard with frou-frou fripperies. Beyond that, this truck's acceleration is astonishingly strong, there's plenty of space for passengers and cargo, the seats are cushy and the range is very good with that larger battery pack.
Of course, there are some downsides. A little more padding on the armrests would be nice, this truck's ride is too firm, Ford is perhaps foolishly restricting the availability of Pro models with the long-range battery, and the base Lightning still is not cheap.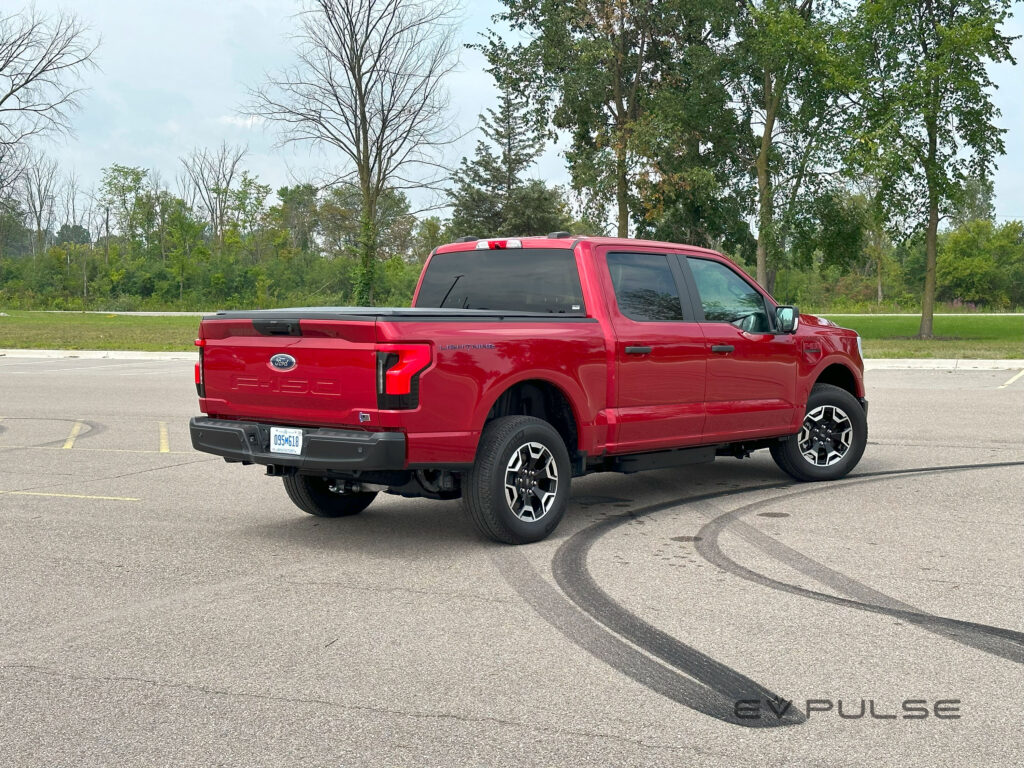 This example's windows sticker says "vehicle not for sale" and lists no MSRP, yet according to the Ford Pro build-and-price tool, this truck goes for about $66,000 including $1,995 in destination fees. That's a lot of money to be certain, though luckily the Lightning is eligible for a $7,500 tax credit, so that certainly helps.
There's plenty to love about this all-electric truck, though it's a real bummer normal drivers can't buy a Pro model with the extended-range battery. For that, you need to step up to the ritzier XLT, Lariat or Platinum trims, each with a commensurately larger price tag.
Watch our video