Although Ford's typically massive booth is noticeably missing from the 2022 SEMA Show, the American automaker still has a large presence with several custom electrified vehicles in Las Vegas. In total, Ford had 10 unique vehicles built for this year's SEMA Show, although some previous favorites made a repeat appearance this year.
According to the American automaker, Ford's personalization and accessories business has grown 40% in the last two years, and some of that success can likely be attributed to SEMA builds. Let's take a look at some of the Mustang Mach-E and F-150 Lightning builds from this year's show, shall we?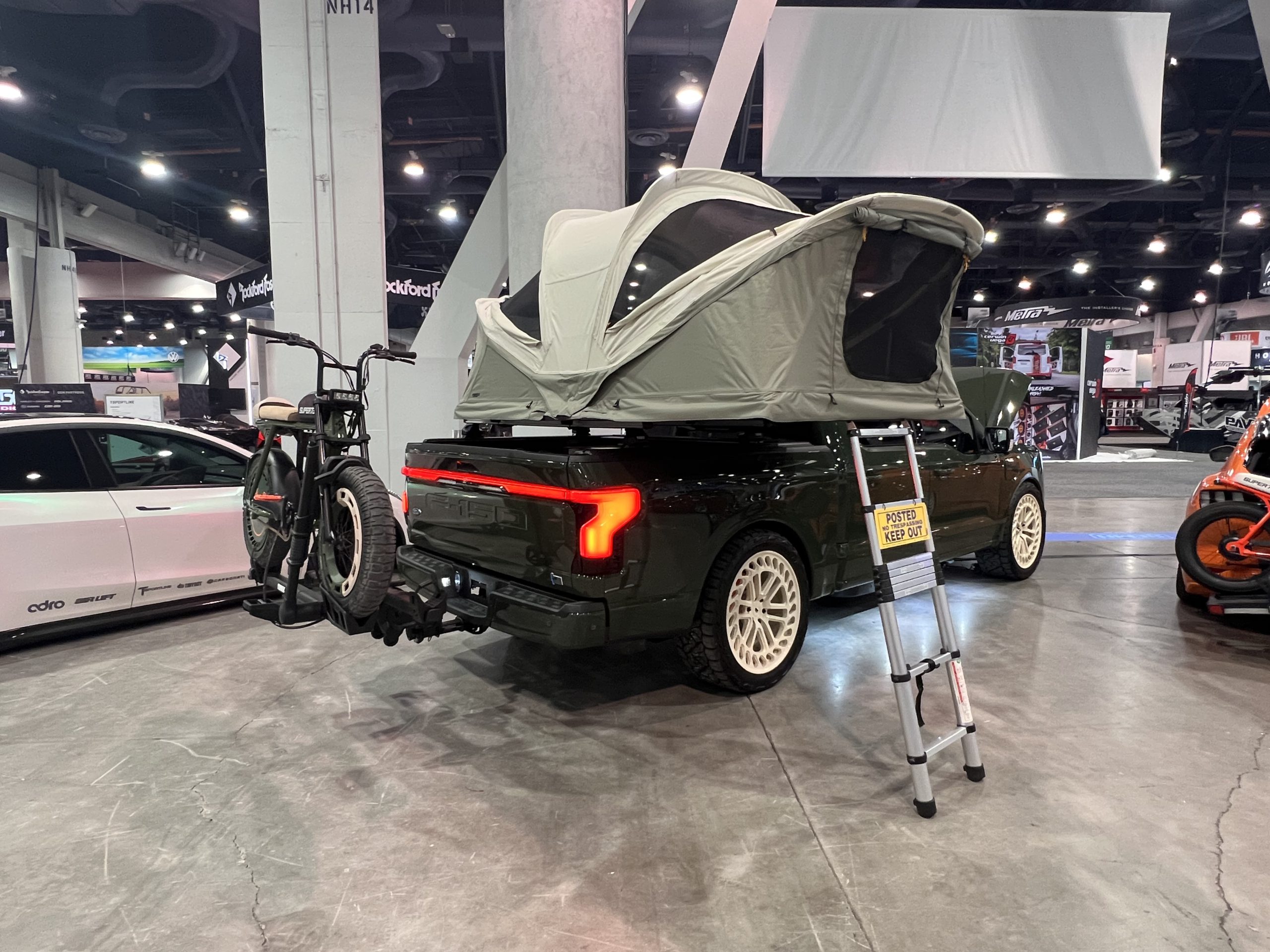 Tjin Edition is no stranger to custom Ford builds and has been partnered with the automaker for several years running. For this year's show, the team brought a customized F-150 Lightning in partnership with Thule. Designed to be a "swiss army knife," this F-150 Lightning is a jack-of-all-trades and the ideal pickup for a family weekend getaway, going on an off-road adventure, or simply tailgating. You can clearly see it's packed to the brim with Thule camping accessories and we particularly like the Super73 e-bike to fully embrace the electric lifestyle. It offers plenty of utility too, thanks to solar charging, a portable air compressor, and car refrigerator.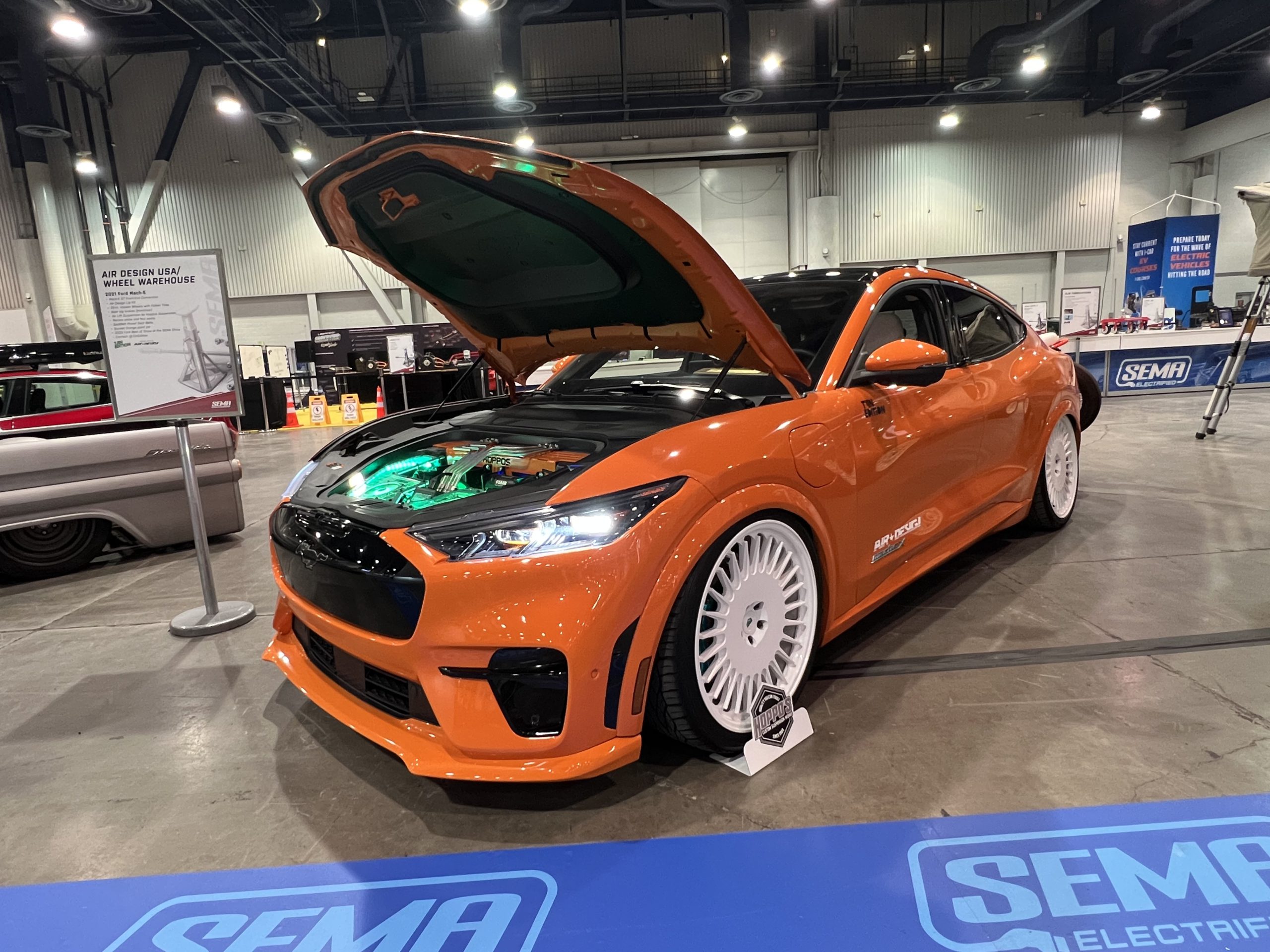 If you attended last year's SEMA Show, you might recognize the Tjin Edition Mustang Mach-E California Route One. It's currently sitting next to the Tjin Edition Ford F-150 Lightning and gives attendees a chance to check out both of the team's electrified Ford projects. Sporting an orange finish that is hard to miss, this Mustang Mach-E sits on custom air suspension and 22-inch Vossen ML-R1 wheels wrapped with Falken Ziex rubber.
Next on our list is Real Truck's Race Support F-150 Lightning, which shows the versatility of Ford's electric pickup. Designed to be a race support truck, this custom build is equipped with an air compressor, leveling kit, off-road recovery boards, a fully mobile toolbox with welding equipment, and Recaro seats inside the cabin. In the rear is a Retrax bed cover equipped with a rail system, crossbars, and extra Raptor wheels for full support at any off-road race. We particularly like the Bronco Desert Racer-inspired livery, which is a wrap done by Kay Automotive.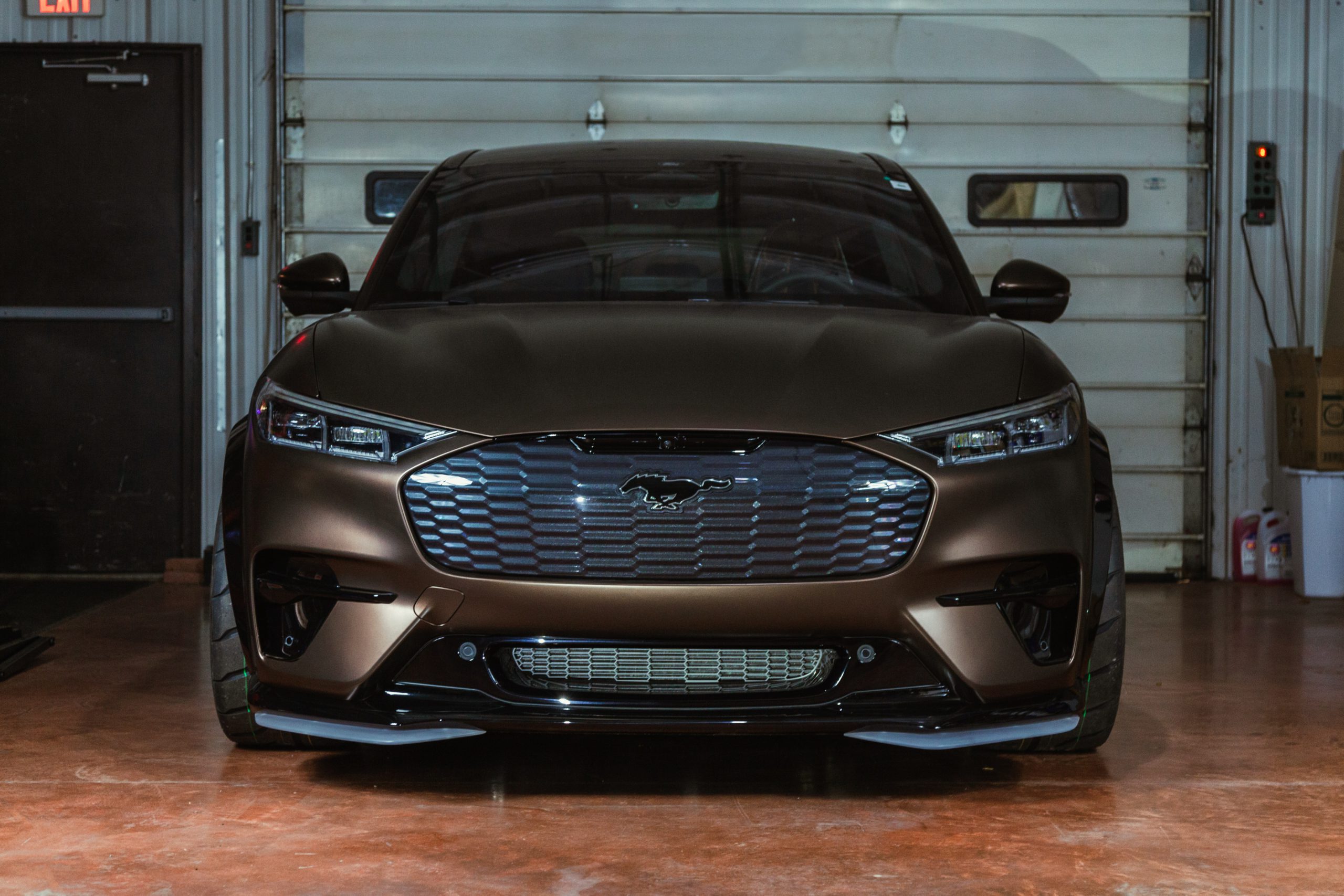 Another Mustang Mach-E at this year's show from Ford is from Tucci Hot Rods, sporting custom wide fender flares and vacuum-formed transparent wheel covers. Many of the body components were actually 3D-printed by Tucci, including the front lip and fender flares. Kay Automotive also contributed to this project with a custom wrap. This electric crossover also sports a collection of Ford Accessories products including sill plates, door emblems, GT badged tailgate, and a 140-degree dash cam.
"We designed Ford vehicles to be easier to customize, with installation points and aftermarket accessories engineered from the start of the design process," said Eric Cin, Ford global director, vehicle personalization, accessories, and licensing. "We work actively with the aftermarket to share our product designs so customers can personalize and put the finishing touches on their vehicle to make it all their own."
If you're local to Las Vegas or looking to make a quick getaway, this year's SEMA show is actually opened to the public on Friday. You can get tickets here.