It's hard to believe it's already been a year since the Ford E-Transit made its North American debut. It has quickly established itself as the leader in the small, yet growing all-electric commercial cargo van market. To celebrate the E-Transit's first birthday, Ford has released a few bits of information that you may find interesting. Maybe even as interesting as when we tested the Ford E-Transit at maximum payload.
Currently the best-selling electric cargo van in the U.S., Canada, and Europe, E-Transit owners have already driven over 12-million miles in the U.S. and Canada since February 2022, according to Ford. Demand for the E-Transit continues to rise, and Ford recently announced it will boost production at its Kansas City Assembly Plant starting next month. In the U.S., a total of 6,500 E-Transits have been sold through December 2022 and deliveries have occurred in all 50 states. The E-Transit roughly represents 61% of the electric van market today and it's the current sales leader in 28 of the 30 vocations recognized by S&P Global Mobility — that includes construction, retail, and government customers.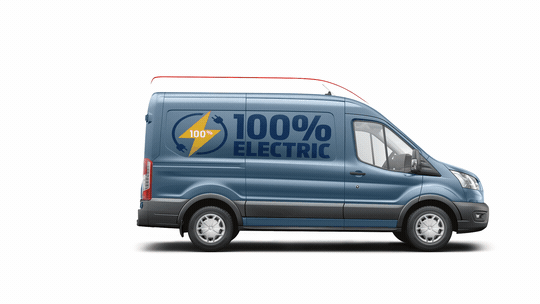 But if Work Truck Week 2023 is any indication, the competition is quickly heating up and buyers will have plenty more options to choose from in the coming years. Still, Ford and Ford Pro have the infrastructure and support for its commercial customers, making the E-Transit arguably the most attractive option on the market for businesses and enterprises. It will be interesting to see how the market takes shape over the coming years and what Ford will do to maintain its lead.
"Businesses looking to adopt battery electric technology is happening at a global scale, and E-Transit – along with the Ford Pro™ one-stop shop of software, services and charging solutions – is at the forefront of that revolution," said Ted Cannis, Ford Pro CEO. "In its first year on the road, E-Transit has made an immediate impact, and we are just getting started."