Yet another all-electric crossover is joining the market, with the 2023 Nissan Ariya arriving late fall starting from $44,485 including destination. That will get you the entry-level Engage FWD model, equipped with a 63-kWh battery. Opting for the e-4ORCE all-wheel-drive model will cost an additional $4,000. In total, Nissan will offer six different trim levels for the 2023 Ariya, but only the Engage trims will have the 63-kWh battery, offering 214 horsepower and 221 pound-feet of torque with a 216-mile driving range.
Most shoppers will likely opt for the 87-kWh models, which offer slightly more power at 238 hp, but the same amount of torque. The Venture+ FWD trim will offer a driving range of up to 304 miles, while the remaining trim levels return 289 miles of range. Here's a breakdown of pricing for all the 2023 Nissan Ariya trim levels, including $1,295 in destination fees.
Engage FWD (63 kWh): $44,485
Venture+ FWD (87 kWh): $48,485
Evolve+ FWD (87 kWh): $51,485
Empower+ FWD (87 kWh): $54,985
Premiere FWD (87 kWh): $55,985
Engage e-4ORCE (63 kWh): $48,485
Engage+ e-4ORCE (87 kWh): $52,485
Evolve+ e-4ORCE (87 kWh): $55,485
Platinum+ e-4ORCE (87 kWh): $61,485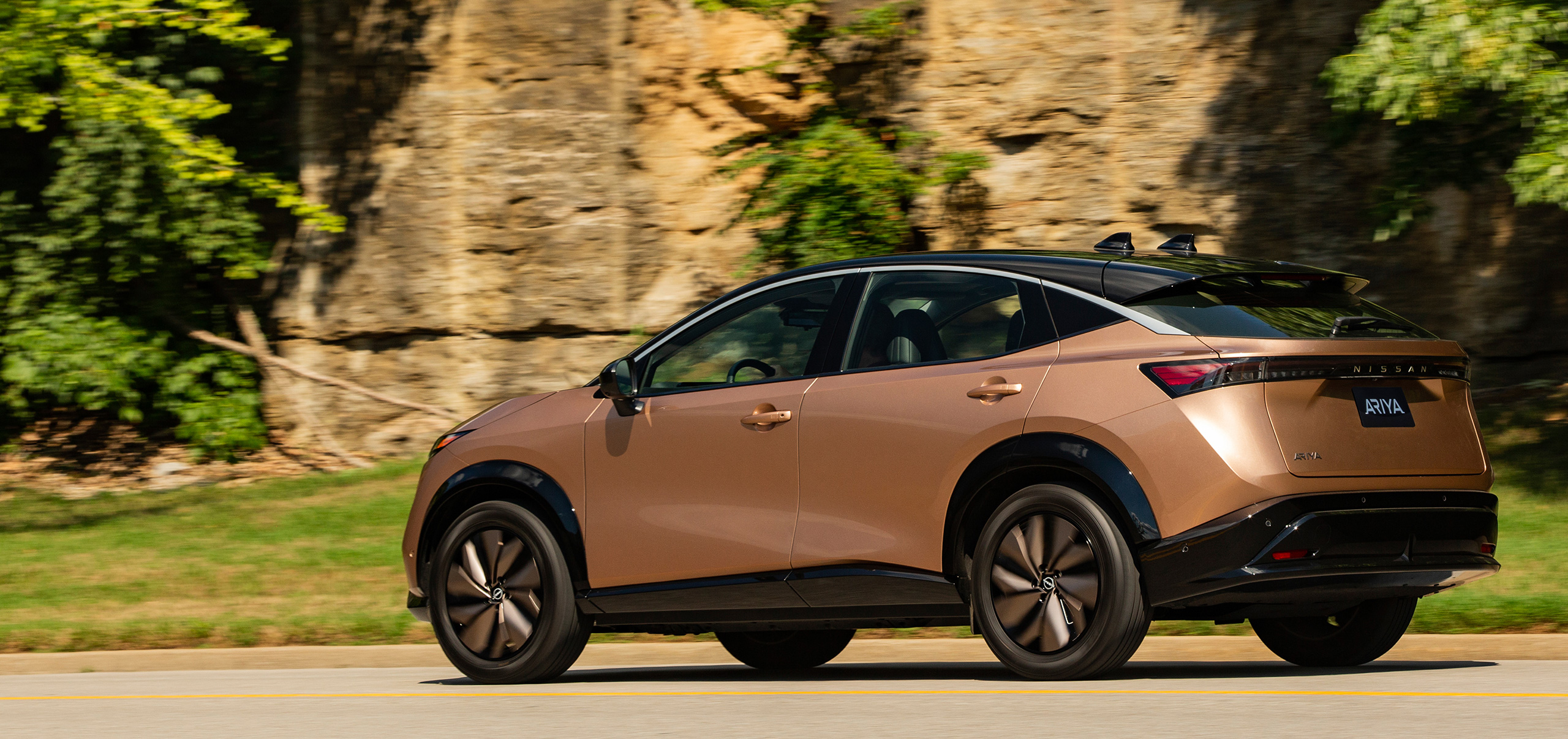 For shoppers who want the all-wheel-drive model, it features what Nissan is calling its most advanced all-wheel control technology, e-4ORCE. It was developed using technologies from the GT-R's ATTESA E-TS torque split system and the intelligent all-wheel-drive systems found in various Nissan crossovers and SUVs. The system is designed to specifically manage power output and braking performance, with a focus on smoothness and stability. It also optimizes front and rear torque allocation, applying independent brake control at each of the four wheels to maximize the cornering force generated by each one.
The all-electric crossover will be equipped with ProPILOT Assist 2.0, the Japanese automaker's suite of advanced driver assistance technologies. Expanding on the original ProPILOT Assist, the newest iteration allows attentive drivers to take their hands off the steering wheel under certain conditions. It also supports multi-lane highway driving tasks, including lane changes, passing, and highway exiting. The Ariya will also bring ProPILOT Park to the U.S. for the first time, which takes over steering, acceleration, brakes, and gear shift to guide the vehicle into a parking spot when activated. Also standard on the crossover is Nissan Safety Shield 360, a suite of six active safety features: Automatic Emergency Braking with Pedestrian Detection, Blind Spot Warning, Rear Cross Traffic Alert, Lane Departure Warning, High Beam Assist, and Rear Automatic Braking.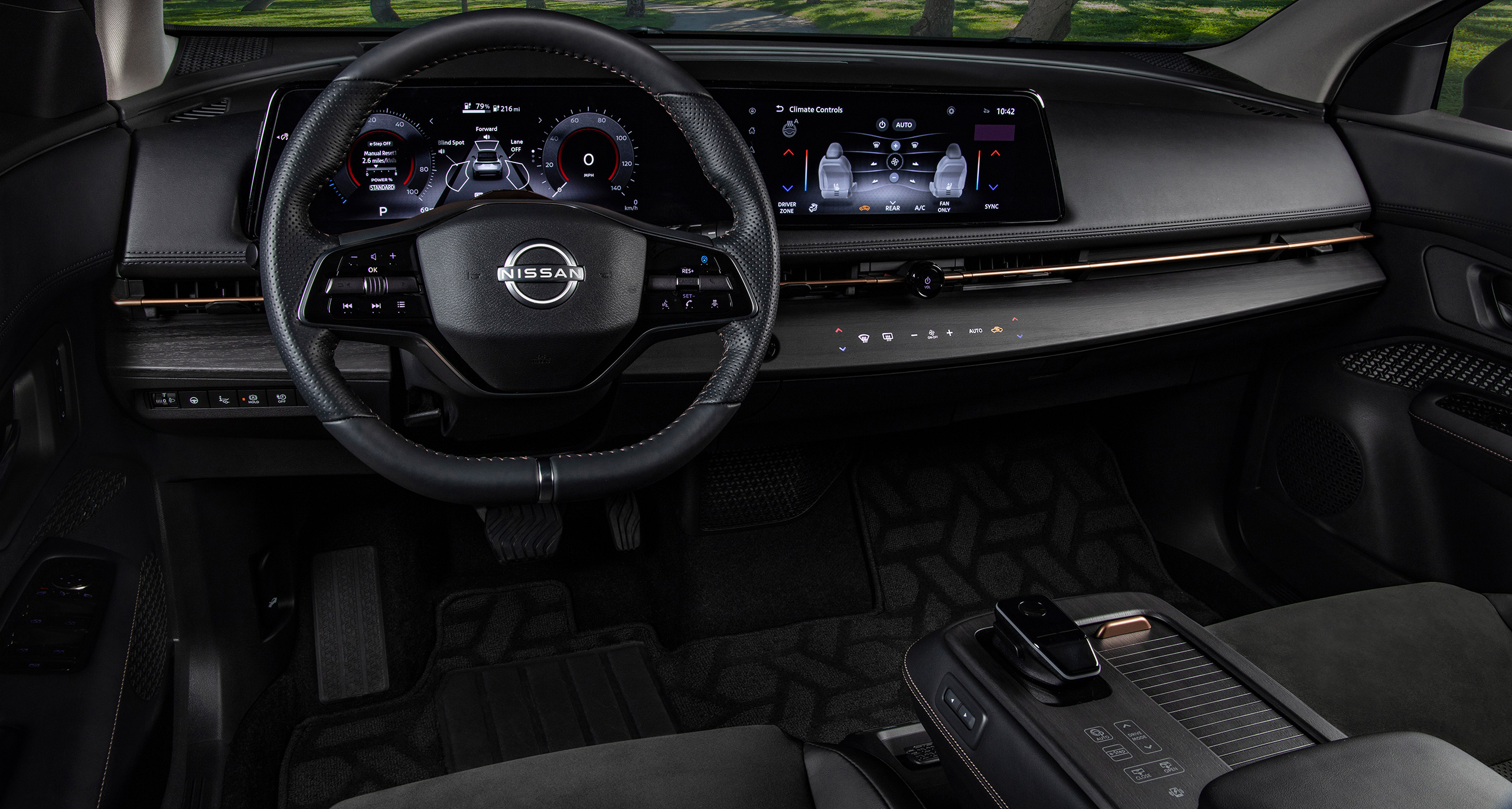 Climbing into the interior, there is a pair of 12.3-inch displays, one for the instrument cluster and another for the infotainment. Wireless Apple CarPlay and wired Android Auto are supported as standard. The Ariya will also support a hybrid voice recognition system, along with Amazon Alexa for voice commands. A head-up display is one of the largest full-color units in the segment and relays similar information found in the meter display within the driver's field of view. Also, the Ariya will be Nissan's first model with over-the-air firmware updates, which the automaker is calling "Remote Software Upgrade."
When the 2023 Nissan Ariya arrives late fall, it will initially only launch with the FWD models. Expect the e-4ORCE all-wheel-drive trims to arrive at a later date.
"The Nissan Ariya is an important part of our Ambition 2030 goals to drive electrified mobility for all," said Aditya Jairaj, director, EV marketing and sales, Nissan U.S. "With Nissan offering an EV option for almost any driver, we're excited for customers to experience a seamless transition to driving electric."