The second-generation, plug-in version of the BMW X5 arrived as a 2021 model year, boasting a 24-kWh battery pack that doubled the previous X5 xDrive40e's 12-kWh capacity. And while the X5 xDrive50e is around the corner with an even more impressive all-electric driving range, the X5 xDrive45e is what's currently available at the time of publishing. Sporting a 31-mile all-electric range, this plug-in hybrid SUV has a combined system output of 389 horsepower and 443 pound-feet of torque, thanks to a 3.0-liter BMW TwinPower Turbo inline six-cylinder engine and an integrated electric motor.
If you're reading this article, you either own a BMW X5 xDrive45e or you're considering one. It's a powerful and versatile SUV and if your daily commute is under 31 miles, it can deliver you surprisingly good value with significantly less trips to the gas station. But charge times for the BMW X5 xDrive45e can get confusing.
We'll do our best to clear it all up here, breaking down the time it takes to charge the X5 xDrive45e with the included Level 1 charger and just how much quicker Level 2 charging can be. We'll also explain the differences in Level 2 chargers and which one you should purchase for your BMW X5 xDrive45e, if you choose to get one.
Level 1 charging
The BMW X5 xDrive45e comes with a Level 1 charging cable that has a maximum output of 1.1 kW. It doesn't really matter what type of Level 1 charging cable you use, its output is limited by the 120-volt household outlet it uses. According to BMW, Level 1 charging will take approximately 17.7 hours to fully charge the X5 xDrive45e from empty to 100%. To go from 0% to 80%, it'll take about 13.3 hours.
So if you're draining the all-electric range of the X5 xDrive45e on a daily basis, your vehicle will need to spend a lot of time plugged in each day to recover its range when using a Level 1 charger. You'll roughly get about 2 miles of electric range per hour of charging on Level 1, but actual charge times can differ depending on a few environmental conditions. But it's a good enough estimate to decide whether a Level 2 charger is right for you.
Level 2 charging
The BMW X5 xDrive45e is equipped with a 3.7-kW onboard charger, which means a 16A EVSE is all you need. In fact, your instrument cluster should show "max. 16A" on it. Official BMW estimates say it'll take 5.3 hours to go from 0% to 100% on a Level 2 charger that is capable of outputting at least 16 amps. For 0% to 80%, it'll take about 4 hours, according to BMW. There's a pretty noticeable difference in charge times when comparing Level 1 to Level 2 with the X5 xDrive45e: 17.7 hours vs 5.3 hours.
That means for each hour of charging with a Level 2 charger, you'll get back about 6 miles of range, compared to the 2 miles you get from Level 1 charging. If you have downtime in between trips each day and are able to plug in to charge, that means you'll recover more electric range with a Level 2 charger. And sometimes that difference could mean significant savings by keeping you away from the gas station.
But unlike some other PHEVs, the X5 xDrive45e takes a significantly longer time to fully charge from 0% using a Level 1 charger. There are some plug-in hybrids that don't have as much of a benefit from using a Level 2 charger, but the X5 xDrive45e is not one of those vehicles. The difference in charge time is significant and a Level 2 charger makes a lot of sense for X5 xDrive45e owners who use their vehicle every day.
Now obviously if you are able to plug in each day for at least 12 to 15 hours uninterrupted, then you may not need a Level 2 charger. But if you want to maximize your electric driving range with your PHEV, you'll probably want to invest into a Level 2 home EV charger.
Recommended Level 2 home EV charger
As we previously mentioned, you only need a 16A charger if all you care about is charging the BMW X5 xDrive45e, because its onboard charger has a maximum acceptance rate of about 3.7 kW. If you are on a budget, you could get this charging cable from Schumacher that provides up to 16A with a NEMA 6-20P plug. This is a pretty bare bones charger though, and its design is similar to the charging cable that comes with your vehicle — it's just able to provide quicker charge times as a Level 2 charger.
The important question you need to ask yourself is whether you plan on ever upgrading to a BEV or even a newer PHEV. If you do, then a 16A charger won't suffice since fully-electric vehicles can have upwards of over 300 miles in range and can accept much more powerful chargers.
Even the upcoming BMW X5 xDrive50e that is due later this year will have an electric-only range of up to 40 miles with a slightly larger 25.7-kWh battery pack. But more importantly, the updated model will have a maximum charging rate of 7.4 kW, which means you'll need at least a 32A charger to get maximum charging speeds on the X5 xDrive50e.
The bottom line is, electrified vehicle technology is moving at a very rapid pace, and if you're planning to stick with any sort of plug-in car, you'll probably want to just invest into a proper home EV charger so you don't ever have to upgrade even if you get a new vehicle.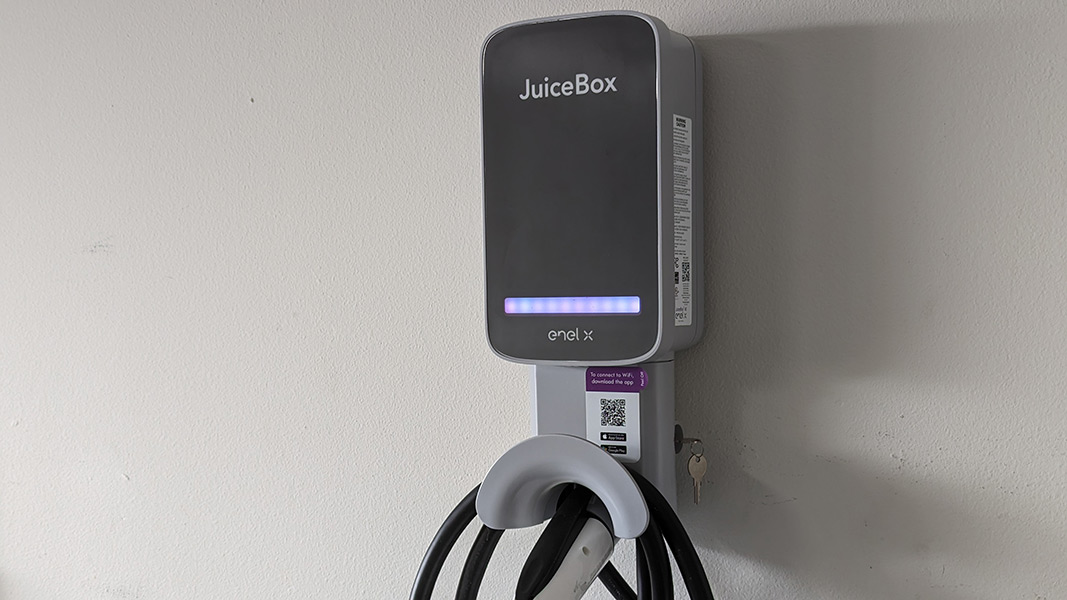 This is why we prefer to recommend something like the JuiceBox home EV charger from Enel X. It's available in 32-, 40-, and 48-amp versions, so you can choose the right one for you. If you plan on sticking with PHEVs, then a 32-amp charger helps keep you future-proof. But if you anticipate getting a BEV in the future, we recommend getting at least a 40-amp charger even if your X5 xDrive45e won't take full advantage of it. If you are able to do a hardwired installation, then the 48-amp is the way to go if you want faster charging speeds at home (assuming the vehicle can accept the output).
We use the commercial version of the JuiceBox chargers at our office here at EV Pulse, but we have also tested the residential version. While there are some close competitors, we prefer the JuiceBox for its reliability and overall quality. It has an integrated holster so the installation process is very simple, and it has one of the better apps out of all the smart chargers. You can connect the JuiceBox to WiFi so you can remotely access the charger.
Features in the app include scheduling charge times, receiving notifications, and viewing charging history. The JuiceBox is also compatible with Amazon Echo and Alexa for voice commands.
If you decided you do want a Level 2 charger, but not something with the JuiceBox's price tag, you can check out our other recommendations for the
best home EV chargers
. We have tested several on our personal vehicles and there are some really good options if you're shopping on a budget.