The new Honda Motocompacto is a 21st-century take on the automaker's folding scooter of similar name from way back in the 1980s. A first- and last-mile transportation solution, this cute-as-a-button suitcase on wheels is intended to bookend the automaker's nascent lineup of eco-friendly all-electric vehicles, though it's also fun to ride and looks fricken cool, too.
Ideally, the Motocompacto is designed for use on college campuses or in densely populated urban areas. This self-propelled rollaboard is ideal for schlepping you a few miles from the bus stop to your office or home again from the train station. Classified as a seated e-scooter, this Honda should not require any licensing or registration, though there may be usage restrictions in certain areas, so research where you can ride one before making a purchase.
Like a proper Honda, the Motocompacto is front-wheel drive. This scooter's small electric motor delivers a peak of about 0.66 horsepower (490 Watts) along with 11.8 pound-feet of torque. This provides decent acceleration, though other electrically powered scooters and bikes are definitely quicker. At full clip, this vehicle tops out at 15 mph.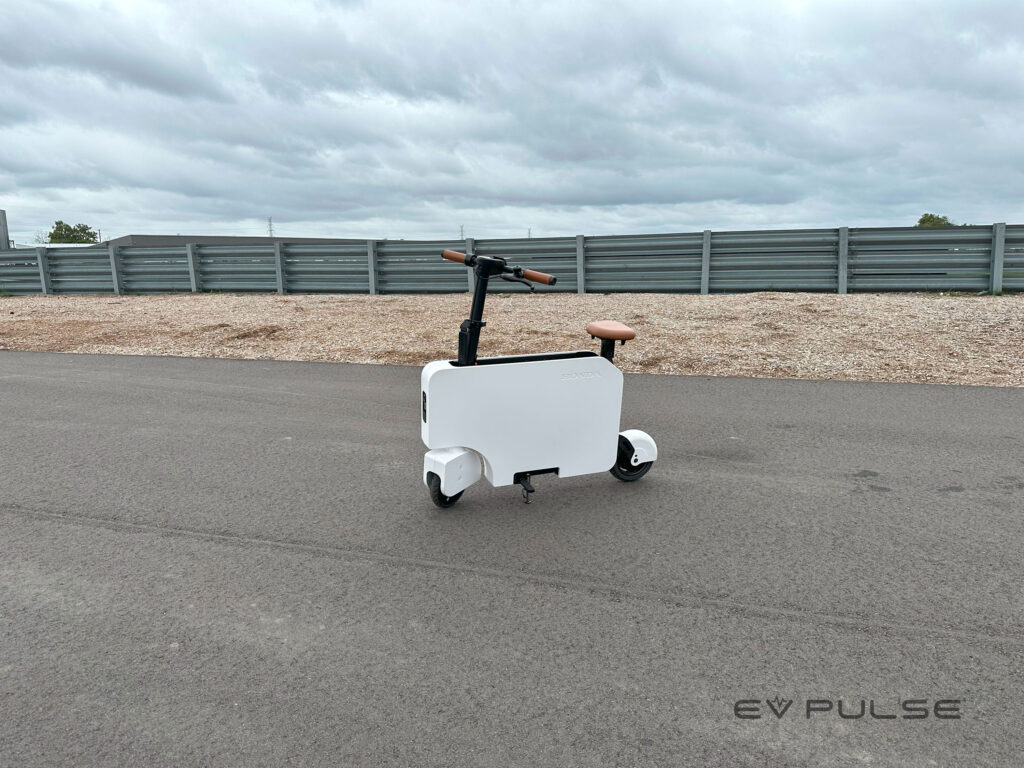 Powering that front-mounted dynamo is a non-replicable, tamper-proof 6.4-amp-hour lithium-ion battery. This provides an estimated 12 miles of range, though the pack can be fully recharged in just 3.5 hours from a standard 110-volt household outlet should you run out of juice.
The Motocompacto is built around a sturdy aluminum frame, while the wheels are made of the same lightweight metal. Unfortunately, this scooter will only be offered in white, at least for now, a molded-in color ABS plastic that should resist showing any scratches. Making it a breeze to transport, the whole shebang clocks in less than 42 pounds.
This Honda's signature feature is how it folds up like a piece of origami paper, transforming into its own case, complete with a comfortable carrying handle. The seat lifts up and breaks in half, so it can be stowed inside. The handlebars twist 90 degrees and then the whole upright section telescopes and folds down into the body, latching firmly in place. The foot pegs fold inward along with the kickstand (which has an integrated lock loop to deter theft), and then a lever on the side allows you to retract the rear wheel right into the main section of the scooter. Designed by Honda engineers in both California and Ohio, the development team was awarded 32 patents for this device.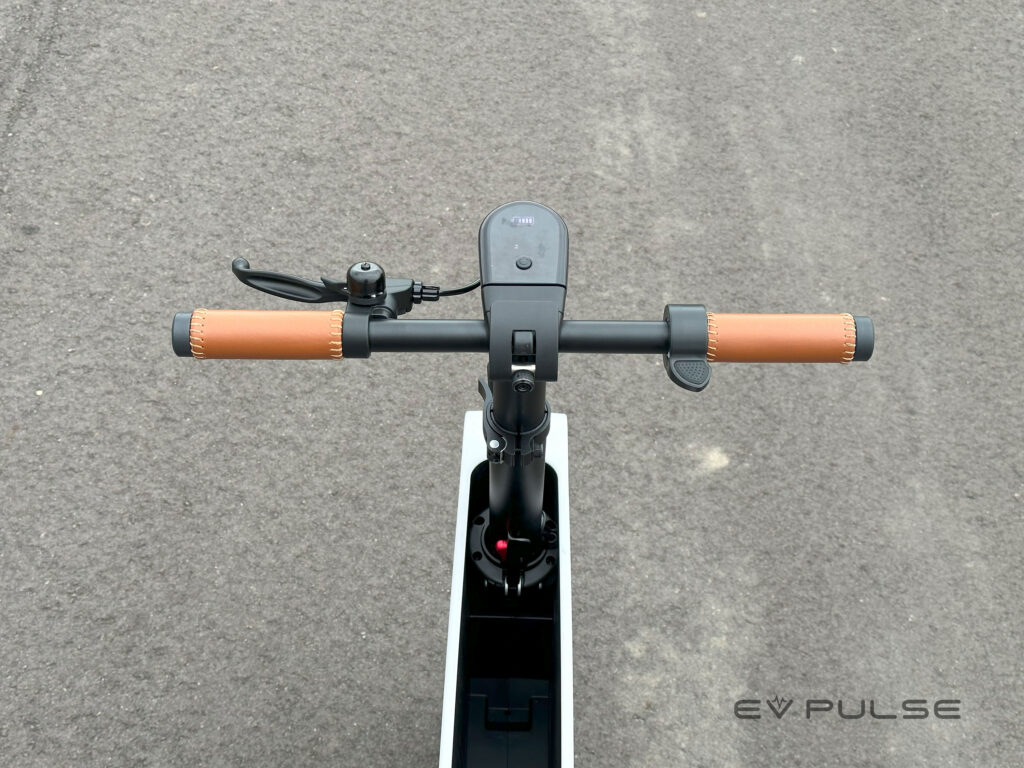 Fully condensed, the Motocompacto is just 29.2 inches long, 21.1 inches high and a scant 3.7 inches wide. Unfurl the scooter, and it scarcely gets any bigger, topping out at 38.1 inches long, 35 inches high and 17.2 inches across. That substantial width increase is courtesy of the handlebars. Either way, the Motocompact is IPX4 water resistant, so rain or splashes from puddles shouldn't be an issue.
Out and about, the seat's padding is dense and thin, but it's still plenty comfortable. There's no adjustability for the riding position, but it was designed to easily accommodate people of vastly different sizes, so fitting on the Motocompacto shouldn't be an issue for most people, though there is a weight limit of 265 pounds.
If you've ever ridden a bicycle, using the Motocompacto will be second nature. Despite its petite dimensions, the scooter is balanced and handles extremely well, just ean into turns and it responds eagerly. For testing, Honda had a small course set up, though the fresh asphalt was nearly as smooth as plate glass, free of any bumps, ruts or loose gravel. Aside from a tiny amount of give in the non-pneumatic tires, the Motocompacto has no suspension, so be warned, the ride will be bone-shaking on rougher surfaces.
A simple instrument cluster lets you keep tabs on the battery's state of charge and how fast you're going. There are also two operating modes. Setting 1 limits the speed to about 10 mph and prevents the scooter from moving on its own; the accelerator toggle won't do anything until the Motocompacto is going about 1 mph. This prevents unintended acceleration if you're unpacking the scooter and bump the accelerator. Setting 2, in comparison, moves the Motocompacto on its own from a standstill and unlocks the full top speed, a heady 15 mph.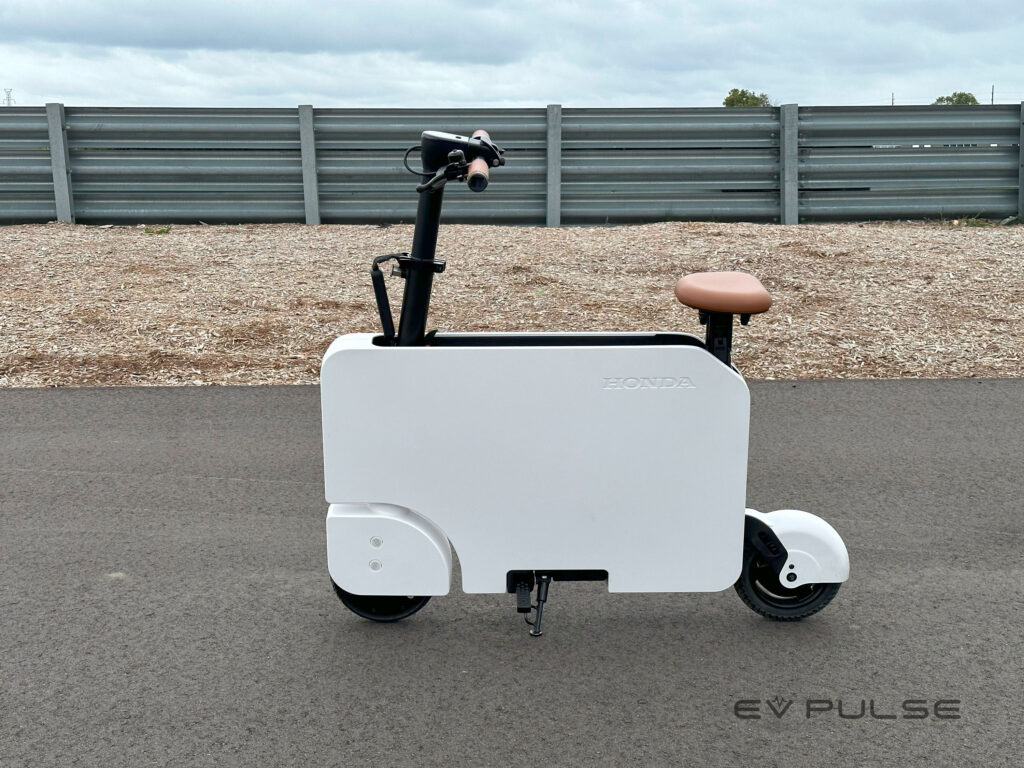 The Honda Motocompacto is an undeniably cool little e-scooter with a genius design that makes it far easier to transport and store when you're not riding. Interested parties will be able to purchase one from Motocompacto.honda.com, though, just like a Civic or MDX, you'll also be able to buy one from a Honda or Acura store. Dealerships will also be able to service these devices. The Motocompacto should be on sale right now, with a surprisingly reasonable price of just $995.
At a glance
Make: Honda
Model: Motocompacto
Type: Seated e-scooter
Horsepower: 0.66 (490 Watts peak, 250 Watts nominal)
Torque: 11.8 pound-feet
Range: 12 miles
Pros: Foldable design, relatively lightweight construction, affordable pricing, cool styling
Cons: Range could be more, top speed could be higher
Estimated price: $995
Watch our video review