You can think of the 2023 Lexus RZ 450e as a gold-plated version of the Toyota bZ4X. These two all-electric SUVs are closely related, though they are not carbon copies. The luxurious Lexus is superior to its mainstream relative in numerous ways, though there's still plenty of room for improvement.
When I reviewed the bZ4X last year, I found it to be a decent all-electric utility vehicle, though it's not a segment leader. Hyundai's E-GMP cars like the Kia EV6 and Hyundai Ioniq 5 are better, as is the Ford Mustang Mach-E and probably even the Volkswagen ID.4. This Toyota feels like an if-I-have-to sort of vehicle from a company more enamored with hybrids than pure EVs. And unfortunately, some of the bZ4X's inherent shortcomings are baked right into the RZ 450e.
All in the family
Front to back, this SUV wears busy, angular styling that fits nicely in the broader Lexus lineup. Designers didn't try to make the RZ look different just because it's an EV. Some will undoubtedly love this vehicle's looks, though others are sure to find it a bit too aggressive.
Up front, you can get the RZ 450e with an illuminated Lexus badge. This $200 option adds some pizazz at night and indicates when the vehicle is charging. Additionally, engineers incorporated a millimeter wave radar sensor behind the emblem for a sleek look. Saving weight, the hood is made of aluminum, though popping this swing panel open reveals there's no front trunk, an amenity that's always nice to have.
The RZ 450e is available in two trims: Premium and Luxury. This example is the former, which comes standard with 18-inch wheels, though stunning 20s are available for $1,240 more, generously sized rollers that do not degrade the ride quality, but more on that a few paragraphs down.
Conveniently, the charging port is mounted on the driver's side front fender where it's easy to access. Along the vehicle's flanks, the door handles appear to be of the conventional pull-type, but if you yank on one nothing happens because the door latches are electrically operated via a small switch on the back of each handle. Our tester is treated to an optional paint job that is absolutely gorgeous. The steely blue color is called Ether and it's worth every penny of the $500 Lexus charges for it.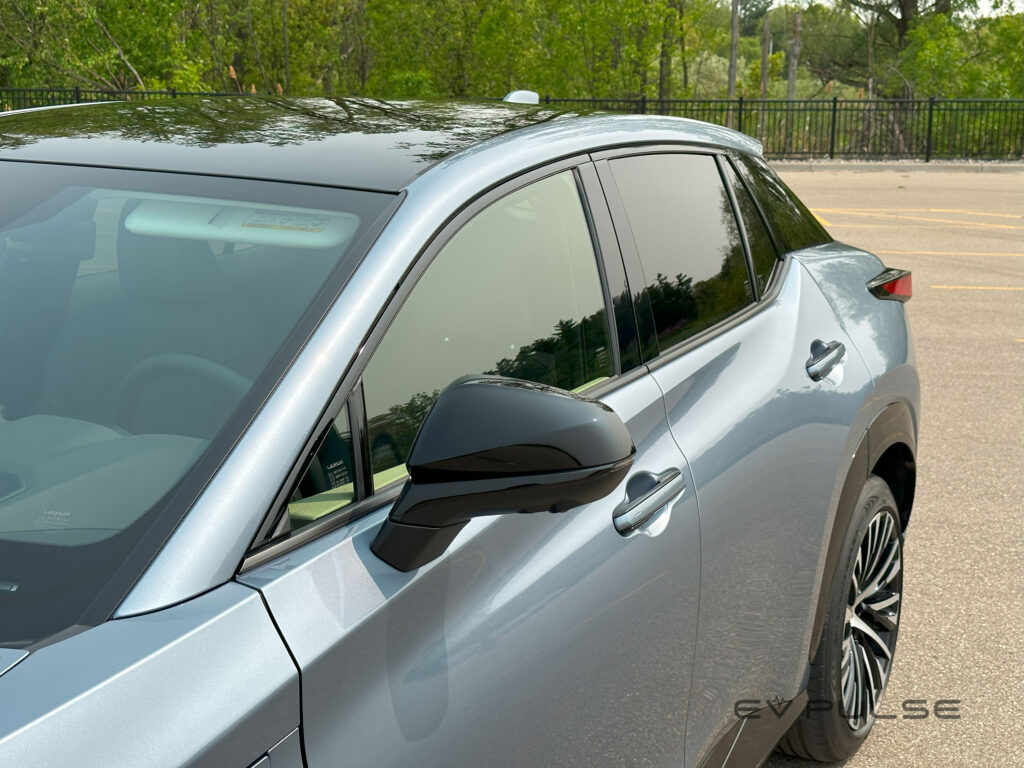 'Round back, this SUV is also quite busy, with angular taillamps, a pair of almost fang-like projections from the trailing edge of the roof and steeply raked rear glass with no windshield wiper. Pop the power-operated hatch and you're treated to a generous cargo area that includes a deep storage well underneath the load floor. This is great for keeping items out of sight and helps make up for the lack of a front trunk.
A comfortable and upscale interior
The RZ 450e's cabin matches its exterior, with a chiseled, angular look. As expected, the build quality is excellent and the materials are all very nice, though this Lexus' interior is not quite as opulent as the Genesis Electrified GV70's.
Multiple color schemes are offered, though our tester is fitted with Thunderstorm and Macadamia. This combines a lovely gray-blue with a light beige, though Palomino is also available, which is tan and charcoal, and you can get Dapple Gray, which is dark on dark.
The front seats are all-day comfortable and the back bench has plenty of room for six-footers and the floor is flat, so there's no hump to straddle if you're stuck in the middle. The dashboard is unexpectedly tall, which makes it feel like you sit low in the vehicle — you don't, but it feels like you do — something that makes the driving position feel isolating, almost cocoon-like. At 14 inches, the touchscreen is massive, plus it's angled slightly toward the driver, so it's easier to see and reach. The infotainment system that lives on that display is intuitive and snappy, save for pinching and zooming on the navigation map, which is surprisingly laggy.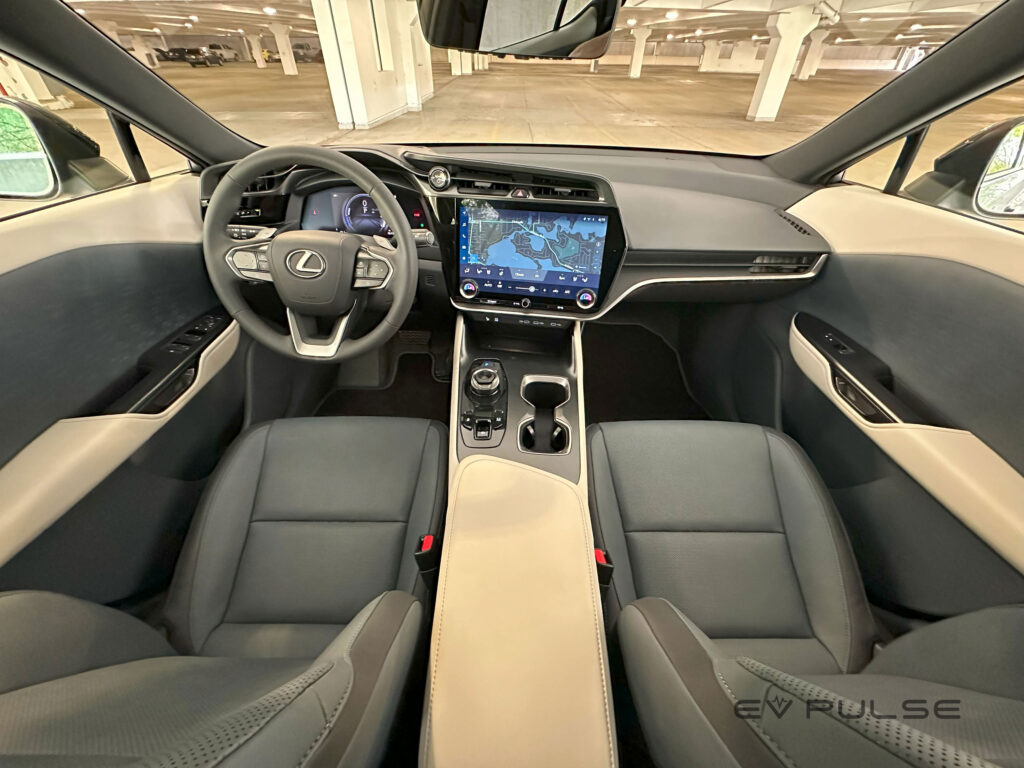 Naturally, Apple CarPlay and Android Auto are included and both smartphone-mirroring system can connect to the RZ wirelessly. Complimenting this, there's also a charging pad and a whopping five USB type-C ports, so there's no excuse for anyone's phone to run out of juice. A head-up display is also available, included in the $1,425 Tech Package.
A two-pane glass roof is included, though it has no shades. This is bothersome for drivers (like me) that are sensitive to glare, however, the higher-end Luxury trim is available with a Dynamic Sky dimmable roof.
To get out of the RZ, you push a small lever and the door latches release electrically. Pull the front of this lever twice and you can open the doors manually if the vehicle's power is ever cut or there's another fault.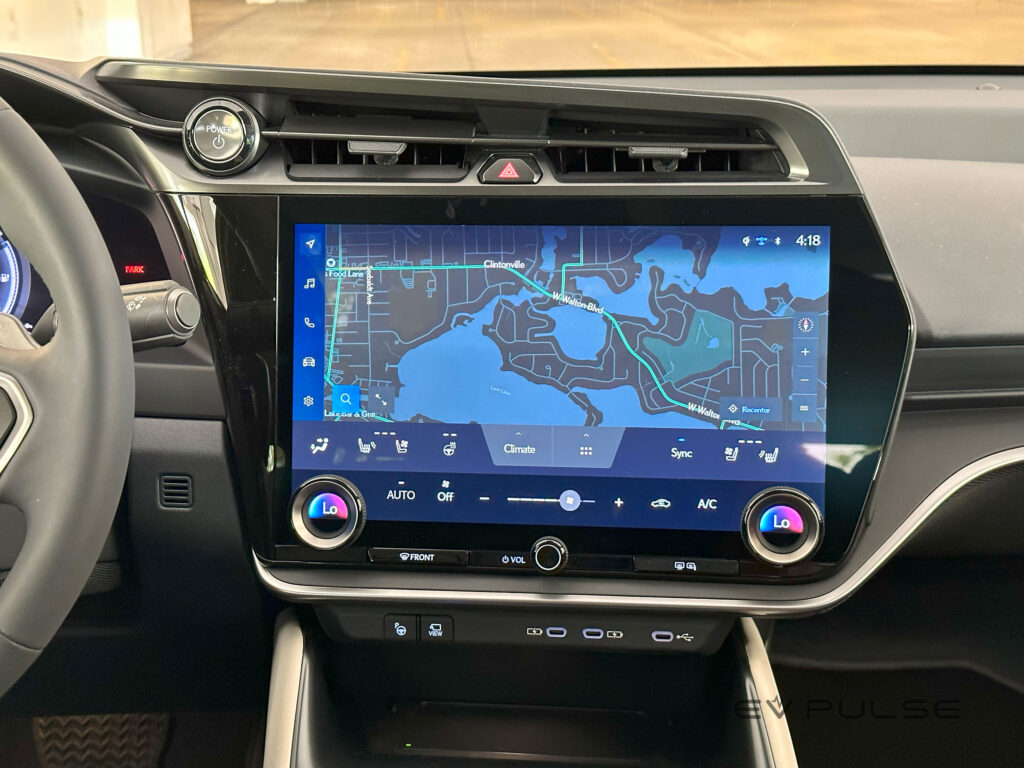 Optional radiant heating pads — one on the bottom of the steering column and another ahead of the front passenger's knees — help warm your legs in cold weather to reduce HVAC usage and improve range. As in the bZ4X, the placement of the heater means the RZ 450e has no traditional glovebox, though making up for this, there is additional storage underneath the center console.
One small issue with the interior is that outward visibility is somewhat compromised. The rear roof pillars are huge and up front, you can't see where the corners of the vehicle are or ascertain where the bumper ends. Fortunately, a crisp and clear 360-degree camera system is standard, as are parking sensors with automatic braking. You can also equip this SUV with a digital rear-view mirror, which provides an unobstructed view to the back.
Delightful dynamics, regrettable range
This Lexus comes standard with all-wheel drive, which is provided by a pair of electric motors: a 150-kilowatt unit up front and an 80-kW dynamo at the rear. Together, this dream team cranks out a total of 308 horsepower and around 321 pound-feet of torque, enough of each to get the RZ 450e to 60 mph in 5 seconds flat, meaning this SUV delivers ample performance.
The motors are juiced by a 71.4-kWh lithium-ion battery. This pack can DC fast charge at up to 150 kW, which is an OK performance in 2023, but far from a segment-leading one. As for charging times, Lexus lists a 10-to-80% figure, with the RZ able to achieve this feat in about 30 minutes, miles ahead of the all-wheel-drive bZ4X we tested last year, which took a horrifying 65 minutes to do the same.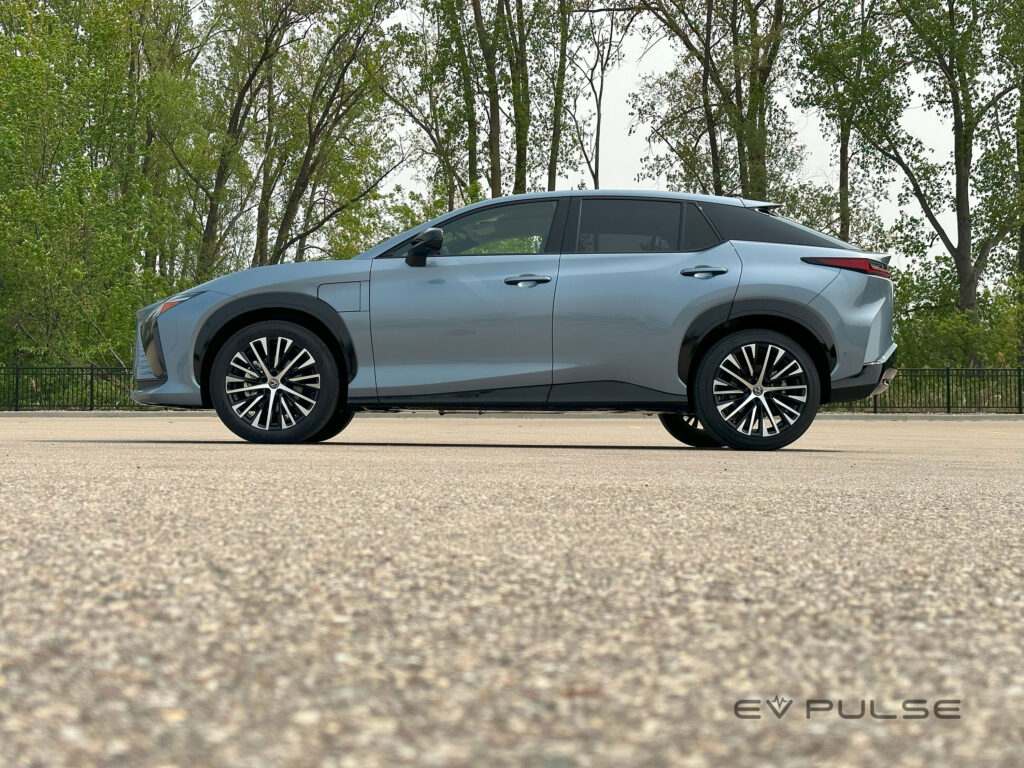 But what's this vehicle's range? Well, in short, it's not good. Expect 220 miles on a charge with 18-inch wheels or a paltry 196 with the optional 20s. Unfortunately, those are not competitive figures. The Genesis Electrified GV70 offers 236 miles on a charge, the more-mainstream Nissan Ariya Platinum+ e-4orce is rated at 267, and the all-wheel-drive Cadillac Lyriq is estimated to offer 307 miles of range.
It may not have the longest legs in its segment, but at least the RZ 450e drives well. The ride quality is excellent, smooth and well controlled with no bounding over large bumps. Minimal roadway vibration or harshness percolates up through the tires.
With a traditional wheel — the RZ will offer a yoke with steer-by-wire tech in the U.S. at an unspecified future date — this SUV's handling is secure, with the steering feeling quick and refined, free of any harshness or kickback. When you throw the RZ into a corner, there's minimal body roll. Overall, this vehicle is incredibly refined and feels surprisingly nimble.
Curiously, unlike other EVs, a true one-pedal driving mode is not offered. You can, however, achieve about 90% the same thing by maximizing the regenerative braking and enabling the automatic brake hold feature that prevents the vehicle from creeping forward when you lift your foot off the pedal. The RZ won't roll to a stop on its own, but it does come pretty close.
A solid foundation, but there's more work to do
The 2023 Lexus RZ 450e is a quiet and comfortable all-electric SUV that drives exceptionally well. The performance and refinement are also praiseworthy, as is the overall quality. This vehicle's biggest weakness, of course, is the range, which is not competitive with rival vehicles.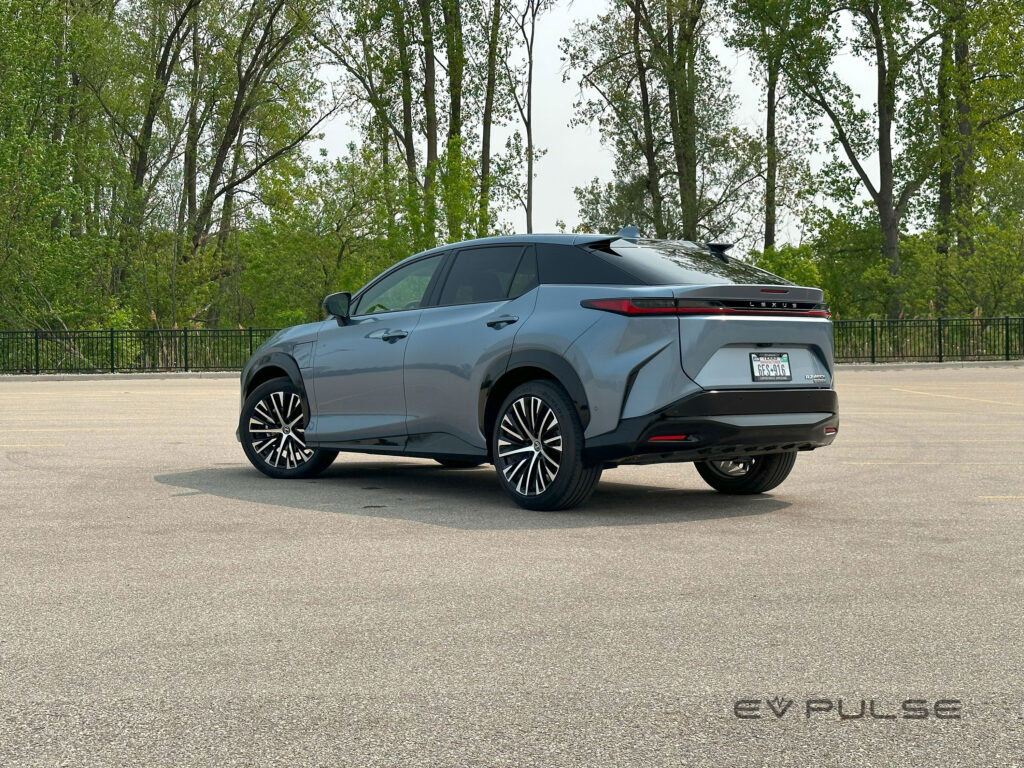 But what's far less objectionable is the price. The well-equipped Premium model evaluated here checks out for $63,415 including delivery ($1,150), which is not an unreasonable sum for an all-electric luxury SUV from a blue-chip manufacturer. The RZ's base MSRP is less than 60 grand, though our tester was bolstered by the $1,425 Tech Package, $1,240 for 20-inch wheels, $500 for that beautiful paint job, $200 each for the Cold Weather Package, digital rear-view mirror and illuminated badge, and $175 for radiant heaters.
The 2023 Lexus RZ 450e is unquestionably better than the Toyota bZ4X it's based on, but unfortunately, that's still not quite enough. This is a solid vehicle, but I don't think it's as appealing as the Genesis Electrified GV70 or even the more mass-market Nissan Ariya. Both of those products deliver more than you'd expect, but this Lexus doesn't quite do the same.
At a glance
Year: 2023
Make: Lexus
Model: RZ 450e
Trim: Premium AWD
Type: All-electric SUV
Horsepower: 308
Torque: 321
Estimated MPGe ratings (city/highway/combined): 102/87/95
Range: 196 miles (with 20-inch wheels)
Pros: Laudable ride and handling, comfortable interior, generous passenger space, feels like quality, fair pricing
Cons: Styling not for everyone, somewhat restricted outward visibility, poor range
Estimated Base price: $59,650 including $1,150 in destination fees
As-tested price: $63,415 including $1,150 in destination fees