Previously, we gave our recommendations for the best wheel cleaners, and in that article we mentioned needing to use a wheel brush. So naturally, we decided to give our recommendations for the best wheel brushes! There honestly isn't too much that goes into designing and manufacturing a wheel brush, but there are some products that work better than others. More importantly, you do want to purchase a brush that won't accidentally scratch your wheels, which means sticking to quality brands with a good reputation.
Most wheel brushes are relatively inexpensive, and yes, you can use a toothbrush (with soft bristles) if you really want, but that might take you a while. Some meticulous car detailers actually do use a toothbrush to get into the hard-to-reach areas of a wheel, especially if they have a mesh design. But for most car owners, any of our recommendations for a wheel brush will make cleaning your wheels a lot easier when paired with a wheel cleaner.
Since there isn't much to explain about wheel brushes, we'll jump straight into our recommendations. But there is some additional information about wheel brushes below if you'd like to learn more about them.
1. Top pick: Chemical Guys Wheelie All Exterior Surface and Wheel Brush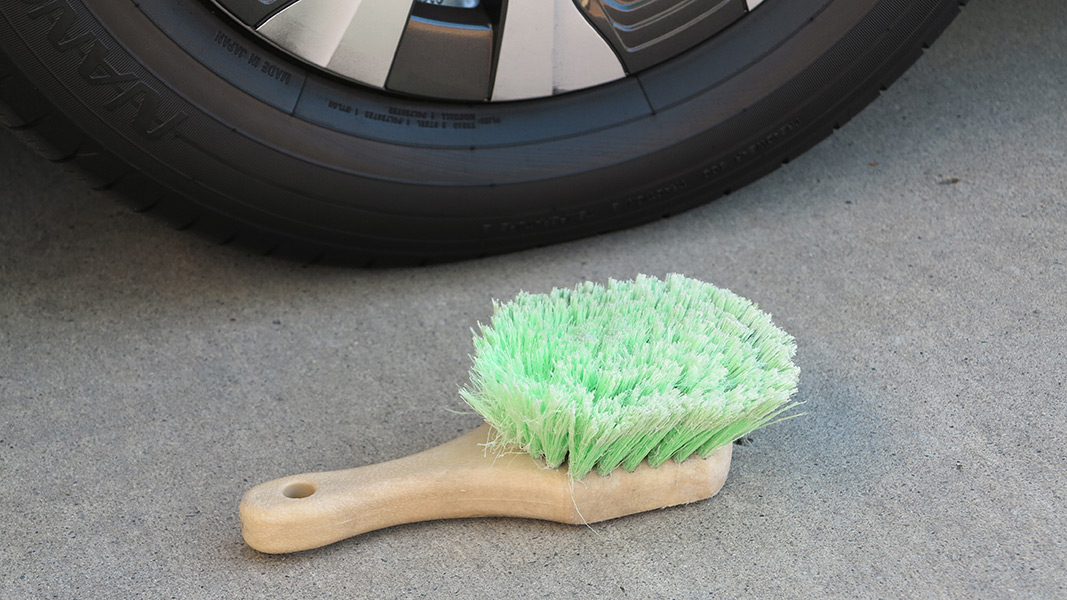 The current version of Chemical Guys' Wheelie All Exterior Surface and Wheel Brush is slightly different than the brush in the photo above, which is the one I currently own and use. It's mainly the handle that has changed, but I've been using this brush for years and couldn't be happier — although I should probably replace it. This is typically the only brush I need to take care of my wheel cleaning needs, but sometimes it's necessary to use my next recommendation as well. If you have the budget for two brushes, I do recommend getting both, but if you only want to purchase one, I recommend this one from Chemical Guys.
It features light and medium duty scrubbing bristles to gently remove all that brake dust and dirt off your wheels. You can also use it to clean your fenders, liners, and other trim pieces on your car so you don't get your mitt all dirty. It's just a useful brush to own if you regularly wash your car.
2. Runner-up: Adam's Wheel Spoke Brush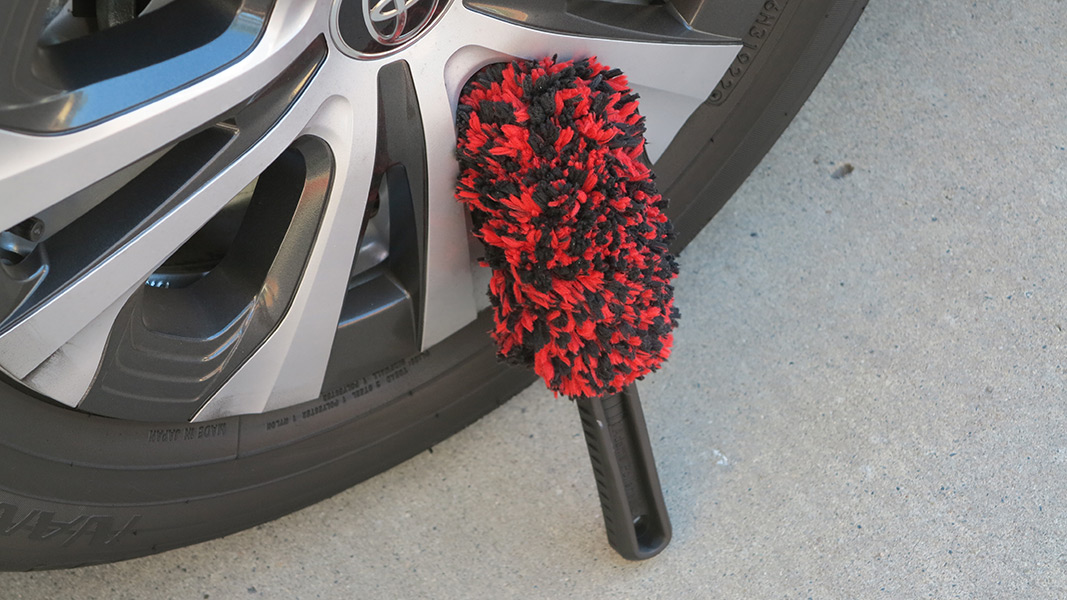 Although I awarded this product "runner-up", I don't really consider it a "second best" option. I often use it to complement my Chemical Guys brush, as this works better to get in between spokes and behind the wheels. In fact, if your Porsche has wheels with a more complicated design, I might even recommend this wheel brush to you over my top pick. It comes from Adam's Polishes and it's the company's Wheel Spoke Brush packed with soft and safe bristles. It's really soft to the feel and it works well with wheel cleaners since it is chemical resistant.
I actually found the handle length on this wheel brush to be ideal. It's short enough to make it easy to use, but long enough so you don't accidentally hit your hand on something while cleaning. Adam's does offer a few other wheel brushes, including an angled one that I have used in the past with good results.
3. Premium pick: Brush Hero Wheel Brush
While I personally haven't had a chance to use the Brush Hero Wheel Brush, it comes highly recommended from a few people I know. It's basically a water-powered brush that makes quick work of all that dirt on your wheels. The company does say you can also use it on the exterior surfaces of your car, although I personally would be hesitant to do that. But as a wheel cleaner, I have heard it's really effective.
Simply connect the Brush Hero to a garden hose and water pressure will take care of the rest. You'll get two different brushes with the tool, a soft black brush for sensitive surfaces and a tough white brush to work on dirtier areas of your car. There is also a Brush Hero Pro kit if you are looking for more control, equipped with a water pressure switch and some minor comfort tweaks. This option is probably ideal for those who are using a garden hose to wash their car and not a pressure washer.
4. Best kit: LUCKLYJONE Wheel & Tire Brush Kit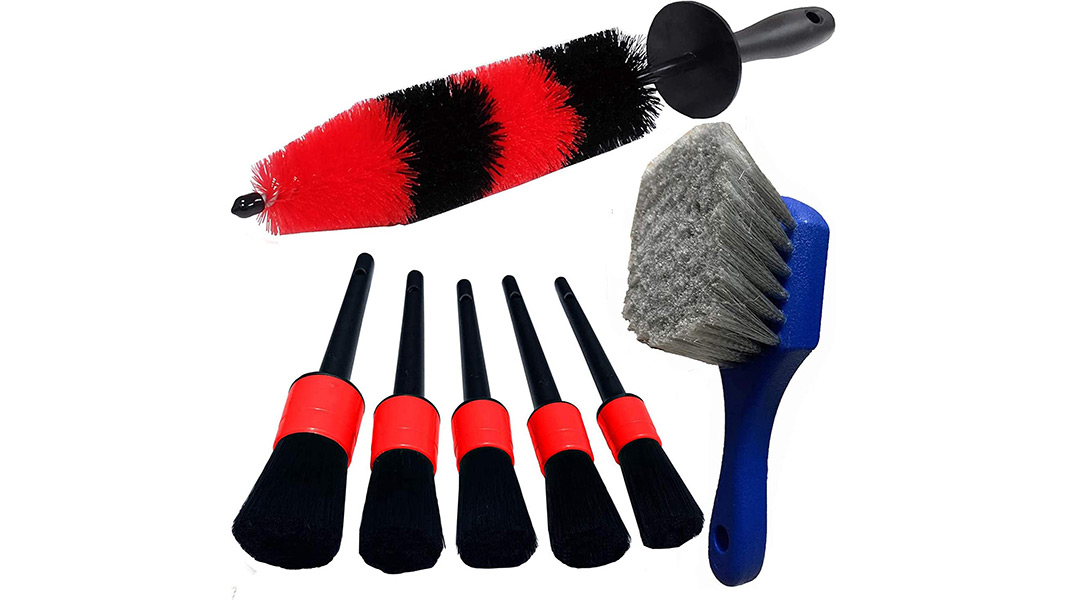 I'm generally not a huge fan of kits like this, but when it comes to a product that's straightforward like a wheel brush, I think they're worth mentioning. Sometimes you need multiple tools to do the job depending on how intricate your wheels are and how meticulous you want to get with cleaning them. This kit has thousands of positive user reviews and appears to offer great value for the price. As you can tell by the photo, it's a seven-piece kit that includes a 17″ long soft wheel brush, five detail brushes, and a standard short handle tire brush with soft and gentle bristles.
Another reason why I don't mind recommending this kit is that the other brushes can be used to clean various other areas of your car, including the interior. If you have a need for multiple brushes, go with this kit from LUCKLYJONE.
5. Also consider: Mothers Wheel Brush and Tire Cleaner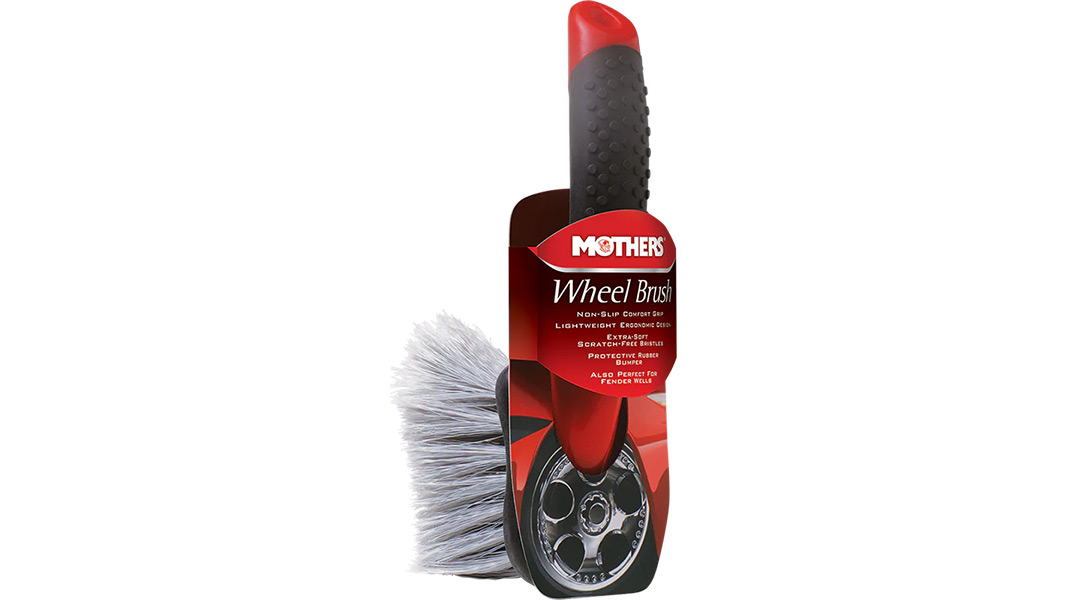 My final wheel brush recommendation is actually the old wheel brush that I used for a while before replacing it with the combination of my first two picks at the top of this list. It comes from Mothers and there isn't anything necessarily wrong with it, I just knew it was time to replace my wheel brush and I decided to go with something new. Overall, it's pretty similar to the Chemical Guys wheel brush I have at the top of my list, with soft bristles and a comfortable handle. This one does have rubber accents to protect from accidental bumps. Mothers also sells a version with a longer handle if that's what you prefer.
I honestly have no compelling argument to recommend one brush over the other in this case, so if you're happy with the price and the Mothers brand, feel free to order yourself one.
6. Bonus: Adam's Lug Nut Brush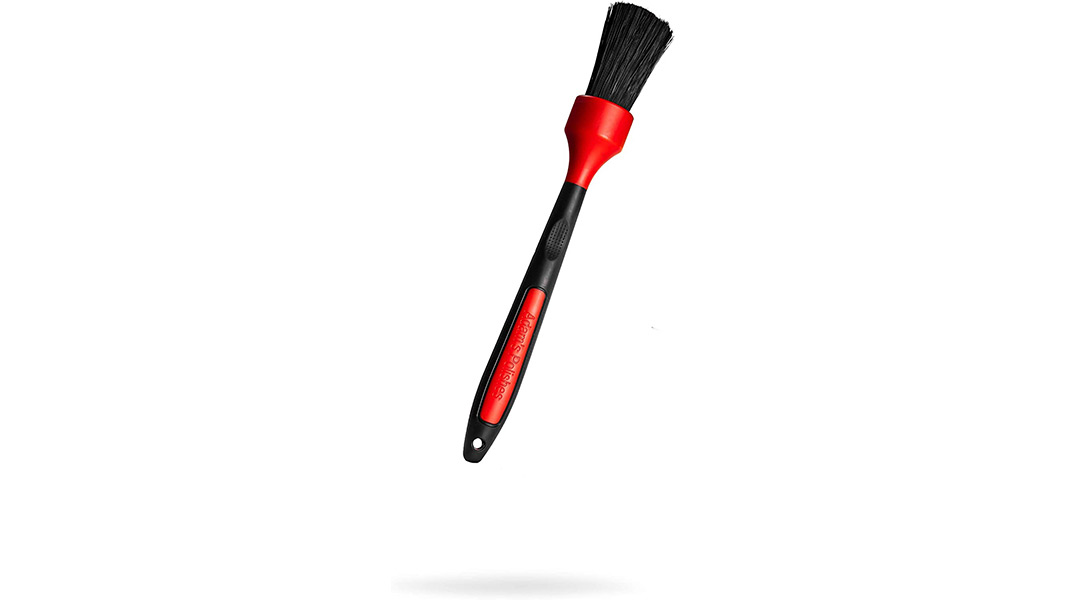 This isn't exactly a wheel brush, but I wanted to include it on the list as an added bonus. This is Adam's Lug Nut Brush, which can also be used to detail various trim pieces on your car or your interior. It's mainly designed to get into the deep crevices of your lug nuts and features a long rubberized handle that makes it easy to use. This product is by no means a necessity and is really a luxury item in my opinion, but it's definitely nice to have for those who really want a spotless car.
How to properly clean your wheels
There are different ways to clean your wheels, from using your wash mitt, to wheel cleaners and wheel brushes. Whichever option you go with, you always want to use a separate bucket than what you're using to wash your car. The last thing you want to do is transfer dirt and accidentally scratch your wheels while cleaning them because you didn't want to use a separate bucket.
Typically, I start by using a pressure washer with a 25-degree angled tip to get all the loose dirt and dust off my wheels. Then I grab one of my favorite wheel cleaners and spray down the wheels. Depending on how dirty the wheels are, I'll let the solution work for a minute or two before grabbing a wheel brush to agitate and clean. Afterwards, I rinse the wheels again with the pressure washer and check if I missed any spots.
How often do I need to replace my wheel brush?
It's tough to answer this question, because it boils down to the quality of your wheel brush, how often you use it, and how you care for it afterwards. But eventually you will want to replace your wheel brush because it won't be as effective once after several years of usage. As you can tell by the photo of my Chemical Guys wheel brush, it's probably about time for me to replace it.
How do I choose the right style wheel brush?
Even in this list of recommendations, we have a few different types of wheel brushes. The best recommendation I can give is to look at your wheel design to determine if you need a longer wheel brush, an angled wheel brush, or if a conventional wheel brush will do the job. Mesh wheels and multi-spoke wheels tend to be more difficult to clean, and for those designs I would recommend Adam's Wheel Spoke Brush. If you have something that's more open with less spokes overall, my top pick or the wheel brush from Mothers should be best. Like most automotive-related products, pick the best tool for the job based on your car's setup.