If you own a BEV and often use one-pedal driving or mostly rely on regenerative braking to bring you to a stop, you've probably noticed that brake dust isn't as big of an annoyance anymore. In fact, your wheels probably aren't as dirty as you've grown accustomed to from previously owning an ICE vehicle. Nonetheless, your wheels still get dirty, and you'll want to keep them clean. If you currently wash your wheels with the same bucket of car wash soap and mitt you use for washing your car, you should stop. Even if it's the last thing you do so you don't risk transferring that dirt back onto your car's surface, using a wheel cleaner and a wheel brush is preferred. This method is more efficient and means spending less time in an uncomfortable position while scrubbing your wheels.
Below, you'll find our top picks for the best wheel cleaners, four of which we've tested ourselves. Our final recommendation is based on user reviews and its popularity within the automotive community. We ranked them according to a mix of price and performance, because some wheel cleaners required more than one application for good results. Your results will vary depending on how dirty your wheels are, but any of these recommendations will do a solid job at making your wheels clean again.
1. Top pick: Adam's Wheel Cleaner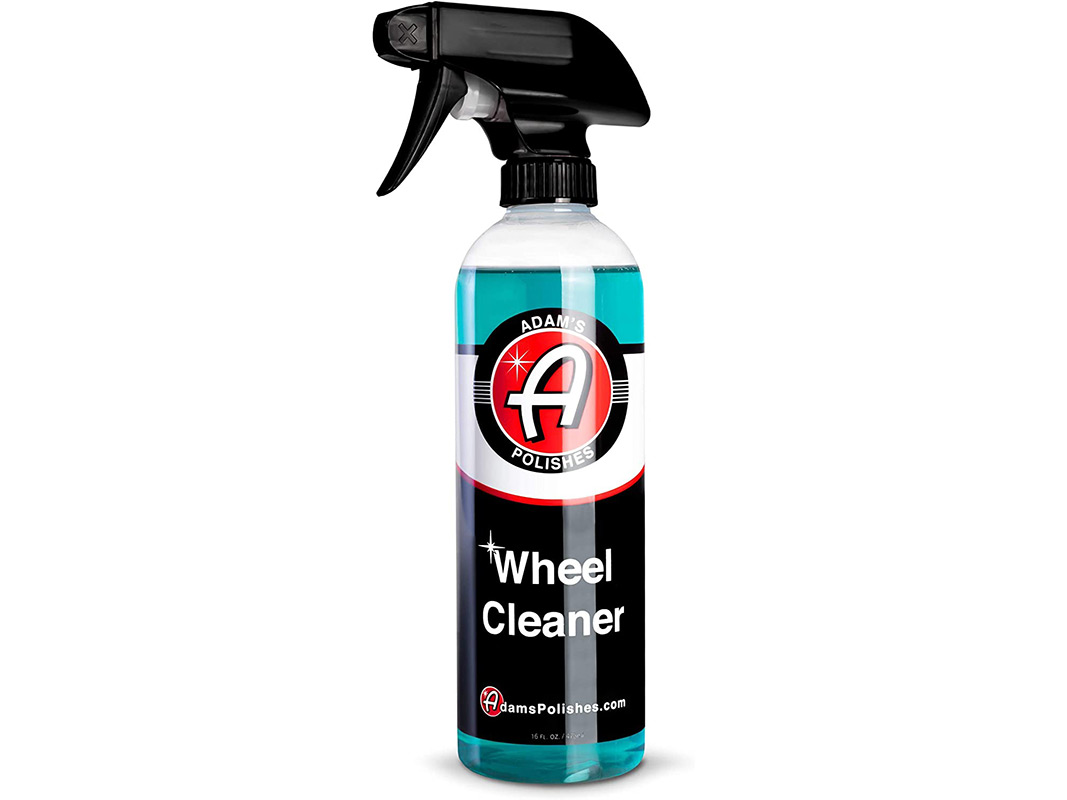 I would say that I started using wheel cleaners on a regular basis in the last 10 years or so. Perhaps I feel too old to clean my wheels by hand or I'm just lazy now, but wheel cleaners have proven to be effective and a real timesaver. As a result, I have been very satisfied with this wheel cleaner from Adam's Polishes. It almost always gets the job done with a single application, and its acid-free, pH-neutral formula gives me peace of mind that it won't ruin my wheels. Most of the time, I spray it on my wheels, let it sit for a couple of minutes, and then rinse it off with a pressure washer. If the wheels are especially dirty, then I'll use a wheel brush to get into some areas.
It's worth noting that you shouldn't use this wheel cleaner if you have anodized raw aluminum, polished aluminum, or aftermarket bare metallic wheels as it could damage the finish. If you're unsure, contact Adam's Polishes before using it, or you can check out the company's milder Eco Wheel Cleaner. Adam's claims that it's safe to use on factory clear-coated, factory powder coated, factory painted wheels, and high-performance brakes.
2. Runner-up: Griot's Garage Heavy Duty Wheel Cleaner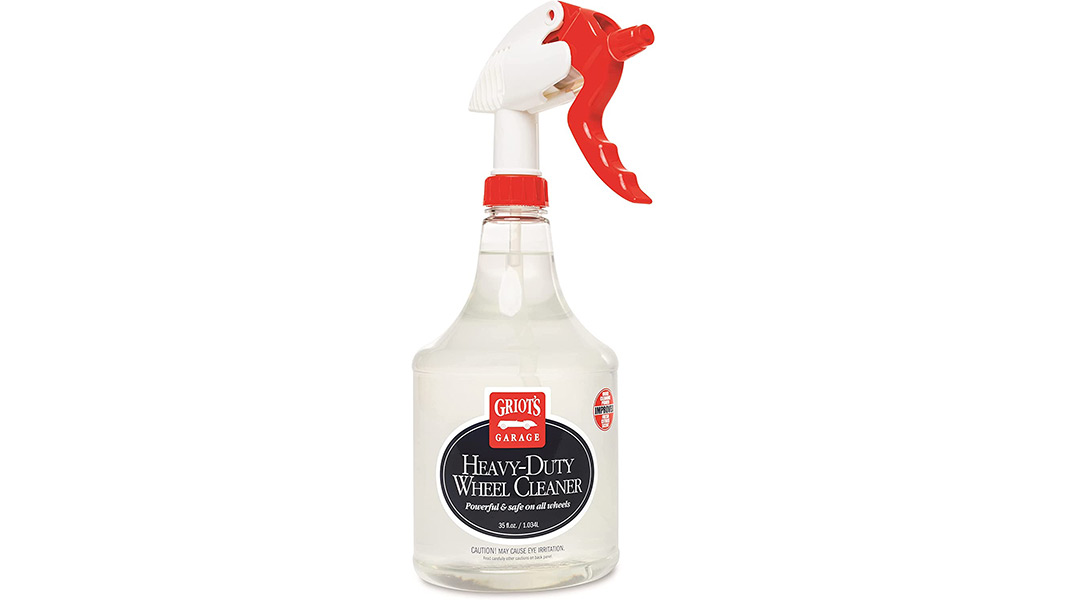 For decades, Griot's Garage has been the go-to brand for many professional car detailers. And for good reason, as the brand has built a reputation over the decades by delivering quality products at reasonable prices. I wouldn't have any complaints using this wheel cleaner myself.
As expected, it's pH balanced, non-acidic, and non-caustic, making it safe to use on nearly all wheel finishes. I personally say "nearly," despite the manufacturer's claim that it's safe for all wheel finishes, because there's always a chance that a chemical reaction might cause tarnishing. This wheel cleaner will change color as it cleans, so you know when it's working.
If you prefer something milder and don't need a heavy duty cleaner, Griot's Garage also offers a standard wheel cleaner that has been approved by BBS, Dayton Wire Wheels, and The Tire Rack.
3. For experienced detailers: Chemical Guys Signature Series Wheel Cleaner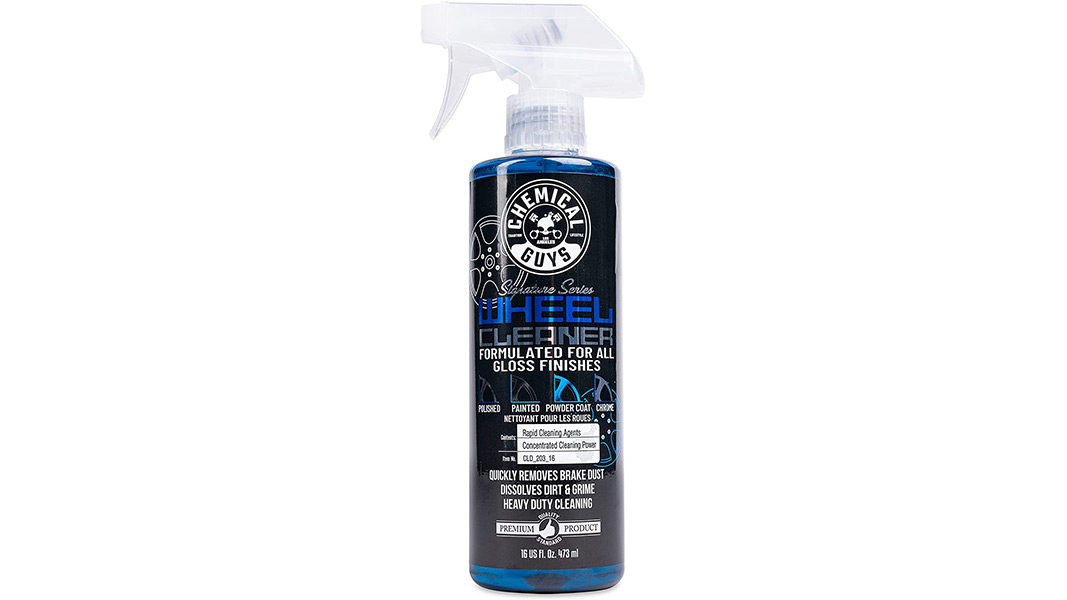 This concentrated formula from Chemical Guys works really well, but I would only recommend it if you have experience with concentrated solutions and know what you need to clean your wheels. Straight from the bottle, I found it to be quite potent, and I've had mixed results without diluting it. In other words, this isn't a product you can use straight out of the box for optimal results. I'd also add that if you don't have a pressure washer, don't be surprised if some residue is left behind depending on how diluted the wheel cleaner is.
Nonetheless, this citrus-based wheel cleaner does a great job at getting rid of brake dust and dirt on your wheels. It's safe to use on chrome, painted, polished, and powder coated wheels. I must reiterate that you'll likely need to dilute the solution before using it, and it's recommended to use a pressure washer for thorough removal.
4. Also consider: Meguiar's Ultimate All Wheel Cleaner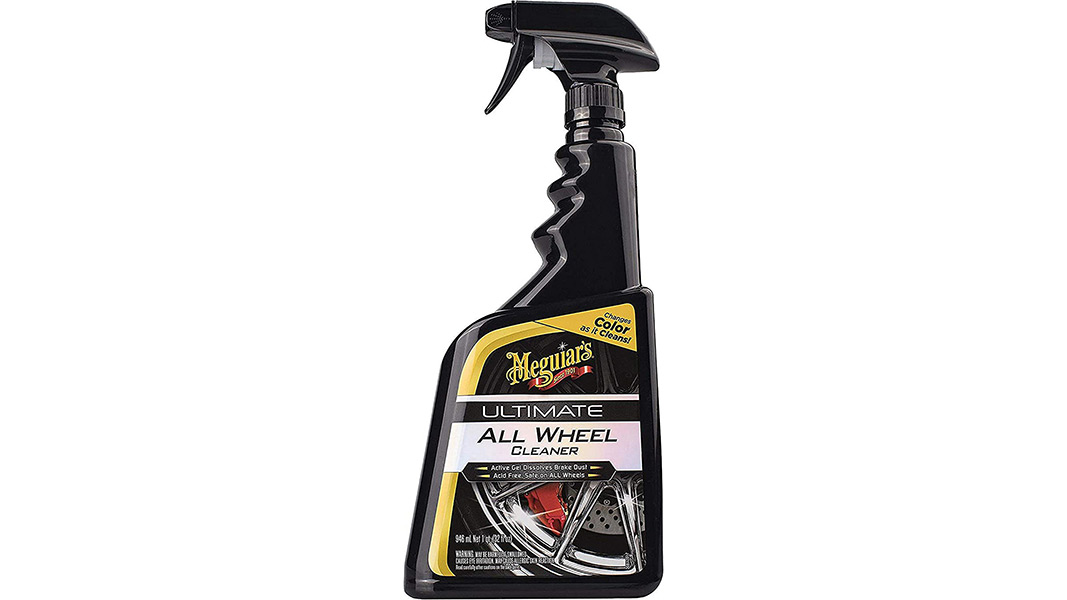 If there was ever a car detailing brand that you could trust to do the job well at an affordable price, it's Meguiar's. While it's not always my top recommendation in certain categories, I almost always keep a bottle of Meguiar's version of a product on hand because it's highly dependable. The same goes for its Ultimate All Wheel Cleaner, which, like Griot's Garage's wheel cleaner, changes colors as it works. It's an acid-free and pH-balanced solution and should be safe on nearly all wheel finishes and brake components. Again, I say "nearly," despite the manufacturer's claim that it's safe for all wheel finishes, as there can always be exceptions.
If you've used Meguiar's products in the past and have been satisfied with the results, I see no reason to recommend anything else to you. You'll get the same dependable and reliable performance you've come to expect from Meguiar's with this wheel cleaner.
5. Honorable mention: CAR GUYS Wheel Cleaner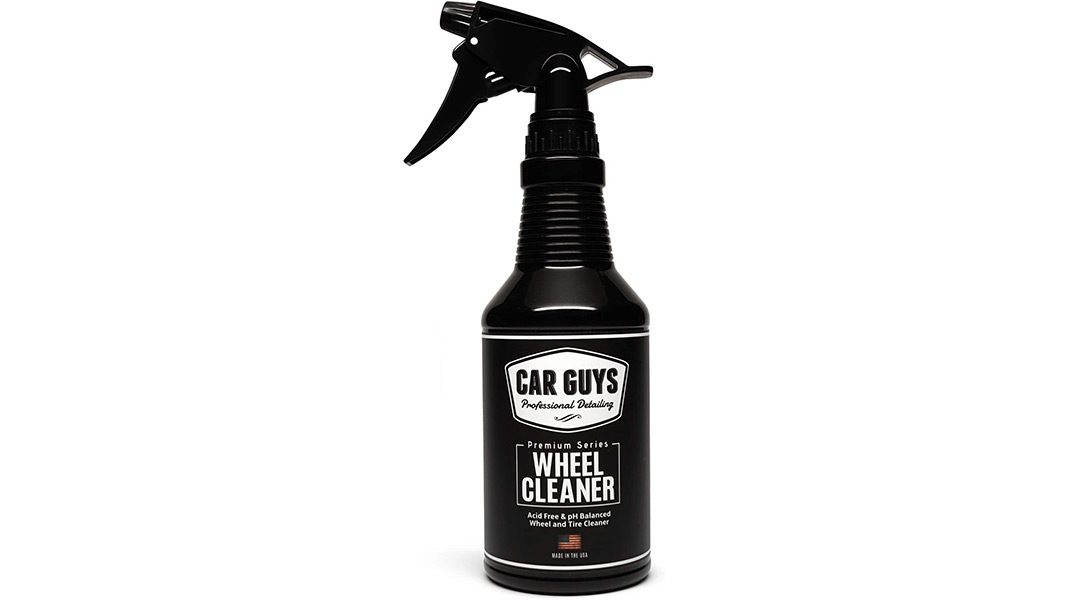 As I mentioned earlier in this article, I haven't personally tested this wheel cleaner, but it's on my schedule, so I will eventually update this article with some feedback after trying it out. But based on my research scouring user reviews and forum discussions, I'm confident that it's a solid recommendation if, for some reason, you aren't comfortable purchasing any of our other picks. According to CAR GUYS, it's a pH neutral formula that's safe on all rims and tires, but again, I always recommend testing it on a small area before spraying your entire wheel with it. It's a highly concentrated cleaning gel that can be diluted, similar to the Chemical Guys' wheel cleaner.
One of the biggest complaints I found from users is that the spray bottle isn't great quality. Like other concentrated formulas, some users complain about leftover residue when they didn't dilute the solution. I'll be sure to update this post as soon as I get a chance to test the CAR GUYS wheel cleaner myself.
Why do I need wheel cleaner?
You don't necessarily need wheel cleaner, but you probably want it. For starters, cleaning your wheels can be a dirty job and it's generally not fun. The finished result is always pleasing to our eyes as car enthusiasts, but anything that makes it easier is always welcomed. Wheel cleaners are specially designed formulas to wash away all that dirt, grime, and brake dust off your wheels, so you're left with some light scrubbing to get the rest of it off. If you wash your car weekly, you might be able to get away with just spraying wheel cleaner on and rinsing it off, especially if you have a pressure washer.
Can I use wax on my wheels?
You can! Some car owners do use wax or apply a type of sealant or coating to protect their wheels. More importantly, doing so will make cleaning your wheels a lot easier since the brake dust and dirt will have a harder time sticking to the wheel with that thin layer of protection applied.
Do I really have to clean my wheels?
You don't really have to clean your car if you don't want to, but if you own an EV, you're likely want to. Neglecting your wheels can cause permanent damage to the finish, ruining the clear coat if your wheels have one. The longer you go without cleaning your wheels, the more difficult it will be to get all that dirt and brake dust off. Do yourself a favor and use a wheel cleaner every wash.
Can I reduce brake dust?
Swapping out your brake pads for ceramic pads can help reduce the amount of brake dust on your wheels. Typically, ceramic brake pads are high performance units offered by the aftermarket that will improve braking performance. But since ceramic is a harder material (which produces less dust), it could cause your brake rotors to wear down quicker. Typically it's recommended to get high performance rotors to go with the ceramic brake pads.
What can make cleaning my wheels easier?
We always recommend getting a wheel brush to help clean your wheels. They're one of the dirtiest parts of your car and while you could just use your wash mitt, you don't want to get it full of dirt and grime. After all, that wash mitt is being used to clean the exterior of your car. Wheel brushes are affordable and are designed to make it easier to scrub all that nasty brake dust off your wheels.
Tips for cleaning your wheels
Along with getting yourself a quality wheel brush, here are some general tips for cleaning your wheels:
If you can, clean your wheels in the shade after the surface has cooled down
When using wheel cleaner, spray it from the bottom of the wheel and work your way upwards so concentrated solution isn't running down the face of the wheel
Make sure you scrub and spray off the wheels in a timely fashion, you do not want the wheel cleaner to dry — do one wheel at a time!