When the Tesla Model 3 first arrived on the market in 2017, it was widely considered a high-tech vehicle — but it wasn't without its fair share of criticism. For starters, it mostly lacked physical buttons, knobs, and dials, instead relying on a giant, landscape touch screen display for most of its controls. If you own a Model 3, you've likely gotten used to its quirks like I have, but there are probably some features you wish came with the vehicle. As we all know, no car is perfect when it leaves the assembly line, otherwise the aftermarket wouldn't exist. And that's where we turn to check out some accessories to make your Model 3 more functional on your daily commute.
Below, you'll find our list of recommendations for the best Tesla Model 3 accessories covering a wide range of prices. Whether it's to make your grocery runs more convenient, keep your center console organized, or just to keep your Model 3 nice and clean, we've got you covered.
1. Best floor mats: TAPTES all-weather floor liners
If you're like me and aren't a fan of the factory Model 3 floor mats from Tesla, I highly recommend these all-weather floor liners from TAPTES. They're more affordable compared to a well-known brand like WeatherTech so they're my recommendation if you're on a budget. If you don't mind paying the premium for WeatherTech's FloorLiners, I highly recommend those as well. As for the TAPTES floor mats, they're available as a three-piece set for model years 2017 to 2022, and a six-piece set for model years 2021-2022. Constructed from rubber and thermoplastic elastomer, these floor liners are precisely measured and specifically designed for your Model 3's interior.
Why would you want these floor liners over the factory floor mats? Well for starters, the original carpet floor mats aren't waterproof. If you live an area that often experiences rain or snow, you know how quickly your floor mats can get dirty from tracking in all that grime. These floor liners are waterproof and easy to clean: simply pull them out and hose them off. They're also ideal if you have kids and you're worried about spilled food and drink.
2. Best screen protector: Spigen tempered glass screen protector
We'd have a hard time finding people who would consider the Tesla Model 3 an affordable car. Sure, it's not as expensive as a Porsche Taycan, but it's also not a Chevrolet Spark. It's likely you plan on keeping your Model 3 for many years to come, which means you'll want to protect one of its most important components: the giant touch screen display. There are plenty of screen protectors available for the Model 3 and if you're getting a headache just browsing through all of them, we recommend going with one of the most well-known brands in the industry, Spigen.
If you have ever shopped for a screen protector or case for your smartphone, you've likely come across a product from Spigen. The company offers all sorts of accessories for tech gadgets, and is a well-respected brand within the industry. Its tempered glass screen protector is rated at 9H hardness, providing excellent scratch resistance. If you want to learn more about the Mohs scale of mineral hardness, click here.
With all the years of experience Spigen has in the industry, it's little surprise the company's screen protector is one of the easiest to install on the Model 3. Spigen uses what it calls "EZ Fit," which is an auto-alignment tool to make installation as straightforward as possible. If you're worried about it affecting the clarity of your screen, worry not as it'll preserve the screen's original brightness. Touch responsiveness also isn't affected so you don't have to worry about any sort of lag with the screen protector installed.
3. Best phone mount: Topfit smartphone mount
One of the biggest issues of owning a Tesla Model 3 is that your run-of-the-mill smartphone mount likely doesn't work. The car's unique interior design means most mounts on the market that use the A/C vents won't work well. This is where Topfit's mount for the Tesla Model 3 comes in handy. If you're a ride-share driver, or prefer to use your smartphone for navigation than the Model 3's large display, you're going to want it in a convenient location that's in line of sight.
Topfit's smartphone mount is a clever solution to a unique problem, clipping to the top of the monitor for a secure fit, giving your smartphone a usable mount. The mount is designed for phones sized from 5.5 inches to 7.1 inches, so if you've got a smaller or larger device, you'll have to look elsewhere. Constructed from ABS plastic, you won't have to worry about the clip scratching your display. It also includes a small organizer box that clips to the back of the mount, giving you additional storage behind the display, for say, your sunglasses.
4. Best console organizer: SUMK center console organizer tray
When it comes to certain areas of the Model 3's interior, it's evident Tesla engineers spent a lot of effort to create something modern and (somewhat) easy to use. The center console was not one of those areas. While it offers a lot of room, it's essentially one giant pocket where items can get buried and lost. Center console trays, like this one from SUMK, aren't some brilliant new idea but it's certainly one accessory that makes your Model 3 just a bit nicer.
Note that this center console tray fits the 2021 Model 3, so if you own an older model, check out this recommendation from JKCOVER. As for SUMK's tray, it's made from ABS plastic and features a matte finish that blends in with the rest of the center console. Inside the tray are rubber liners to keep your items in place and those liners can be removed and washed. Best of all, the tray itself can slide back and forth so you can hide the contents if necessary. That also means you can still access any items you're storing underneath the tray.
5. Best rear trunk organizer: KMMOTORS rear trunk organizer
Like other electric vehicles, the Tesla Model 3 benefits from having a frunk and a trunk for extra storage. For owners who don't want to install a cargo net to keep the items in their trunk organized, take a look at this product recommendation. It's a collapsible trunk organizer with vertical dividers so you can organize all your cargo, from groceries to tools. Each organizer includes a pair of dividers equipped with mesh pockets.
Installing the whole set is extremely easy, using the hook and loop wings found in the under-trunk walls to hold the entire assembly in place. It's a seamless and simple solution to add three compartments to your trunk with little to no hassle. This product is great for Model 3 owners who are tired of items sliding around in their trunk each day during their commute.
6. Best pedals: Topfit aluminum pedals
For those who grew up modifying cars, a set of aluminum pedals was one of the most basic modifications you could make to spice up your interior. The same goes for the Tesla Model 3, and while it won't really impact the performance or usability of your EV, it will brighten up your cabin.
These pedals feature a nonslip surface, constructed with high-quality aluminum and rubber. Installation is really straightforward, and you can check out some of the videos on the product's listing page to get more information. At their price point, these pedals also make a great gift idea for that Model 3 owner in your life.
7. Best jack pads: Chirano lifting jack pads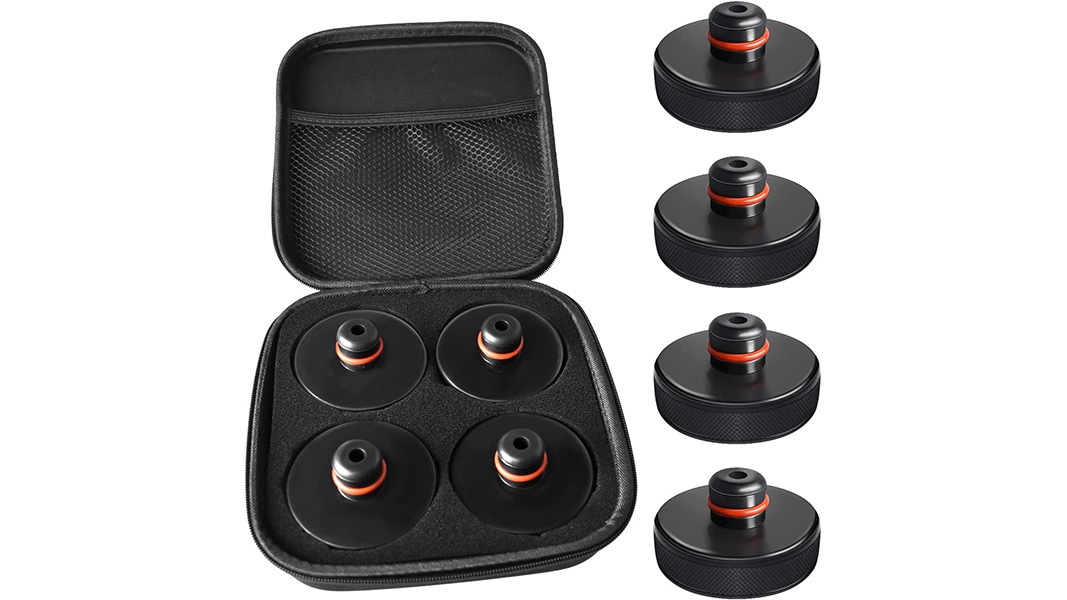 While your Tesla Model 3 requires a lot less maintenance than a conventional ICE vehicle, there may be times when you need to lift it off the ground — to rotate your tires, for example. As you might well know, the battery pack is underneath your vehicle and one of the safest ways to use a floor jack or lift is with a set of lifting jack pads like this one from Chirano. These pucks measure 2.7″ in diameter and are 1″ thick and can be used with a floor jack or two-post lift. Basically, you screw these jack pads into the Model 3's jack point hole before using your floor jack or lift. They are constructed from 100% solid rubber and come with a nice storage case so you can leave them inside your glove box.
What accessories does Tesla offer for the Model 3?
What Tesla offers with its vehicles changes with each model year, but at the time of writing, the customizer offers optional 19-inch Sport Wheels for $1,500; the wall connector charger for $400; and the mobile connector for $200 (no longer included with the vehicle). But if you take a look through Tesla's shop on its website, the American automaker has a wide range of accessories for its electric sedan. Options include all-weather interior liners, illuminated door sills, a roof rack, center console trays, car cover, carbon fiber rear spoiler, mud flaps, and more. Whether you want to pay the extra premium for official Tesla accessories is up to you, but oftentimes what the aftermarket provides is equal or even better quality than what's offered from the factory.
Will installing Tesla Model 3 accessories void my warranty?
The answer to this question really depends on how strict your local service center is. But our product recommendations do not impact the performance or service of your vehicle, and most of them could easily be removed if necessary. Generally, if you're not directly modifying the performance of your vehicle, then you shouldn't have to worry about any warranty issues.
Why did I not get a mobile connector with my Tesla Model 3?
Tesla stopped including the corded mobile connector with the Model 3 effective April 17. So if you ordered your vehicle on or past that date, then you didn't receive a mobile connector. The automaker is charging $200 for it separately, and according to its CEO Elon Musk, the connector was removed due to low usage. At first, the company was going to charge $400 for the mobile connector, but dropped it to $200 and made it available when ordering the car. As always, we recommend getting yourself a home EV charger.
Recent updates:
Updated (12:50 p.m. EST, 1/19/23): Added a new product recommendation to the list.