If you often park your EV outside, do it and yourself a favor by spending a few bucks on a car sun shade. Proper car sun shades do more than just keep the interior of your car cooler on a hot day, they'll protect the cabin from the sun's harmful and damaging UV rays. You ever seen those dashboards and seats that are cracked and discolored? That's from prolong exposure to UV rays and you do not want that happening to your car. Not only is the damage unsightly, it will lower the resale value of your vehicle dramatically.
Along with routinely using a quality interior cleaner, car sun shades can help prevent that damage from happening. Sure, they aren't the most stylish of products and some can be a pain to setup each time you park your car, but you'll be thanking yourself years later when your interior still looks classy and intact. Best of all, car sun shades are relatively affordable and if you live anywhere that experiences hot temperatures, you'll be grateful you blocked out your windows.
For the most part, car sun shades are simple products designed to do one thing: block out the sun. But there are different designs, some that are more effective and easier to use, which we'll highlight below. One of the most important factors when picking the best car sun shades for your vehicle is knowing the size you need. This isn't as important for window sun shades, but if you're shopping for something to block out your windshield, you'll need the correct size, otherwise it won't be as effective. Since most car sun shades are designed to be universal, get the size closest to filling your entire windshield. There are however, some vehicle-specific applications that are designed to fit perfectly. If that's available for your car, we highly recommend purchasing that — although you likely won't be able to use it if you replace your car. Unfortunately we don't know what car you own, so we'll mainly be focusing on universal products. If something catches your eye though, take a few minutes to check if that specific sun shade has a variant made to fit your specific vehicle.
Below, you'll find our top recommendations for the best car sun shades, followed by more information on what to look for when shopping for a car sun shade and how to choose the best one for your vehicle.
1. Best for windshield: EcoNour car windshield sun shade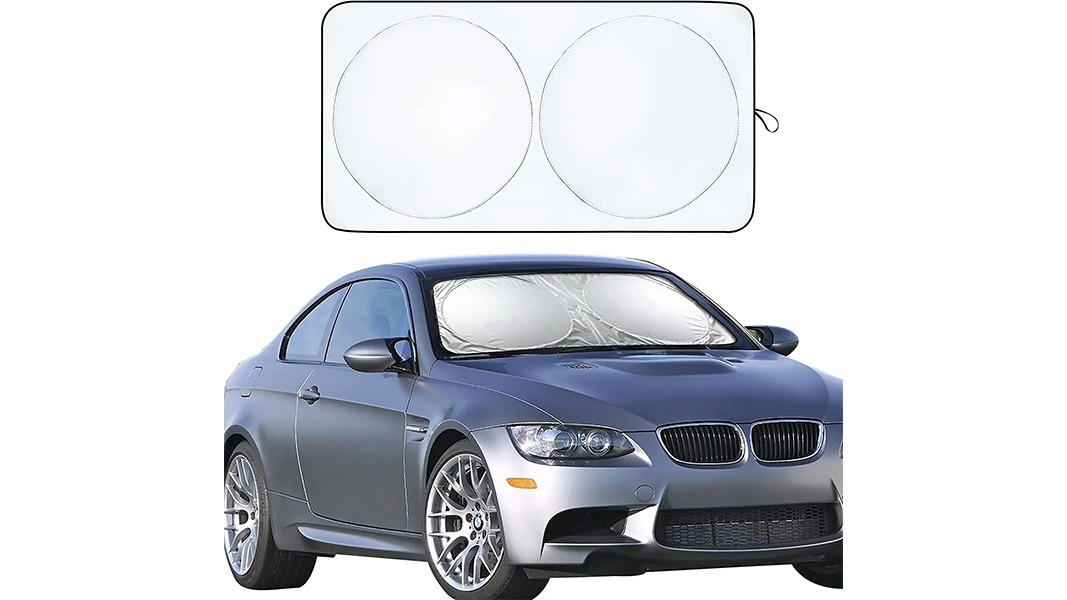 Available in a wide range of sizes, EcoNour's sun shade is our top pick for a windshield sun shade. It's constructed from durable 240T polyester material and has a better design (in my opinion) than the accordion-style sun shade. At first, this windshield sun shade may seem tricky to fold and store when not in use, but once you figure out how to do it, it becomes second nature. EcoNour also includes a compact storage bag that you can shove underneath your seat when the sun shade isn't being used.
One of the main reasons why we recommend EcoNour's product is due to its wide range of available sizes. Its design also allows for some overlap, so you can adjust the sun shade to properly fit your windshield. The company also has vehicle-specific applications, like this windshield sun shade for Tesla models. When considering price and performance, we found EcoNour's windshield sun shades to be one of the best.
2. Best for windows: Enovoe car window shade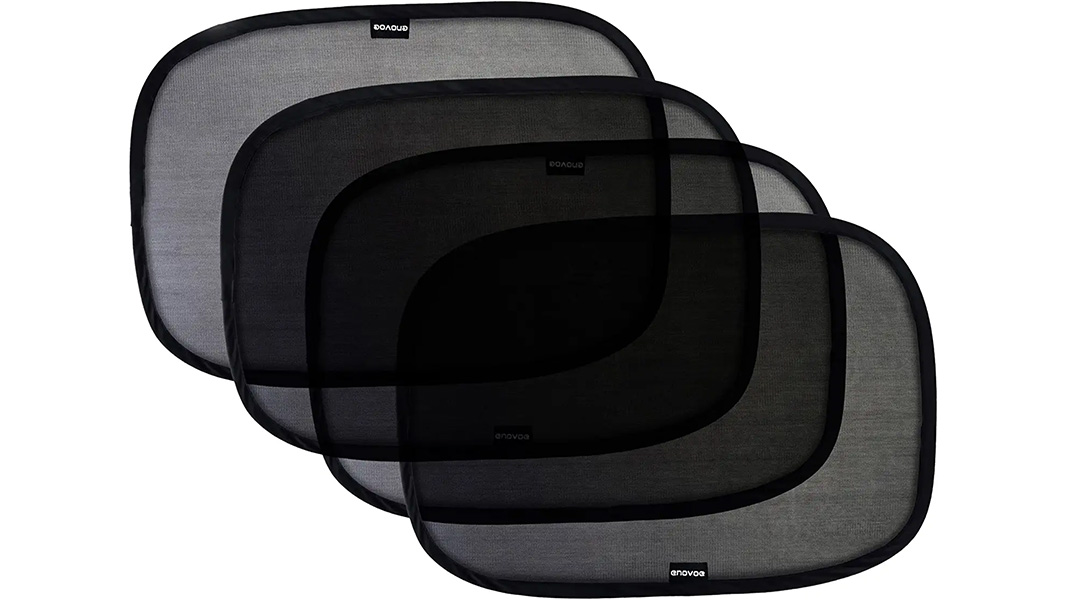 When it comes to blocking out your side windows, Enovoe's car window shades are the obvious choice. We recommend the four-pack since most EVs out there have four doors, but if you do have a coupe or convertible, Enovoe also offers a two-pack. These particular window sun shades measure 21″ by 14″ and feature a dual layer design. The static cling side attaches to the window, making it easy to install or remove without having to use any type of adhesive or even suction cups. Yes, you simply place the sun shade against your glass window and run your hand across it to make it stick. The other side of each shade consists of a mesh material, which allows for some visibility.
Enovoe claims these window sun shades block over 97 percent of harmful UV rays and they are available in other sizes (19″ x 12″ and 25″ x 16″) if you have smaller or lager windows. You can also choose from an alternative, kid-friendly animals design.
We recommend these window sun shades because they're easy to install and remove, made from quality materials, and do a solid job of blocking out the sun. A storage pouch is also included.
3. Best novelty: Nersunda windshield sun shade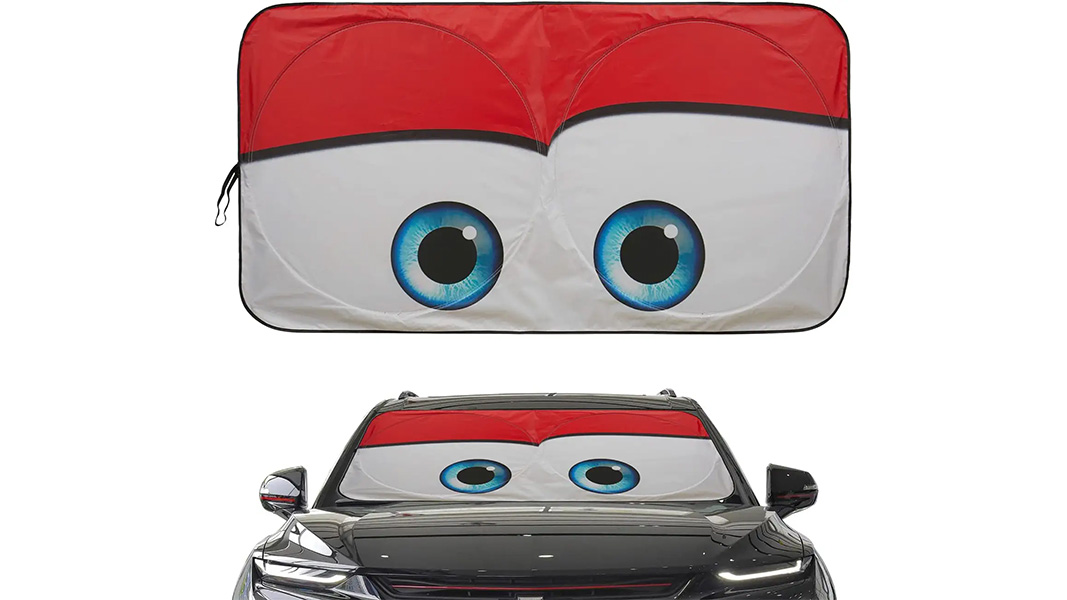 Want a bit of personality with your windshield sun shade? Some major manufacturers do offer clever designs with their sun shades so they aren't so boring and we particularly like this one. It's clearly heavily influenced by Pixar's Cars but it's obviously not licensed by Disney, otherwise it wouldn't be so affordable. It comes from Nersunda, and the company offers a few different designs that might fit your style. Again, there are other brands that offer different novelty designs on their windshield sun shades, just make sure you aren't choosing based on how it looks. Make sure you're still getting a decent product.
Nersunda's windshield sun shade is available in two different sizes, standard and large. The standard measures 59″ by 31″ while the large is 63″ by 33.8″. Given the price, this windshield sun shade is admittedly a bit on the thin side and won't be as effective as EcoNour's windshield sun shade, but if you do want a cute design to go with your parked car, it's a solid choice.
4. Best "umbrella-style": helloleiboo car windshield sun shade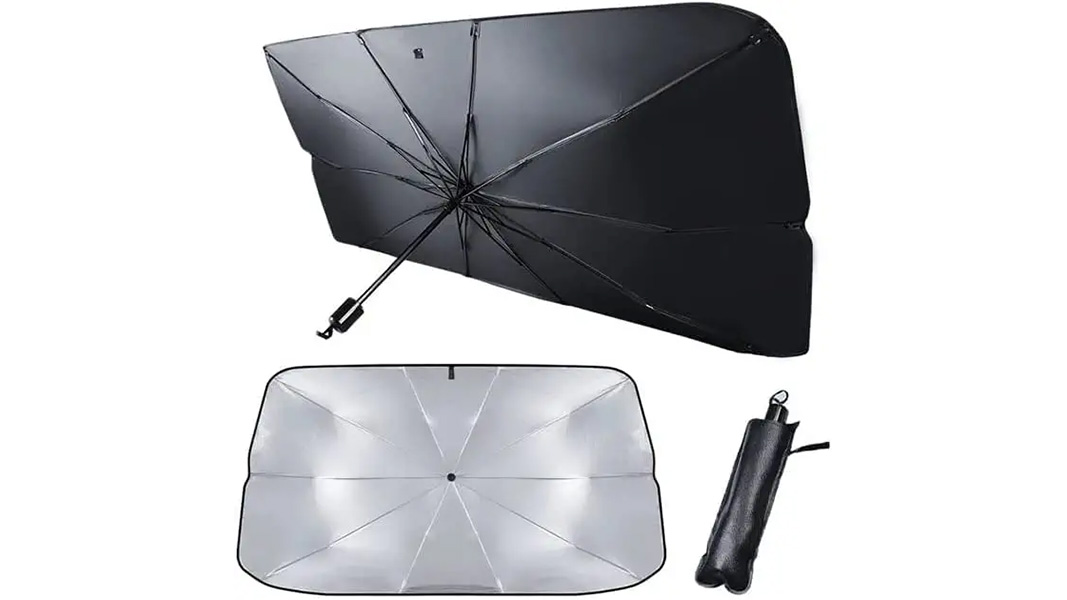 Some say umbrella-style windshield sun shades are easier to setup and remove, while others find it easier to just fold up their sun shades. We do think this largely comes down to personal preference and if you've been frustrated in the past trying to fold up a sun shade, you may want to consider this umbrella-style recommendation from helloleiboo. It operates like you'd expect an umbrella would, just pop it open after you park to cover up your windshield. We do like this style of windshield sun shade because it's more compact and easier to store when you're not using it.
This particular product is available in two different sizes: 53″ by 31″ and 57″ by 31″. It is a bit limited compared to other options, but if it fits your windshield and you prefer this style, give it a shot. The company does have a good reputation for its customer service and will offer 24 months of support. Now, given the price, you shouldn't expect something that is extremely durable and how long it lasts will largely come down to how often you're using it.
5. Best retractable: SEINECA retractable windshield sun shade
Arguably the most convenient windshield sun shade design out there is a retractable one, although some may say differently. But if it appeals to you, this option from SEINECA covers up to 60″ by 25.6″ and should fit most vehicles. There's also a larger 74.8″ by 31.5″ version, but it's highly unlikely you need something that large unless you drive a semi-truck. Since it is a retractable design, it's adjustable to accommodate smaller windshields. During installation, you may also have to cut off some excess if your windshield is on the smaller side.
It'll attach to your windshield via suction cups, and once affixed, you'll just have to slide it out to cover up your windshield. The sun shade itself consists of four layers of high-density material, with an outer aluminum foil layer to reflect sunlight. We do recommend being gentle with this product, as anything with moving parts is more likely to break with use.
A bit more tedious and cumbersome to initially setup, but once you have it attached the way you like, pulling out the sun shade is quick and convenient. Again, this is largely down to personal preference on whether you like this style, but it is our recommendation if you want something retractable.
Which side of a car windshield sun shade faces out?
Most car windshield sun shades will have a reflective (shiny) side and a dark-colored side. If you're looking to keep heat out of your car, you'll want the reflective side facing outwards towards the sun, while the black side will face your interior. Windshield sun shades can also be helpful in the winter, by keeping the dark side facing outwards so it absorbs more heat to warm up your cabin.
This does mean that novelty sun shades aren't as effective because you aren't putting the reflective side facing out, but it's the price you pay to look cool.
How often do I need to replace car sun shades?
Given their price point, you shouldn't expect car sun shades to last forever. But how long they do last is largely dependent on how often they're used. Generally, quality car sun shades are durable and should last you a few years. But prolong exposure to the sun, and in the case of a windshield sun shade, how often you fold and unfold it can affect its longevity. It should be pretty obvious to you when your car sun shade needs replacing, as it'll likely be falling apart or won't open or fold properly.
What size car sun shade do I need?
As we mentioned earlier, most car sun shades are designed to be universal, so you'll want to get a size that's closest to the size of your windshield. Get one that will fit securely against your windshield, covering up as much of it as possible. Again, some manufacturers will make windshield sun shades for specific vehicles, and that should be your top option, if available.