For the most part, owning an electrified vehicle is very similar to owning any vehicle, except for needing to charge your car in lieu of stopping at the gas station. But if you own an EV, you've likely come to appreciate not having to spend money on maintenance for your vehicle. From oil changes to spark plugs, routine visits to the dealership or your local shop is a thing of the past. Instead, your primary concern is making sure your windshield wipers are in good condition and that you have plenty of wiper fluid.
Although most EVs do come from the factory loaded with high-tech features, there are a few accessories we recommend. In fact, we'd argue that every car owner should purchase a few of the items on our list. If you've recently purchased or leased an EV and have a few extra bucks burning a hole in your wallet, you've come to the right place. Below is a list of our recommendations for the best accessories for EV owners, keeping in mind that these are more practical items as opposed to performance enhancements.
1. Home EV charger from JuiceBox
If you live somewhere that offers you the capability of installing a home charger, we highly recommend doing so. You'll start enjoying the convenience of not having to find a public charger and wonder how you've managed to live without one all this time. There are a lot of different EV chargers in the market and if you want to learn more about them, check out our list of the best home EV chargers. But if you just want a quick recommendation, it's the JuiceBox 40.
This home charger is our top recommendation thanks to its quality and features, available as a plug-in charger or hardwired. You can choose from different amperages based on your needs, but no matter which version you choose, you'll get Wi-Fi connectivity and the ability to control your charger from an app on your smartphone. That means scheduling your charge when rates are lowest, setting reminders in case you forget to plug in, and more. Attached to the charger is a 25-foot cable and a security lock, while the company provides a three-year manufacturer's warranty. It is by far the most expensive recommendation we have when it comes to accessories, but it's one that is worth the price.
2. Lectron EV charger holster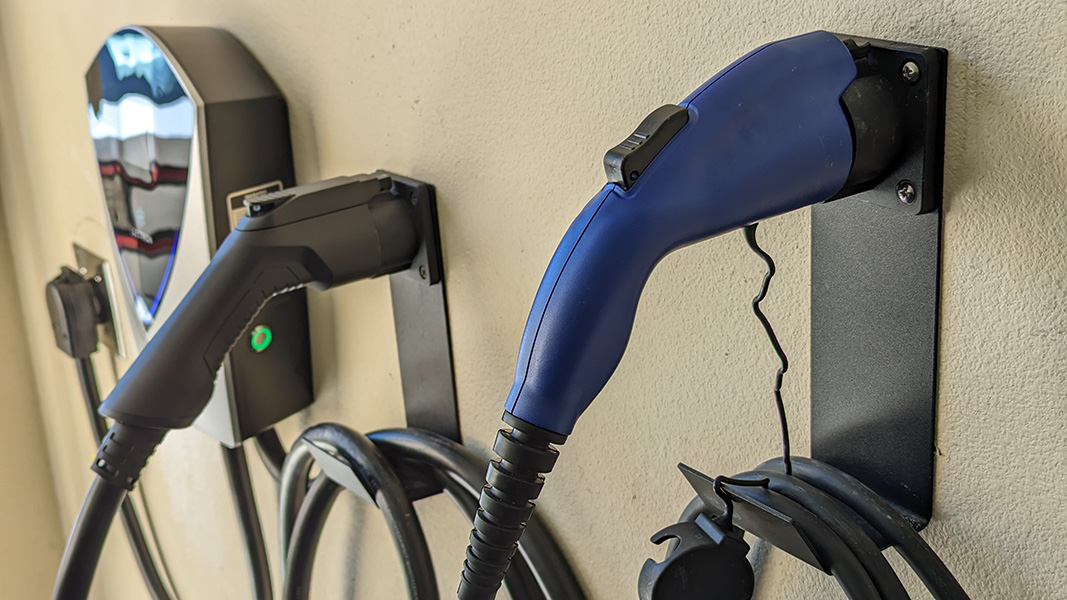 If your car came with a charger and you're perfectly content with its performance, I highly recommend getting a holster to keep it organized. Instead of having the cable sprawled out wherever you're keeping it, a nozzle holster and hook is an affordable way to wrap up the cable and keep your J1772 connector protected when it's not being used. Personally, I like Lectron's nozzle holster and J-hook combination. I had purchased one myself for the Level 1 charger that came with the Toyota Prius Prime and Lectron included one with the V-Box 48 charger it sent me for review. It has a simple two-piece design and it's easy to install with the included anchors and screws. It's great for indoors or outdoors use.
3. Portable tire inflator from EPAuto
We can't stress the importance of having properly inflated tires on your EV, as this SAE International study shows. Underinflated tires can negatively impact your EV's range and there are several factors that could alter your tire's pressure. So instead of having to stop by a gas station to fill up your tires, spend a few bucks and get yourself a portable tire inflator.
We love this option from EPAuto, which can plug directly into your car's cigarette lighter receptacle for power. One thing to note is that it's not designed for truck tires, so you'll have to look for a more powerful inflator if you have a Ford F-150 Lightning or Hummer EV. For everyone else, this portable air compressor should suffice in making sure your tires are properly inflated.
Although it's pretty common nowadays on most portable tire inflators, it's worth mentioning the EPAuto recommendation does have an auto shut-off feature, which means you set your desired pressure and let the pump do all the work.
4. Digital tire pressure gauges from AstroAI
To go along with our recommendation for a portable tire inflator is a pair of tire pressure gauges from AstroAI. Even if your vehicle is equipped with TPMS, it may not be sensitive enough to let you know when you're a couple psi underinflated or overinflated. And you don't want to go through the hassle of using your tire inflator to check your tire pressure.
These digital tire pressure gauges are affordable and give you a quick reading on your tire pressure. They feature a backlit LCD display and a lighted nozzle if you're having to work in the dark. It'll measure in PSI, Bar, KPA, or kg/cm².
5. Dashcam from Vantrue
You'll never know when dashcam footage can come in handy. Sure, most of us don't expect to get into an accident, but if it does occur, you'll probably want proof of exactly what happened. There are dozens of options to choose from, but we recommend this unit from Vantrue. It's one of the most reputable brands on the market and the N2 Pro should meet the needs of most EV owners.
It's a versatile dashcam that offers the ability to record front and inside footage at 1080p at 30 frames per second (fps), or 1440p when recording in front-only mode. It's also equipped with a 24-hour motion activated parking mode, which triggers the dashcam to automatically record when it detects motion. A variable sensitivity G-sensor will automatically detect sudden shakes or possible collisions, protecting your footage from being overwritten.
6. Wireless car charger from iOttie
If your car didn't come with a wireless charger for your phone, take a look at this car mount from iOttie. It has a built-in wireless charger that supports Qi charging, offering up to 10w on Android devices and 7.5w on iPhones. It features what iOttie calls the Easy One Touch mechanism, which is a patented technology to easily get your device locked into the cradle. Simply press the locking arms and press the device against the Easy One Touch trigger button to secure your phone automatically.
You can choose to install the phone mount on your car's air vents or the CD slot, if your car is equipped with a CD player. It supports devices up to 3.6 inches in size and the ball joint rotates 360 degrees so you can get the perfect and safe viewing angle.
7. Car trash can from HOTOR
Try as we might, trash will always slowly accumulate in your car. And no, the cupholders or your center console is not the right place for it. Do yourself a favor and get a car trash can, like this one from HOTOR. It's cheap, can basically be installed anywhere that's convenient inside your car, and even offers storage for snacks. We'd argue this is a must-have if you often travel with kids!
This trash can is equipped with an adjustable strap, so you can easily attach it to your front or back headrests or even your center console. Inside you'll find a durable, leakproof lining so it's easy to clean and wash. Best of all, if you don't need to use it as a trash can, it conveniently serves as a storage bag.
8. Car vacuum from ThisWorx
While we're on the topic of cleanliness, check out this car vacuum cleaner from ThisWorx. Weighing just 2.4 lbs., it's a lightweight option to make quick work of cleaning your interior thanks to a 106w motor and HEPA filter. Included with the car vacuum are three attachments for hard-to-reach areas: flathead, extendible, and brush nozzle; along with a carrying bag, filter brush, and a spare HEPA filter.
Equipped with a 16-foot power cord, you'll easily be able to clean the entire interior of your vehicle without much fuss, even if you've got a larger SUV like a Tesla Model X. It plugs into your vehicle's 12-volt cigarette lighter receptacle for power, so no need to drag out an extension cord to power a traditional vacuum. This also makes for a great gift for any car owner, electrified or not.
9. First aid kit from Swiss Safe
Here's a product we hope you'll never have to use, but you'll be glad to have it if you ever need it. There are plenty of first aid kits out there, but we prefer this one from Swiss Safe. It's actually a two-in-one kit, with the primary emergency kit equipped with 120 medical grade items. You'll also get a mini kit with an additional 32 items.
The included carrying case is compact and lightweight, perfect to put in your trunk, frunk, or maybe even your glove box. We don't detail out the full list of 152 items you get with the kit, but expect your fair share of bandages and pads, along with helpful items like metal tweezers, a sewing kit, whistle, compass, emergency blanket, instant ice pack, trauma shears, and more.
Recent updates:
Updated (3:03 p.m. EST, 01/20/2022): Added another recommendation for an EV accessory – a must-have for every EV owner in my opinion.