While the BEV offerings in the U.S. are growing, the market is mostly dominated by crossovers and SUVs. Those shopping for something sportier with just two doors have very little options. Now that the Fiat 500e is returning in 2024, our attention turns to the hotter Abarth variant that has just made its debut. As the first electric Abarth ever, the hot hatch will launch with a special edition model called "Scorpionissima" that will be an exclusive, eye-catching, fully equipped version.
Equipped with a 42-kWh battery pack and an electric motor, the Abarth 500e offers a total system output of 155 horsepower and 173 pound-feet of torque, giving it a respectable zero-to-62 mph time of 7 seconds. That's good enough to give it best-in-class acceleration, and Abarth was quick to point out that the EV version is quicker than the gasoline counterpart in pretty much every aspect. The electric architecture allows the Abarth 500e to benefit from better weight distribution, more torque, and a wider wheelbase. It is equipped with an 85-kW fast-charging system, reaching 80% of range in about 35 minutes. Unfortunately, the Italian automaker didn't confirm any range figures, but we imagine it'll be less than the Fiat 500e's 199 miles on the WLTP cycle.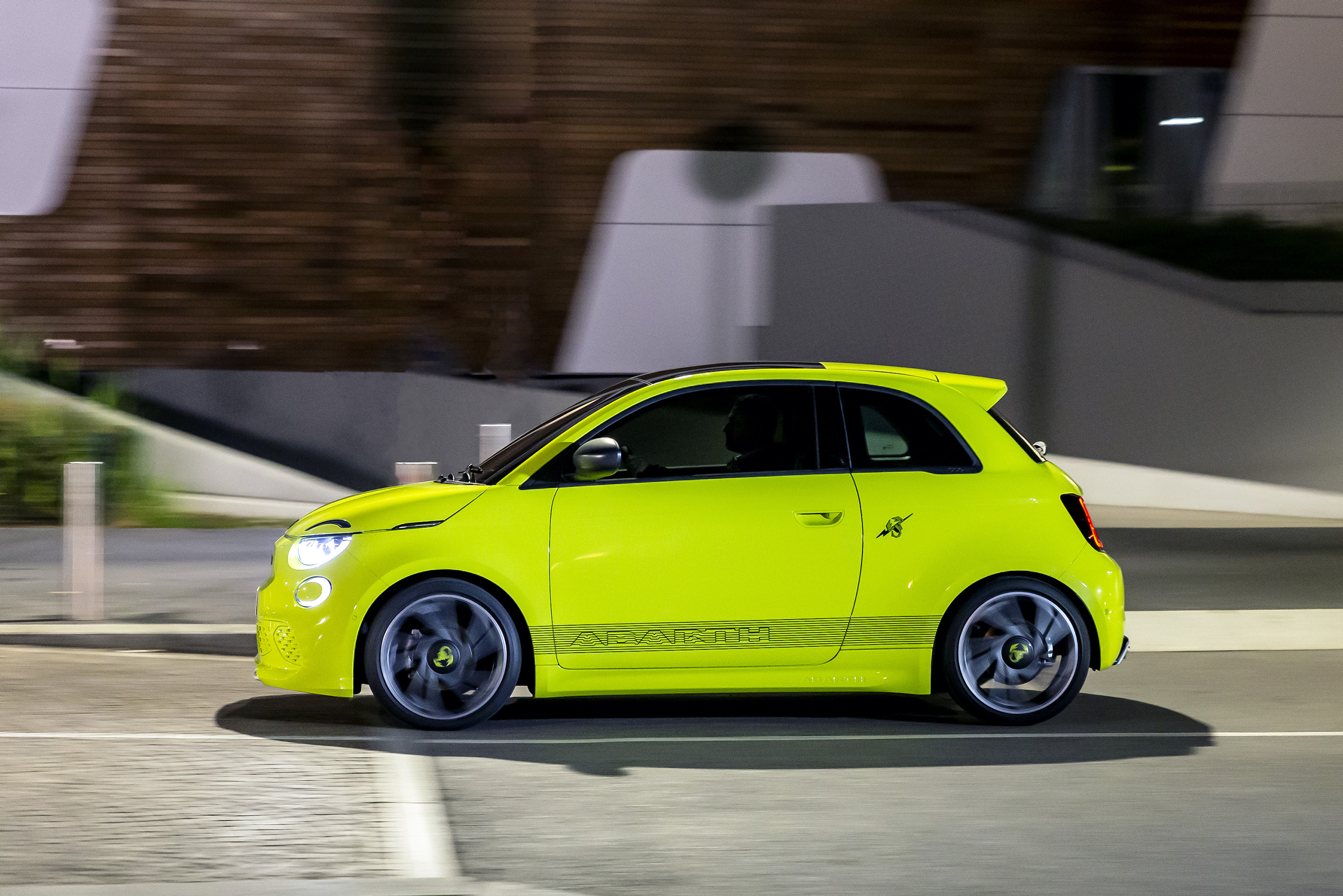 There are three different driving modes on the Abarth 500e, one of which is called the Turismo mode that's designed for smoother acceleration and lesser power. Think of it as an Eco mode, which provides better efficiency. The Scorpion Street mode delivers top performance and maximum regenerative braking, while the Scorpion Track mode is pretty self-explanatory. One-pedal driving is available on the Turismo and Scorpion Street modes.
Now for those who still want that Abarth "roar", the 500e will be available with a Sound Generator. It's a gimmick we'll likely see from automakers that aren't quite yet ready to give up on engine noise, even if it's fake. For Abarth, its Sound Generator will faithfully reproduce the sound of an Abarth gasoline engine. Dodge has done something similar with its Charger Daytona SRT Concept.
As for that special launch edition Scorpionissima model, it'll be limited to 1,949 units — a number that pays homage to the brand's birth year. Available in both hatchback and cabriolet variants, buyers can choose from Acid Green or Poison Blue body paint. It'll come with exclusive 18-inch diamond cut titanium grey wheels, a fixed glass roof, and rear privacy glass. Other details include sporty steel pedals, a kick plate with an engraved logo, titanium grey dashboard ring, steel door sills, and Alcantara/leather interior trim.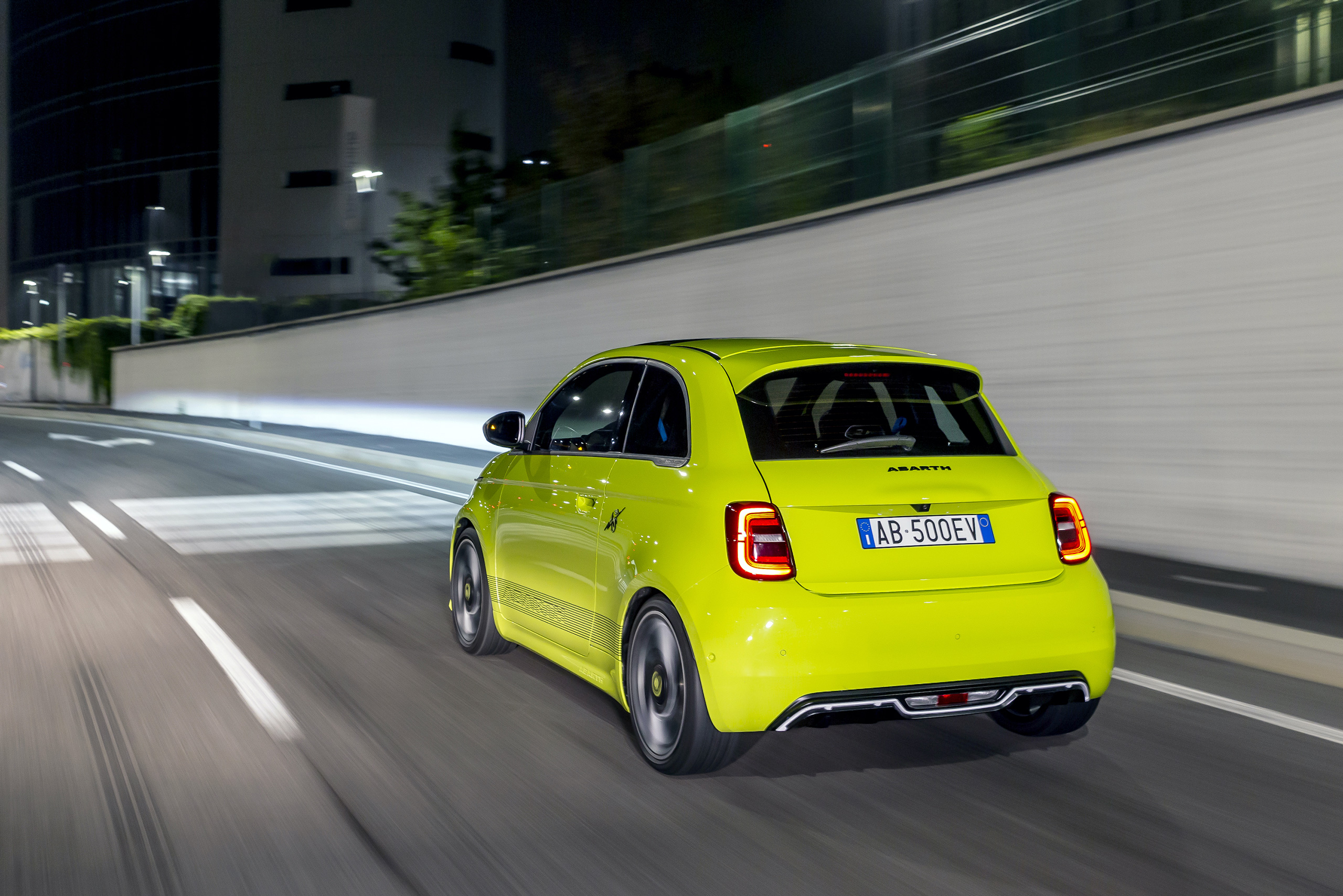 The electric hot hatch is also packed with various advanced safety features, including traffic sign information, autonomous emergency braking with pedestrian and cyclist recognition, intelligent speed assistant, lane keeping assist, drowsy driver detection, attention assist, cruise control, blind spot warning, and emergency call. Inside, the vehicle has six airbags as standard.
Abarth is also following in the footsteps of other automakers like Tesla and Polestar, which offer online shopping experiences. The Abarth 500e will launch online with an exclusive one-month pre-booking phase to Abarth community members only. Of course this is for the European market, as it's still undecided whether the new Abarth 500e will make its way to the U.S. That will all depend on how well the Fiat 500e does, as we recently learned in an interview at the 2022 Los Angeles Auto Show. First, the Abarth 500e will head to Japan and Brazil following its launch in Europe.
We always think the more choices the market has, the better. Some would argue the previous Fiat 500e arrived on the market too soon, so it'll be interesting to see how well the new 500e does when it arrives in the U.S. in 2024. If all goes well, maybe the Abarth 500e will grace our shores as well, making it an ideal city commuter that's exciting and fun to drive.