Goodyear has introduce its first tire that is compatible with EV and gasoline- or diesel-powered regional work vehicles. Called the RangeMax RSD EV, it's Goodyear's best regional drive tire for energy efficiency. It's equipped to deal with the higher load capacities of electric vehicles, while engineered with ultra-low rolling resistance technology. Regardless of drivetrain, this tire should deliver improved efficiency to fleets.
It's the brand's first regional drive tire to get the "Electric Drive Ready" designation and it's now available in size 295/75R22.5. The RangeMax RSD EV is engineered with Treadlock Technology that assists in even wear and longer treadlife, while SmartWay-verified premium casing construction provides toughness and the durability to maximize retread-ability. The tire also gets the Three-Peak Mountain Snowflake (3PMSF) and Mud and Snow (M+S) designations, so it can be used in winter conditions.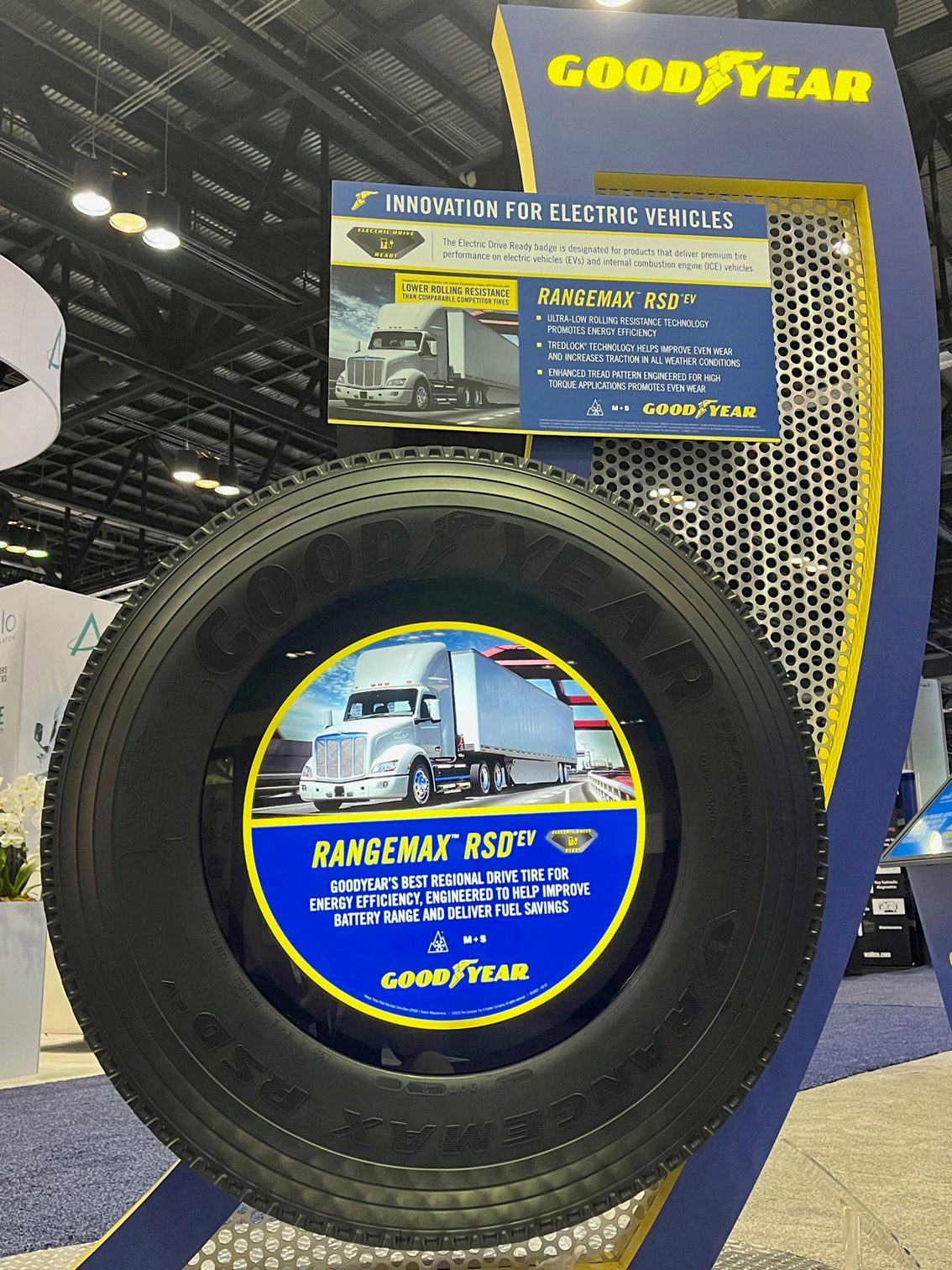 This latest tire from Goodyear follows up on the company's first commercial truck tire with the "Electric Drive Ready" designation that was released last year, the Endurance RSA ULT. Goodyear has also expanded its line of ElectricDrive tires for passengers and high-performance vehicles to cover 44% more BEVs in the U.S.
While traditional tires can be used on EVs, there are specially engineered products to deal with the additional weight, dynamic loading, and other demands found only on EVs. The main issue for the average EV owner is the additional weight due to the battery pack, which can cause conventional tires designed for ICE cars to wear out quickly and unevenly. It's good to see more tire manufacturers developing EV-specific products, since that's definitely where the market is heading.
"The new RangeMax RSD EV strives to live up to its name and deliver the superior range and confidence that comes with ultra-low rolling resistance," said Tom Lippello, senior director, Commercial Marketing, Goodyear North America. "With the continued growth we're observing in the regional EV segment, changing powertrains and fleets' cost-savings and sustainability priorities, Goodyear recognized an opportunity to provide fleets and original equipment manufacturers with a tire designed for the unique needs of these vehicles."