Plenty of automakers are using England's Goodwood Festival of Speed to showcase new products or highlight otherwise special vehicles, and this includes Ford. On Friday, the Blue Oval brand unveiled the new Mach-E Rally, an off-road-racing inspired version of this all-electric Mustang SUV.
The Mach-E has claimed a lot of firsts at Ford. It's the brand's first truly successful EV, the first all-electric Mustang and it's the very first Mustang SUV. This new trim, of course, marks another first; it's the first time a rally-inspired Mustang has been offered.
Naturally, a number of upgrades set this model apart from lesser Mach-E's. Rally-style wheels with knobbier tires provide enhanced traction, a recovery hook has sprouted from the front bumper, additional lights are found in the grill and the rear has what appears to be a special spoiler. Inside, it doesn't look like too much has changed, thought the front bucket seats appear to be unique, with some shiny white trim on the rear of the backrests. Accents with a geometric pattern run across the vehicle's dashboard.
Professional driver Ott Tänak will put this utility vehicle through its paces by piloting it in the Goodwood hill climb. More than up to the challenge, he's a former World Rally champion and currently drives an M-Sport Ford Puma Hybrid Rally1 car.
In a media release shared by the automaker, Darren Palmer, the vice president of electric vehicle programs in Ford's EV-focused Model e division said, "Mustang Mach-E took the freedom and fun of Mustang and made it free from emissions. Now with Mustang Mach-E Rally, we're providing our customers the freedom to venture off the asphalt and beyond the beaten path." Precisely how far this EV will be able to take drivers – both off road, and on a fully charged battery – remains to be seen, as the automaker has not shared any details about how much power the Rally trim will have or what the range might be. Additionally, we have no idea what other technical enhancements the vehicle may benefit from.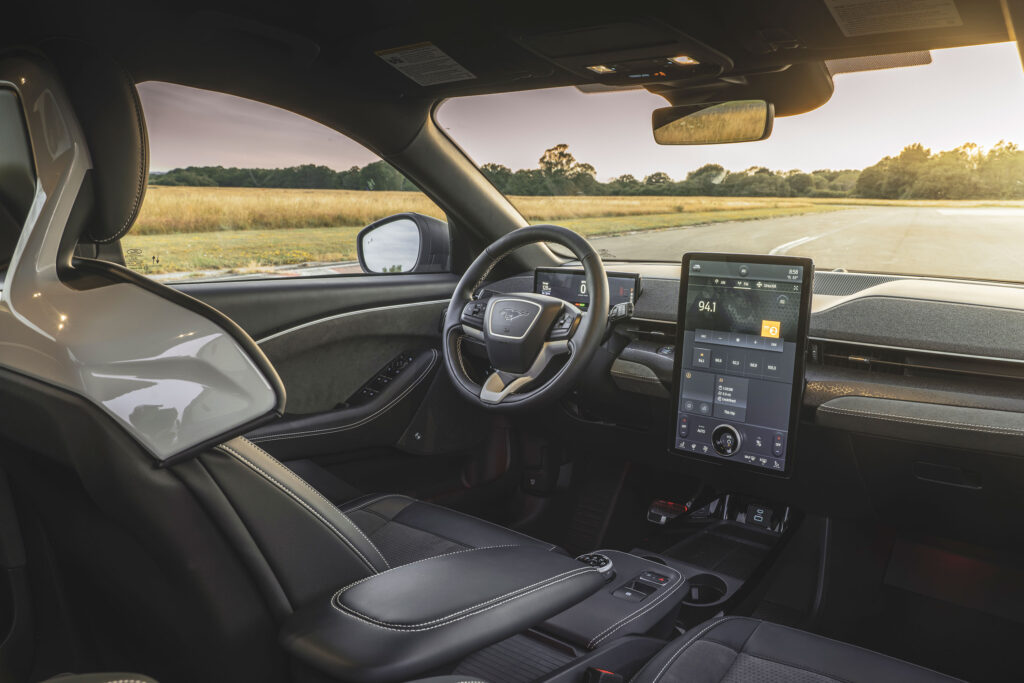 Surprisingly, if this dirt-focused 'Stang has caught your attention, you'll soon be able to order one. Nope, the Mach-E Rally is not merely some one-off concept. This vehicle is expected to go on sale in the US starting this fall. The Rally trim should also be offered in Europe around the same time.