Originally introduced in 2010, the Nissan Leaf was one of the first mainstream BEVs in the U.S. The second-generation model was introduced in 2017 before arriving dealerships in 2018. Throughout the years, Nissan has continually improved on the Leaf and if you're in the market for one and want to learn more about its charging times, you've come to the right place. You can also read our review of the 2023 Nissan Leaf here.
The first Nissan Leaf came equipped with a 24-kWh battery pack, but since then, Nissan has upgraded the battery several times. In 2016, the automaker added an optional 30-kWh battery pack to the lineup, while the 40-kWh battery pack was introduced in 2018. The Leaf Plus model was introduced in 2019, equipped with a 60-kWh battery pack. If you're shopping for a Nissan Leaf today, you can choose between the base model with a 40-kWh battery or the Plus version with the 60-kWh battery.
Level 1 charging
All Nissan Leaf EVs include a Nissan Portable Charge Cable, which is a Level 1 charger and can be used with your standard household 120-volt outlet. The automaker says Level 1 charging with the cable will add approximately 2 to 5 miles to your Leaf's driving range every hour. The standard Leaf with the 40-kWh battery pack offers up to 149 miles of range, while the Leaf Plus with a 60-kWh battery pack returns up to 212 miles of range. That means it could take upwards of 2.5 days to fully recharge a Leaf Plus with a Level 1 charger. The standard model would still take at least a full day for a recharge.
Obviously if you own an older Nissan Leaf with the smaller battery packs, the time will be shorter to recharge your vehicle.
Level 2 charging
The latest Nissan Leaf EVs are equipped with a 6.6 kW on-board charger, so if you're shopping for a home EV charger, you don't necessarily need one with a rated output exceeding 6.6 kW. It's also worth mentioning that older Leaf models had a maximum charge rate of 3.3 kW, so keep that in mind if you own one from model year 2011 to 2016 — you'll want to check the specs for your on-board charger. Either way, if you opt for a Level 2 home EV charger, a 32-amp charger will be sufficient. However, if you plan on eventually upgrading your Nissan Leaf to a different EV, it's better to purchase a 40-amp charger so you get faster charging speeds with your future vehicle. But for the Leaf, you'll see no difference in charging speeds between a 32-amp or 40-amp charger due to the 6.6-kW maximum charge rate.
With Level 2 charging, Nissan says you'll get anywhere from 10 to 25 miles of range for each hour of charging. The actual range you get will depend on the battery capacity and temperature, but you can estimate it to take anywhere from 7.5 hours to 11 hours to fully charge your Nissan Leaf with a Level 2 charger, depending on which model you own.
If your daily commute is 30 miles or less, you may not necessarily need a Level 2 charger at home. But given the Leaf's maximum driving range, it's highly recommended to purchase one.
Fast charging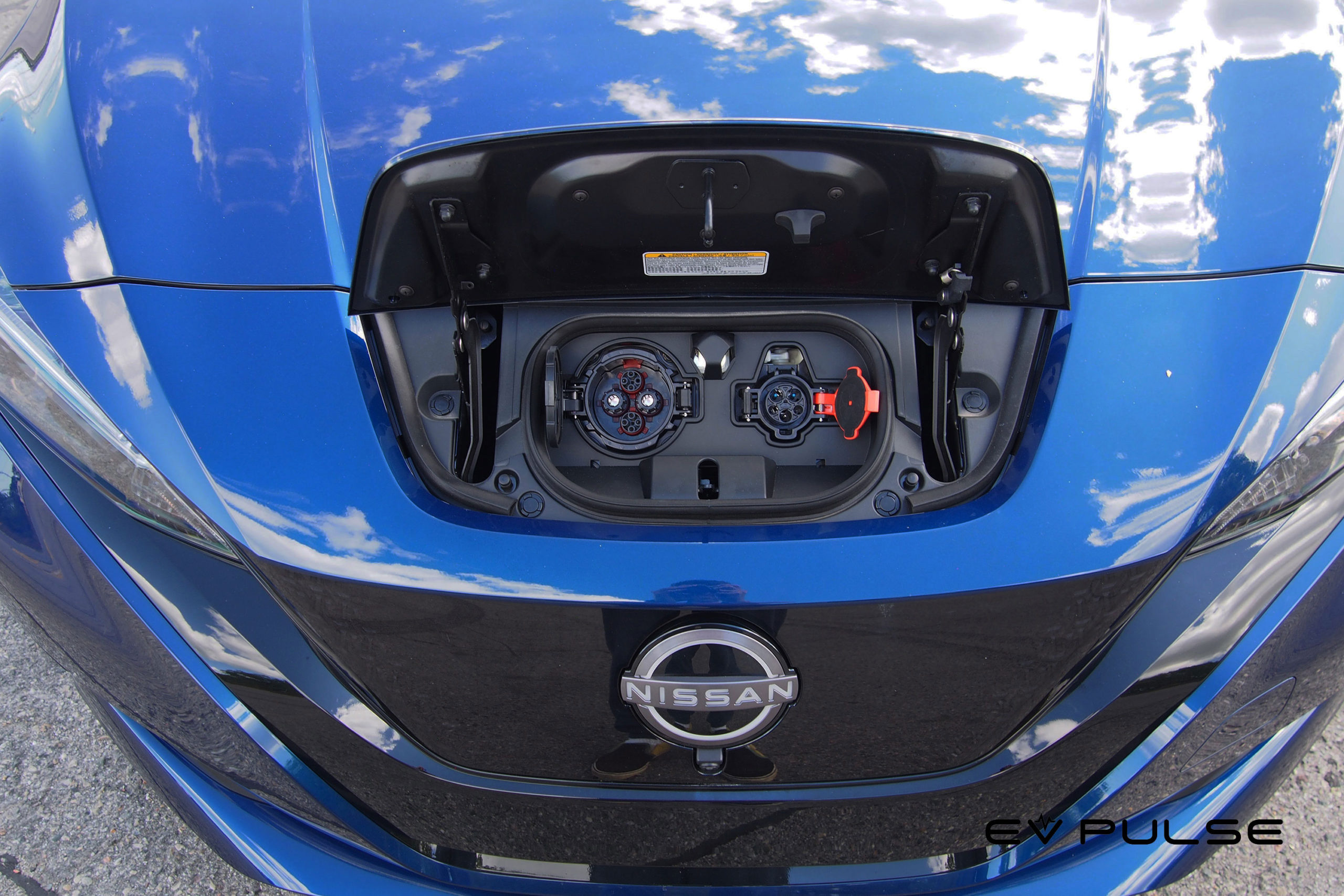 If you need to quickly recharge your Nissan Leaf's range, you'll have to turn to public DC fast charging with an available CHAdeMO charging connector. CHAdeMO is the Japanese DC fast charging standard, and while it is available in the U.S., it is not as popular as the North American standard known as the SAE Combined Charging System (CCS). Charging speeds on the CHAdeMO fast charger depends on the Nissan Leaf model you own, but generally it will take about 40 to 45 minutes to get back to 80%. The Leaf Plus's charge rate is 100 kW compared to the standard model's 50 kW, so charge times for the two models are comparable, despite one having a 50% larger battery pack — assuming you are using a 100-kW charger. Older Leaf models will take about 30 minutes to reach 80% with fast charging.
Recommended Level 2 home EV charger
As we mentioned before, the maximum charge rate on a Level 2 charger for the current Nissan Leaf is 6.6 kW, so a 32-amp charger will suffice. This is especially true if you own an older Nissan Leaf with a maximum charge rate of 3.3 kW. However, we recommend spending a bit more and getting a 40-amp charger, even though it won't affect your Nissan Leaf's charging speeds. If you don't plan on ever getting a new EV however, you can save the money and purchase a 32-amp charger.
Keep in mind, to install a Level 2 charger at home, you will need a 240-volt outlet (for plug-in chargers) and a dedicated circuit that can support the EVSE.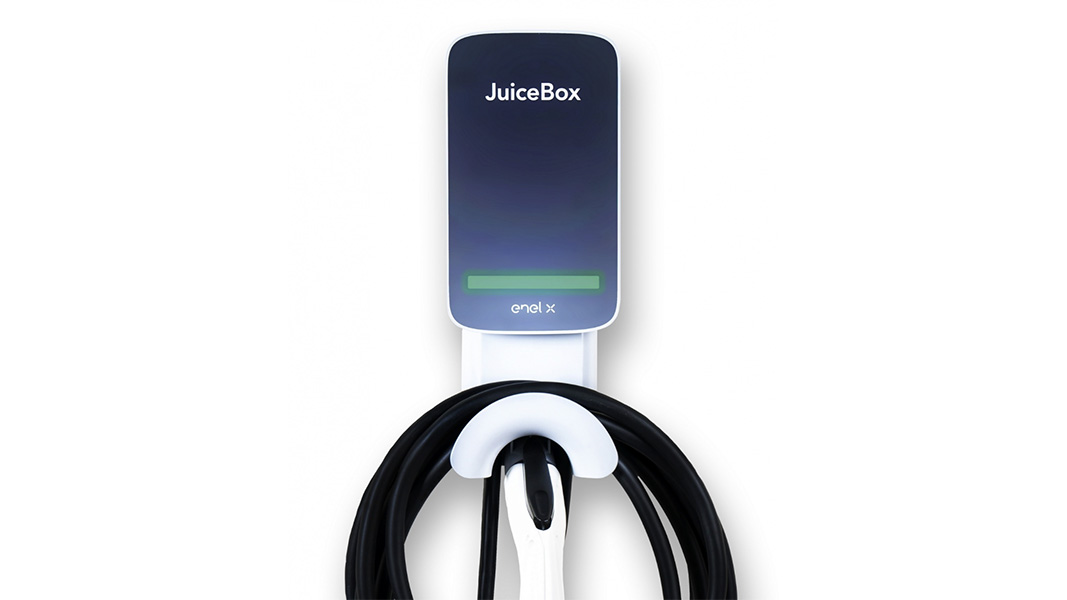 Our preferred home EV charger is the JuiceBox from Enel X. It's available in 32-, 40-, and 48-amp variants, so if you don't want the 40-amp we're recommending, choose the more affordable 32-amp EVSE. The JuiceBox 40 provides up to 9.6 kW, while the JuiceBox 32 provides up to 7.7 kW.
No matter which model JuiceBox you choose however, you'll get WiFi connectivity, so you can use the JuiceNet app on your mobile device to set charging times, or control the EVSE remotely. You can also use voice commands via Amazon Echo or Alexa to control the charger.
Our staff at EV Pulse use the JuiceBox commercial chargers at our office and we've found them to be intuitive and reliable over the years.
Want to see more EVSE recommendations? See our list of the
best home EV chargers
.