The all-new 2023 Kia Niro PHEV has quickly become an appealing option in the plug-in hybrid market, offering up to 33 miles of all-electric range — a noticeable bump from the previous model's 26 miles. Powered by a 1.6-liter, four-cylinder engine paired with a 62-kW electric motor, the Niro PHEV delivers a total system output of 180 horsepower and 195 pound-feet of torque. Storing power is an 11.1-kWh lithium-ion polymer battery pack, compared to the older Niro PHEV's 8.9-kWh battery pack.
Whether you own the newer Kia Niro PHEV or the older model won't make a big difference in determining whether you want a Level 2 charger at home. The older Niro PHEV's onboard charger has a maximum acceptance rate of 3.3 kW, while the newer model is approximately 3.8 kW. The difference in the time it takes to fully charge either model is negligible, even with the larger battery pack in the newer Niro PHEV.
If you're reading this post, you're probably wondering if it's worth the time and money to invest into a Level 2 EVSE. If your household doesn't already have an available 240-volt outlet on its own circuit breaker, make sure to consider that into your cost calculations before making a decision. You'll need to hire an electrician to either hardwire your new EV charger or setup an outlet so you can plug it in.
Below, we'll explain the differences between Level 1 and Level 2 charging, and help you decide whether it's worth the money to install a Level 2 home charger.
Level 1 charging
The Kia Niro PHEV includes a Level 1 charger, which you can plug into your standard 120-volt electrical outlet. Using this charger will replenish about 4 miles of range per hour, which means about 7 to 8 hours for the older Niro PHEV and close to 9 to 10 hours with the newer model. The time to charge depends on a few variables, but those estimates give you a good idea. Bottom line, if you're using Level 1 charging and consuming all of your Niro's PHEV electric range each day, you'll need to charge overnight.
One of the biggest factors in determining whether you need a Level 2 charging is your daily commute. For example, if you're only taking one round trip per day for work, then it's unlikely you'll benefit from faster Level 2 charging speeds. However, if you know you have a couple hours in between trips and you can charge your Niro PHEV, you can maximize your all-electric driving range by charging during that downtime.
Level 2 charging
Depending on the model you own and certain conditions, the Niro PHEV will take approximately 2.5 to 3 hours to fully charge with a Level 2 charger. Kia officially says the 2023 Niro PHEV takes 2 hours and 45 minutes to fully charge. Given the two models' maximum acceptance rates, a 16-amp EVSE is all you would need to install at home to get the fastest charging speeds. A 16-amp home EV charger has a maximum output of around 3.8 kW, which would match the Niro PHEV's acceptance rate.
If you have a 16-amp or more powerful Level 2 EV charger, your Niro PHEV will get around 11 to 15 miles of range per hour of charging. Unfortunately, because of the on-board charger's maximum acceptance rate, installing a 32-amp or even a 40-amp charger won't give you faster charging speeds. Keep in mind that several variables including weather conditions, battery temperature, and battery state-of-charge (SoC) can all impact charging rates, but these approximations should apply to most vehicle owners.
If you feel like you would benefit from faster charging speeds during your day, then a Level 2 charger is a good idea. But if you're only charging at night and know you can leave your vehicle plugged in for at least 8 hours, you likely don't need a Level 2 charger. For some owners, a two-hour charge in the middle of the day with a Level 2 charger would return noticeably more range than a Level 1 charger, and that difference could add up in significant gas savings over time.
While a 16-amp charger would suffice for the Niro PHEV, we recommend purchasing at least a 32-amp charger or even something more powerful. Why? If you're owning a PHEV, there's a good chance you'll eventually upgrade to a BEV. If you install a 32- or 40-amp charger now, you'll be ready for your next vehicle that will accept much faster charging rates.
Recommended Level 2 home EV charger
If you decide that a Level 2 EVSE is right for you, we recommend the JuiceBox from Enel X. The staff at EV Pulse uses the commercial JuiceBox chargers at the office, so we can confidently recommend Enel X's residential JuiceBox chargers. These chargers come in a variety of ranges, from 32 amp to 48 amp, just keep in mind that only the 32- and 40-amp chargers can be plugged into an outlet. If you want to install a 48-amp EVSE, it'll have to be hardwired to a 60-amp breaker.
The JuiceBox 32 is our recommendation for Niro PHEV owners. That'll give you the maximum charging speeds you can get, and it'll deliver great charging rates if you ever upgrade your vehicle. A 32-amp charger can deliver up to 7.7 kW.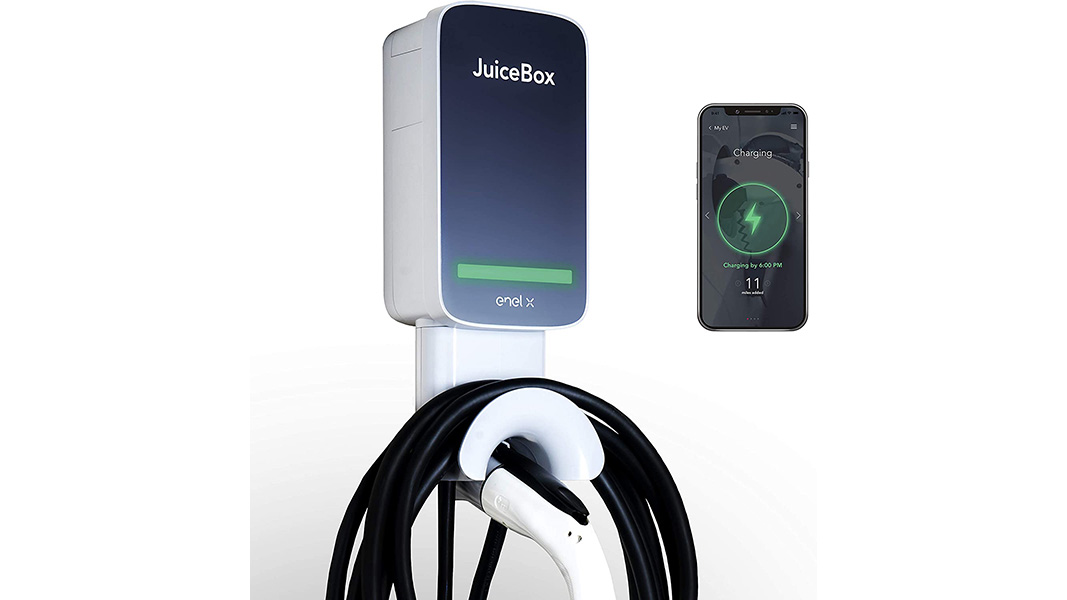 We love this charger because of its WiFi capability and sleek and thoughtful design. The app works well, allowing you to schedule charging times and other features such as setting reminders and receiving notifications. The charger is also compatible with Amazon Echo or Alexa for voice commands.
Recommended value-focused Level 2 home charger
If you look at the price of the JuiceBox and think it's a little pricey, you might be interested in the Emporia EV charger. We have a full review right here.
It has most of the same features as the Enel X unit for a bit less money. It's a suitable alternative that should work well.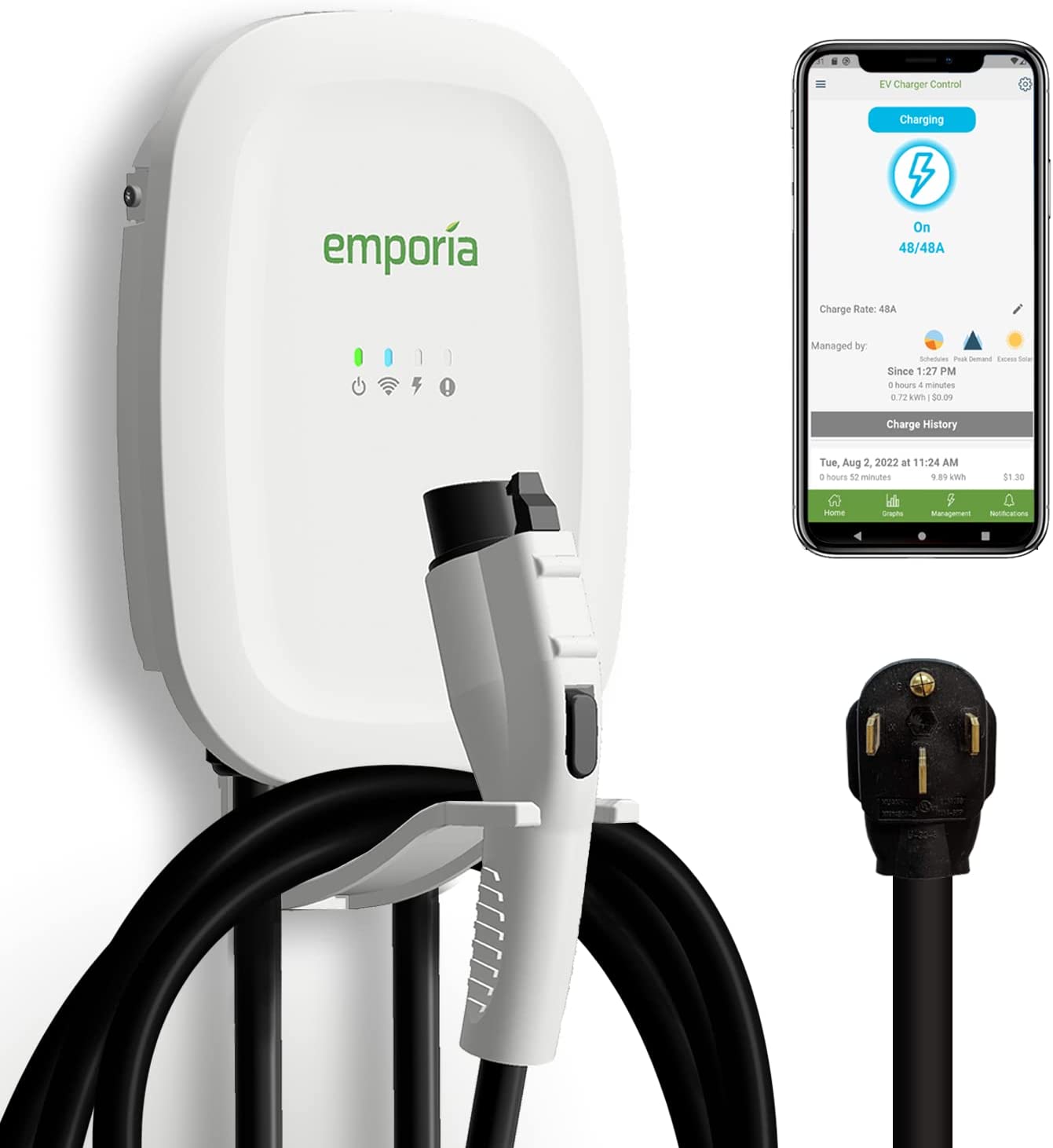 If you feel like you don't need app support or WiFi capability, you can check out our list of the
best home EV chargers
for other recommendations that are more affordable.
Recent updates
Updated (9:17 am EDT, 6/22/2023): Added the Emporia EV charger as a more value-focused option.