The BMW 3 Series is one of the world's most iconic sports sedans, with the 330e being its plug-in hybrid variant. Powering the sedan is a 2.0-liter BMW TwinPower Turbo engine that generates 181 horsepower and 258 pound-feet of torque, paired with an electric motor with 107 hp and 77 lb-ft of torque. The combined power output for the 330e is 288 hp and 310 lb-ft of torque with XtraBoost.
The standard BMW 330e gets an EPA-estimated 22 miles of all-electric driving range, which is reduced to 20 miles on the all-wheel-drive xDrive variant. This is thanks to a 12-kWh lithium-ion battery pack that's located underneath the rear seats. These specifications are based on the 2021 and up model, as the previous 330e had a 7.6-kWh battery pack with a 14-mile range.
If you own a BMW 330e and reading this post, you're probably wondering whether it's worth it to invest into a Level 2 charger at home. Below, we'll discuss the differences between Level 1 and Level 2 charging with the BMW 330e, so you can make the right decision for your driving habits.
Level 1 charging
Level 1 charging times for the BMW 330e differ based on the model year vehicle you own. For 2016 to 2018, Level 1 charging through a standard household 120-volt outlet will take about 6.5 hours. For the 2021 and up model years, the 330e will take 11.5 hours to fully charge using Level 1 charging. This is based on using a 10A charger from 0% state of charge, and could vary on conditions such as battery temperature, but they're good enough estimates that are provided by BMW.
You will roughly get about 2 miles per hour of charging on the BMW 330e with Level 1, a figure you need to keep in mind when deciding whether or not you want to install a Level 2 charger at home.
Level 2 charging
The BMW 330e has a maximum acceptance rate of approximately 3.6 kW, so technically a 16A charger will suffice to charge the PHEV. According to BMW, the 2016 to 2018 model years will fully charge in 2 hours using a Level 2 charger, while the 2021 and up models will take 3.5 hours. That means you will get roughly 7 miles of range per hour of charging when using a Level 2 charger.
Since the BMW 330e can only accept up to a 16A charger, you may believe there's little reason to purchase a more powerful charger, like a 32A or even a 40A EVSE. This is true if you only care about charging the BMW 330e and don't expect to ever purchase a different PHEV with a better onboard charger or a BEV. If you do, there's a good reason to purchase a 32A or 40A charger so you're future-proofing yourself.
The decision on whether you should purchase a Level 2 home charger is mostly dependent on your driving and charging habits. For example, if you can charge overnight uninterrupted, chances are you don't need a Level 2 charger. Keep in mind however, that the 2021 and up model years can take up to 11.5 hours to fully charge from 0% state of charge. If you're using your full electric driving range each day, a Level 2 charger would be more beneficial to you, since it can take quite a while to fully charge with Level 1.
Now if you drive throughout the day and have some breaks in between trips to charge, a Level 2 charger makes a lot more sense. Instead of getting 4 to 5 miles of range in a 2-hour charging session in between trips, you can get around 14 miles of range or even fully charge the older 330e. This helps maximize your electric-only driving range each day, but that's assuming you can charge in the middle of the day.
Recommended Level 2 home EV charger
Before you make the decision on purchasing a Level 2 charger, you should consider the costs of installing a 240-volt outlet at your home, or wherever you plan on charging if you don't already have one. We recommend contacting an electrician, so they can give you professional advice for your specific setup.
While a charging cable such as this one from Schumacher will provide up to 16 amps of power when plugged into a 240-volt outlet (NEMA 6-20P for this specific charger), we recommend purchasing a more powerful unit so you benefit from faster charging rates on future vehicles. If you plan on keeping the 330e indefinitely however and a BEV isn't in your future, then you can save money and purchase a 16A Level 2 charger, since that is all you'll need to get the maximum charging rates.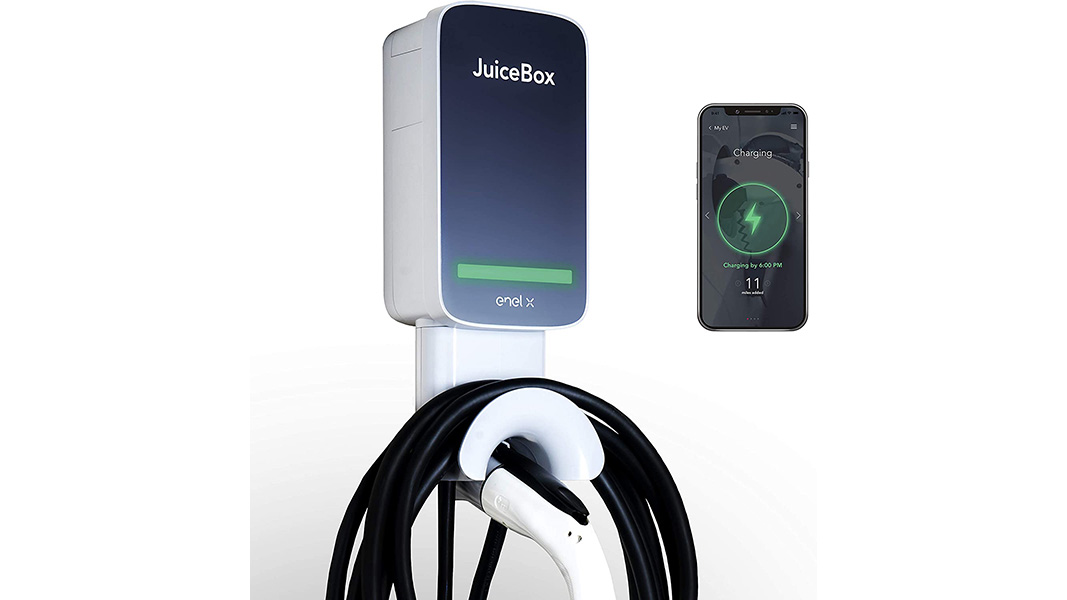 As for us, our recommendation for a Level 2 home EV charger is the JuiceBox from Enel X. It's available in 32-, 40-, and 48-amp outputs, and the 32-amp version would be more than enough for the BMW 330e. By installing a JuiceBox at home however, you'll be set for any future electrified vehicle that can take advantage of faster charging rates. The 48-amp charger is only available as a hardwired charger (and it should be used with a 60-amp circuit breaker), while the 32- and 40-amp versions are offered in both plug-in (NEMA 14-50) and hardwired versions.
We recommend the JuiceBox because we use the commercial versions at our EV Pulse office. They're very reliable and user friendly and the residential version is no different. With WiFi capability, you'll be able to access your charger remotely and schedule charging times, as well as set reminders and notifications. It is also compatible with Amazon Echo or Alexa if you wish to use voice commands. We particularly like the sleek design and integrated holster, and overall the JuiceBox checks all the requirements we have for a quality home EV charger.
The JuiceBox is one of the more expensive EVSEs out there, and if you don't want WiFi capability or require app support, you can save money by getting a non-smart charger. See our list of the
best home EV chargers
for other ideas.