I recently reviewed a Bugatti-branded electric scooter, an easily transportable last-mile mobility solution that's more fun than you'd ever imagine. This motorized device is perfect for getting around densely packed urban areas, jetting from the bus stop to your office building a couple miles away, however, it's far less useful for longer-distance trips. If you want a clean and highly maneuverable vehicle with greater comfort and range than a scooter but don't need a car or truck, consider a motorized bicycle, like the Heybike Tyson.
Meet the Tyson
Foldable and relatively easy to transport, the Tyson features front and rear suspension for a smoother ride, powerful hydraulically actuated disc brakes, a top speed of 28 mph and a maximum range of 55 miles while pedaling, though working your legs is not a requirement. You can zip right along using the toggle-style accelerator.
The Tyson has a 750-Watt motor, basically 1 horsepower. In the automotive world this is nothing, but with bikes, it's a lot, enough to deliver impressively strong performance. A removable 15-amp-hour battery pack slides right into the main section of the frame and can be recharged in 4 or 5 hours.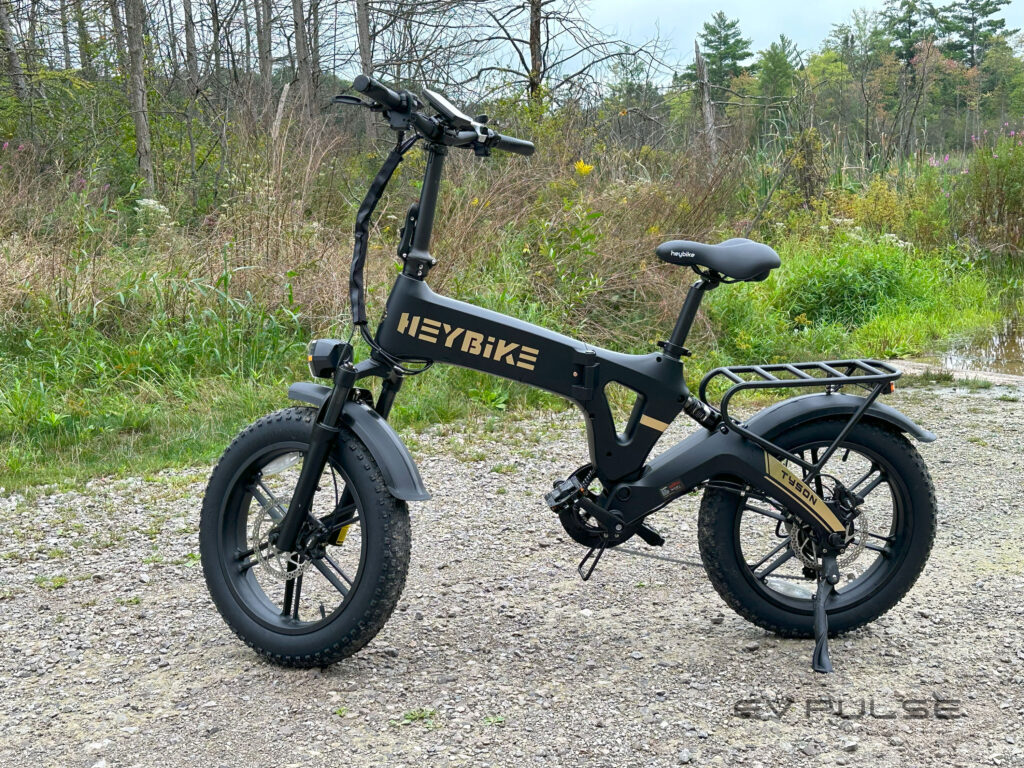 Making this ebike easier to transport, both the handlebar assembly and main section of the frame fold – just undo a couple high-quality latches. This allows the Tyson to take up roughly half the space, meaning it can be loaded into the back of an SUV or even the trunk of a car, though it's still quite heavy, clocking in at 77 pounds despite having a magnesium frame. Lifting that much isn't necessarily an issue (though of course, it may be for many folks), but even when folded the Tyson is incredibly bulky and difficult to carry. Having another person handy to load or unload this bike is invaluable.
Up on the handlebars is a small screen that resembles a smartphone from 10 or 15 years ago. This gritty-looking display is challenging to read in bright sunlight, but it includes a useful speedometer that tracks your current, average and top speeds for each ride. There's also a timer, an odometer and several other functions including Bluetooth, which allows you to use the Heybike smartphone app to interact with the Tyson.
Making it even more versatile, this ebike is available with several accessories. You can kit yours out with saddle bags or even an expanded luggage rack, which is ideal for carrying bulky cargo.
For the most part, Heybike's Tyson feels like quality. The folding frame, ventilated disc brakes and rear-mounted kickstand are all rock solid. But a couple other elements are quite flimsy, like the plastic fenders and some of the switches. Also, the included instructions are borderline unintelligible, so make sure to watch Heybike's YouTube video before trying to assemble one.
Class is in session
If you're new to ebikes, there are actually several types. Class 1 provides the rider with assistance up to 20 mph, but only while pedaling. Class 2 has the same top speed, but also comes with a separate accelerator, so you can still get a boost from the motor without having to work your legs. Class 3 ebikes, like the Tyson, top out at a brisk 28 mph and provide assistance while pedaling, though some models have a separate accelerator. Finally, there's the murky Class 4. It doesn't appear to be defined in US regulations, but these ebikes have a top speed greater than 28 mph and/or a motor rated at more than 750 Watts.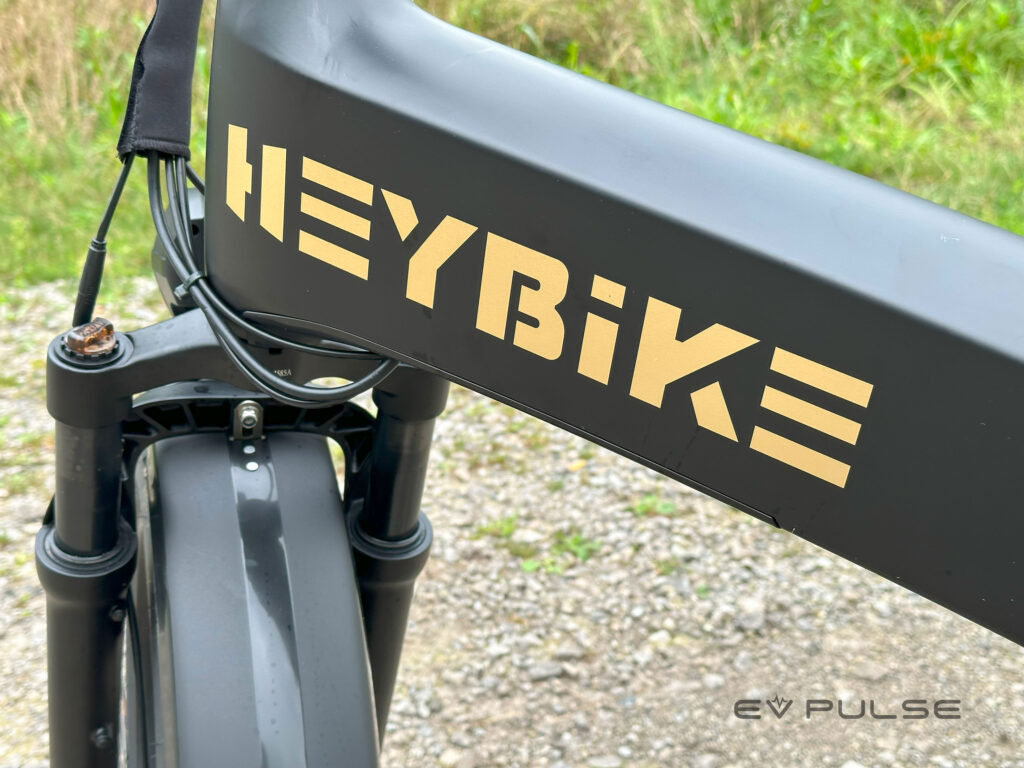 Regardless of class, electrically powered bicycles can be a great transportation solution and are wildly fun, but, depending on where you live, there may be usage restrictions or licensing requirements, so do some research before making a purchase.
A capable ebike
Underway, the Tyson is rugged yet reasonably comfortable thanks to its dampers, which offer different firmness settings. The front shocks can even be locked in a rigid position, which is preferable while pedaling unassisted because compressing the dampers wastes precious energy. In their softest setting, these dampers do an admirable job filtering out roadway imperfections. Yes, you still feel bumps, potholes and gravel, but the ride is noticeably more isolated.
This bike's top speed of 28 mph doesn't sound like much, but even half that can seem like warp drive when the wind is whipping through your hair. Take care while riding on loose surfaces, because the motor's abundant torque can make things feel a bit unstable at times. Also, wear a helmet! Ebikes can be seriously quick, and you can very easily injure yourself, so please put a helmet on before riding.
The Tyson offers five assistance levels. One is the lowest while five gives you the most help – and speed. You can easily adjust the electric boost using buttons mounted on the handlebars. Motor assistance engages automatically while pedaling, but you can also use the thumb toggle, so no leg movement is required. Unfortunately, while taking off from a standstill, the motor cut-in is way too aggressive, it hits with a surge of torque that can be difficult to manage, particularly while turning.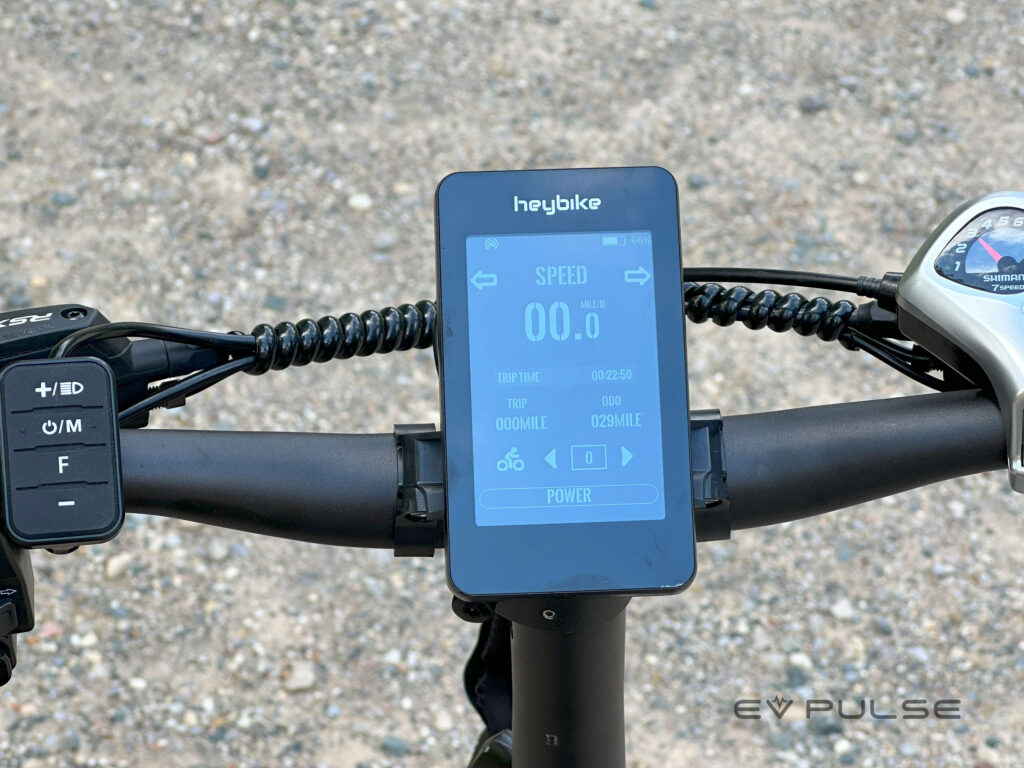 If you feel like pedaling, the Tyson's electrical assist can easily be disabled, just be aware of the hinge and latch in the middle of the frame, because it's easy to bang you knees on either. While working your legs, there are seven speeds to choose from providing good flexibility. It's also worth noting, the motor and pedal assembly are totally separate; the electric motor does not send power through the chain and sprockets, it directly powers the rear wheel. Shifting speeds does nothing to impact the motor's performance, it only affects your legs.
Enhancing safety, the Heybike Tyson has a decently bright headlamp and a flashing brake light. There are also turn signals and a surprisingly loud buzzer-style horn, so you can alert pedestrians to your presence or just annoy passersby.
As for range, this ebike is expected to go 55 miles on a charge when the rider is pedaling. Seeing how accurate this estimate is, I aimed to ride the Tyson 20 miles on back roads without pedaling just to see if it would make it. And the bike performed well. It took me all the way to my destination without having to use my legs at all. Upon arrival, the battery percentage meter said there was still 32% in reserve, but I have doubts about the accuracy of this. The estimate rapidly drops when you're climbing hills and jumps back again when coasting. Regardless, the Tyson went 20 miles unassisted on less-than-ideal roads and still had battery capacity in reserve, and that's a win in my book.
It's ready for the trail, are you?
Overall, there's plenty to like about the Heybike Tyson. Thanks to its adjustable suspension system, the ride is quite good, even on rough surfaces. The performance this ebike offers is very strong, though, there's plenty of adjustability, too. The battery is a bit awkward to remove, but it's awesome that you can swap it out if needed. The toggle-style accelerator is great to have, so you can get motor assistance without having to pedal. And finally, the folding design makes this thing relatively easy to transport, especially if you have someone to help you load and unload.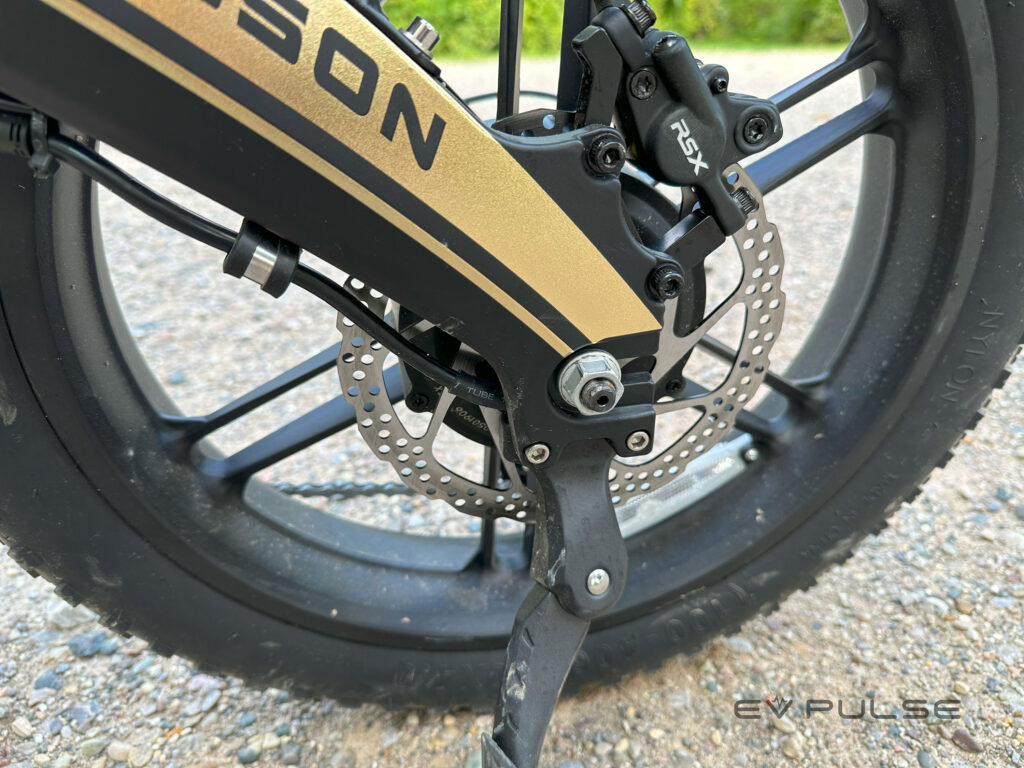 As for downsides, the written instructions are terrible. I also wish some of the controls were more intuitive. When the motor engages, it's way too aggressive, even in lower power settings, and finally, the Tyson is pretty heavy at 77 pounds.
Heybike's rugged Tyson is a lot of fun to ride, but at around $1,699 it certainly isn't cheap. To be fair, that price is comparable to other Class 3 ebikes, though some do cost far more. If you're considering an amped-up bicycle and want one with off-road capability, check out the Tyson, because there's a heck of a lot to like.
At a glance
Make: Heybike
Model: Tyson
Type: Class 3 ebike
Horsepower: 1 (750 Watts)
Range: 55 miles (pedal assisted)
Pros: Smooth ride (for a bike), trail-riding capability, strong performance, five motor-assist settings, removable battery, hand accelerator, space-saving folding design
Cons: Unintelligible assembly instructions, some controls could be more intuitive, herky-jerky motor engagement when taking off, heavy
Estimated as-tested price: $1,699