Remember that Buick commercial from about 10 years ago, the one where everybody's incredulous the brand could build a car that didn't smell like a nursing home? "That's not a Buick!" was the defining line in this ad, a memorable — and highly lampoonable — quip that attempted to prove that GM's tri-shield division appealed to the young and hip, not just the elderly in need of a hip replacement. Well, this commercial was all I could think of while testing the swanky new Toyota Prius Prime. I kept saying to myself, "That's not a Prius!" because this plug-in hybrid no longer looks like an alien mothership and drives like a dishwasher.
Frankly astonishing…
The new 2023 model is, frankly, astonishing. The new Prius Prime delivers everything you loved about the previous model — stellar efficiency, excellent electric range and almost certainly biblical longevity — while adding new features, vastly improving the performance and putting it all in a package that looks stunning. Honestly, based on the styling, it's hard to believe this is a Prius, or even a Toyota for that matter.
The design of this car is so sleek and clean, you could put an Audi or Volvo badge on the hood and nobody would bat an eye, which is so un-Toyota. The Japanese automaker's styling is almost always busy, a carnival of lines and creases, with extra trim tacked on here and weird shapes there. But the new Prius and the plug-in hybrid Prime model are the exact opposite, and I absolutely love the looks.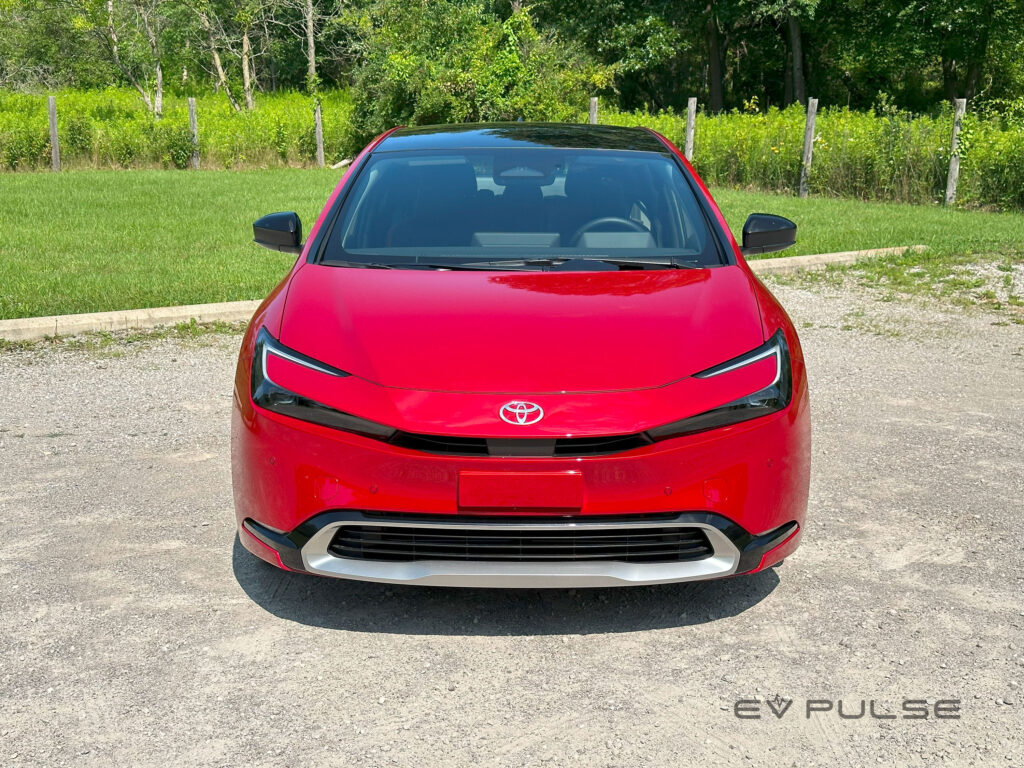 This car's front end is ultra clean, with C-shaped LED headlamps integrating nicely into the overall design. The hood is relatively flat, flowing as an almost unbroken line into the steeply raked windshield.
For 2023, the Prime is available in three trim levels: SE, XSE and XSE Premium. The midrange model evaluated here rolls on standard 19-inch wheels that fit the vehicle nicely and feature a lovely black-and-sliver finish. That motif that goes particularly well with the optional Supersonic Red paint job, a modest extra priced at just $425.
The new Prius' flanks are almost impossibly clean, there's no trim or weird creases, just a hint of character line that flows up from the rockers and fades out ahead of the curvaceous rear fenders. That's it. The design restraint here is incredible.
This car's rear is just as sleek, with a light bar running across the hatch and "Prius" spelled out in blocky letters. Open the liftback-style trunk and you're treated to a good amount of storage space, around 20 cubic feet with the rear backrests up and nearly 27 when they're folded down.
Inner beauty
Matching its beautiful new exterior is a cabin that's nearly as nice. Gone is the Prius' wonky dashboard that was weird for no good reason. The new layout is clean, sensible and timeless. This interior's design looks great today and likely will in 20 years.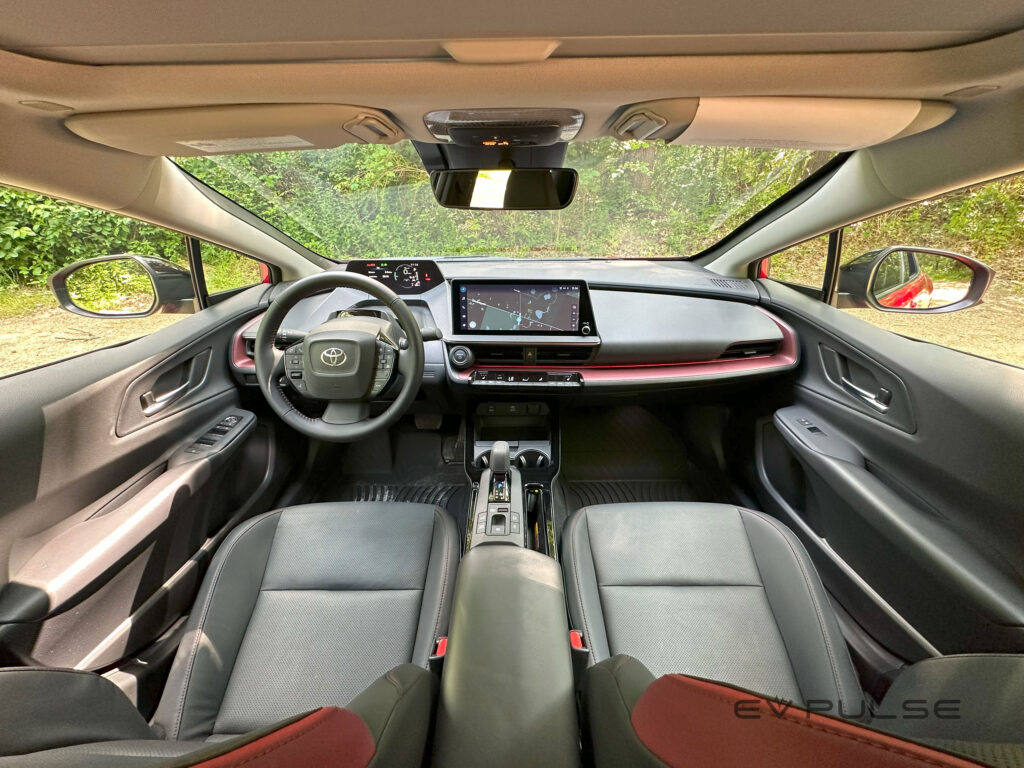 Nothing about the Prime's cabin is opulent and some elements could be sturdier, but the overall space is very nice, with quality plastics, plenty of soft materials and a sprinkling of red accents to liven things up. This XSE model also comes standard with SofTex, Toyota's version of artificial leather (not a Texas-based chain of soft-serve ice cream parlors). This material looks good and feels great.
The bucket seats are comfortable and, in this trim, the driver's chair power adjusts in eight directions, however, the front passenger has to live with a six-way manual seat. The backbench is something of a mixed bag. There's a good amount of legroom for 6-footers, but thanks to the swoopy roofline, headroom is a bit tight. The rear backrest is also a tad too vertical to be all-day comfortable.
Rearward visibility is hampered by the new Prius' avant-garde design. The backlight is quite small, narrow and squat, impinged upon by the large C-pillars that support the roof. An available digital rearview mirror should greatly alleviate this issue, but, unfortunately, it's only offered as an extra-charge option on the top-shelf XSE Premium model.
As for displays, an 8-inch touchscreen is standard, but this particular Prius has the optional $735, 12.3-inch panel. It looks nice and the infotainment system that runs on it is extremely intuitive and quite responsive. Curiously, the volume knob is mounted on the passenger side of the display and there's no tuning dial. The Prius also has a 7-inch digital instrument cluster, though when the steering wheel is adjusted where I want it the rim literally blocks half of the display, which is a huge oversight from Toyota. How did nobody notice this issue while developing the new Prius and bZ4X, a vehicle with nearly the same instrument setup? They got so much right with this vehicle, it's crazy that designers and engineers missed something so significant.
No surprises, just enhancements
There are no powertrain surprises for 2023, just a host of significant improvements. This car's fifth-generation hybrid system is built around a larger 2.0-liter Atkinson-cycle four-cylinder that delivers 150 horsepower and 139 pound-feet of torque all on its own. As per usual in the Prius, this engine is paired with two motor-generators that, through a fancy planetary gearset, perform the duties of an electronically controlled continuously variable transmission.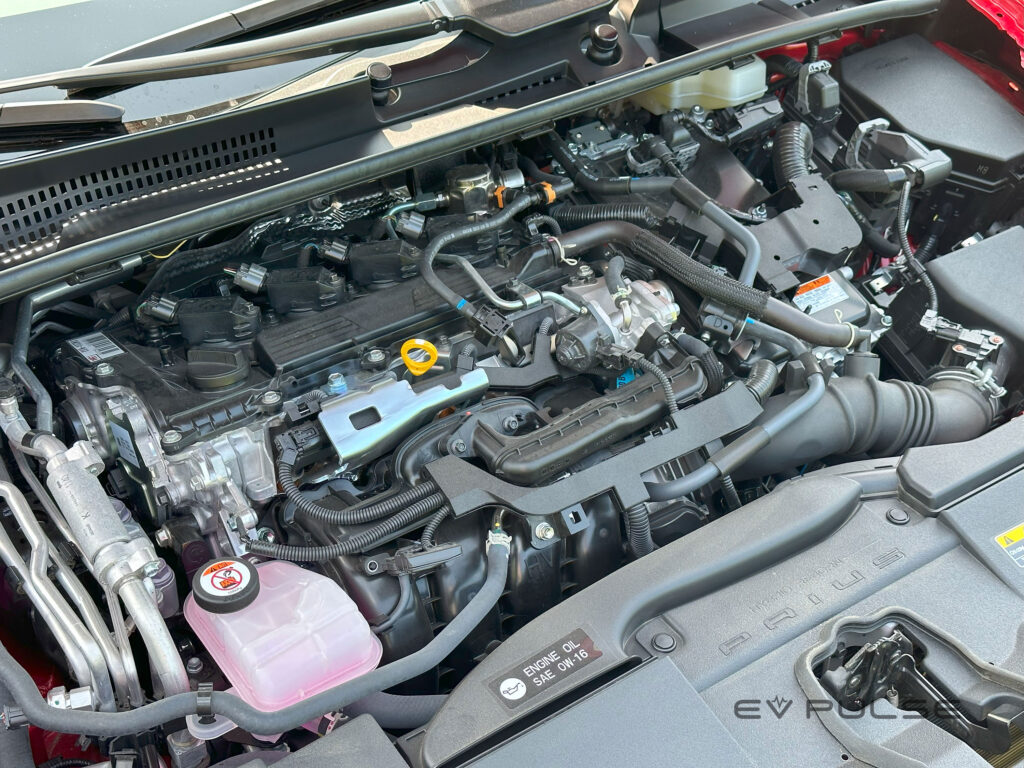 Both motor-generators can charge the Prime's not-insubstantial battery pack, though motor-generator two can also drive the vehicle. It's a permanent-magnet design and delivers a respectable 161 hp.
Overall, the Prius Prime has 220 system hp, about 100 more than the outgoing version of the car. This results in a legitimately quick 0-to-60 time of just 6.6 seconds, a 35% improvement compared to the 2022 model, speed you can feel and will appreciate every day.
Storing and releasing energy is a 13.6-kilowatt-hour lithium-ion battery that's a big upgrade over the previous 8.8-kWh unit. This pack can recharge in around 11 hours when hooked to a 120-volt household outlet, but if you tap into a 240-volt power source the new Prime can do the same deed in just about 4 hours.
As for all-electric range, the base SE version of the 2023 Prius Prime can go an estimated 44 miles on a charge, a stellar figure. XSE and XSE Premium models aren't quite as long of leg, topping out at a still-excellent 39 miles.
As for efficiency, XSE and XSE Premium models are both rated at 50 miles per gallon city, 47 highway and 48 mpg combined. When running exclusively off the battery pack, these cars should return 114 MPGe. If you're a hypermiler, the base SE trim is slightly more economical across the board.
Potent and efficient
Putting that amped-up drivetrain to good use, the Prius drives far better than you might expect. In conventional hybrid mode, the car scoots when you get on the accelerator. Remember, 220 hp is nothing to sneeze at, even in a vehicle that weighs around 3,516 pounds. The Prius Prime's drivetrain is torquey, smooth and super-efficient. The engine even emits an alluring snarl under heavy loads.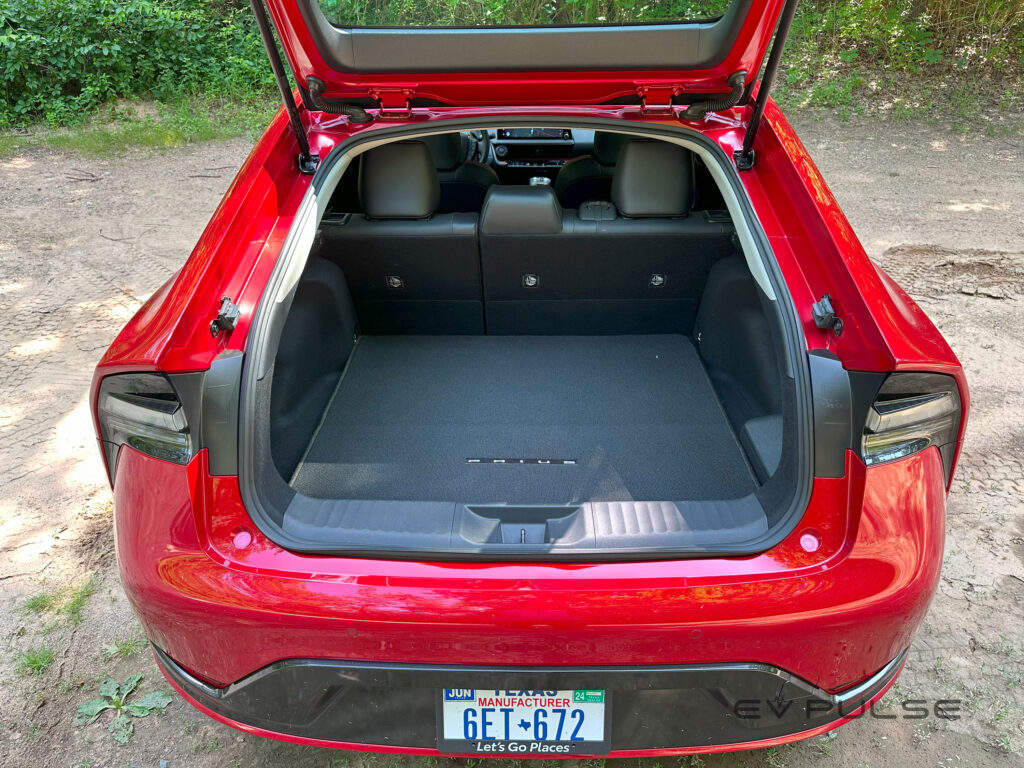 When it's time to slow your roll, the Prime's brake pedal feels totally natural. The transition between friction and regenerative braking is completely seamless. Nissan could learn a thing or two from how Toyota engineers tuned the binders in this hybrid because the Ariya SUV's pedal does not feel good.
Naturally, there are several different powertrain modes to choose from and each one optimizes how the Prime performs in different conditions. EV mode runs the car entirely off the battery pack at speeds up to 84 mph, though the engine may kick on in certain conditions, though this did not happen during our testing. As the numbers suggest, the performance is not as strong as when the engine is helping out, but it's still very good, perfectly fine for everyday use.
As the name suggests, Auto EV/HV mode automatically switched between EV and hybrid modes depending on conditions. It will run the Prime off the battery as much as possible, but will engage the engine when it's most efficient to do so, like while climbing steep hills or driving at highway speeds.
Next, HV is the standard hybrid powertrain mode that uses both the gasoline engine and electric motor to maximize performance and efficiency. And finally, there's Charge mode that allows you to replenish the battery while driving, which is useful if you're on the highway heading downtown and want some smooth, emissions-free electric range once you're in the city.
This Toyota's powertrain is a winner, and so is the ride and handling. Despite rolling on rather large 19-inch wheels, the Prime's ride is smooth and well controlled, with refinement that's close to what you get in a luxury car. The steering is light and quick, though it bulks up nicely in corners. The wheel itself has a small overall diameter, which further enhances the feeling of agility.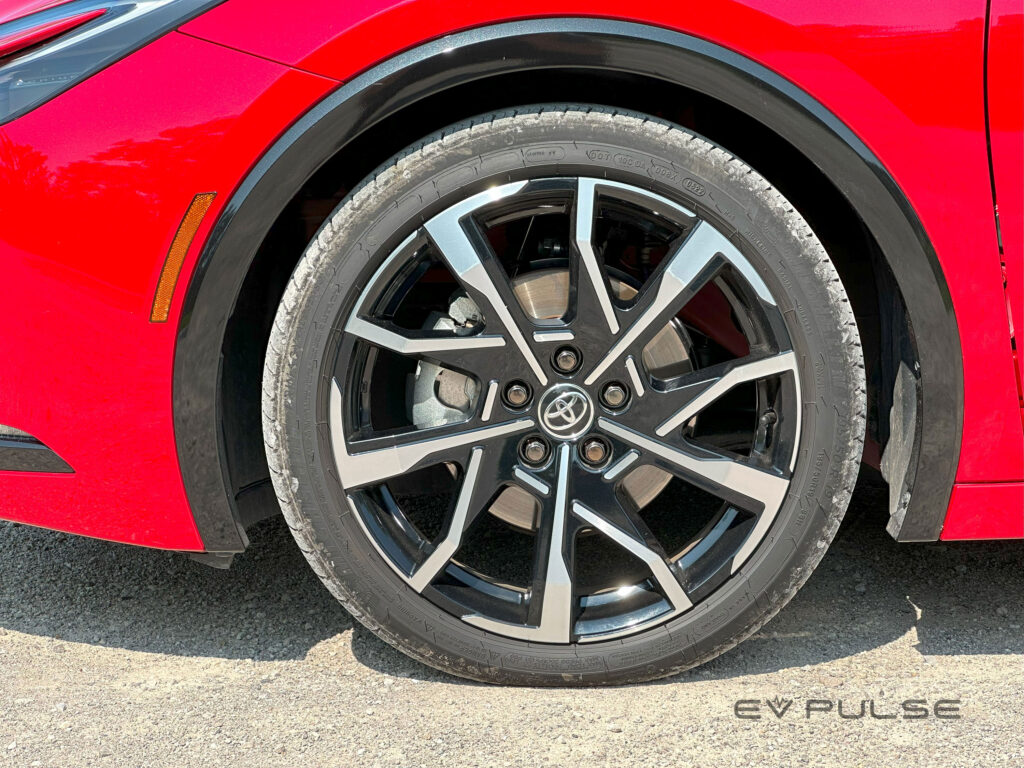 As for driver aids, Toyota Safety Sense 3.0 is standard across the Prius Prime range. This includes a host of amenities like lane-keeping assist, adaptive cruise control, road sign recognition, automatic high beams and more. Proactive Driving Assist is one of those "more" features. It uses the forward-facing camera and radar sensor to gently brake in corners. It also helps steer and maintain a safe distance behind other vehicles. It kind of feels like adaptive cruise control that's silently yet subtly working in the background to help make you a better driver.
2023 Toyota Prius Prime: A segment-defining plug-in hybrid
There's so much to love about Toyota's latest and greatest plug-in hybrid. The electric range is excellent, this vehicle practically has the refinement of a luxury car, the acceleration is impressively quick, the efficiency is top notch, too, and the new Prius is simply gorgeous. After extensive testing, I really only have three complaints about this car: Rearward visibility is not great, backseat headroom could be better and the instrument cluster is just awful.
Pricing is another strength of the 2023 Prius Prime. This example checks out for an estimated $38,855, a totally reasonable sum for an excellent vehicle. That figure includes $1,095 for delivery, an optional $1,000 glass roof, $735 to get the 12.3-inch touchscreen and $425 for premium paint. Skip the options and you can get a base SE model for around $33,000, which is a steal.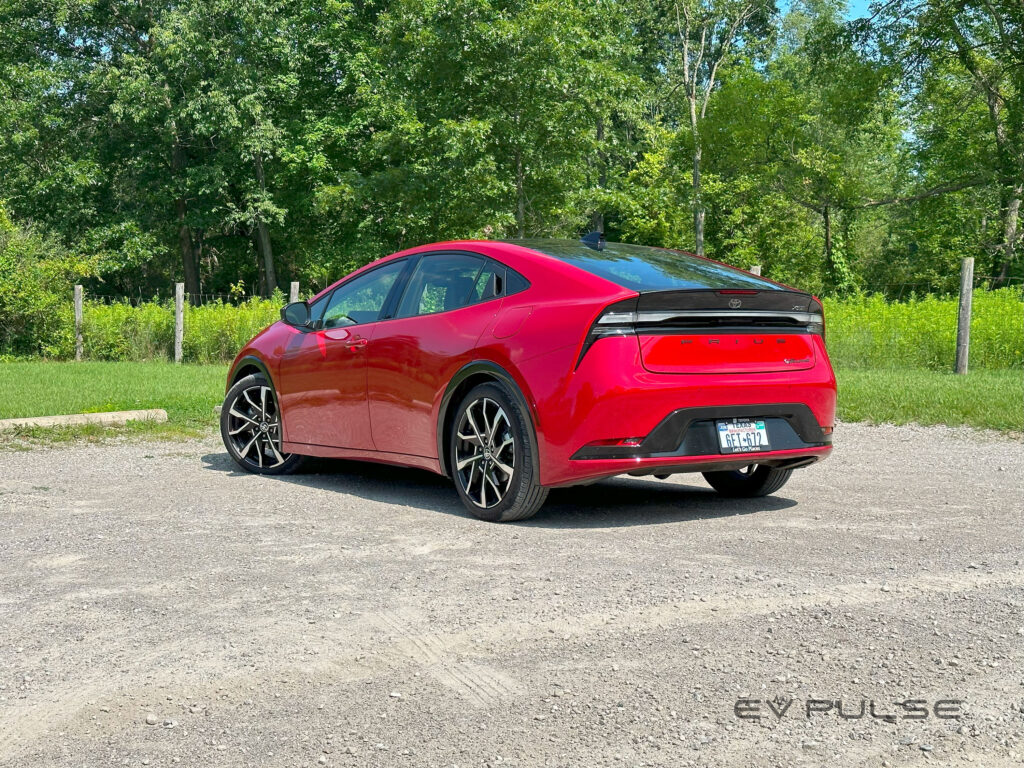 Historically, the Prius has been the butt of countless jokes for its weak performance and dorky styling. But nobody is laughing now. The 2023 model is legitimately awesome. Just take one for a spin and I bet you'll be saying, "That's not a Prius!"
At a glance
Year: 2023
Make: Toyota
Model: Prius Prime
Trim: XSE
Type: Plug-in hybrid liftback sedan
System horsepower: 220
MPG ratings (city/highway/combined): 50/47/48
Electric range: 39 miles
Pros: Excellent all-electric range, near-luxury refinement, quick acceleration, stellar efficiency, gorgeous styling
Cons: Compromised rearward visibility, tight backseat headroom, terrible instrument cluster
Estimated base price (SE trim): $33,445
Estimated as-tested price: $38,855 including $1,095 in destination fees
Watch our review video