There's plenty to like about 2023 Mercedes-Benz EQB 350 4Matic. This compact, all-electric SUV has upscale appointments, offers some great features and is a handy size, neither too big nor too small. But despite having plenty of upsides, you probably shouldn't buy one of these utility vehicles, and here's why.
The EQB is basically a battery-powered version of the conventional GLB. Both models roll along on the same 111.3-inch wheelbase and feature a handsome, unusually upright body. Visually, not much sets the electric model apart from its combustion-powered sibling. The grille, headlights and front fascia are slightly different, and the taillamp design is unique. Light bars run across both ends for some added flair, and that's about it for styling changes.
Our tester is fitted with the optional $2,890 AMG Night package that includes a special grille pattern and black trim on the mirror caps and around the side glass. This EQB also features busy-looking two-tone 19-inch AMG-branded wheels for an extra $600. Overall, the vehicle is clean and classy, if a little boring.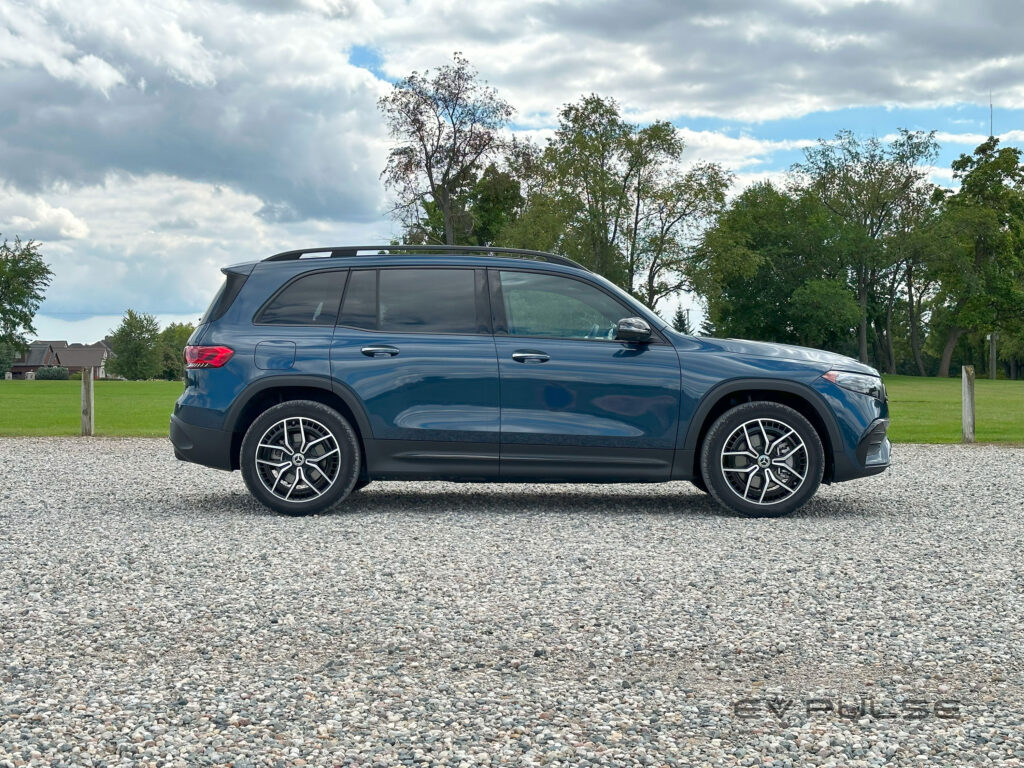 Popping the rear hatch reveals 10.7 cubic feet of cargo space, but if you fold the 40-20-20 split second-row backrests down, that figure grows to 61.8, a surprisingly generous figure for such a petite SUV. Even more shocking is that the EQB (and the GLB as well) is available with a third-row seat for an additional $1,250 that allows the vehicle to carry up to seven people, well, seven as long as the two in the way-back are children. The third row is realistically a kids-only zone.
Folks sitting in the EQB's other seats are well cared for. The cushions are all very firm and commensurately supportive. The power-adjustable front bucket in this model are also heated (a $500 option) and the second-row bench both slides fore and aft by 5.5 inches and the backrest adjusts to multiple angles, further enhancing comfort.
Despite its small size, the EQB still feels like a proper Mercedes-Benz. This vehicle's interior isn't the most opulent and it certainly doesn't have the automaker's latest-and-greatest technology, but it's still exceptionally nice. Soft plastics abound, there's laser beam-straight stitching, attractive trim and high-quality controls.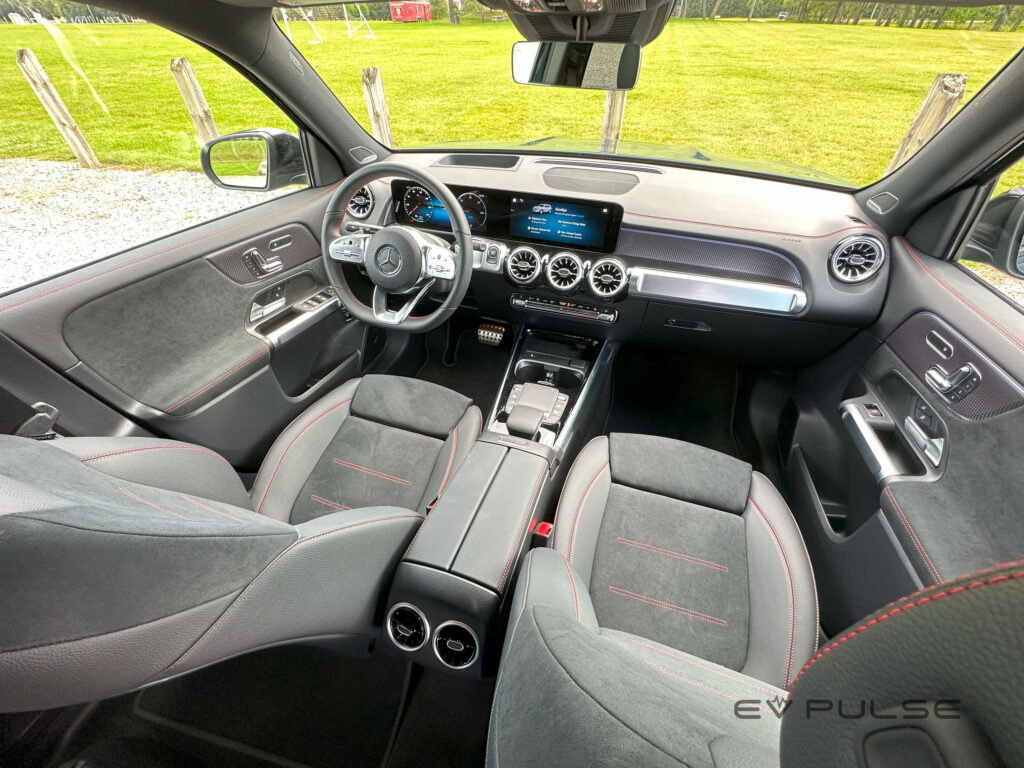 Despite its small size, nearly everything inside this vehicle feels premium, with three exceptions. When you indicate a lane change, the signal/wiper control stalk makes a seriously loud, hollow sounding click that resonates through the steering column. Next, the plastic trim on the B-pillars is incredibly low rent. If you hit this area with a hand while grabbing the seatbelt buckle, it also reverberates like tapping fingernails on a dollar store plastic tote. Finally, the sun visors are borderline useless. They're far too small and don't extend, leaving taller folks blinded by the sun. This is an inexcusable oversight in a $73,000 vehicle.
When it comes to tech, the EQB's dashboard is graced with two 10.25-inch displays mounted in a single assembly. Both the digital instrument cluster and central touchscreen are crisp, colorful and easy to read. Neither of these panels are small, but they look absolutely tiny compared to the more modern screens found in newer Mercedes-Benz models, including the EQE family.
This SUV runs an older infotainment system, and it's mostly intuitive and responsive, though pinching and zooming on the navigation map is extremely unresponsive, and this multimedia array doesn't support dynamic route planning. Naturally, Apple CarPlay and Android Auto are both included, but these smartphone-mirroring systems only work with a physical connection. Wireless capability should be coming in 2024 with the EQB's refresh.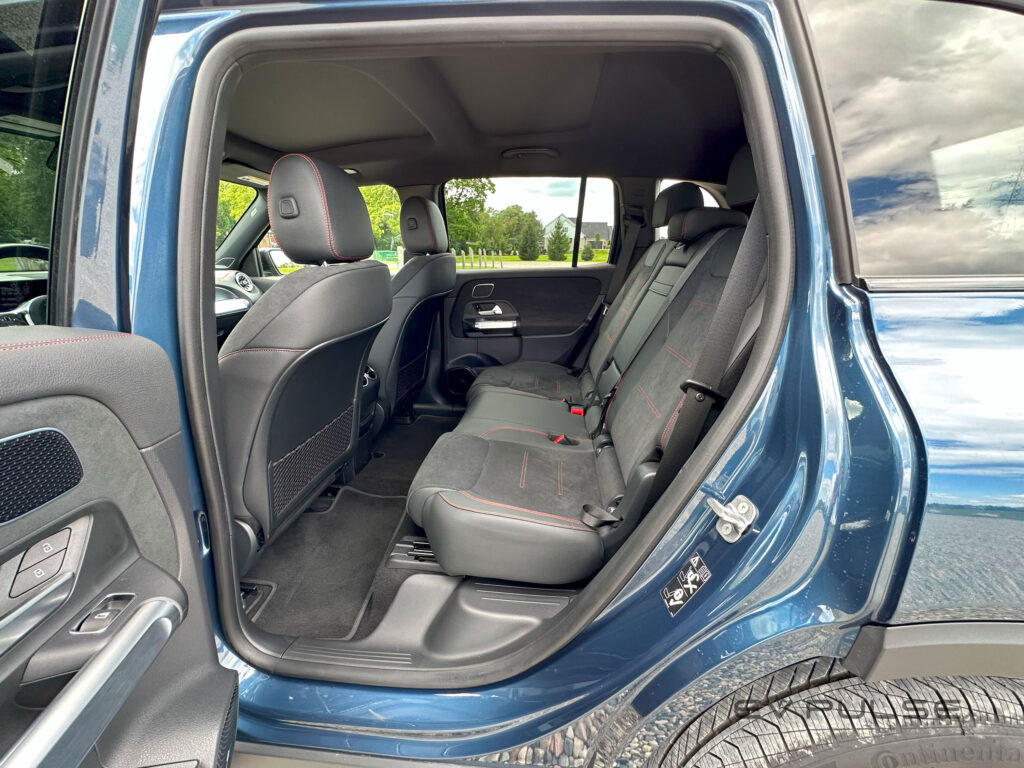 When it comes to options, this tester features the $2,000 Technology Package, which includes an ever-useful head-up display, a digital assistant for the infotainment system, traffic sign recognition and augmented video for the navigation system. That last item taps into the front-facing camera and projects directional indications right over a video feed playing on the center display, so it's nearly impossible to miss a turn.
The $1,300 Driver Assistance Package includes items like lane-keeping assist, blind spot monitoring, automatic emergency braking and a bunch of other features that should probably be standard in a Mercedes-Benz. Lastly, there's the Pinnacle Package for $2,300. This gets you a 360-degree camera, Burmester premium sound system and a wireless charging pad.
As alluded to above, the EQB is getting refreshed for the next model year. The SUV will gain mildly tweaked exterior styling, excellent plug-and-charge capability as well as an improved infotainment system. The update 2024 EQB is slated to start arriving at dealers in the first half of next year.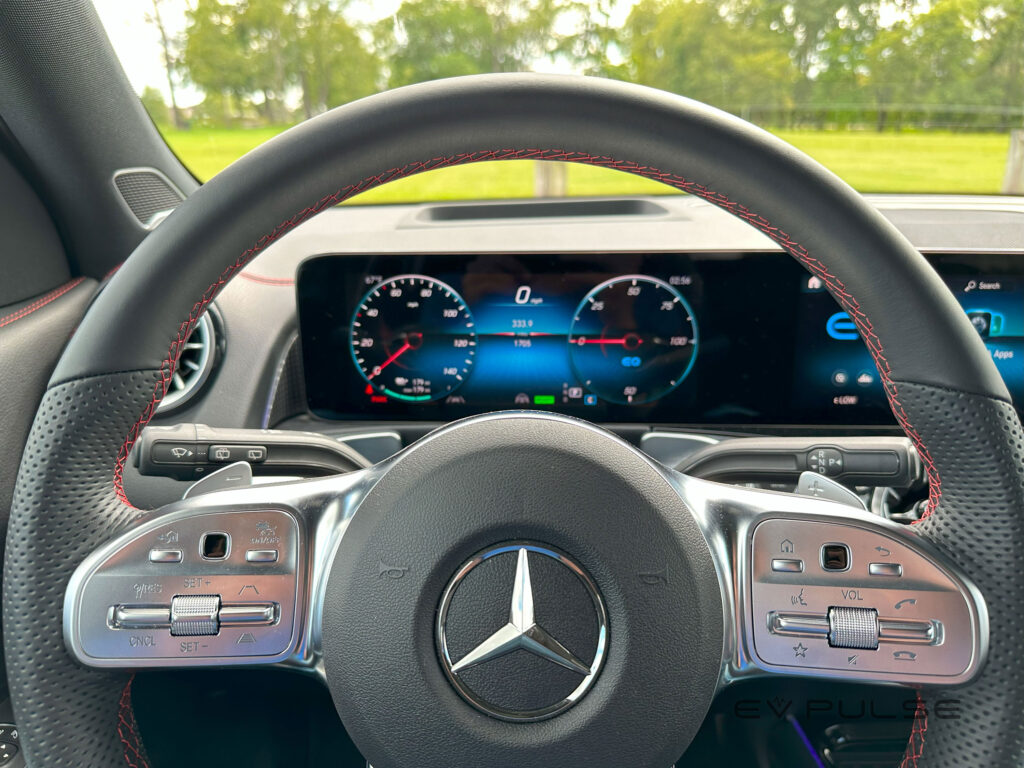 All versions of the EQB have a lithium-ion battery with 66.5-kilowatt-hours of usable capacity. Unfortunately, the pack only DC fast charges at 100 kilowatts, a very uncompetitive figure in 2023, though, it's still enough to go from 10% to 80% in about 32 mins.
Three grades of EQB are available. The base model is the front-drive EQB 250+, which offers a modest 245 miles of range. Next comes the EQB 300 4Matic, which has all-wheel drive and 232 miles on a charge. Finally, we have the EQB 350 4Matic. This model only has 221 miles of range, though it can hit 60 mph in just 6.0 seconds flat. Regrettably, even with slippery aerodynamics and a standard heat pump in the HVAC system, range is definitely not this vehicle's strong suit.
This top-shelf EQB has 288 horsepower and 384 pound-feet of torque. These numbers deliver good, but not amazing performance. This little SUV surges off the line, acceleration is potent, though that enthusiasm does wane noticeably at higher speeds.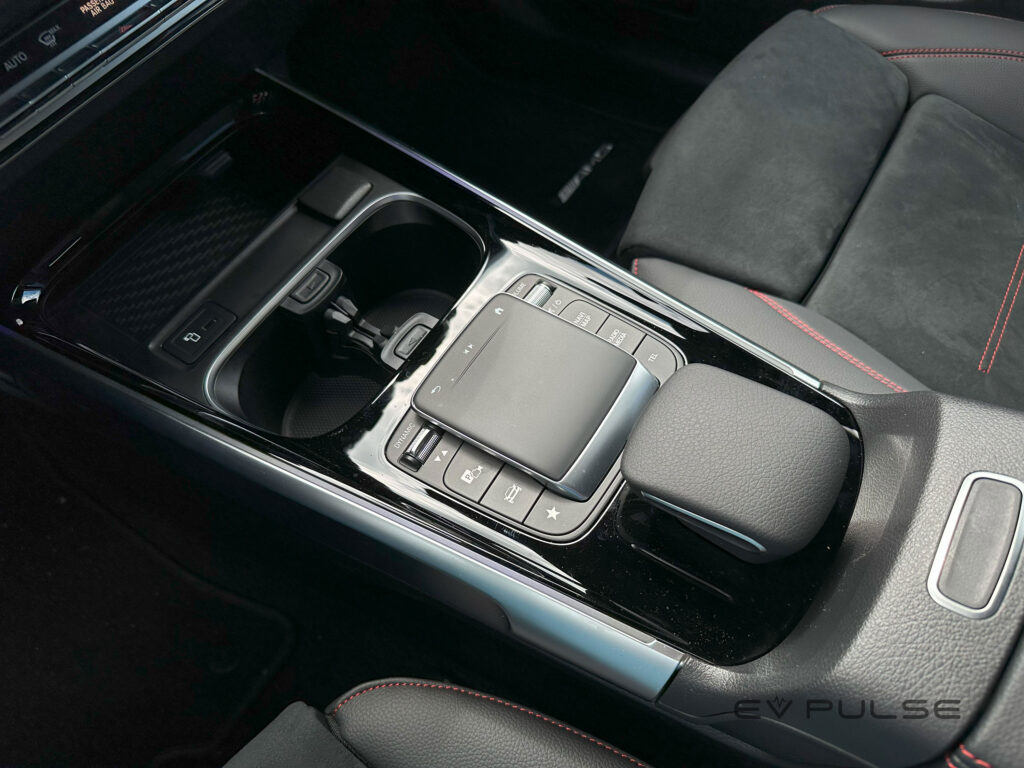 Under low loads, such as while trundling along a two-lane road, only the rear motor drives the EQB because it's more efficient, being of a permanent magnet design. An induction motor is used up front, and it engages when extra traction is needed. The 4Matic system monitors the front-to-rear torque split up to 100 times per second and adjusts accordingly to maximize traction.
The EQB's ride is quite firm, but not brutally so. The body, however, does occasionally make exaggerated movements over undulating pavement. The handling is agreeable, with the steering feeling light and quick, though it's devoid of any road feel.
Thanks to the upright windshield and generous amounts of glass, outward visibility is quite good, a rarity in modern vehicles. The cabin is also nice and quiet at all speeds.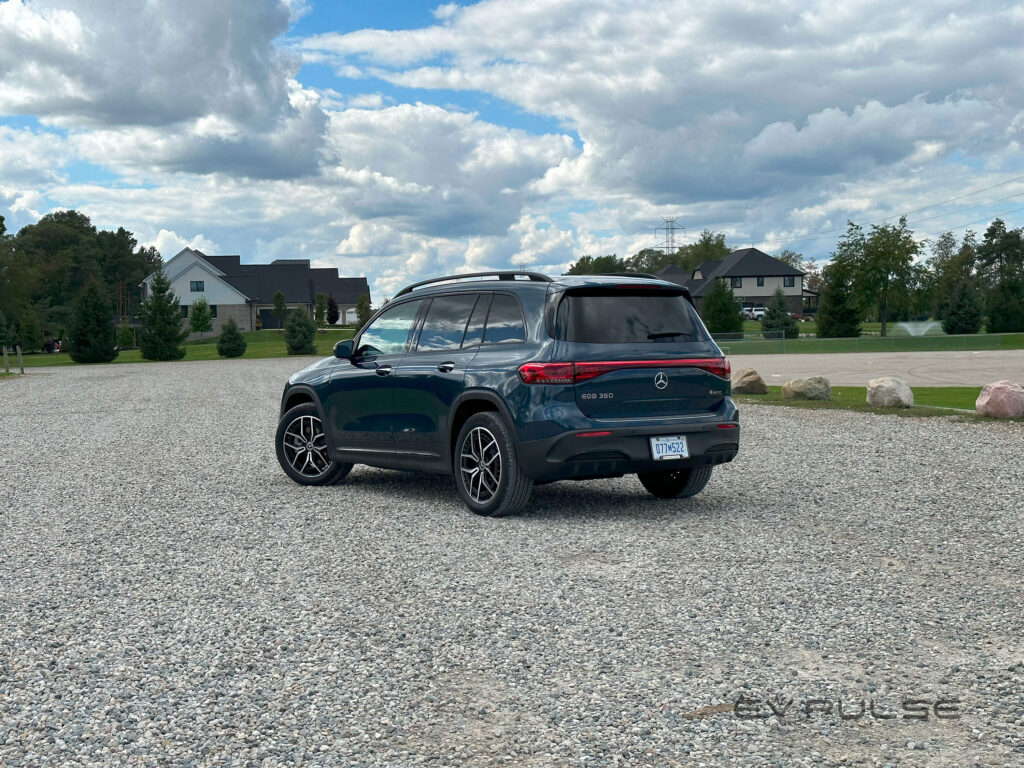 When it comes to pricing, the front-drive EQB 250+ starts at just about $54,000, a totally reasonable figure. But at that level, the performance probably isn't all that great, since it has less power and torque than our tester here, and you're missing out on a lot of features. As it sits, this high-end EQB 350 4Matic checks out at $73,275 including a heap of options and $1,150 for delivery. That's certainly a lot of money for a small SUV with limited range and weak DC fast charging performance.
While the EQB is legitimately nice – I like this vehicle more than I probably should – there are better EVs out there, including Hyundai's E-GMP-based models – especially the Genesis GV60. But, if range and speedy charging don't matter to you, this is still a solid little SUV.
At a glance
Year: 2023
Make: Mercedes-Benz
Model: EQB
Trim: 350 4Matic
Type: 4-door all-electric crossover
Horsepower: 288
Torque: 384 lb-ft
MPGe ratings (city/highway/combined): 98/95/97
Range: 221 miles
Pros: Comfortable and premium interior, available third-row seat, excellent refinement, rock-solid feel
Cons: Slow DC charging, low range, OK performance, steep price, non-extending sun visors
Estimated Base price: $54,000
As-tested price: $73,275 including $1,150 in destination fees
Watch our review video