The Kia Niro is an engineering marvel because this hatchback-like crossover is available with three different drivetrains. You can get it as a conventional hybrid, a plug-in hybrid or even a pure electric. The PHEV is the Goldilocks option, offering respectable all-electric range and the ability to drive cross country without ever needing to recharge. Even though it's overshadowed by the more refined Niro EV, this is still a more-than-worthy vehicle thanks to its affordability and efficiency.
Plug-in hybrids are like a combination platter from your favorite Chinese restaurant. You get a little General Tso's chicken and some beef lo mein on the same plate, or, rather, the smoothness and efficiency of an EV, with the long range and quick refueling of internal combustion, a perfect mix for many drivers. Just don't forget the egg roll and some plum sauce.
In this case, the Niro PHEV's powertrain is built around a 1.6-liter gasoline four-cylinder engine that's matched to a six-speed dual dry clutch automatic transmission, an unusual choice. Hybrids with small engines often feature electronic continuously variable transmissions instead of ones with fixed ratios, but Kia's not afraid to go its own way. With an electric motor and an 11.1-kilowatt-hour lithium-ion battery, this Niro gets you 180 system horsepower and 195 pound-feet of total torque, enough for a 0-to-60 mph dash of around 9.5 seconds.
On its own, the electric motor provides a decent 83 hp and 150 lb-ft of off-the-line twist. The battery is large enough to get you an EPA-estimated 33 miles of range on a charge, which is comparable to other plug-in hybrids like the new Dodge Hornet R/T, Ford Escape and Mitsubishi Outlander. These vehicles come with similar powertrains, though they don't necessarily directly compete with the Niro PHEV.
This Kia features a standard J1772 socket, which allows you to Level 1 or Level 2 charge. There is no CCS or CHAdeMO port, so, unfortunately, DC fast charging isn't an option, not that it's all that important in this sort of vehicle. Plug the Niro PHEV into a Level 2 AC charger and you can completely replenish the battery pack in around 2 hours and 45 minutes. Juice up from a standard, 120-volt household outlet and the same feat will likely take most of the day.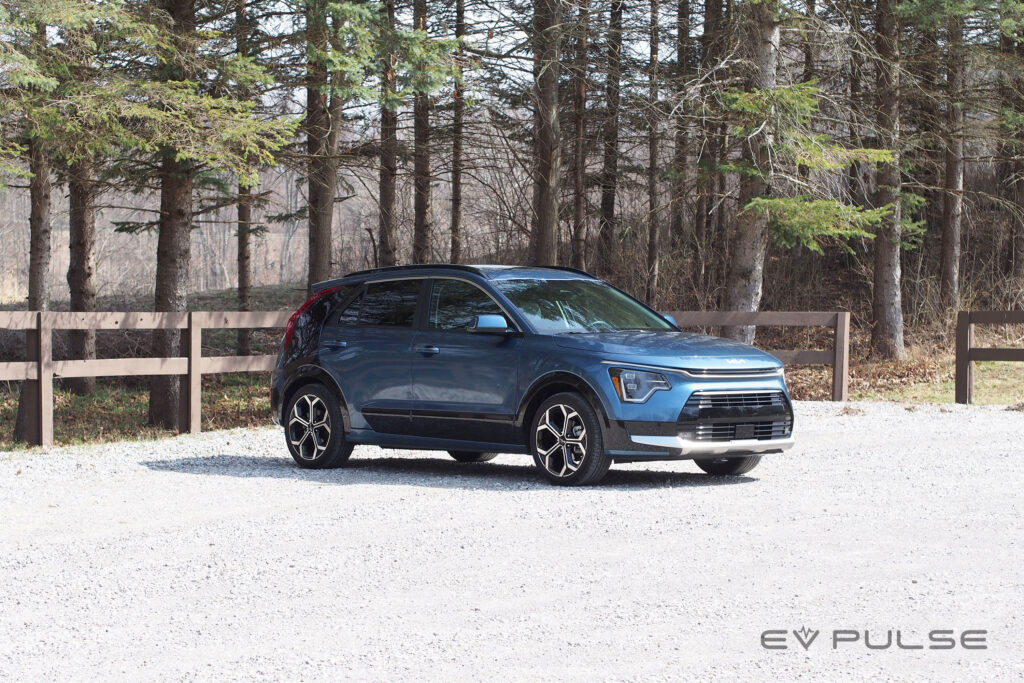 But back to the all-electric range. How accurate is the EPA's estimate for this small crossover? Well, in testing, the Niro PHEV managed to travel just shy of 36 miles before the engine fired up, which isn't too shabby, though, this performance was delivered under pretty much ideal conditions. During testing, I drove the vehicle normally, accelerating responsibly, I stuck to country two-lane roads with speed limits around 55 mph, the climate control was set at 72 degrees F and the weather was in the mid-to-upper 60s. Again, perfect conditions. As always, your mileage will vary, but the Niro PHEV is eager to please and proves it is possible to beat the EPA without hypermiling or doing anything complicated.
To effectively access this vehicle's all-electric range, you have to select the proper powertrain mode. These settings are accessible via a convenient button on the center console. Cycling through them, there's Electric, EV+, Hybrid and Automatic. The first mode supposedly runs the Niro PHEV solely off the battery until it's depleted, but in my testing the engine engages quite frequently, so that didn't work for the mileage run. EV+ mode, on the other hand, only kicks the engine on when you floor the accelerator, so that's the setting I used during the range test. Hybrid and Automatic modes figure out what's best based on how you're driving.
Aside from that, this Kia has two other driving modes, Eco and Sport. For testing, I used Eco, though there's precious little difference between the two. Sport just seems to keep the transmission a gear or two lower than necessary, at least that's the only difference I could detect.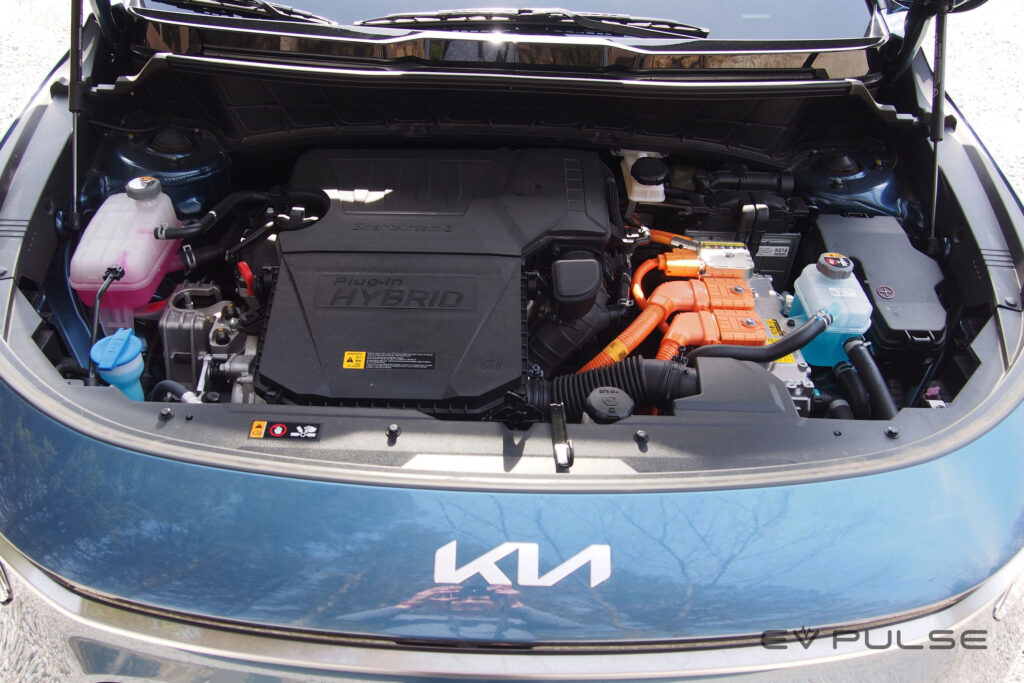 Dynamically, the Niro PHEV feels like a slightly lower-rent version of its all-electric sibling. The ride isn't quite as refined, the brake pedal feels spongy and there seems to be a bit more body roll in corners. None of this is objectionable, but it is noticeable if you've already experienced the Niro EV.
The vehicle's plug-in electric powertrain works as advertised, delivering a nice blend of performance and efficiency. This Kia's engine is smooth running but grumbly, emitting laborious noises when pushed. A bit more vigor would be appreciated, but this setup is perfectly adequate.
PHEV drivetrains are complicated. There's a lot going on, with clutches and gears, a gas engine and an electric motor or even motors. Consequently, these tend to not be the smoothest, the transition from electric to combustion and back again can be pronounced, and sometimes annoying, but not in the Niro. It's not always perfectly seamless, but this is easily one of the more refined plug-in hybrids around.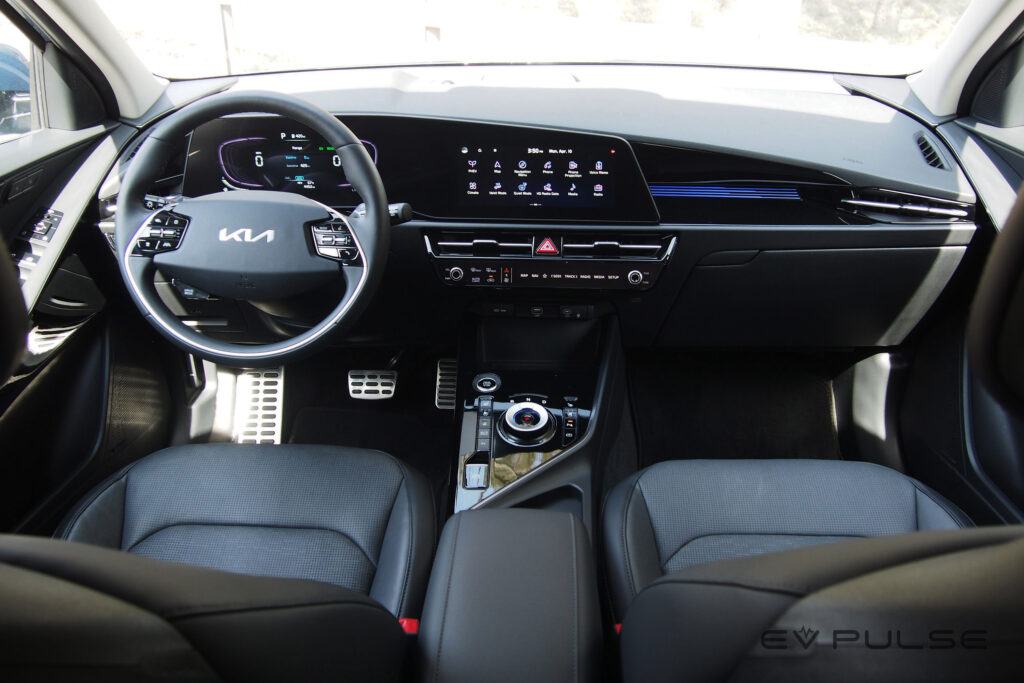 Just like the pricier Niro EV, this crossover has a nice interior and plenty of technology. The cabin is thoughtfully designed and carefully crafted. Nothing is fancy, but the eco-friendly materials employed feel nice, everything works well and, of course, you also get loads of standard tech. Even the base EX model comes standard with a 10.25-inch touch screen for the intuitive and responsive infotainment system. Android Auto and Apple CarPlay are both included, there's a wireless charging pad and you get a host of advanced driver assistance technologies at no extra cost. This includes lane-keeping assist, automatic high beams, Rear Cross-Traffic Collision Avoidance Assist and much more.
Opting for the higher-end SX Touring trim nets you even more amenities. A power liftgate, digital key functionality, 18-inch wheels and a sunroof are all included.
Sure, the performance could be better, the engine sounds about as pleasant as an auctioneer with laryngitis and this vehicle is overshadowed by its swankier all-electric sibling, but there's still plenty to like about the 2023 Kia Niro PHEV. It has a comfortable and well-built interior, offers loads of standard features, delivers respectable all-electric range and is attractively priced.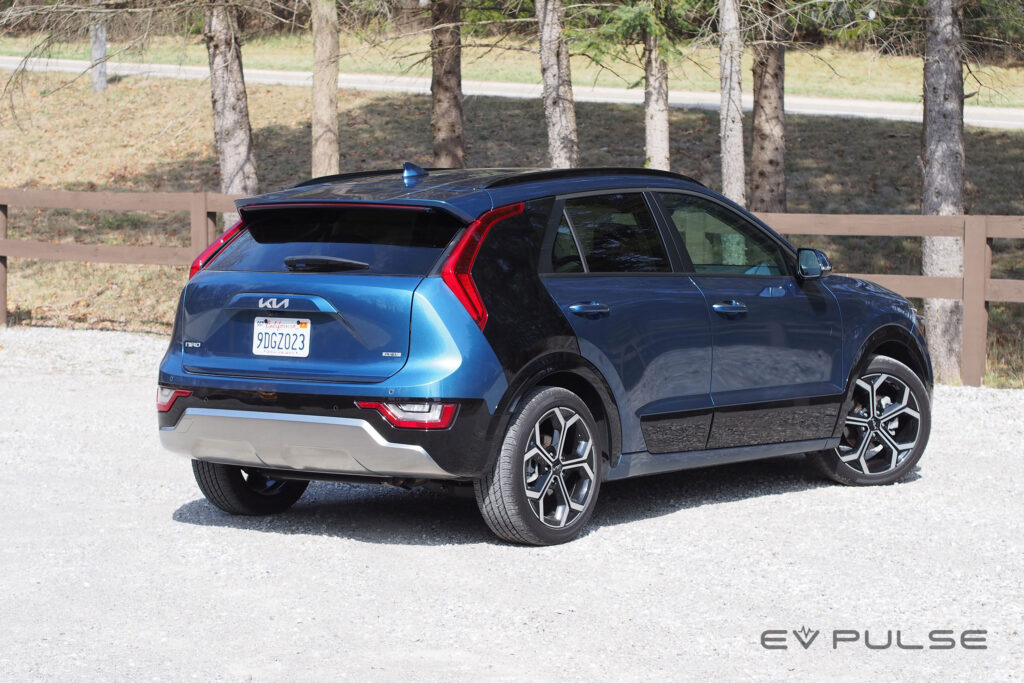 With no options or accessories, the entry-level EX trim starts at around $35,000 including delivery fees. The up-level SX Touring model tested here is a bit spendier, but still, it checks out for less than $42,000, a very appealing number in 2023, where everything seems to cost a fortune.
Overall, I don't like the Niro PHEV as much as the all-electric Niro EV, but this is still an excellent offering that's perfect for drivers in need of an efficient vehicle but are reticent to go fully electric.
At a glance
Year: 2023
Make: Kia
Model: Niro PHEV
Trim: SX Touring
Type: 4-door all-electric crossover
System Horsepower: 180
System Torque: 195 pound-feet
MPG combined: 48
MPGe combined: 108
Electric Range: 33 miles
Pros: Comfortable and well-crafted cabin, abundant amenities, respectable electric range, value pricing
Cons: A touch more performance would be nice, coarse-sounding engine, overshadowed by the Niro EV
Estimated Base price: $35,165 including $1,325 in destination fees
As-tested price: $41,635
Video review