You've spent hours meticulously washing and detailing your EV, but you take a step back after finishing and feel like there's just something missing. You can't quite put a finger on it, but you finally realize it: your tires still look drab. Applying tire shine is often the final touch car detailers will do before handing you back the keys, but it's often overlooked by car owners when they wash their cars themselves. Tire shine might seem to be purely for aesthetic purposes, but quality products will also protect your tires' sidewalls from fading, cracking, and hardening. That means you shouldn't be quick to just grab whatever you find on the shelf or the most affordable option online. The best tire shines will have quality ingredients that resist water, so they're more durable and last longer. But to choose the right one for you, you'll want to determine how much shine you want and how much time you want to spend applying it. There are more affordable tire shines that are in an aerosol spray can that is really easy to apply, but it'll leave a bit of a mess. I personally prefer tire shines that are designed to be used with an applicator, which are the majority of the recommendations below. It might take a bit longer to do, but like everything else we do around here, you want to do it right.
Now, will you see a noticeable difference between all of our recommendations if you were to compare them side-by-side? Likely not, if we're being honest. It really boils down to the amount of shine you want, and how long you expect it to last. We do have some more affordable choices that won't last as long as our top pick, but that might not matter to someone who washes their car each week. Admittedly we don't have the resources to test just how effective each one of these tire shines are when it comes to protecting your tires, so we'll have to take the manufacturer's word for it. We mainly judged our picks based on how easy they were to apply, the amount of mess and spit left behind when we drove off, and how long they generally lasted in normal everyday conditions.
Below you'll find our recommendations for the best tire shines, followed by more information about the product and how to choose the best fit for you and your EV.
1. Top pick: Meguiar's Endurance Tire Gel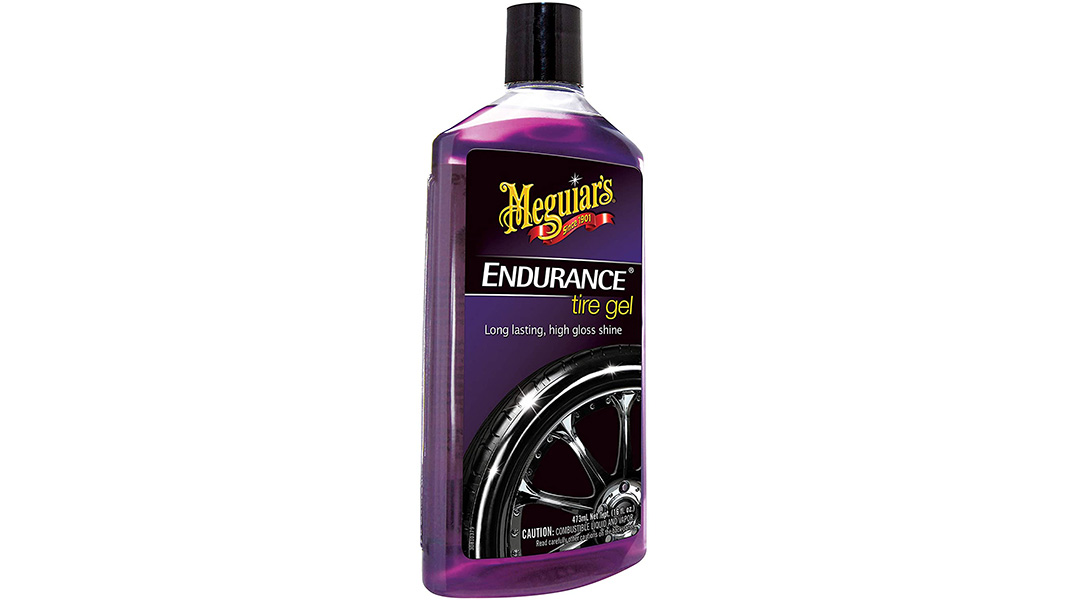 I have personally used Meguiar's Endurance Tire Gel for as long as I can remember. I recall when it was first introduced on the market, I was still attending and competing in car shows and there wouldn't be a single event where I wouldn't apply this product to my tires. Even after all these years later — we're talking nearly two decades — it's still my preferred option despite all the latest additions to the car care industry. It takes a bit more time to apply than other tire shines, but it lasts the longest from my experience and I prefer the finish it leaves behind over others. Meguiar's says it features advanced polymers that helps protect your tires against UV damage and browning.
Since this is a gel, you'll need to use an applicator like a foam pad, soft cloth, or tire brush. We have some applicator recommendations at the bottom of our list if you need one. Control the amount of shine your tire has by either wiping the tire immediately after application (for less shine) or add another coat after you let your first one cure for at least 10 minutes. A word of caution with this product, if you do happen to get any excess gel that spun off your tires and onto plastic or painted panels, you'll want to wipe it off right away to avoid staining. I generally avoid driving my car for 30 minutes after applying.
2. Runner-up: Chemical Guys Tire Kicker Tire Shine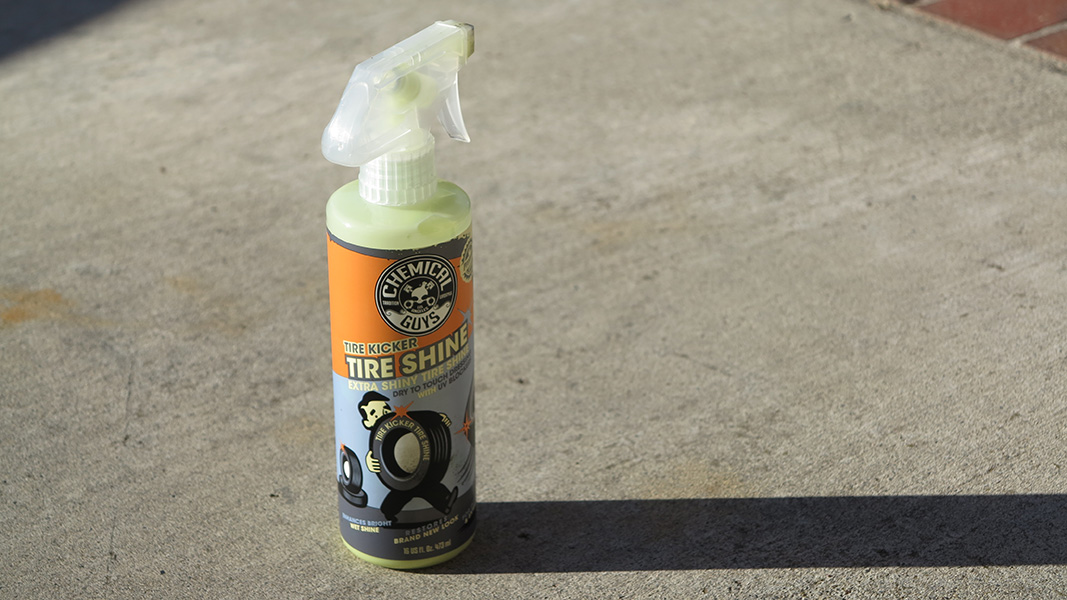 If you prefer a tire shine spray rather than a gel, this tire dressing from Chemical Guys would be my recommendation. Best of all, you can use this product on any rubber, vinyl, or plastic component on or inside your vehicle for protection and shine since it is a water-based dressing. Also, it's dry to the touch so you don't have to worry about it attracting dust and dirt. I'd say the finish isn't as slick as the Meguiar's Endurance Tire Gel, so if you prefer a more natural appearance for your tire, go with this recommendation. For the best results, you'll want to use an applicator pad to apply it onto your tires rather than spraying it on directly.
3. Premium pick: Adam's Graphene Tire Dressing Combo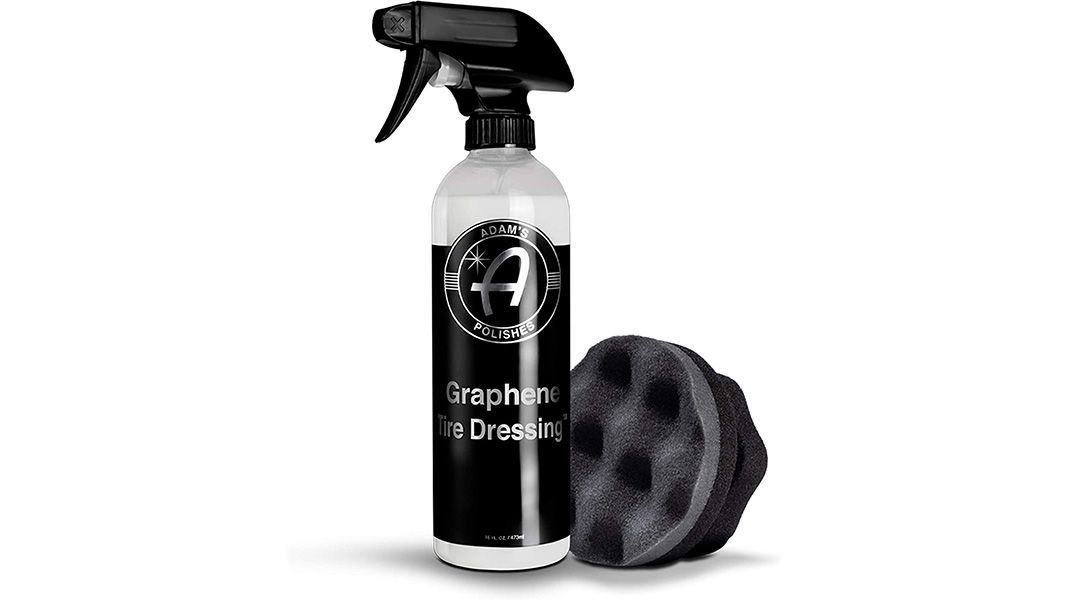 This option is more of a premium pick and possibly controversial depending on who you're talking to. Adam's has applied its same reduced graphene-oxide ceramic resins into a tire shine for a water-based, silicone dressing that claims to offer even better protection than other products on the market. The graphene properties add water repellency as well, helping keep dirt and liquids from sticking onto your tire. When I tested out this product, I was impressed at how quickly it dried and stuck onto the tire to avoid any spitting. In terms of longevity, it was pretty on par with my other top recommendations, although I didn't apply more than one coat.
If you're a fan of Adam's other products and used them when you routinely wash your car, you should be happy with the results of its graphene tire dressing. The company also offers a complete kit that includes its wheel & tire cleaner and brushes to make sure your tires are correctly prepped for the dressing.
4. Also consider: CAR GUYS Tire Shine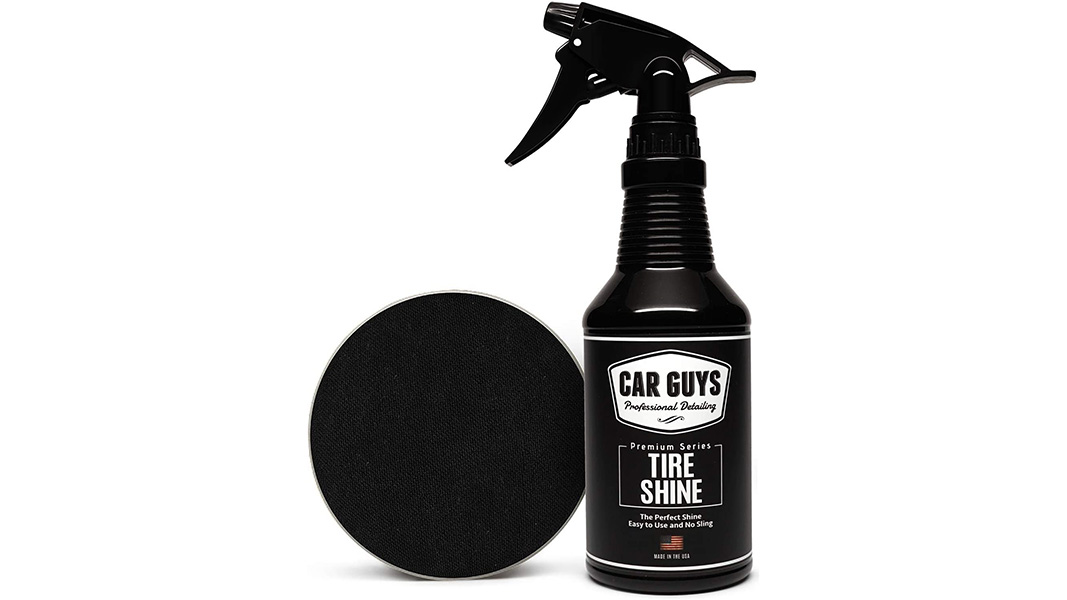 While I haven't personally used this product, I have heard some good things about it. CAR GUYS has made a bit of a name for itself in recent years and most users seem happy with their purchase, which is why it lands on our list of recommendations. The company says it's a non-greasy, dry to the touch tire dressing that provides long-lasting UV protection on your tires. Like other similar products, you can control the shine simply by applying additional coats. I do like that it includes an applicator pad, albeit a very basic one. You can also use this product to restore the shine on plastic, rubber, and vinyl pieces inside your interior or the cladding found on some EVs.
5. Honorable mention: TriNova Tire Shine Spray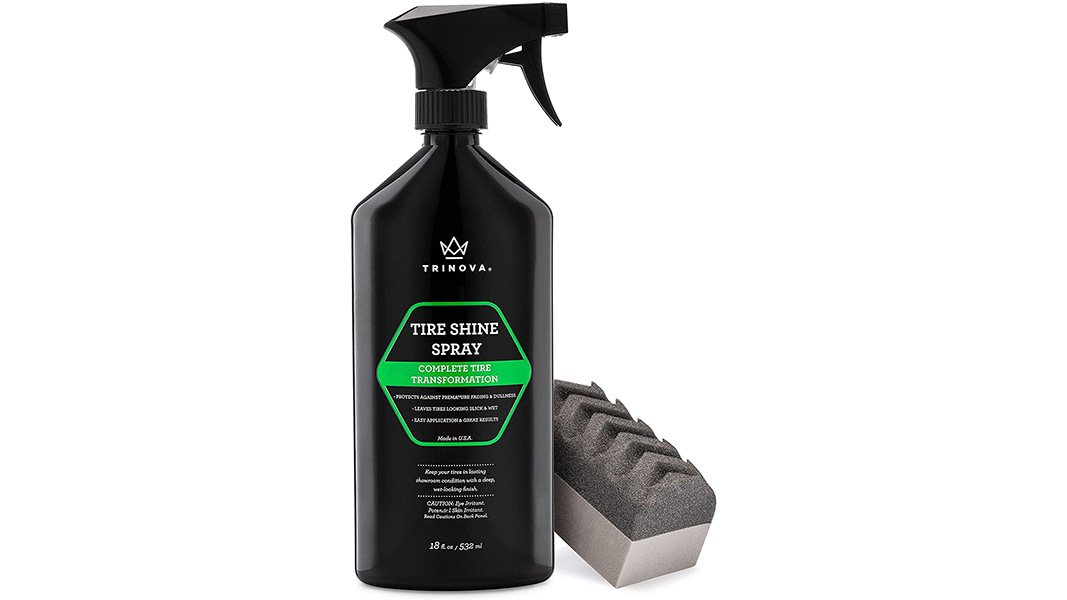 TriNova is a bit like CAR GUYS, a brand that has recently made a presence online with affordable products that offer good results. Its tire shine has your typical bullet points, with UV protection, easy to apply, and results that should last you weeks. I personally haven't tested this, but plan on doing so along with the tire shine from CAR GUYS and will be sure to update this article with my results. But based on user reviews, it should be a solid choice. I do prefer the applicator that comes with TriNova's tire shine over what CAR GUYS includes, but I would still recommend buying one of the two options we have below.
6. Bonus: Chemical Guys Wonder Wave Durafoam tire dressing applicator pad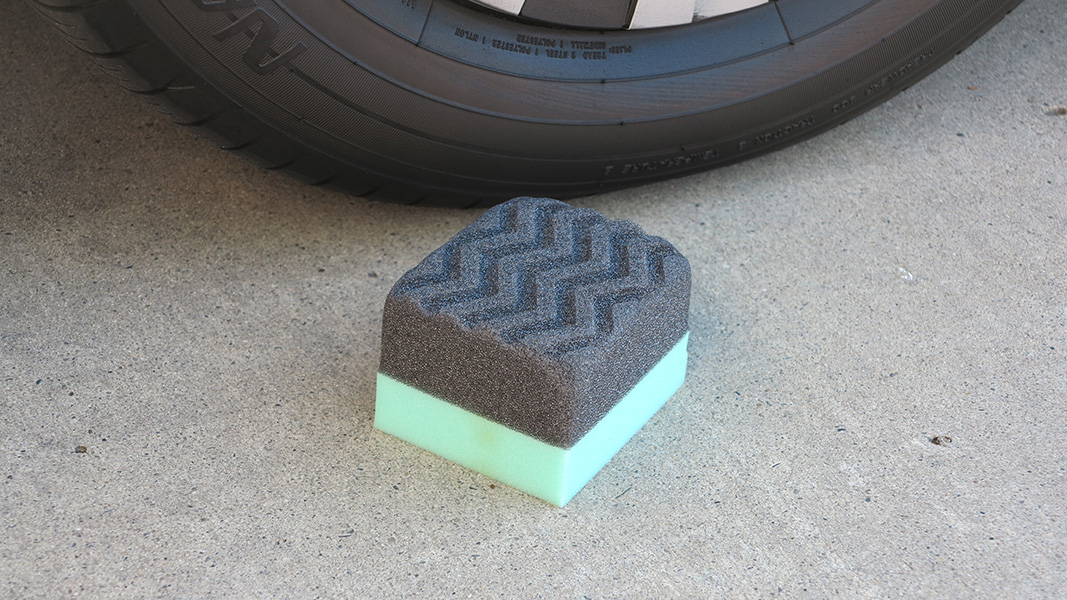 When it comes to applying tire shine, it can get messy. If you want to do it like the pros, you have to get a proper applicator. Chemical Guys sells a pair of its Wonder Wave Durafoam applicator pad, specifically designed for applying tire dressing. The wave design helps prevent messy drips and runs, while ensuring you get a nice and even application. Each applicator pad measures 4″ by 4″ and they are washable and reusable. I also love using these to apply detailer to my interior.
7. Another applicator: Adam's Pro Tire Hex Grip applicator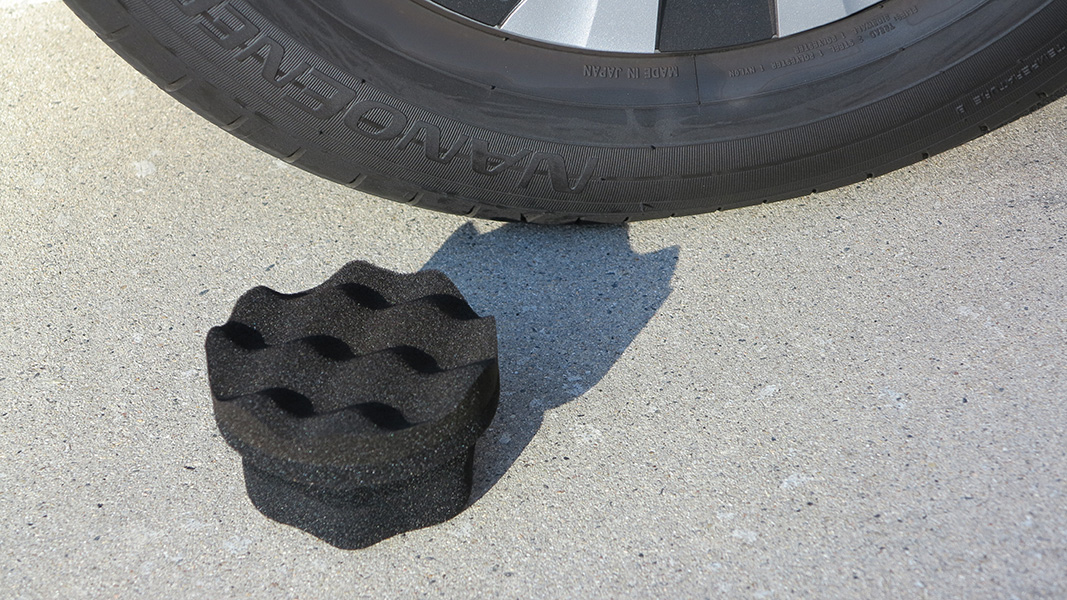 The other recommendation I have for a tire shine applicator comes from Adam's and is actually included with its graphene tire dressing if you opt for the combo. It features a nice and comfortable ergonomic grip, which you'll be surprised by how much that helps when you're applying tire shine. This applicator is also designed to be washed and reused and can last you years if properly cared for. The contoured foam edges really help if your EV rides on low profile tires.
How to properly apply tire shine
It may seem straightforward, but there is definitely a wrong way to apply tire shine. My personal preference is to always use an applicator and I generally avoid tire shines that come in aerosol spray cans. Even though they're really easy to apply, they tend to drip and leave a mess, sometimes even getting on your wheels. I typically apply the tire shine spray or gel onto an applicator and wipe it onto my tire, working in sections at a time for an even spread and finish. But more importantly, it's the work that's done before applying the tire shine. For the best results, make sure you get all that dirt and grime off your tire before applying your tire shine. Use a tire brush to get them nice and clean beforehand.
How come my tire shine doesn't last very long?
You've purchased the best tire shine in all the world and looking forward to the manufacturer's claim that it'll last you weeks. You wash your car, apply the tire shine, and in less than two days, your tires are back to looking dirty and aged. What gives? Why do some people claim the same product works for weeks and yours only lasted you a couple days? It's likely that your tires were extremely dirty to begin with and no tire shine will stick well if the surface is full of dirt and grime. If you want the best results from your tire shine, make sure you scrub and clean your tires prior to applying the product. A tire brush always comes in handy for the task.
Recent Updates:
Updated (3:47 p.m. EDT, 02/24/2023): Added eBay shopping links to our recommendations. Our picks remain unchanged.
Updated (12:02 p.m. EDT, 08/31/2022): Added original photography from testing some of the tire shines.