Keeping your car looking like new takes work. You have to get in the habit of routinely washing your car, possibly weekly depending on where you live and how much you drive. Every couple months, you should be spending some time giving it a fresh coat of wax after a thorough wash. If the finish on your car feels a bit rough every six months to a year, you'll want to use a good 'ol clay bar to make the surface smooth again. If all of this is making your head hurt, or you simply just don't have the time to do all that, you'll want to consider having a bottle or two of spray wax sitting on a shelf in your garage. Even if you do regularly wash your car, applying a coat of spray wax afterwards helps ensure your car's exterior is protected until the next wash.
Like other car washing and detailing supplies, there are dozens of spray waxes on the market. Unless you're loyal to a specific brand, it may be difficult to choose just one. And that's why we're here, to give you recommendations on the best spray waxes so you can spend more time detailing your car and less time shopping online. Below, you'll find our top picks for spray waxes, with options for every budget. We understand that everyone has their own opinion of what's "good enough" and some of you are willing to spend as much as possible to keep your car looking great, while others want the best bang for the buck. Hopefully there's a recommendation below that fits your needs.
1. Top pick: Meguiar's Hybrid Ceramic Wax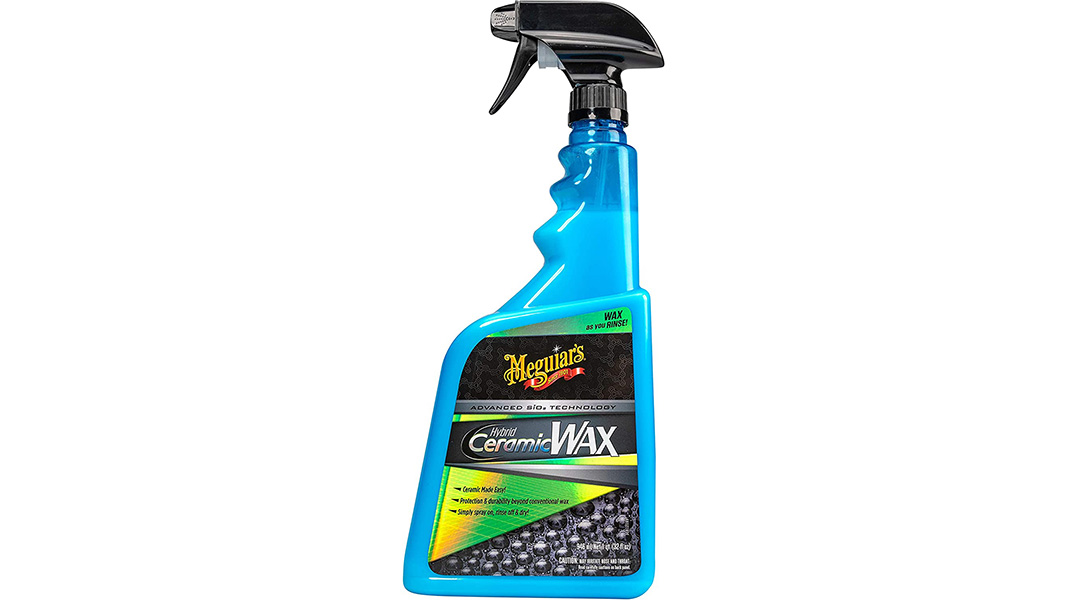 Recently, graphene spray waxes have grown in popularity, but if you're looking for the best balanced product in terms of price and performance, I have to give that nod to Meguiar's Hybrid Ceramic Wax. It's the same spray wax I use after each wash, and I have found no reason to switch to something different or more expensive. Now, if your car is a bit older and isn't in "like new" condition when it comes to its paint and finish, you may want something else from this list. But for those who regularly wash their car and everything is in good shape, I believe you'll be satisfied with the results from this bottle.
The Hybrid Ceramic Wax from Meguiar's features advanced SiO2 hybrid technology to give your car ceramic wax protection. The reason why I favor this product is that sometimes I'm lazy after washing the car and don't feel like going through the entire exterior spraying and wiping off the wax. You see, this product can be sprayed on and rinsed off after giving your car a wash. It is recommended to only do that after your first application is done by hand, but afterwards, it can be a spray-on, rinse-off option.
2. Runner-up: SHINE ARMOR Graphene Ceramic Spray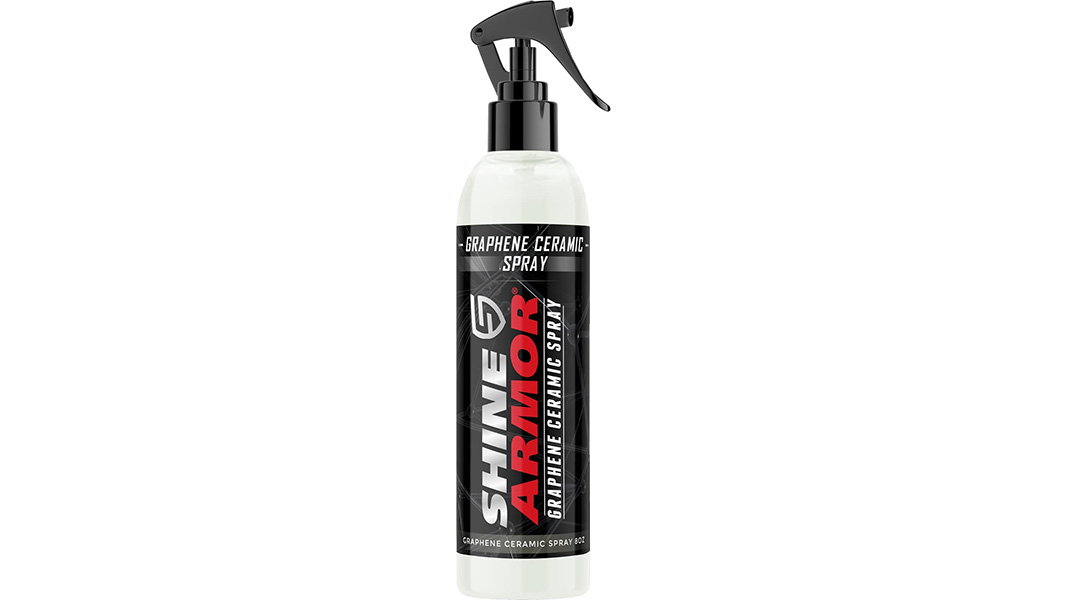 Just as ceramic wax got popular a few years ago, graphene has now become the latest trend in car detailing. I'm not here to argue whether it's noticeably better than ceramic, as I feel much of the performance from spray waxes and detailers comes down to the car's surface you're working with. If you have a brand new car that's in perfect condition, it's probably tough to tell the difference between products. Nevertheless, if you're interested in graphene coating, you can consider SHINE ARMOR's product if you're on a budget, or look to our next recommendation if you want something premium.
As for SHINE ARMOR's Graphene Ceramic Spray, it promises to protect your vehicle for a minimum of six months. It's a highly concentrated formula with hydrophobic properties to keep water beading for months to come.
3. Premium pick: Adam's Advanced Graphene Ceramic Spray Coating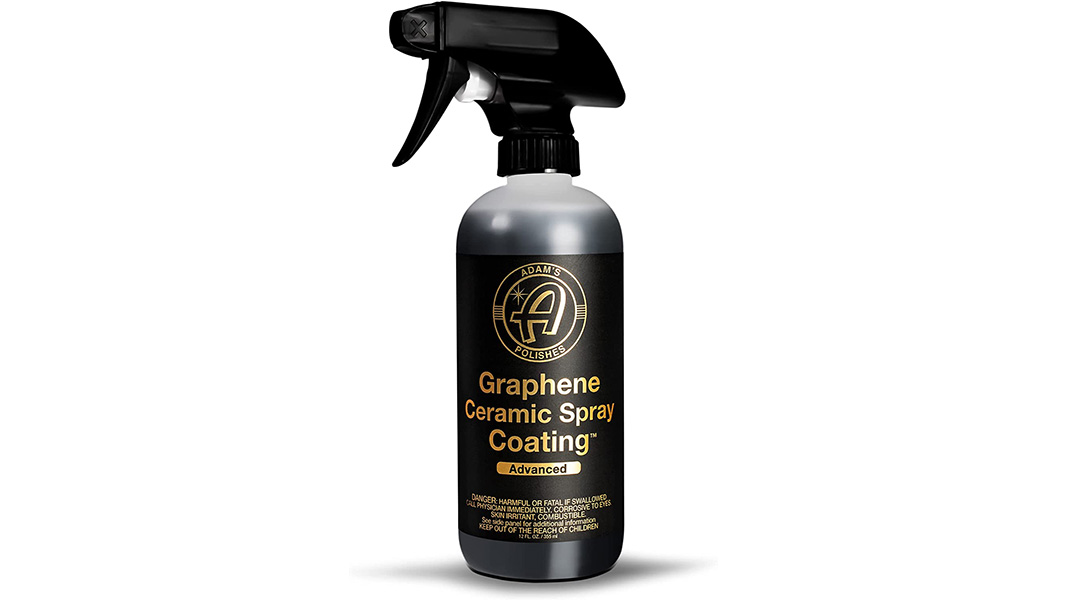 If you're one of those shoppers who care more about performance than price and willing to pay for the best results, you'll want Adam's Advanced Graphene Ceramic Spray Coating. The experts at Adam's know plenty about car detailing and the company claims that unlike other spray waxes on the market that are silica-infused products that behave like a coating, this is a legitimate spray graphene coating. Now, I have used this product before on my Tesla Model 3 and was really happy with the results, but I understand that not everyone is willing to spend this much on a spray wax, which is why it's my premium pick.
What makes it particularly interesting, and perhaps some would consider this a gimmick, is that this spray wax has a patent pending Ceramic Glow Technology, which allows you to use a UV blue light to see where the coating has been applied. Adam's, of course, sells its own UV Flashlight if you want to see how it all works.
Use this product on all surfaces of your car, from paint to wheels, glass to headlights, and even your floor mats.
4. Best carnauba wax: Chemical Guys Blazin' Banana
Refuse to buy into the ceramic and graphene hype? Grew up using carnauba wax and think "if it ain't broke, don't fix it?" Well, there are plenty of options for traditional carnauba spray waxes but if I had to pick just one, it'd be Chemical Guys' famous Blazin' Banana. I love Chemical Guys' products and use its Mr. Pink car wash soap, so I wouldn't hesitate to recommend its spray wax. As for its name? Well, that's because this spray wax is designed to make your paint as slippery as a banana.
It's a traditional natural carnauba spray wax that will leave behind a protective layer on your car's surface while enhancing its gloss and shine. The price might be attractive to many too, as it's one of the more affordable options on our list. So if you don't believe in the benefits of ceramic or graphene, grab yourself a bottle of this and get to work.
5. Honorable mention: Turtle Wax Hybrid Solutions Ceramic Spray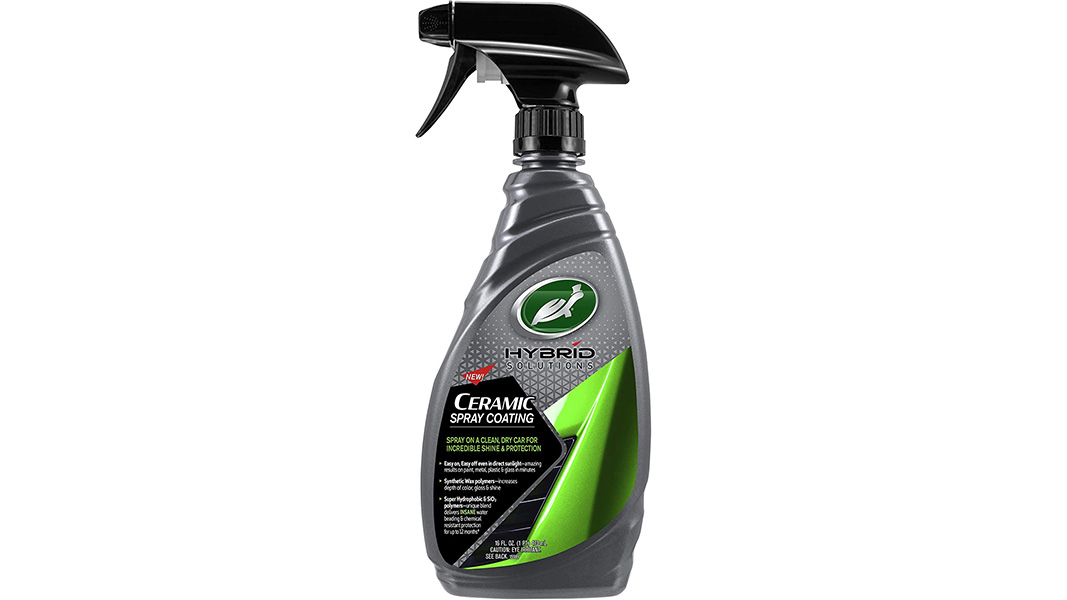 Our final recommendation is another great product, and if you've used Turtle Wax in the past and love the brand, you know what to expect. Like our Meguiar's recommendation, this is a hybrid ceramic spray coating with SiO2 polymers that can last up to 12 months if you apply two coasts. Expect all the same hydrophobic properties found in other ceramic spray waxes, helping repel all those nasty contaminants from your paint.
Unlike Meguiar's product however, you'll want to apply this on a dry car, panel by panel. Turtle Wax recommends applying a second coat for 12 months of protection, but you'll want the paint to cure for 24 hours before washing and applying a second coat.
How long does spray wax typically last?
There is no definitive answer to this question, as it's largely dependent on where your live and your driving habits. Do you experience a lot of rain or snow? Is your car parked indoors or outdoors? How much exposure to the sun is it getting on a daily basis? Are you regularly washing your car? As you can tell, there a lot of factors to consider to determine how long spray wax typically lasts, which is why I personally like to do it every other wash. If I go a long period of time in between washes, then I may apply a coat back-to-back. Now if you want a general answer to this question, I'd say spray wax typically will last two-to-four weeks, but that also depends on the quality of the product. Ceramic-infused spray waxes and graphene products, like the ones we recommend, can last longer with proper care. The best general rule? Run your hand across the surface of your car. Does it feel smooth? Then maybe you can skip an application. Not as smooth as you'd like? Give it a coat.
How do I use spray wax on my car?
Spray waxes are designed to be convenient and easy to use. Once you're done washing and drying your car, simply spray it onto the body and wipe it off. It's best to work panel by panel, so you know you're being thorough with the application. There are some products, like Meguiar's Hybrid Ceramic Wax, that can be sprayed on and rinsed off. But generally, the vast majority of spray waxes should be sprayed on and wiped off. When in doubt on whether your car needs to be dry before application, refer to your specific product's instructions. Also, try to do it in the shade for best results.
Is spray wax better than liquid or paste wax?
The answer to this question depends on what factor you're considering. Spray wax is definitely better than liquid or paste wax when it comes to the amount of work involved to apply it, but it won't offer the same protection as liquid or paste wax. Generally, spray waxes are best used when you don't have a lot of time, or looking to give your existing coat of wax added protection. For long-term care of your car, spray waxes should not be used as a substitute for an actual coat of liquid or paste wax.
Is ceramic really that much better?
As I mentioned earlier, you'll find all sorts of different opinions on ceramic and/or graphene vs. traditional carnauba when it comes to liquid, paste, and spray waxes. If you're looking for my personal opinion, I have found that ceramic spray waxes generally work better than carnauba spray waxes in terms of longevity and protection. The hydrophobic properties of ceramic is clear after you apply it to your vehicle. Just one rinse and you'll see the difference with how the water beads right off the surface of your car. That type of protection seems to last quite a bit longer with ceramic sprays than non-ceramic sprays. As for graphene, I think the verdict is still out on that one. I personally haven't found a compelling reason to believe graphene is noticeably better than ceramic, but I'll be doing some more in-depth and long-term testing to see if there are any major differences. More to come on graphene vs. ceramic!
Is spray wax and quick detailer the same thing?
No they are not. Spray wax should be applied on a clean surface, while quick detailer is designed to be used on a dirty car. Think of spray waxes as you would a normal liquid or paste wax, while a quick detailer is more like your car wash soap. Spray waxes protect, quick detailers clean.
Outside resources:
Recent Updates:
Updated (5:23 p.m. EDT, 10/06/2022): Added additional FAQs and links to outside resources for more information about spray waxes.