If you often go on road trips and find your vehicle's cargo capacity insufficient, it's time to consider a rooftop cargo carrier — assuming your vehicle can accommodate one. Rooftop cargo carriers typically come in one of two forms: a hard-shelled exterior box or a soft rooftop bag. There are some carriers that are made from semi-flexible material, but for the most part, you're choosing from those two options. Regardless of which one you pick, cargo carriers will expand your vehicle's storage capacity by a good amount while protecting your belongings during your trip. They can also be locked, so you can safely stop and get breakfast, lunch, dinner, or a snack without having to worry about thieves.
The two different types of cargo carriers each have their own benefits and disadvantages. Soft rooftop bags are easier to install and pack away for storage when they're not being used. Some don't even require a roof rack, instead using straps and hooks to securely attach to your vehicle. One of the biggest disadvantages to soft cargo carriers is that they typically use zipper closures, versus the latches you'll find on the hard cargo boxes. While many of them are waterproof, they're just not as durable as the alternative.
Rooftop cargo boxes on the other hand, will require a set of crossbars or roof rails to mount onto your vehicle. They are typically more expensive and more difficult to install and use (compared to cargo bags), but they'll offer better security and protection for your cargo. If you often take road trips and plan on using a rooftop cargo carrier more than just a couple times a year, you'll want to invest in a more expensive solution. These rooftop boxes are also more durable than soft carrier bags, that can puncture or tear.
Below, you'll find our picks for the best rooftop cargo carriers with a mix of recommendations for both types. Shop based on your needs and if you are still having a hard time making a decision, we have more information about rooftop cargo carriers after our recommendations.
1. Top pick: JEGS rooftop cargo carrier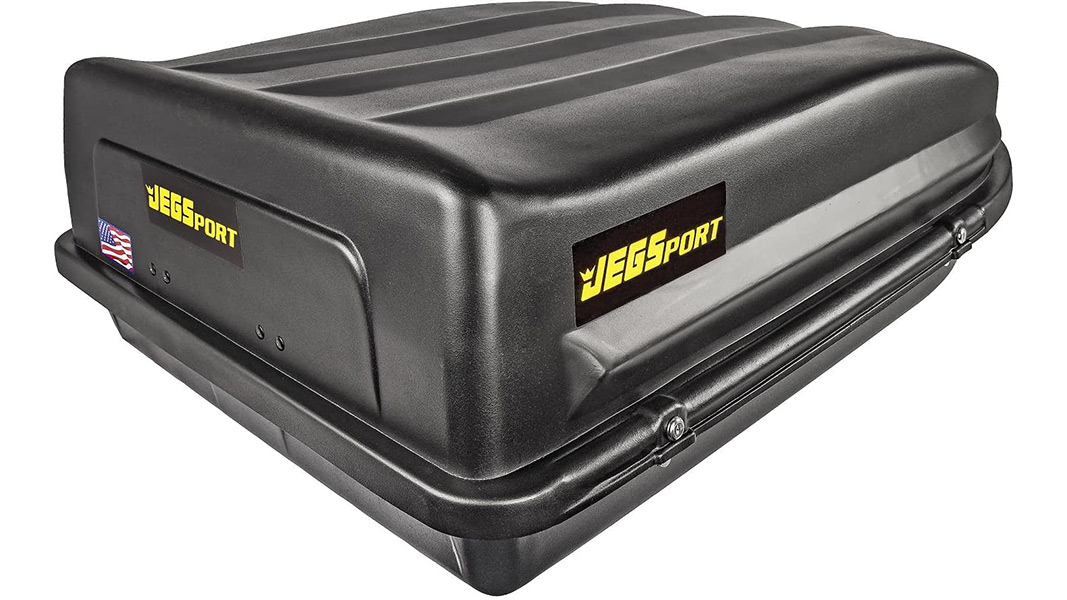 When it comes to price and durability, it's hard to beat this rooftop cargo carrier from JEGS. The company has specialized in providing aftermarket performance products to the industry for decades, and has its own lineup of high quality products. There are three available variants for this rooftop cargo carrier: two that offer 18 cubic feet of storage and one that offers 10 cubic feet. If you need the larger carrier, you can choose between the standard side-open carrier or a rear-open version.
Constructed with an HDPE plastic hard outer shell, this rooftop cargo carrier will keep all your contents nice and dry in case you run into rain or snow. JEGS gave it an aerodynamic design so it won't completely ruin your fuel economy, although there are sleeker cargo carriers out there if that's your primary concern. With this cargo carrier, you'll get a four-corner locking system, a front latch, and a weather-tight seal.
One of the main reasons we prefer this cargo carrier above the rest is that it's made in the U.S. and comes with a limited lifetime guarantee.
2. Premium pick: Thule Force rooftop cargo box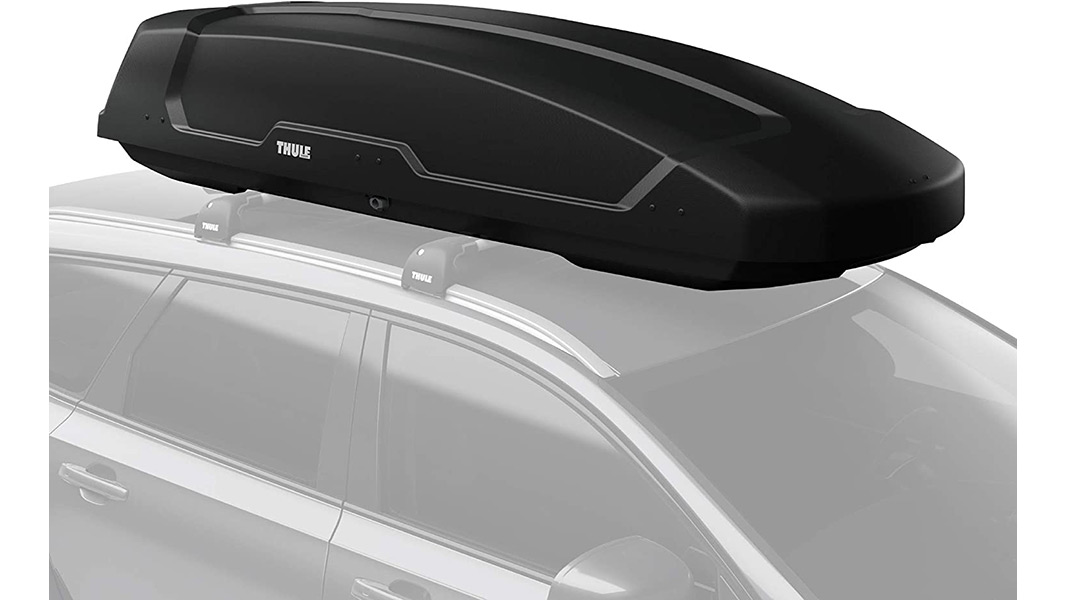 If you're willing to spend the money, some of the best cargo carriers on the market come from Thule. If you've never heard of Thule, the company is well-known for its bike racks and cargo carriers, like the Force rooftop cargo box. Providing 16 cubic feet of storage, this roof-mounted cargo box uses Thule's PowerClick quick-mount system that clicks into place once it's properly secured and mounted to your roof rails. It's versatile too, allowing you to open it from either side to access its contents.
On the outside, this rooftop cargo box measures 74.75″ by 33″ by 18″ while the interior dimensions are 70″ by 28.75″ by 16.25″. The box itself weighs 41 pounds and has a load capacity of 165 lbs. It uses a central locking system and it does include locks. It's also compatible with Thule's One Key System if you have other Thule products on your vehicle.
As our premium pick, it's a high-quality cargo carrier but it's not cheap. But for those who want the absolute best, we recommend a product from Thule.
3. Budget pick: Amazon Basics rooftop cargo carrier bag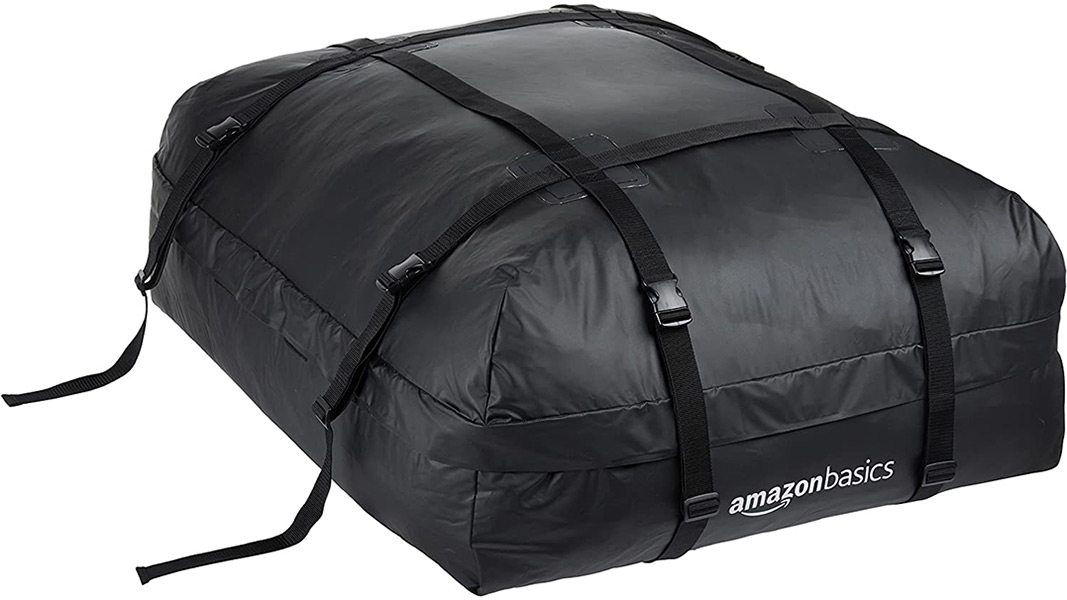 If you don't travel too often and only need a cargo carrier bag for the occasional trip, our budget recommendation comes from Amazon Basics. Yes, it's the in-house brand for the online shopping giant and some of its products are surprisingly decent quality. Well, maybe it's not too surprising considering how much shopping data Amazon has access to, but if you want something that's affordable and functions well enough, it's our recommendation.
Offering 15 cubic feet of storage, this is a no-frills cargo carrier bag that uses eight cinch straps with buckles to connect to your vehicle's roof rack. Although the outer material of this cargo carrier bag is waterproof, it uses a zipper closure that won't be as secure as a latch. It's a pretty ho-hum recommendation, but Amazon Basics does provide a one-year limited warranty if you have any issues with it. We'd recommend this if you're not travelling a long distance and know you won't run into too much rain or snow. Otherwise, you're better off getting one of our other recommendations.
4. Best all-in-one: Leader Accessories roof rack cargo basket set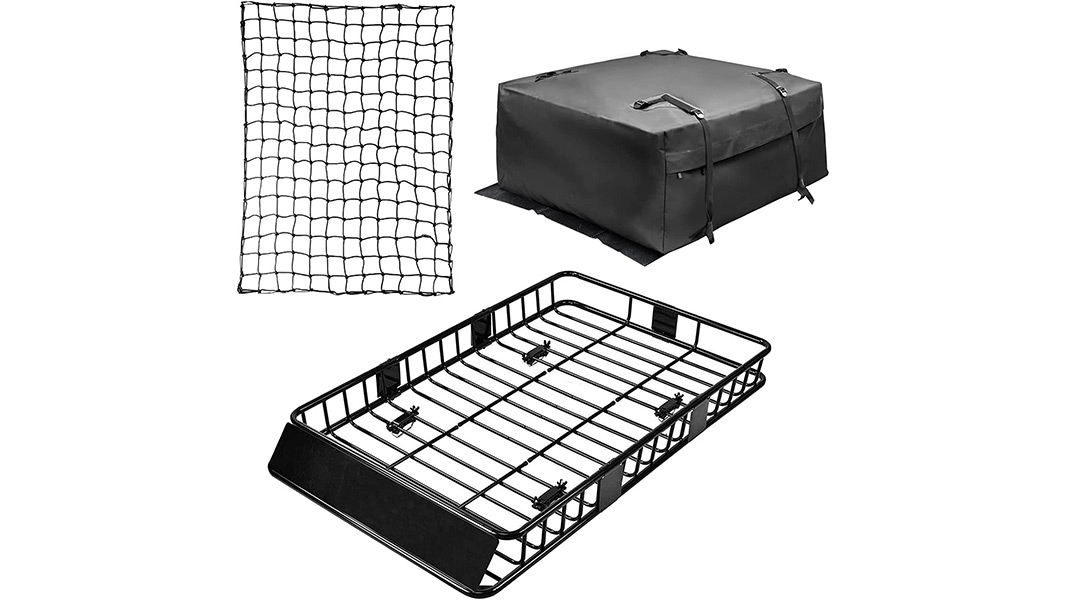 If you're looking for a versatile package that includes a roof rack, cargo bag, and a cargo net, we recommend this set from Leader Accessories. You can also choose different combinations if you don't need the cargo net or cargo bag. The basket provides storage capacity up to 150 lbs and mounts to your vehicle's crossbars using four universal U-bolts. A steel wind fairing helps to decrease wind noise and wind resistance.
As for the cargo carrier bag, it's constructed with a soft shell fabric material that can somewhat flex to accommodate oddly shaped items. It uses four 1.5″ strap buckles to secure it to your roof rack and a mat is included to help keep it from sliding around while you're driving.
If you need a cargo net as well, this one features 3″ by 3″ mesh squares and the bungee netting is designed to keep small items from falling out. With the net, you can easily strap down your cargo thanks to a dozen adjustable carabiners and a dozen adjustable hooks. Move the hooks from one mesh square to another in order to accommodate your cargo.
This package gives you versatility depending on how much cargo you're moving and where you're going. Have a day trip to the beach? You probably want to use the cargo net. Going on a camping trip? That's where the cargo bag comes in handy. It's the ideal solution for families often on the go and who constantly need that extra storage.
5. Also consider: RoofPax rooftop cargo carrier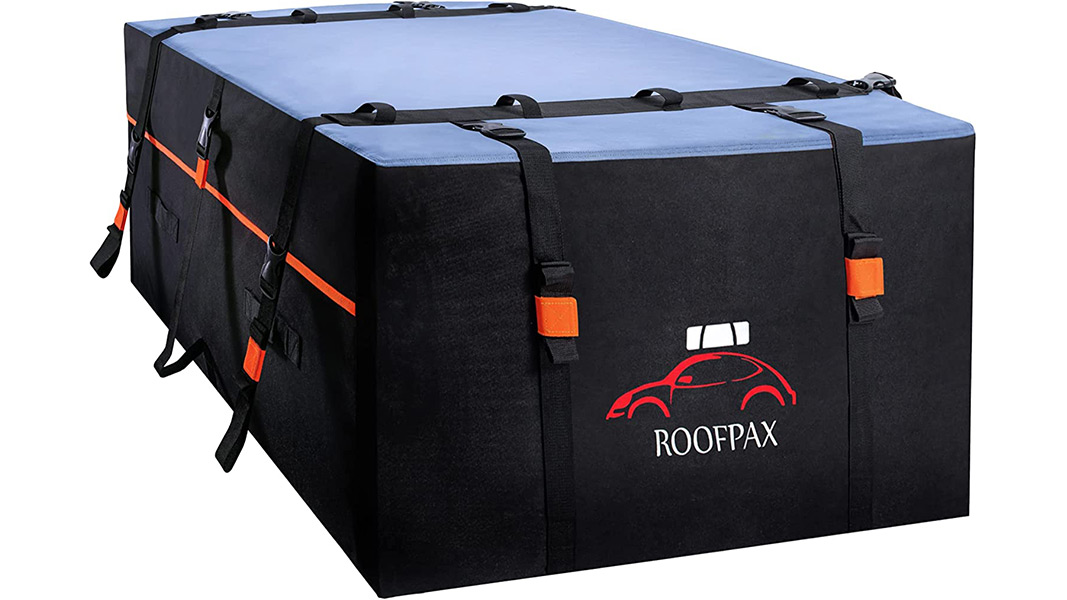 If you need even more extra cargo space than what our previous recommendations have to offer, RoofPax has a rooftop cargo carrier that offers up to 23 cubic feet of storage. Other variants include 15 cubic feet, 19 cubic feet, and one option that can expand anywhere from 15 to 19 cubic feet. No matter which size you choose, you'll get a heavy-duty cargo carrier bag that's constructed from military-grade materials. While it is waterproof, it's worth noting this cargo bag uses two zippers to keep everything sealed.
This is also a great recommendation if you don't have a roof rack on your vehicle since it comes with bag straps and patented door hook straps, allowing you to attach it without rails. RoofPax backs its cargo bag with a lifetime warranty on the zippers and buckles, along with a five-year warranty on tears and fabric.
Do I want a hard or soft rooftop cargo carrier?
There are a few factors to consider when choosing between a hard or soft rooftop cargo carrier. For some, the main consideration is price. If you're shopping on a budget, you'll likely want to get a soft rooftop cargo carrier. But you should always consider what you'll be packing inside the carrier. Naturally, sharper objects shouldn't be stored in a soft bag, as it increases the risk of punctures or tears. But if you're needing extra storage for say, clothing, then you don't need to spend the extra money for a hard cargo box.
Another factor to consider is the weather. Although many of the soft bags are waterproof, some owners have reported water leaking into the bag and ruining their belongings. If that is a concern, double check the seams and zipper closure before heading on your way. Personally, I'd recommend a hard rooftop cargo box if you're planning to drive through rain or snow.
One last thing to consider is your vehicle's setup. If you don't want to install roof rails or a roof rack, then you'll want to get a soft rooftop bag that doesn't require roof rails or a roof rack.
Can a rooftop cargo carrier affect my fuel economy or driving range?
Yes, rooftop cargo carriers will affect your fuel economy or driving range since it creates additional drag on your roof, changing its aerodynamics. Some manufacturers design their rooftop cargo carriers with that in mind, giving them sleek styling. But no matter how low profile your cargo carrier is, expect it to negatively affect your fuel economy or driving range.
What is an alternative to rooftop cargo carriers?
If a rooftop cargo carrier doesn't work for you and your vehicle, you can consider a hitch-mounted cargo carrier, which has less of an impact on your aerodynamics but requires a hitch.
What are the different types of rooftop cargo carriers?
Generally, there are three kinds of rooftop cargo carriers: cargo box, cargo basket, and cargo bag. We offer recommendations for all three types and you should shop accordingly to your needs. Cargo boxes offer better security since you can lock them, and their hard shells are typically weatherproof. A cargo basket is better for hauling bulky gear and gives you the versatility to add either a roof bag or a cargo net. Cargo bags are the most cost efficient and some will be waterproof or water-resistant.