Winter is a particularly harsh time for owning and driving a vehicle. If you live somewhere that experiences a lot of snow and below freezing temperatures during the winter season, you know how inconvenient it can be just to get your car out of the driveway. To make your life just a bit easier, we've compiled a list of recommendations for the best ice scrapers and snow brushes to make quick work of all that snow and ice buildup on your car and its windows.
Most of our recommendations combine an ice scraper with a snow brush or a snow broom so you have one convenient tool to do the job. If your main concern is dealing with ice on your windows, we have a budget recommendation for a standalone ice scraper. Otherwise, we highly recommend getting one of these combination snow brushes.
Since these are relatively straightforward products, we chose based on quality, features, and a balance of price and performance.
1. Top pick: Snow Joe SJBLZD-LED snow broom and ice scraper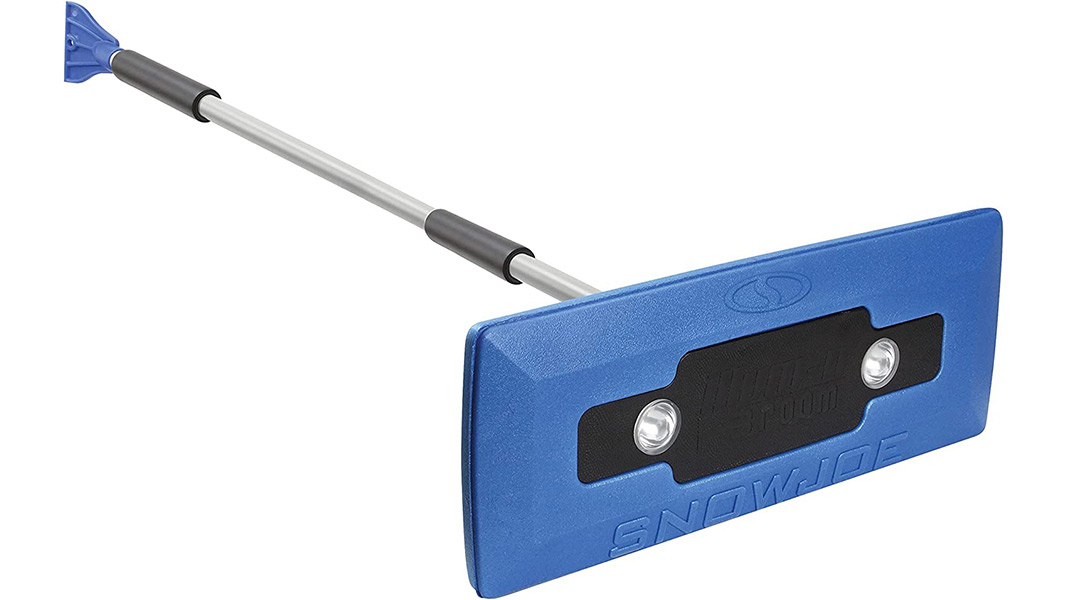 Admittedly, our top pick isn't actually the best performing snow brush out there (that's our next recommendation), but it's our top choice when you also consider its price tag. To us, this particular snow broom and ice scraper from Snow Joe offers the best value and should serve the needs of most of our readers. Snow Joe actually has a pretty comprehensive lineup of snow brushes and ice scrapers to deal with that winter weather, but we like how feature-rich this product is.
Instead of being a traditional brush, it uses a non-abrasive foam head that measures 18″ by 7″ to get snow off your vehicle. There are built-in LED lights that help for nighttime use, which could come in handy depending on your particular situation. On the other end is a built-in 4″ ice scraper that is good, but not great. One feature we particularly like is the auto-locking, telescoping handle that can adjust from 33″ to 52″. Foam grips and its 1.5-pound weight make this snow brush comfortable to use.
If you're shopping for more than just a snow brush for your car, check out the rest of Snow Joe's products. The company has a wide lineup of tools and accessories to help with harsh winter conditions.
2. Premium pick: SubZero snow broom and ice scraper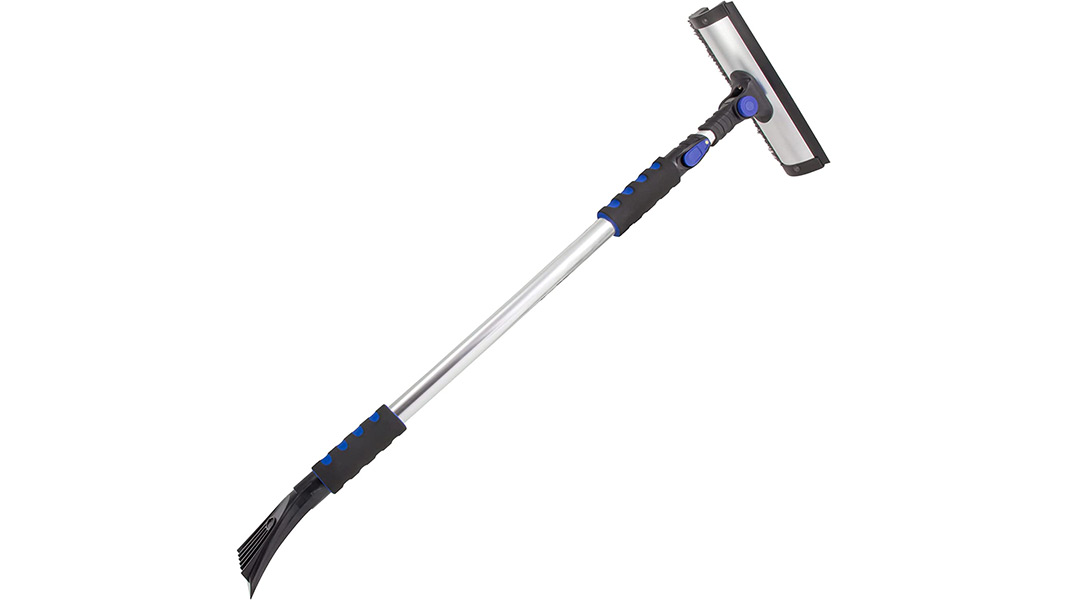 If you're willing to spend a bit more on your snow brush, our premium pick goes to this particular snow broom and ice scraper from SubZero. It's a brand from Hopkins Manufacturing, a U.S.-based company that specializes in producing various automotive tools and accessories. This snow broom has a lightweight aluminum pole with a range of 36″ to 60″ and locks in place thanks to its trademarked Quick-Lock Extender.
Unlike our top pick recommendation, the SubZero snow brush has traditional bristles that help efficiently get all that snow off your windows. A rubber squeegee is conveniently located opposite the brush to get rid of wet snow and water. We particularly like how cleverly designed this brush is with the built-in squeegee. On the other end of the pole is a 4.5″ scraper blade that can take care of any ice and frost that's left on your windshield.
3. Best on a budget ice scraper: CJ Industries Fantastic ice scraper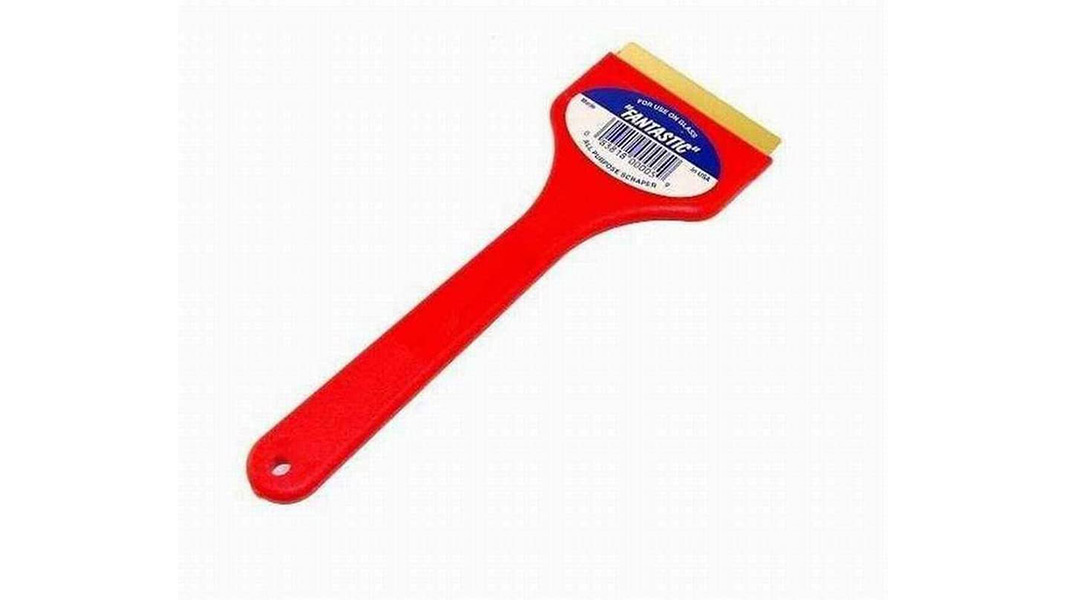 If you're searching for a very basic ice scraper that's more affordable than your lunch, this is our recommendation. It comes from CJ Industries and it's simply called the "Fantastic" ice scraper. Equipped with a brass blade, this scraper shouldn't scratch your windshield when used properly, nor will the blade rust, chip, or crack. The rather basic handle is constructed from polystyrene plastic and is long enough so scraping ice isn't a tedious task even on an SUV. It is a bit flimsy, however.
While there are plenty of alternatives if you're shopping for a basic ice scraper, we recommend this one because it's made in the U.S. and the company offers good customer service.
4. Best on a budget snow brush: AstroAI snow brush and detachable ice scraper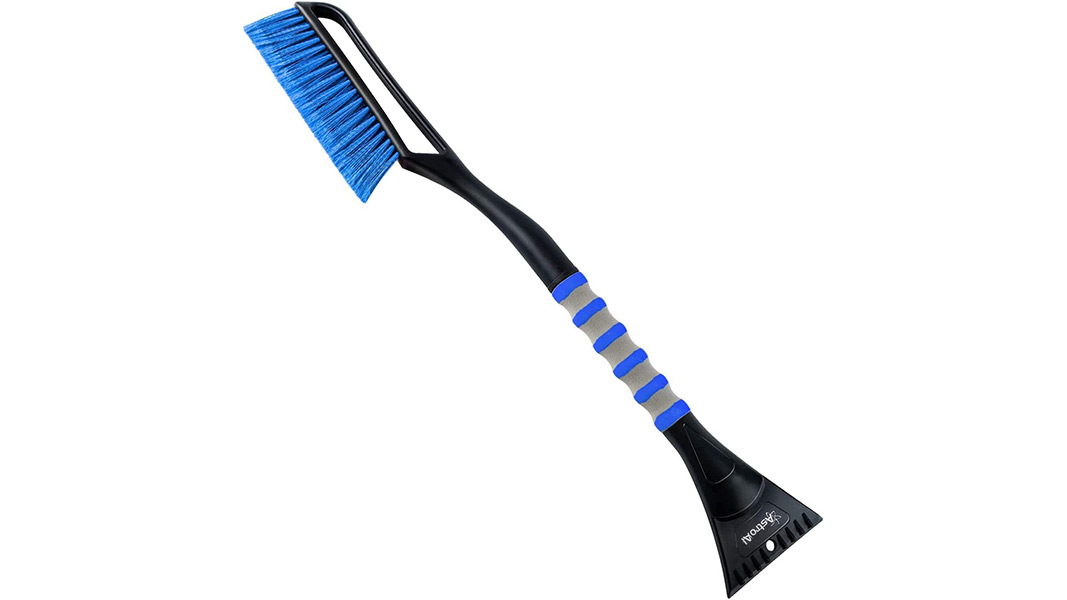 Our other budget recommendation is a pretty standard snow brush and ice scraper combination from AstroAI. Available in red, blue, and orange, this snow brush cuts cost by not having an extendable handle. Instead, you'll get a fixed 27″ long tool with a 7″ brush head and a 4.5″ ice scraper. Overall, it's a decent quality tool mainly constructed from high-strength ABS plastic.
The company did put some care into designing the four rows of brush bristles, splitting and polishing the head of the bristles so they're softer and won't accidentally scratch your paint. Another convenient feature is that you can detach the brush from the scraper, so you can either split up the tasks if you have a helper or make it easier to handle the one job you're doing with a shorter tool.
AstroAI provides a one-year warranty with its snow brush and its customer service — despite being an overseas manufacturer — is surprisingly good.
5. Also consider: BirdRock Home Snow Moover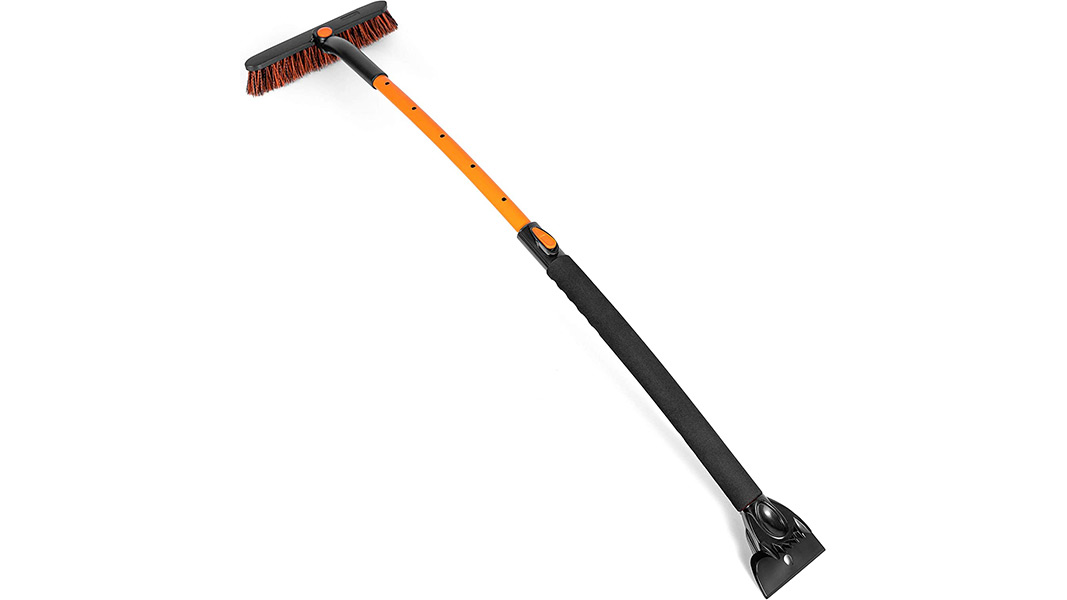 Our final recommendation resembles the traditional broom you'd use around the house. From BirdRock Home, it's called the Snow Moover, and it features an extendable handle that can go from 35″ to 50″ with six adjustable settings. The cushioned grip makes this one of the more comfortable snow brushes to use and the head can pivot up to 270 degrees to make things a bit easier depending on your vehicle.
It's a well thought out product with an ergonomic foam grip and a sturdy ice scraper with claws. It also comes from a reputable manufacturer, as the BirdRock brands have been in business since 2008 with a focus on products for the home, garden, automobile, and garage.
Who needs a snow brush or ice scraper?
If you have any tools in your garage that are designed to deal with snow, like a snow blower, then you more than likely need a snow brush or ice scraper for your car. Even if you currently own a small ice scraper to take care of your windshield, it's worth the money to purchase one of our snow brush or snow broom recommendations since they're much easier to use and can get all the snow off your vehicle. You'll also want to check your local state laws to see if it's required to clear snow and ice from your vehicle before driving.
Can an ice scraper damage my windshield?
A quality ice scraper is designed to not scratch or damage your windshield, but that is largely dependent on using it properly. If you're inexperienced with using an ice scraper, here are some tips so you don't accidentally scratch or damage your glass.
1. Don't use heavy pressure: You might be tempted to use heavy pressure to remove stubborn ice from your windshield, but stick to using light or even moderate pressure. Using heavy pressure could damage your glass, especially if you have any small chips or cracks.
2. If you have the time, run your defroster first: If you aren't in a rush, we recommend turning on your car's defroster for around 10 to 15 minutes before brushing snow or scraping ice from your windshield. It should make your job a lot easier too.
3. Don't tap your glass with the ice scraper: A common mistake is tapping the glass to break up the ice from your car's windows or windshield. When your glass has endured freezing or below freezing temperatures, it becomes more susceptible to damage. It's another reason why we recommend running your defroster first, to at least get your windshield a bit warmer before you start scraping or brushing.
Do you recommend heated ice scrapers?
In our previous testing, we found heated ice scrapers more trouble than they're worth. For starters, you need to use your car's 12v outlet for power, which likely means leaving your door ajar or your window open for the power cord. Even if you're using a heated ice scraper that plugs into a household outlet, you'll have to fight with a power cord as you try to maneuver around your vehicle.
And while it's a minor inconvenience, the whole purpose of heated ice scrapers is that they get hot, which means you can't safely store them until they've cooled down. For those with garages, it's not a huge deal, but if you're planning on taking it with you in your car, then you'll want something like a heat-protection mat.
What makes for a good ice scraper?
A quality ice scraper should be manufactured from cold-resistant material, like ABS. We recommend avoiding steel ice scrapers since they can leave scratches. Other ice scrapers made from lighter plastic material can also deform in extremely cold weather.
Why can't I just use hot water on my windshield?
No matter what you read on the internet, you should never just put hot water on your frozen windshield. Doing so can actually cause your windshield to shatter because of that quick change in temperature. Unless your intention is to make life even more difficult, use an ice scraper or snow brush to get rid of that frost.