If you own an EV, there's a real good chance you take good care of it. That means routine car washes and coats of wax to keep that paint protected. But no matter how meticulous you are about caring for your car, eventually contaminants will get stuck on the clear coat and your paint might not feel as smooth as you'd like. Most people think that's the best time to give their car a coat of wax, and while that's somewhat true, you want to make sure you have a clean surface for that coat of wax. You see, applying wax over contaminants (even if you can't see them) means it's not protecting your paint. So how do you ensure you're working with a clean foundation? By using a clay bar.
If you've never used or heard of a clay bar, it's a bit like that putty or playdough you had when you were a kid. It does take a bit of effort to give your car a clay bar treatment, but you'll be so glad you did. Clay bars are designed to lift those contaminants out of your clear coat, giving you a smooth surface for polish and wax. If this all sounds interesting to you, read on to see our recommendations for the best clay bar kits, followed by more information about clay bars in general.
Before we dive in, it's worth mentioning that all of our recommendations will do a great job at removing contaminants from your car when properly used. Although I have a personal preference on which brand to use, I'd like to stress that any of these will work just fine. If there's a brand you recognize and want to support, feel free to do so!
1. Top pick: Chemical Guys clay bar and luber synthetic lubricant kit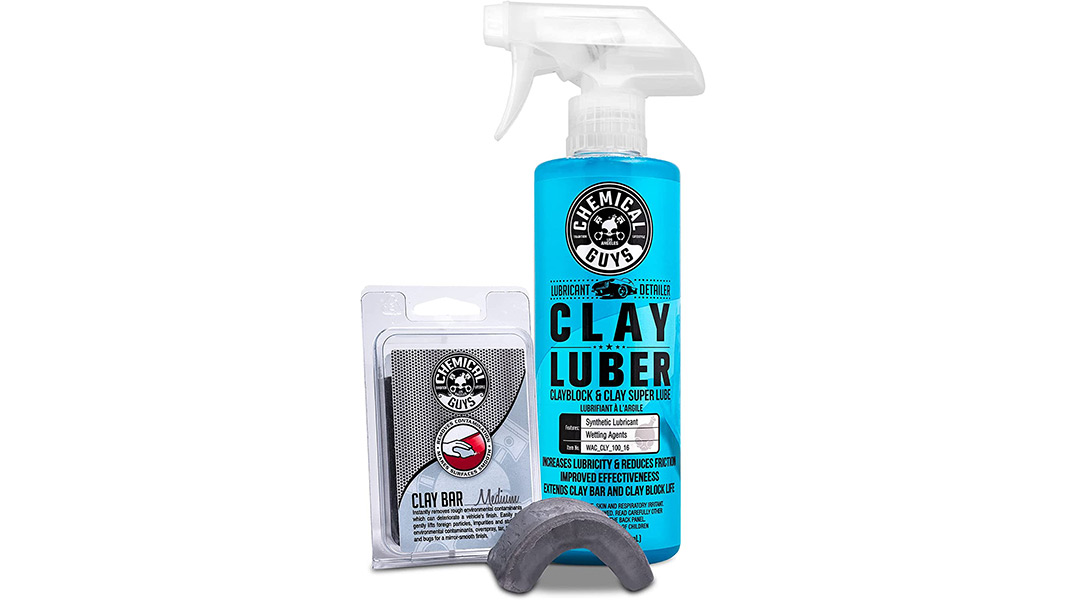 When it comes to having a competitive price, delivering great performance, and available in a wide variety of options, not much can beat Chemical Guys' lineup of clay bar kits. You can choose from heavy, medium, or light (fine), depending on just how rough your car's surface is, and each kit comes with a 16-ounce bottle of Clay Luber. Most people will want to opt for the medium or light clay bar, unless their car's clear coat is particularly contaminated.
Chemical Guys uses what it calls "Flex-Clay Technology" to make its clay bar easy to use, while efficient in removing all those contaminants from your car's surface. It's also great to use on any glass, plastic, or metal surface on your car that needs some cleaning. It's the product I mainly use when I have to clay bar my car, but honestly, all the ones on this list are very similar.
2. Runner-up: Adam's clay bar jar kit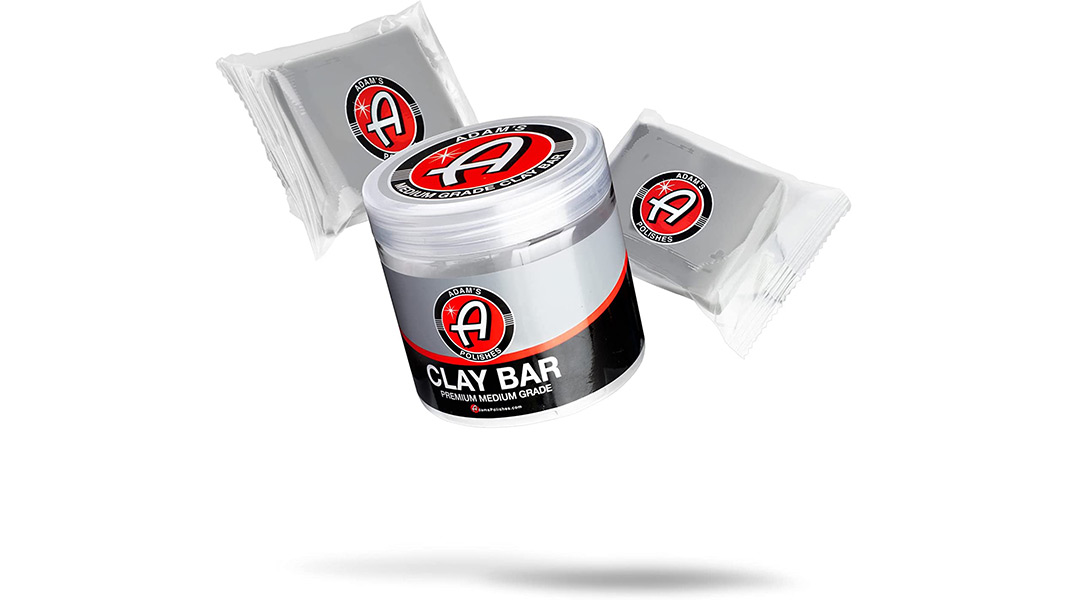 Adam's Polishes is well known for its quality car detailing products and its lineup of clay bars is no different. If you already have some detailing spray lying around, then you can purchase just the jar kit and save yourself a few bucks. But if you need detail spray, opt for the complete kit. No matter which one you choose, you'll get a pair of 100-gram clay bars (medium grade) to work those contaminants out of your paint. Adam's does offer a fine clay bar as well.
From my personal experience, I found this clay bar really easy to work with and while Adam's does recommend its own Detail Spray (of course), you don't necessarily need to use that specific product. Any bottle of quality quick detailer will work, just make sure you keep the surface of your car well lubricated when using the clay bar.
3. Just as great: Griot's Garage paint cleaning clay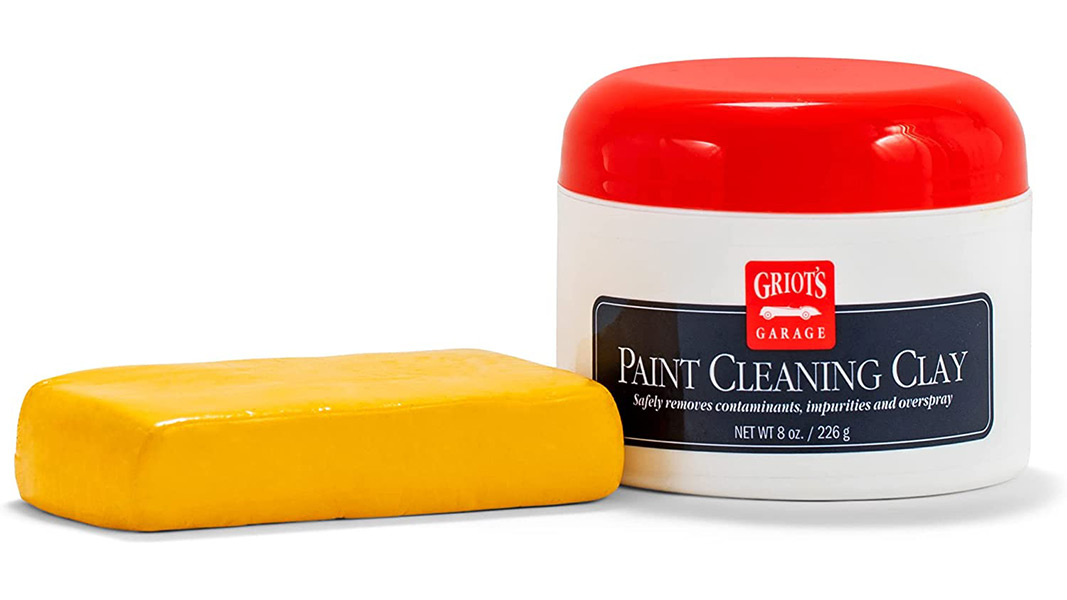 There are some professional detailers who only use Griot's Garage products and for good reason. The brand has been providing the car care industry with some of best products on the market and its paint cleaning clay will make quick work of all those contaminants on your car's surface. Again, you can choose from either just the clay bar or getting an entire kit with Griot's Garage Speed Shine.
Unlike our two previous recommendations however, Griot's Garage gives you a single large 226-gram bar that is capable of cleaning up to seven vehicles. The company also has a synthetic clay bar if you are looking for a faster option that's easier to use.
4. Also consider: Meguiar's Smooth Surface XL clay kit
There's a very good chance you've heard of the Meguiar's brand if you've ever shopped for car care products and it's a surprise to no one that it too offers a quality clay bar kit. You can buy just the clay bar or a complete kit that comes with three 80-gram fine clay bars, a bottle of Meguiar's Quik Detailer, a microfiber towel, and a case for the clay. If you have had great results with Meguiar's products in the past and are happy with the brand, you can't go wrong with this option.
As I mentioned earlier, you can expect very similar performance from any of our recommendations since they all come from reputable brands. I've had great experiences using this clay bar kit from Meguiar's and would recommend it to anyone.
5. Honorable mention: Mothers California Gold clay bar system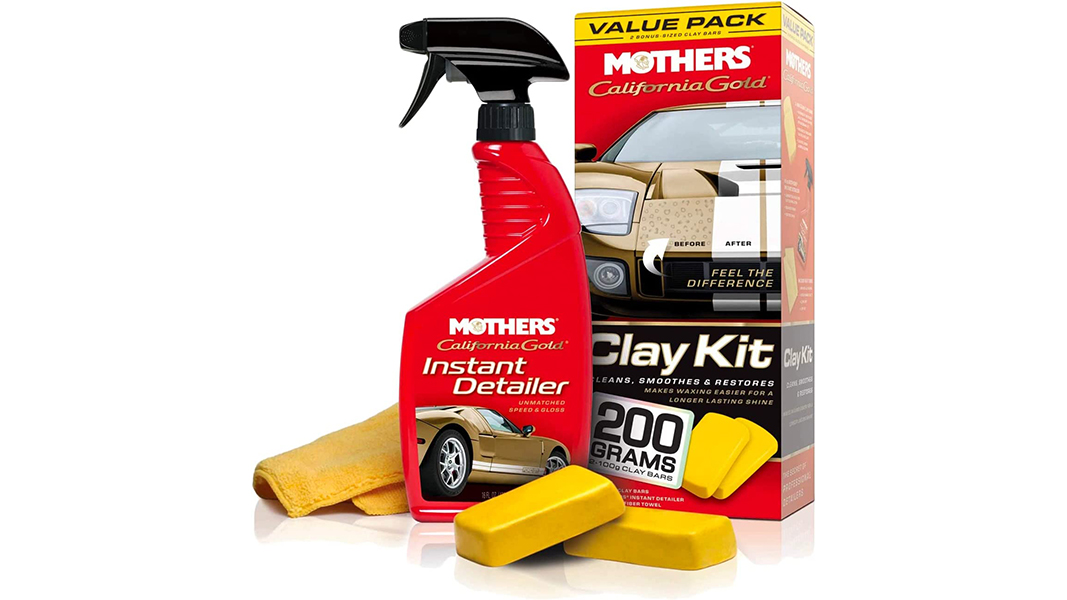 Like Meguiar's, Mothers is another household name in the car care industry. Its California Gold clay bar system is a popular option, especially due to its price. This kit comes with a pair of 100-gram fine clay bars, a bottle of Mothers Instant Detailer, and a microfiber towel. Like Meguiar's, you won't be able to choose what grade clay bar you're getting with this product, since Meguiar's and Mothers both are marketed towards the general consumer. If you know which grade clay bar you want and it's not what Meguiar's or Mothers have to offer, you'll have to choose another one of our recommendations.
Again, for most people it's difficult to find a noticeable difference in terms of performance between any of our recommendations. The only major difference is that some brands offer a selection between grades, so you can get optimal results based on the quality of your car's surface. But honestly, if you have a preferred brand, go with it.
6. Best for general maintenance: Adam's clay mitt
As a bonus recommendation, this is a product I love and often use when I wash my car. If you don't have the time to give your car a proper clay bar treatment, then get yourself Adam's clay mitt. Made from medium grade clay material, this mitt is great to use while washing your car (assuming it's properly lubricated) to lift all those contaminants from the surface. While it won't be as effective as proper clay bar detailing, it'll do a good enough job if your paint isn't particularly dirty. The mitt itself can be washed and reused multiple times, up to 20 to 40 according to Adam's. It's great for general maintenance and keeping that car's surface nice and clean.
What is a clay bar?
A clay bar is a product designed to safely remove contaminants from your paint's surface. You'll want to use it with proper lubricant, like a bottle of quick detailer, otherwise the clay itself can get stuck on your paint. They are generally elastic so you easily knead it to get fresh clay running on the surface of your car. You can mold it like your childhood playdough into the shape that works best for you.
Why do I need a clay bar?
As we mentioned before, no matter how careful you are with your car and how often you wash and wax it, contaminants are bound to get into the clear coat. Over time, those contaminants could come loose while you're washing your car, causing accidental scratches, or even pits. You almost always want to use a clay bar before giving your car a coat of wax, otherwise the wax could be sticking to the contaminants rather than the surface of your car.
What are all the different clay bar grades?
Generally, you'll find there are three different grades of clay bars when shopping: fine, medium, and heavy. You shouldn't need a heavy clay bar unless your paint is particularly damaged, as they're designed to remove deeply embedded particles. If you're using one, you'll want to polish your vehicle afterwards before applying a coat of wax. Medium clay bars are what most car owners will need, and depending on how contaminated your surface was, you may also want to polish your car afterwards. Fine clay bars are designed to remove light contaminants and won't harm the finish. Feel free to wax afterwards.
How do I use a clay bar?
Using a clay bar is pretty straightforward, but there are a few things to pay attention to. For starters, you'll want to make sure you're using a proper lubricant spray so the clay easily glides across the surface of your car. Otherwise, you risk scratching your car or getting clay stuck on the surface, which can be a bit of a pain to remove. I recommend spraying lubricant on the clay bar itself and the area of the car you're working with, concentrating on one section at a time. When you're moving to a new section, knead the clay so that it has a clean surface, as it'll likely look dirty from picking up whatever contaminants. If you happen to drop the clay bar, I'd recommend getting a new one. It's like a magnet and it'll pick up all sorts of dirt and grime from the ground and you don't want that running across the surface of your car.
What do I do once I'm done with a clay bar treatment?
Now that your car's surface is clean and smooth, this is when you'll want to do any sort of paint correction, polish, and wax. Wax will keep all that hard work protected for months to come.
Is using a clay bar safe?
Clay bars are designed to be gentle on your car's paint surface but it's important to use it with a proper lubricant to prevent scratches. It's important to avoid using a clay bar if your car has any damaged or chipped paint, as it could make it worse. But generally, a clay bar is safe to use, so long as it's being used properly.
How often should I use a clay bar on my car?
The answer to this largely depends on the condition of your paint, the amount of driving you do, and where you live. A general answer is to use a clay bar every 6 to 12 months to maintain your paint. But if you live somewhere that sees a lot of road grime, you may want to do a clay bar treatment every 3 months. If the paint on your car is feeling rough, consider using a clay bar.
Where did clay bars come from?
It is widely believed clay bars originated in Japan in the 1980s. They were originally used by professional detailers to remove contaminants from the paint on vehicles, which is the common use today. Those detailers found that clay bars were not only more effective, but were gentler than other methods like solvents or abrasive pads.
Can I pay someone to clay bar my car?
Professional automotive detailers will be more than happy to take your money to clay bar your car. If you aren't comfortable doing it yourself, the cost will mainly depend on the size of your vehicle and the condition of the paint. But expect to pay anywhere from $100 to $200 or more. Most often, automotive detailers will offer package deals that include a clay bar treatment, since it's generally not the only thing you'd want to do.