For many car owners, the idea of using a window cleaner doesn't even cross their mind. That's because washing their car seems sufficient enough, but often times they forget that the inside of their windows also needs to be cleaned. And that's one of the main reasons why you should have a bottle of car window cleaner in your garage. It also comes in handy to get rid of those pesky water spots that form if you aren't able to dry your glass off quickly enough after a wash.
But why can't I just use my household glass cleaner, you're probably wondering. Well, you could, but there are a few caveats. If you have tinted windows, then you'll want to use an ammonia-free solution, otherwise it can damage your tint. In addition, household glass cleaners aren't typically designed to deal with some of the elements found only on car windows, like bug residue. If you want effective window cleaning for your car, you'll want to purchase a glass cleaner specifically designed for automotive use. They're safe to use on tinted glass and will make quick work of stubborn stains that household cleaners don't need to worry about.
Below, you'll find our top recommendations for the best car window cleaners, based on years of experience trying out a wide variety of different products. Following our picks, we'll provide more information about glass cleaners and tips on how to properly clean your car windows.
1. Top pick: Invisible Glass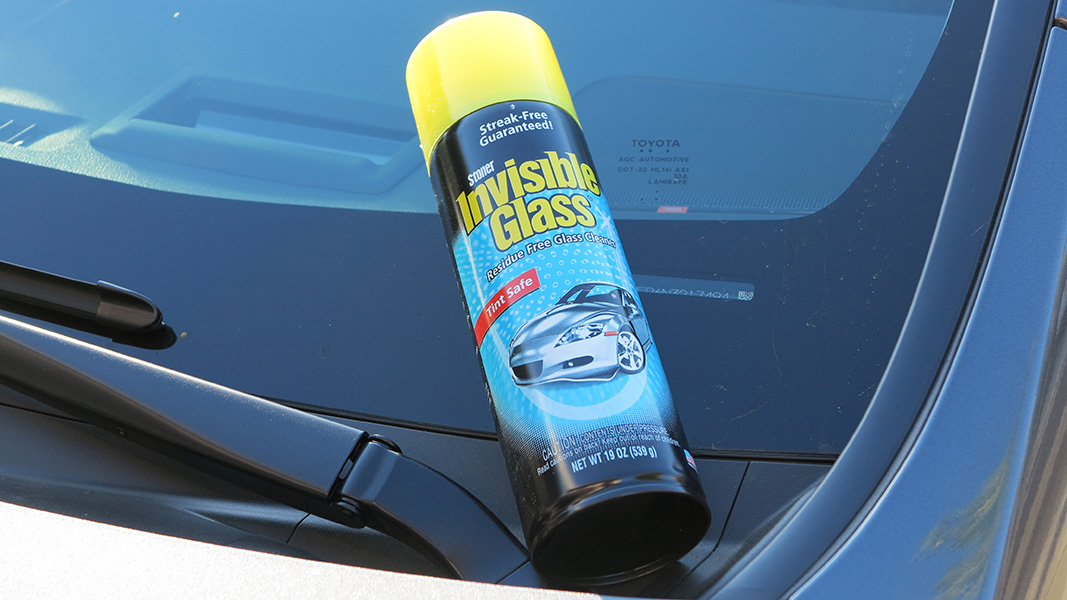 If you want to put little thought into buying a car window cleaner, just do yourself a favor and purchase Invisible Glass. In all my years of testing different glass cleaners, this is the one I always go back to as the best. It's just easy to apply, never streaks, and always leaves behind crystal clear glass. I personally prefer the foam application over the traditional spray bottle, but it's an option if you aren't a fan of aerosol cans.
Simply put, Invisible Glass just does the job and it does it well. The foam cleaner works effectively to get rid of bug residue, dirt, and other road grime. It also makes quick work of the inside of your windows, getting rid of fingerprints and any other residue that has built up.
2. Runner-up: Chemical Guys Streak Free Window Clean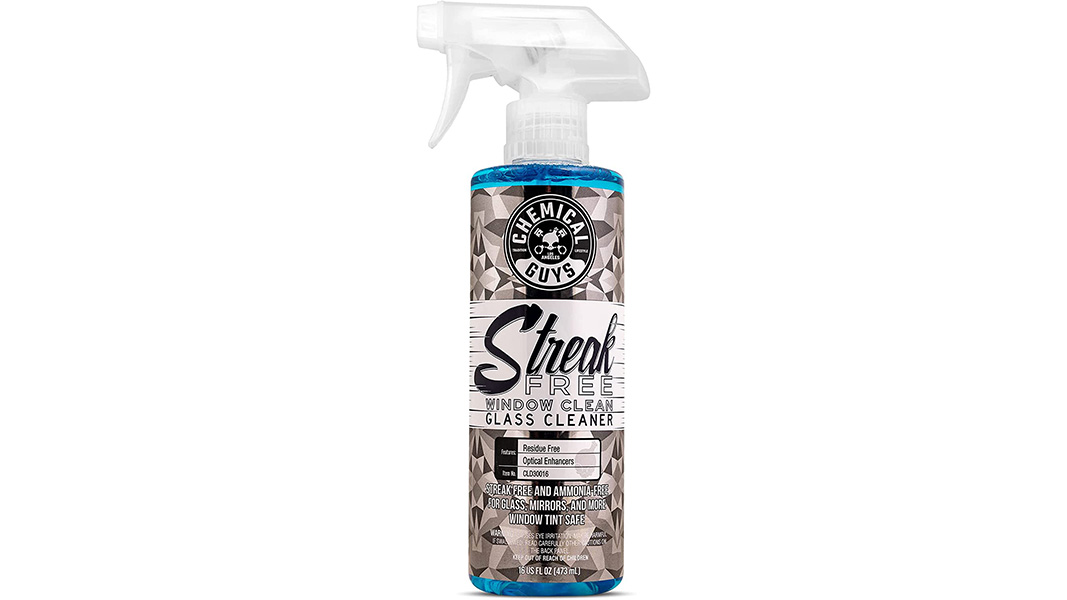 My runner-up recommendation comes from Chemical Guys, a brand I do turn to for many of my car care supplies. Its Streak Free Window Clean glass cleaner does live up to its name, but I'm not a huge fan of the spray bottle. Overall, it performs well and does leave behind a streak-free finish and is safe on tint, but it's just not as easy to apply as Invisible Glass. It does however, do a good job at getting rid of window residue and other grime, like bird droppings.
Chemical Guys does say its glass cleaner features anti-static properties to reduce static cling, but that hasn't been something I could easily test to confirm. It can also be used as a multi-purpose cleaner, as it's safe on clear plastic instrument panels, clear vinyl windows, headlights, tail lights, and even your infotainment screen.
3. Best on a budget: Rain-X Automotive Glass Cleaner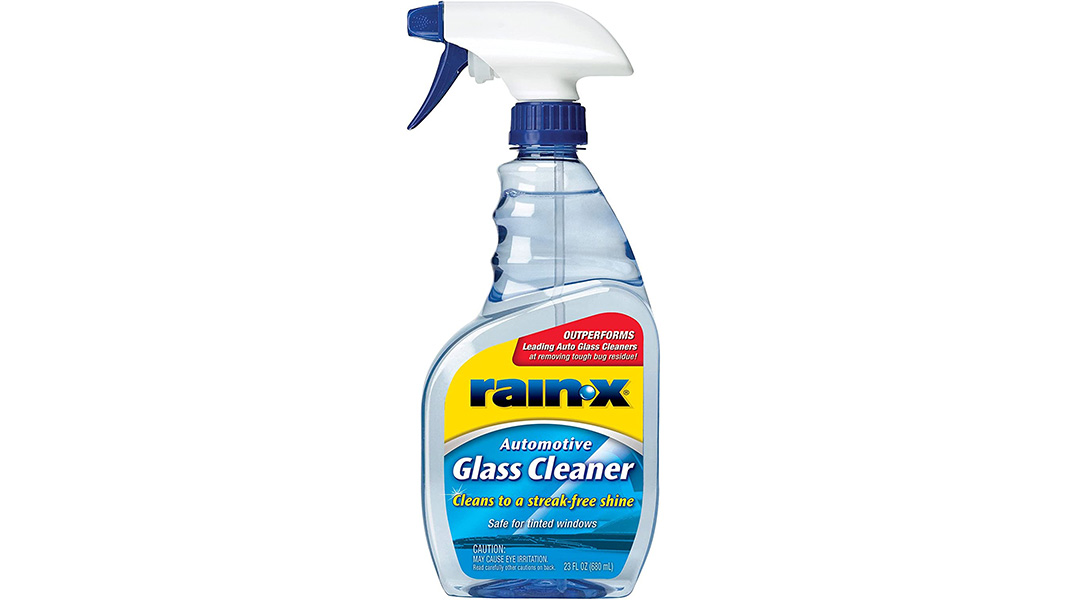 When I lived in Florida, I was a huge fan of Rain-X's water repellent windshield treatment. The company knows a thing or two about keeping glass clean and clear, so it gets my nod for our best on a budget pick. For the price, it works efficiently and lives up to its promise of a streak-free shine.
In my testing, I didn't find it as effective at getting rid of stubborn residue on my glass when compared to my top pick. With Rain-X's Automotive Glass Cleaner, you may have to use a little elbow grease and apply it more than once to get rid of dirty surfaces. Still, this recommendation is ideal for car owners who don't drive too often and never deal with particularly stubborn stains on their glass.
4. Also consider: Adam's Glass Cleaner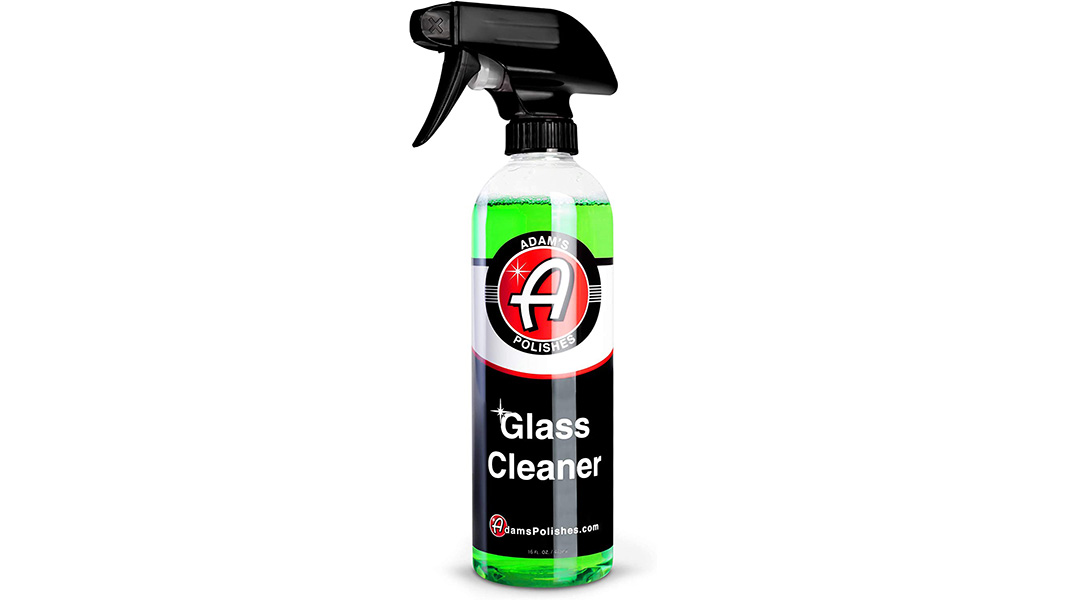 Like Chemical Guys, I often turn to Adam's Polishes for my car care needs and its glass cleaner is worth considering. I find its performance to be similar to Chemical Guys' product, but it's generally more expensive. It's a concentrated cleaner that's safe to use on tint and is designed to be a streak-free formula. One thing I do particularly like about Adam's glass cleaner is its scent — it's a sweet citrus smell that's more pleasant than other glass cleaners.
The silane-based formula can also be used on your interior components such as your infotainment screen and heated window elements. I found it to be pretty effective at getting rid of window residue and grime without much effort. Its biggest disadvantage is its price, especially when there isn't a noticeable difference in performance.
5. Honorable mention: Meguiar's Perfect Clarity Glass Cleaner
It would be wrong of me to have a list of car care product recommendations without including something from Meguiar's. It's one of the most well-known brands in the industry and its products always perform consistently well. The Perfect Clarity Glass Cleaner is no different and is an ideal choice for shoppers who already love other Meguiar's products.
This recommendation features an anti-hazing formula designed to leave behind long-lasting clear glass. It works well against bug residue and can be safely used on tinted windows. It's also available in an aerosol application, which is the version I've used in the past for testing. One of the main reasons why it's not further up the list is that it's only designed to be used on glass. That means you shouldn't apply this on clear plastics, painted surfaces, or your infotainment screen.
Why can't I use household glass cleaner on my car windows?
There are a few reasons why you shouldn't use household glass cleaner on your car windows. One of the main reasons is that some of those solutions contain ammonia and are not safe to use on tinted windows. They also have a tendency to streak or fog, since the interior of your car is a different environment than your home. Perhaps more importantly, household window cleaners aren't formulated to deal with the dirt and grime your car windows experience. When was the last time you had to clean off bird droppings from your bathroom window? Spend a few bucks and get yourself a quality car window cleaner to take care of your vehicle's glass so you can see clearly when you drive.
Tips on using car window cleaner
It may seem like a straightforward process, but here are some tips to make sure you're properly cleaning your car windows for a streak-free, clear finish.
1. Start by wiping the inside of your windows with a dry microfiber towel. This helps get rid of the layer of dirt and dust before using your car window cleaner.
2. Always spray the cleaner onto your microfiber towel and not onto the glass itself. This helps avoid overspray on other surfaces of your car, and it also means you won't use too much cleaner, which can make your glass hazy. It's one of the main reasons why you hear mixed results with glass cleaners on the internet.
3. Wipe the cleaner onto your glass. I recommend doing it in a pattern — horizontal for the outside and vertical for the inside. This way, it's easier to see any streaks and you'll know if it's inside or outside.
4. When doing your side windows, make sure you roll them down a bit and clean the top of the glass.
5. Do one last dry wipe with a separate microfiber towel.
6. Lastly, wipe down your wiper blades with a different towel, to help prevent them from streaking when used.