I always find it interesting to read online discussions about car wash soap. For many car owners, all car wash soaps are the same, and the one they use doesn't matter. For others, they'll stick to a few reputable choices and maybe even just one brand. Generally, once you get "good enough" results from your car wash soap, you have little reason to try another product. After all, your car looks clean after the wash right?
Some car shampoos advertise that they protect your vehicle after a wash. But if you can't see it, or even feel it, how do you know if that's true? It's admittedly pretty difficult to rank car wash soaps; on the surface, any product from a quality manufacturer will leave behind a clean car. However, we decided to put five of the most popular car wash soaps to the test, so we can deliver hands-on evaluations to our readers.
Before we dive into our recommendations, methodology, and reviews for each soap, there's one thing I want to emphasize. You do not want to use your household dishwashing soap to wash your car. Doing so can strip away your car's wax and dull its finish. When it comes to washing your car, use a car wash soap that is pH balanced or neutral, and a product that's designed specifically to protect your car's surface.
Below, you'll find our top recommendations for the best car wash soaps based on our testing, followed by information on how we evaluated each product, along with more detailed reviews for each soap tested.
1. Top pick: Chemical Guys Mr. Pink Foaming Car Wash Soap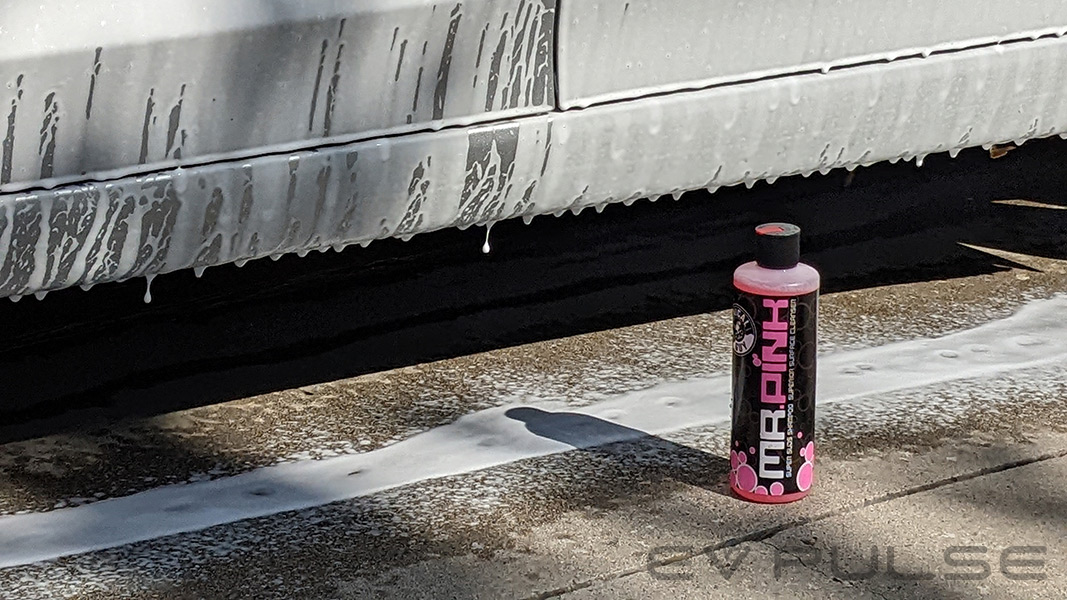 Chemical Guys Mr. Pink Foaming Car Wash Soap is a product I've used for many years and with our testing, it confirmed why. It's a concentrated solution, so a little goes a long way — and you'll see this in our more detailed evaluation below. I recommend the 64-ounce bottle, which should last you a few months depending on how often you wash your car. Each wash requires just one to three ounces in a five-gallon bucket and you'll be good to go.
In our testing, we found Mr. Pink to live up to its "Super Suds" motto. It produced the most foam when used in a foam cannon, giving our car a generous blanket of suds to wash with. Naturally it's a pH balanced solution that's safe to use on waxes, sealants, and ceramic coatings. Chemical Guys says there are premium gloss enhancers to bring out the shine, but we'd argue that's pretty hard to notice. For those who care, it also has a candy-like scent, which was more welcoming than some of the other products we tested.
2. Runner-up: Adam's Car Shampoo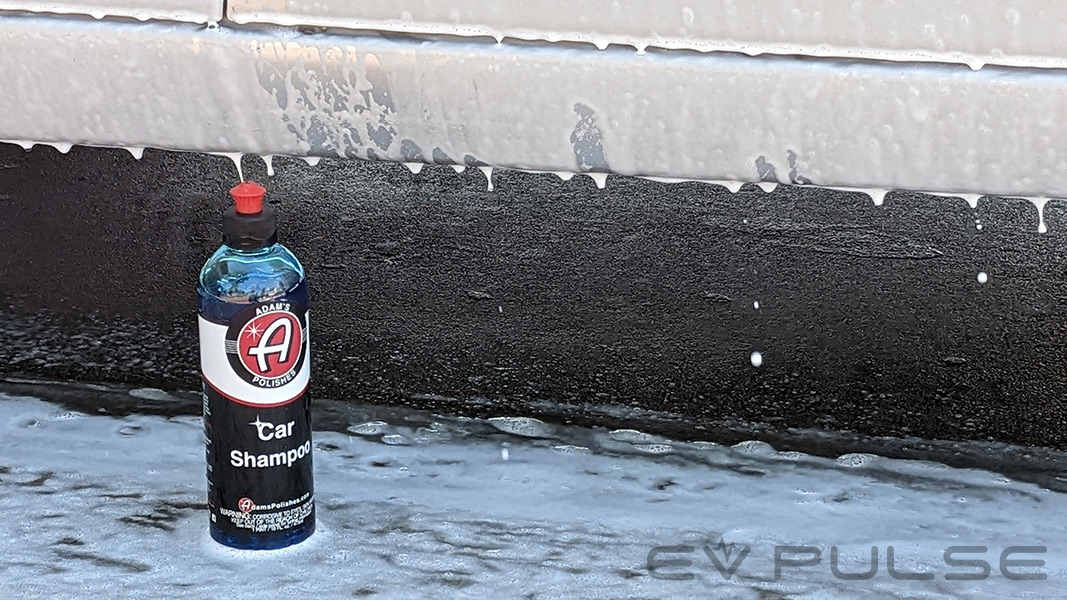 Although Adam's Car Shampoo gets our runner-up nod, I'd say this list really should read as 1a and 1b. It delivers a comparable amount of suds to Chemical Guys Mr. Pink and it is also a concentrated solution, so a little bottle will go a long way. The main determining factor for our ranking came down to price. If you use a similar amount of solution with either product, and they both appear to clean just as well, is there a compelling reason to spend more money? Also, we found Chemical Guys Mr. Pink to have a more pleasant smell, if that's something you care about.
With no major differences between the two products, your decision may even come down to just which brand you like more. Both companies have a solid reputation within the market and both offer a wide range of products. Adam's Polishes products are generally more expensive, but some of them are higher quality and more effective than the Chemical Guys' equivalents. For the car wash soap however, it'd be hard to tell a real difference between the two.
3. Best waterless car wash: Aero Cosmetics Wash Wax ALL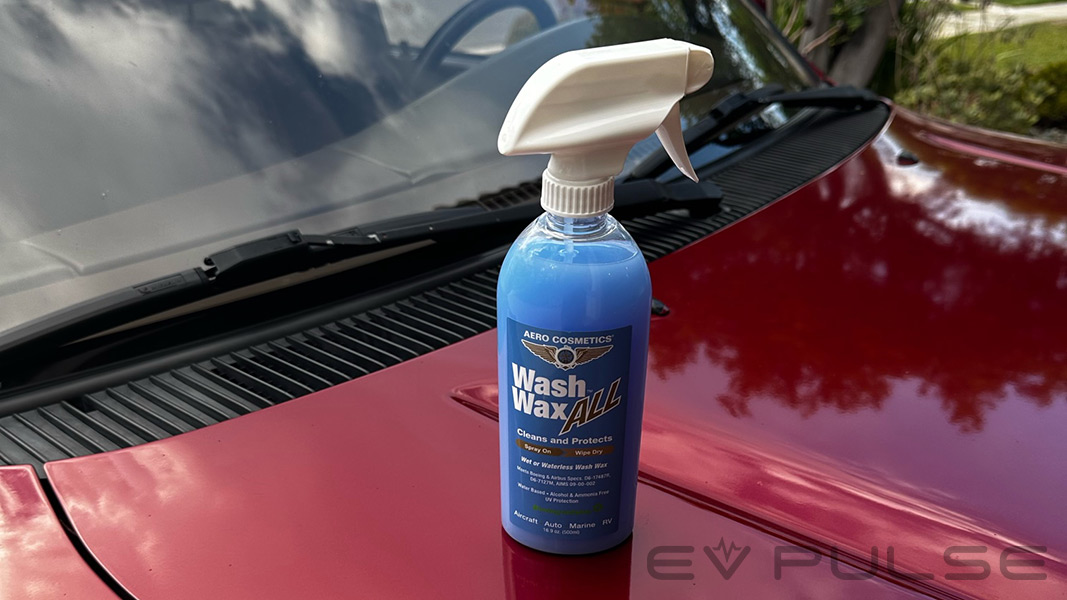 While we always recommend washing a car with a pressure washer or a hose, we understand that's not possible for everyone. I've lived in places that didn't have easy access to a hose, which made it difficult to properly wash my car. If you're looking for a waterless car wash solution, this is the one I recommend as I have used it in the past and it performed just as well in our tests.
It's called Wash Wax ALL from Aero Cosmetics and the company says it's used by Air Force One, Marine One, NASA, and more. It's a water-based solution that is alcohol and ammonia free, so it's safe to use on all surfaces. It's eco-friendly too, as the formula is biodegradable and meets several cleaning specifications from companies such as Boeing Aircraft, Airbus Industries, and McDonnell Douglas CDS.
So how exactly does it work? It's a bit like quick detailer, except you'll first use a damp towel along with the solution. You spray it onto an area of the car, using the damp towel to wipe away the solution. Then, you'll need to use a separate drying towel before moving onto the next section of your car. It's definitely a more tedious process than a conventional car wash, but it's the best solution for those who don't have access to a hose or pressure washer.
In our evaluation, we found it to be particularly effective on our embarrassingly dirty test car, and you can find photos of the results in our review section below. It is worth mentioning that if your car is particularly dirty and has gritty materials on its surface like sand or mud, you will want to find a way to rinse that off before using this waterless car wash.
How we tested
For our evaluation process, we decided to test car wash soaps that are popular online, as well as products that I've used in the past. Since any quality car wash soap will leave your car looking clean, we evaluated based on how sudsy a particular soap becomes when mixed in a bucket and when used in a foam cannon. To keep things fair, we used the same amount of soap (two ounces) for our testing, since one major factor in choosing the best car wash soap is the amount of product you need for an effective wash.
The quantity of suds produced by a car wash soap is important because you don't want to use a watered-down solution when swiping your mitt across the car. The more effective the soap, the easier your mitt glides across the surface while removing all that dirt and grime. Those foaming bubbles help ensure your car doesn't accidentally get scratches or swirl marks while you're washing.
Our first evaluation was mixing two ounces of each soap with a bucket of water. This is how most people are likely to wash their cars, unless they have a pressure washer and foam cannon. Unfortunately this was a test that's difficult to capture in photos, since all of the car wash soaps look to produce the same amount of suds on the surface. Some solutions were more watered down than others beneath the layer of foam, and we took this into account in our evaluation.
The effectiveness of each soap was more obvious when using a foam cannon. Again, we used the same mixture for all the soaps to evaluate fairly. This does mean we didn't follow manufacturer's recommended instructions, which you should to get the best wash. But we wanted to compare the amount of soap you'd have to use per wash and this was the most fair way to achieve that.
Why trust us
I've been in love with the automotive industry since before I could even legally drive. In my early years, I was involved in with the sport compact aftermarket, working for companies such as Titan Motorsports and Enjuku Racing in Florida. Over the years, I have competed in numerous car shows and have built two SEMA project cars — one used in the Charge Speed booth, and another for H&R. I am the former West Coast Editor for Modified Magazine and have been published in nearly a dozen publications worldwide, as well two books for CarTech. Car detailing is one of my passions, since we all know a clean car is extremely important when competing at shows.
Hands-on testing
1. Chemical Guys Mr. Pink Foaming Car Wash Soap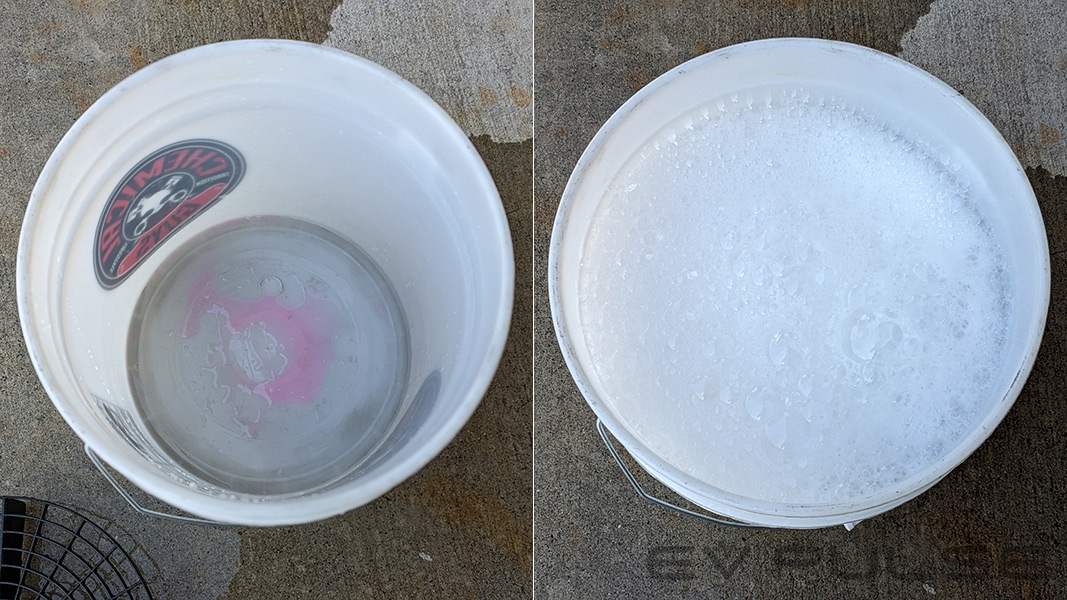 Since it is a concentrated solution, it wasn't very surprising to find that Chemical Guys Mr. Pink produced the most suds in our bucket test results. Again, it's going to be tough to see the differences in photos, so you'll have to take our word for it.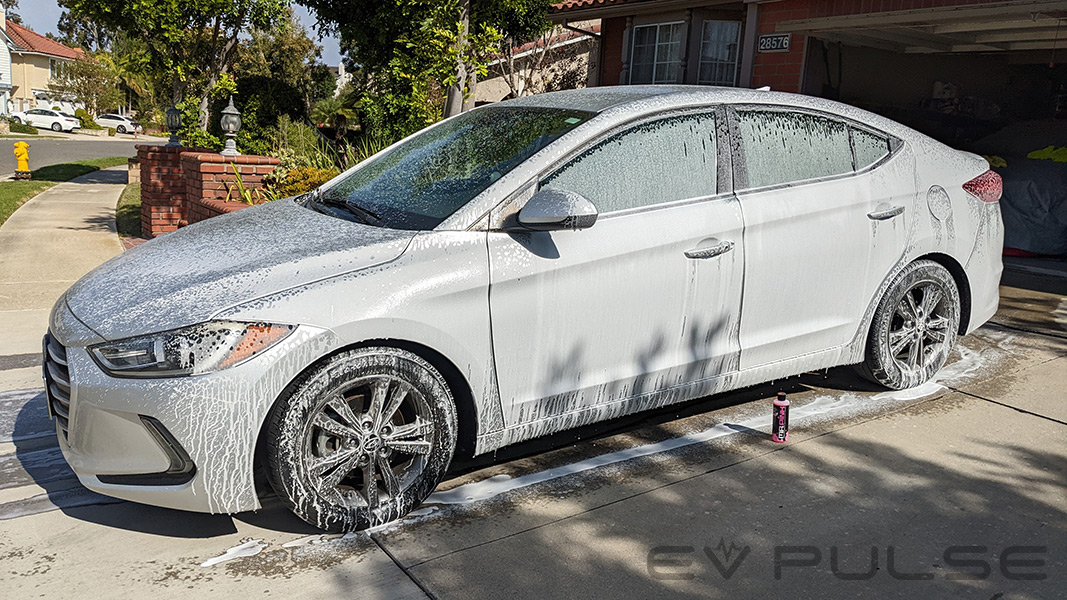 You can tell in our foam cannon test how effective Mr. Pink was, despite diluting the soap in the foam cannon. Typically you'd want to use just the soap and let the pressure washer mix it with water, but we wanted to fairly assess each soap, so we mixed two ounces of each soap with water. Mr. Pink gave us a nice, slick surface to wash on and got rid of months of buildup with ease.
2. Adam's Car Shampoo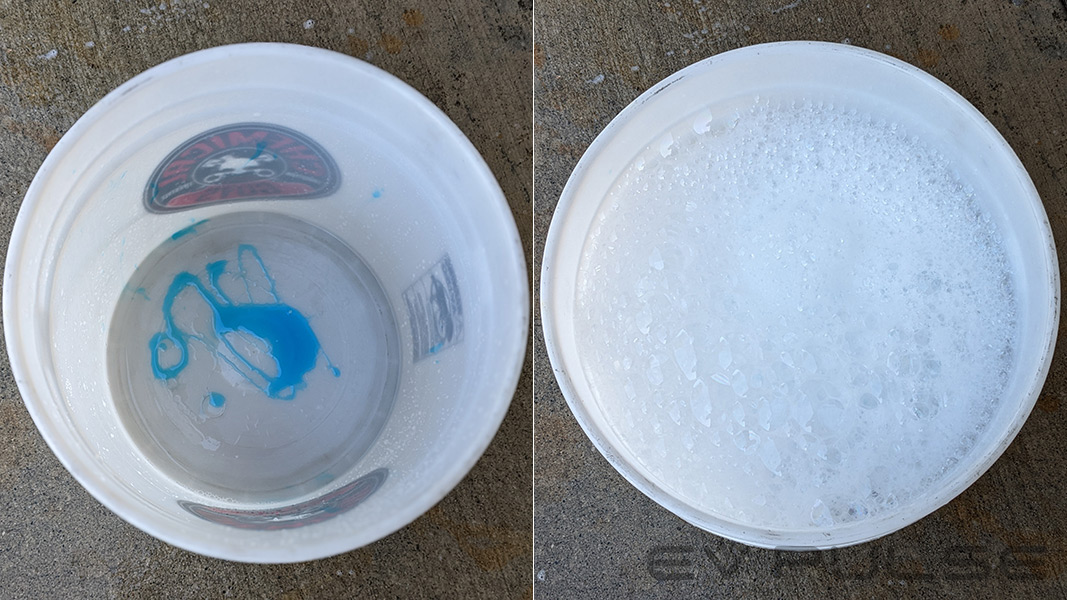 We didn't find any major differences between Adam's Car Shampoo and Chemical Guys Mr. Pink in our bucket test. Both were very sudsy throughout the bucket.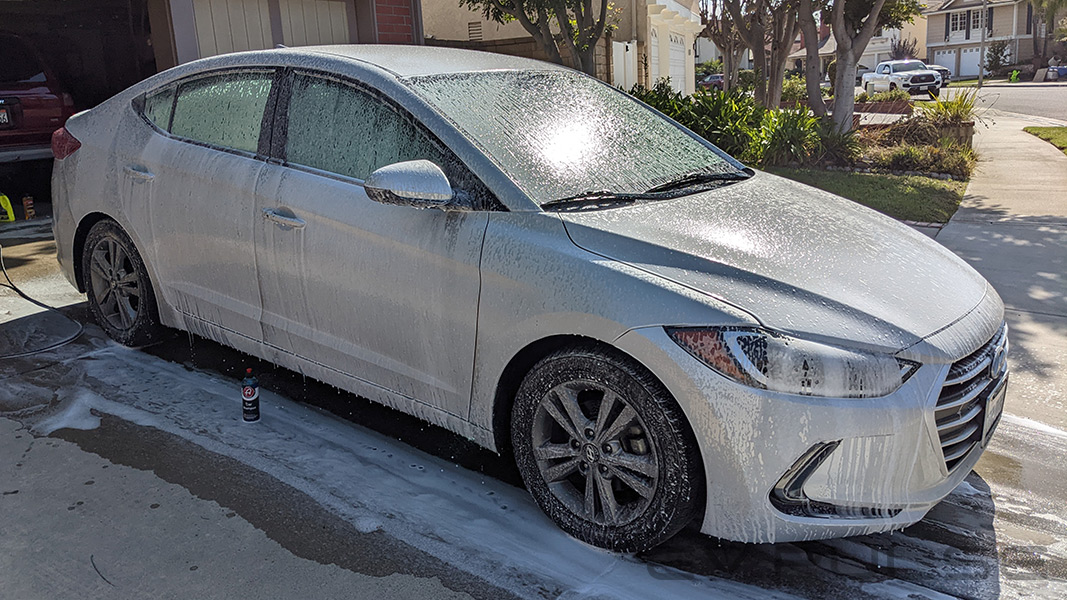 You can tell that a bit more of Adam's Car Shampoo ran off the car after spraying it on with a foam cannon, compared to Chemical Guys Mr. Pink. But it still left a very soapy surface to wash. We'd argue the difference between the two are negligible and either one would provide an easy and safe wash. Again, pricing is a factor in evaluating and ranking our recommendations, as Mr. Pink is typically more affordable.
3. Aero Cosmetics Wash Wax ALL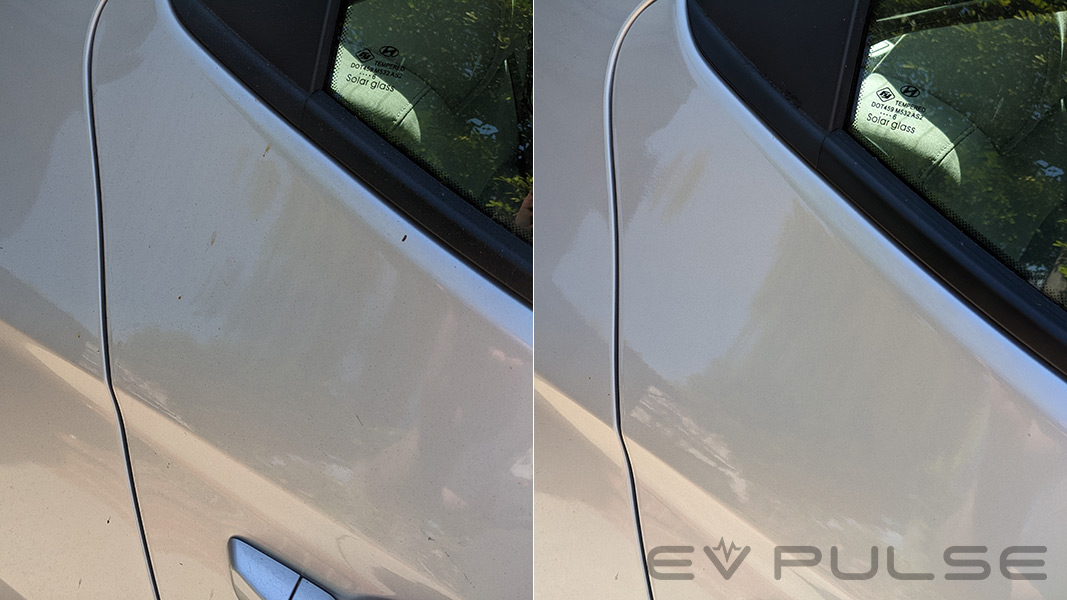 We tested two separate panels using Aero Cosmetics' Wash Wax ALL, and both were evaluated with a single application of the product. That means spraying the area, wiping it off with a damp towel, and then drying the area with a separate towel. Some waterless car washes require additional applications to get the same result.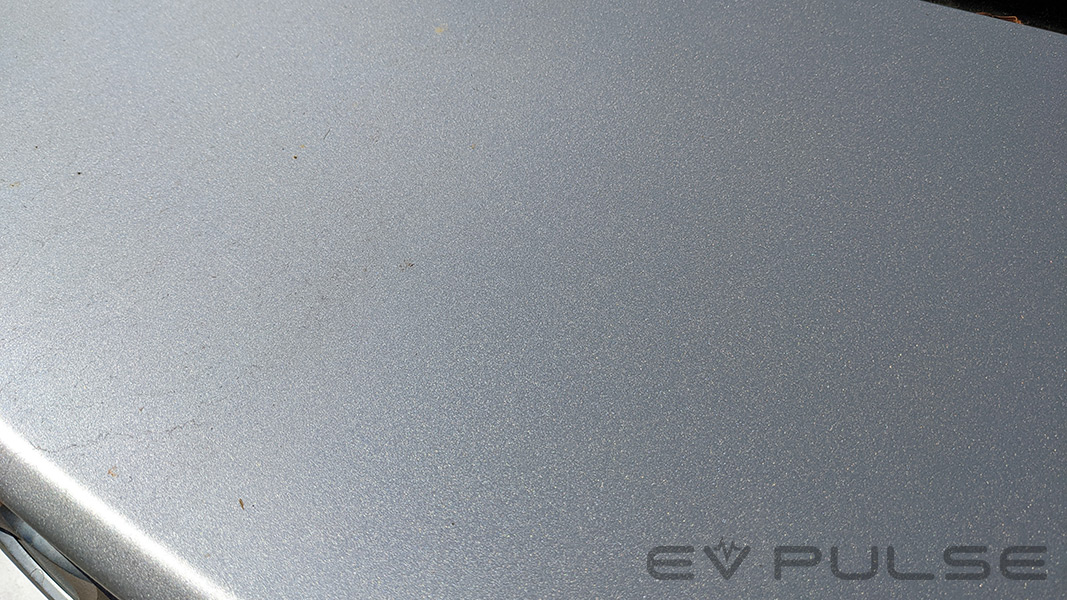 Our test car had months of dirt and grime buildup on the surface, and Aero Cosmetics' Wash Wax ALL made quick work of it. In the above photo, we used the product on half the trunk's surface with a single application. Again, spray on, wipe off with a damp towel, dry with a separate towel. It was very effective in washing our car and didn't leave behind scratches or swirl marks. A significant disadvantage of waterless car washes is that you might need to use a substantial amount of the product for each wash, but this is a natural limitation of the product.
4. Meguiar's Ultimate Wash & Wax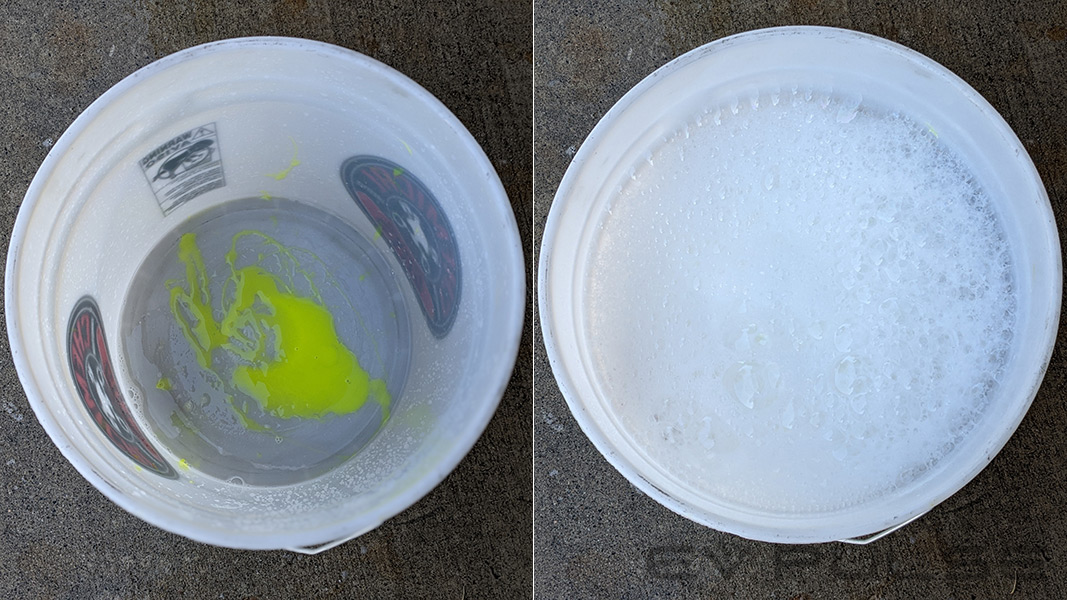 Admittedly, Meguiar's Ultimate Wash & Wax used to be one of my favorite car wash soaps and there are still times I use it. It's a very cost-effective product that works well, but you'll need to use more of it when compared to our top two picks. Meguiar's is one of the most trusted brands in the car care industry and with good reason. It claims to provide additional protection, which is better than none.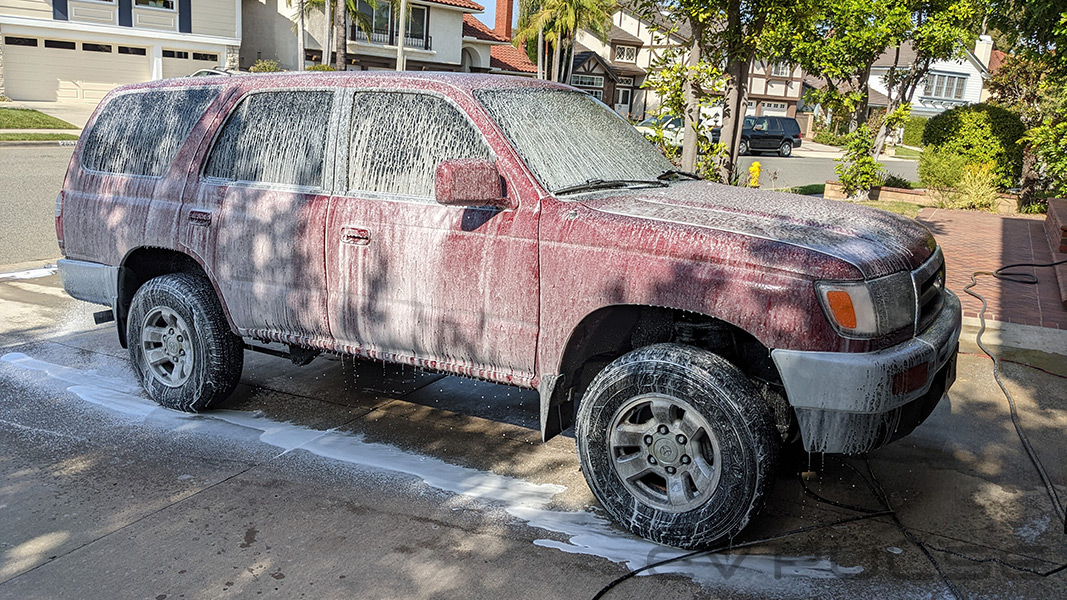 In our foam cannon test, the Meguiar's Ultimate Wash & Wax did a fair job at producing suds, but you can tell it's not as effective as Chemical Guys Mr. Pink or Adam's Car Shampoo. For the price however, it's a good car wash soap that's worth considering, especially if you're a fan of Meguiar's other products.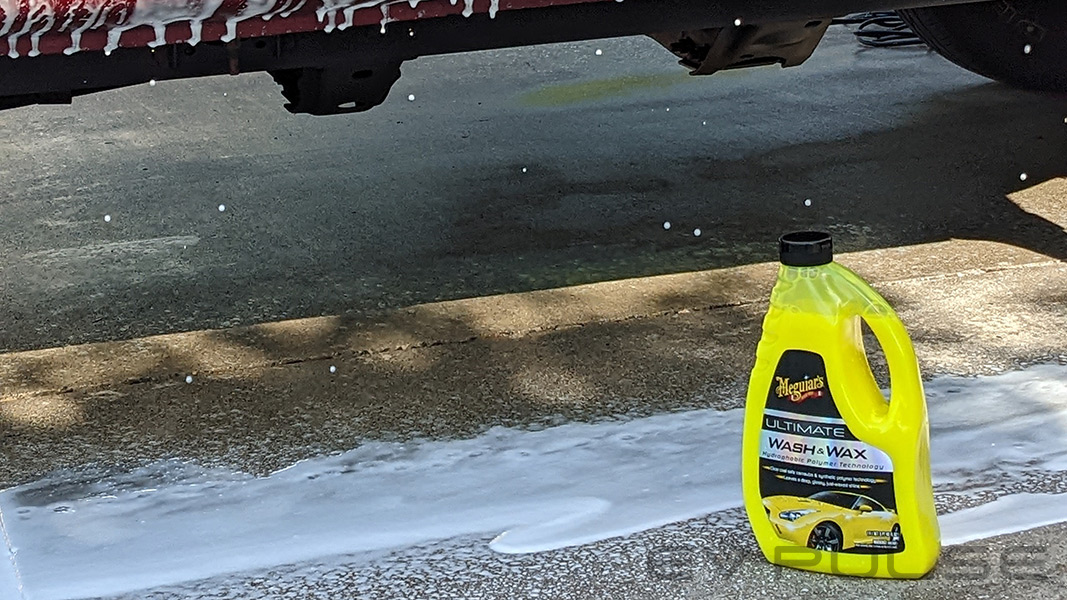 Meguiar's Ultimate Wash & Wax is a good option for EV owners who don't have the time to routinely give their car a fresh coat of wax. While it's not a substitute for a proper wax job, some protection is better than none, as I mentioned before. The solution uses carnauba wax and synthetic polymer technology and it is pH balanced so it won't strip away any existing wax. If you don't have a pressure washer and a foam cannon, this is a good option. It's worth noting that it does have an odd scent to it, that I didn't find very pleasant. This is somewhat strange, as some of Meguiar's products have pleasant scents, unlike this soap.
5. Mothers California Gold Car Wash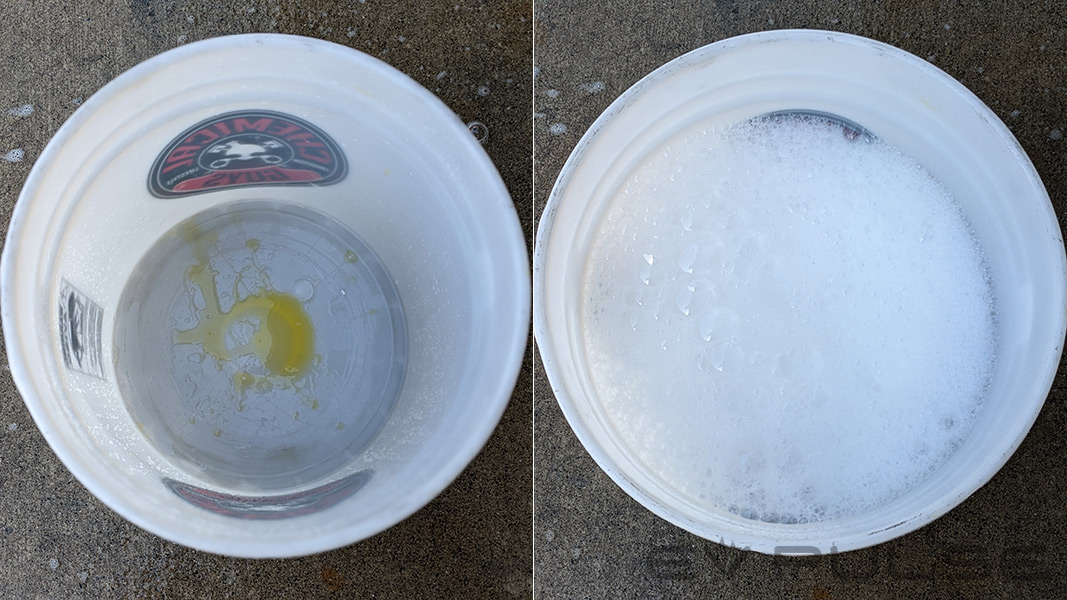 The final product we tested was Mothers California Gold Car Wash. Mothers is another reputable brand within the car care industry, but we found this car wash soap to be a little disappointing. Although it appears in the bucket test that it was just as effective as the others in producing suds, it was definitely the most watered down of all the soaps we tested.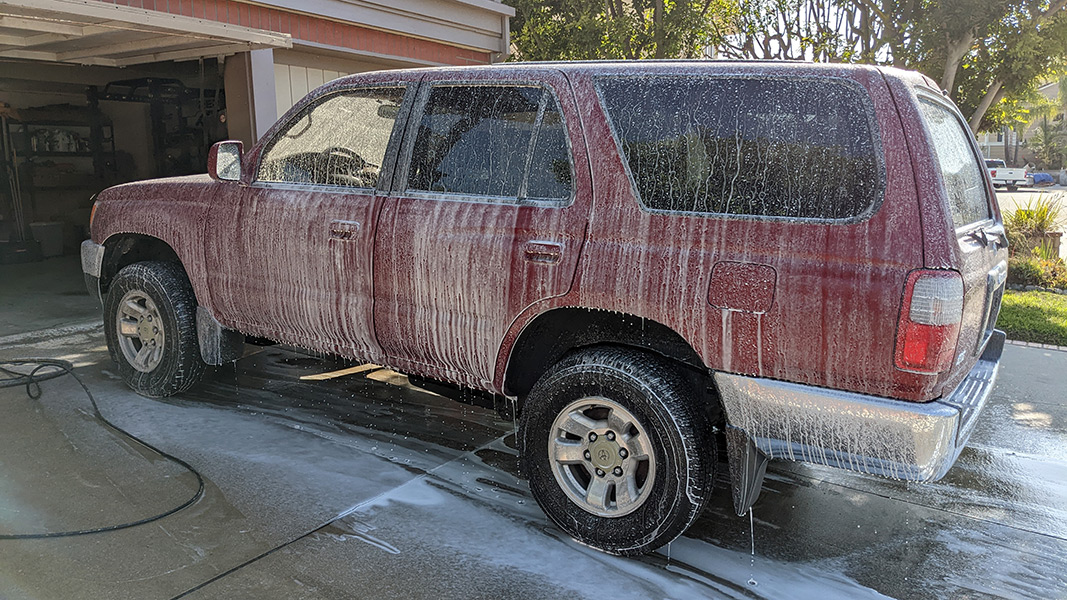 The foam cannon test didn't go as well with Mothers California Gold car wash soap. We suspect you'd have to use a lot more soap for the same layer of foam and suds as Chemical Guys Mr. Pink or Adam's Car Shampoo. To some, this might be good enough to wash their car, but we prefer a better layer of protection before swiping our mitt over the surface.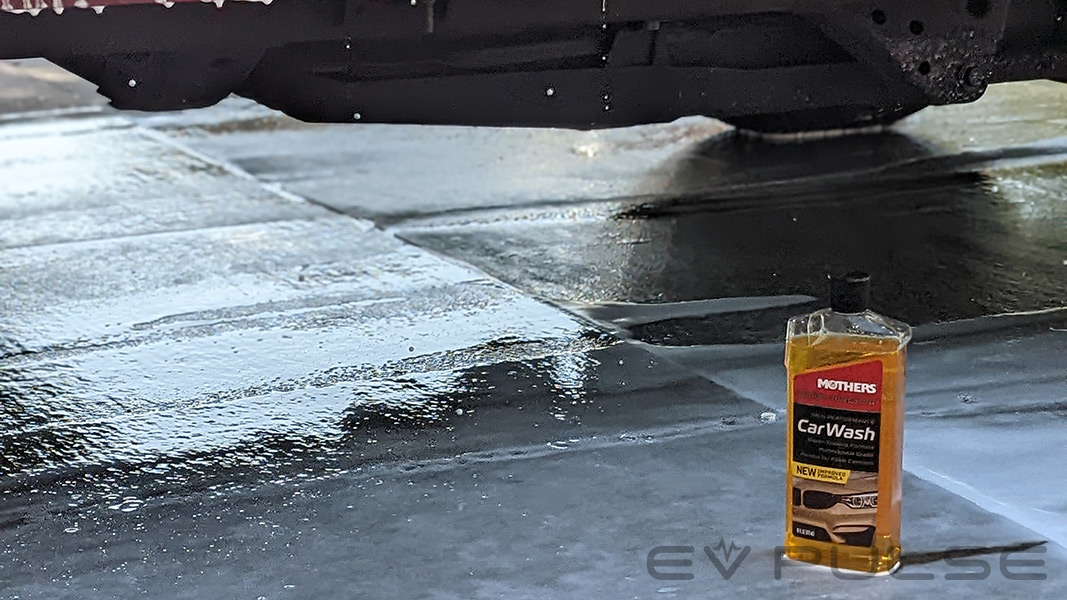 Just because the Mothers California Gold car wash soap wasn't as effective in our testing doesn't mean it's a bad product. In fact, it works just fine, you'd just have to use a bit more of the soap each time. The price and affordability somewhat offsets this, making it a solid recommendation for those on a budget. We'd recommend this if you are skeptical about the promises that more expensive car wash soaps claim. Also, if you routinely wash your car and maintain a coat of wax, this soap is probably all you need.
Like our other recommendations, it's a pH balanced formula that's designed to clean without stripping away your wax, one of the main requirements we have for any car wash soap we recommend. So if you know you're taking good care of the exterior of your car and don't endure a lot of rain and snow, opt for this car wash soap and spend a bit more on wax or even ceramic coating.
What car wash soap works best with a foam cannon?
There are specific car wash soaps that work better with a foam cannon than others. If you're using a pressure washer and a foam cannon to wash your car, stick with either Chemical Guys Mr. Pink or Adam's Car Wash Shampoo, one of our top two recommendations. I've personally used both with a foam cannon and have gotten great results.
What is the difference between car wash soap and regular soap or dishwashing liquid?
The main difference between car wash soap and other soaps is that car wash soap is specifically designed to be safe for use on a car's surface without damaging its paint, clear coat, or any protective wax or sealant layers. Car wash soaps are typically pH-balanced or neutral, ensuring they are gentle on your car's finish.
In contrast, regular soaps and dishwashing liquids have higher pH levels and contain more aggressive detergents that can strip away wax, sealant, or even damage your car's paint and clear coat. Using a car wash soap is essential to avoid risking damage to your vehicle's finish.