When it comes to washing my car, I've already shared recommendations on several products I use. One product I haven't written about is car wash mitts, mainly because many of the quality ones are very similar. But it has recently come to my attention that not everyone uses a microfiber mitt when washing their car, so I decided to compile a list of recommendations for the best car wash mitts.
Again, most of the well-made mitts are very similar, and it wouldn't even surprise me if the majority of them came from the same source. What you do want to look out for though is durability. You should be able to toss your car wash mitt into the washing machine time and time again without it falling apart. You obviously want a mitt that's soft and won't scratch your car while washing it. I highly recommend everyone who washes their own car to own one of these. They're affordable and make washing your car safer and easier.
These are really presented in no particular order and are basically ranked by my personal preference. I have used the top four mitts on this list at one point in time and there aren't any major discernible differences between all of them. The final recommendation on the list is based on user reviews and overall popularity on Amazon.
1. Top pick: Chemical Guys chenille premium microfiber wash mitt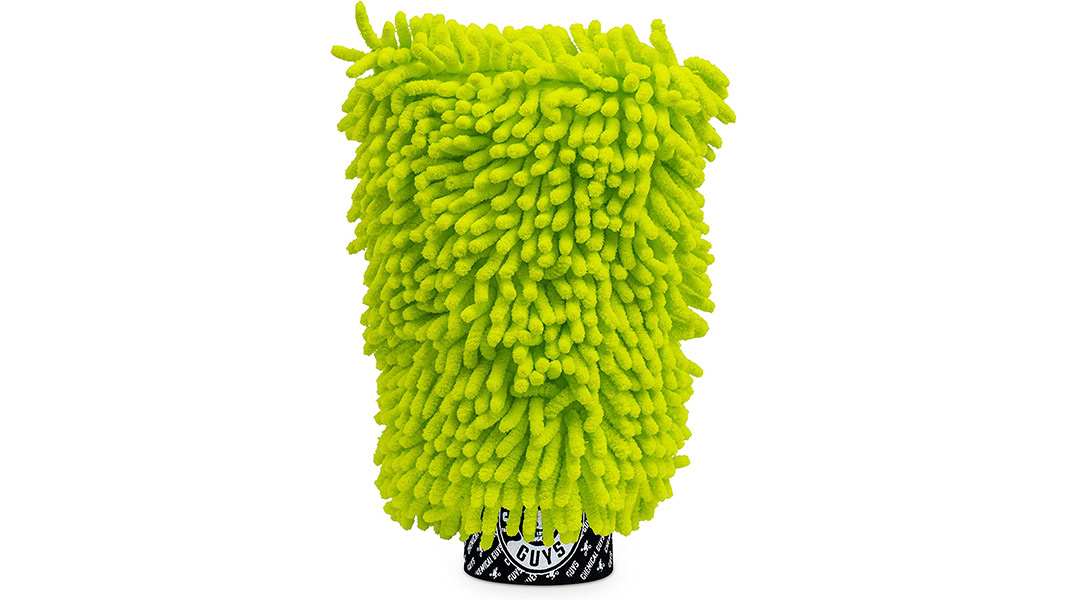 Chemical Guys is one of my favorite brands when it comes to car care products, and it's evident if you have browsed some of my other recommendations. Available in lime green, black, blue, and magenta, my Chemical Guys car wash mitt has lasted me years with no real sign of wear and tear. This mitt uses premium 70/30 blended microfiber and I do have to agree with the claim of offering a gentle, scratch-free wash. I find the elastic cuff to work just fine and overall this mitt is pretty comfortable to use. I haven't tested the newer one with the branded cuff, but I imagine it's pretty much the same as the mitt that I've had for years.
2. Runner-up: Adam's microfiber car wash mitt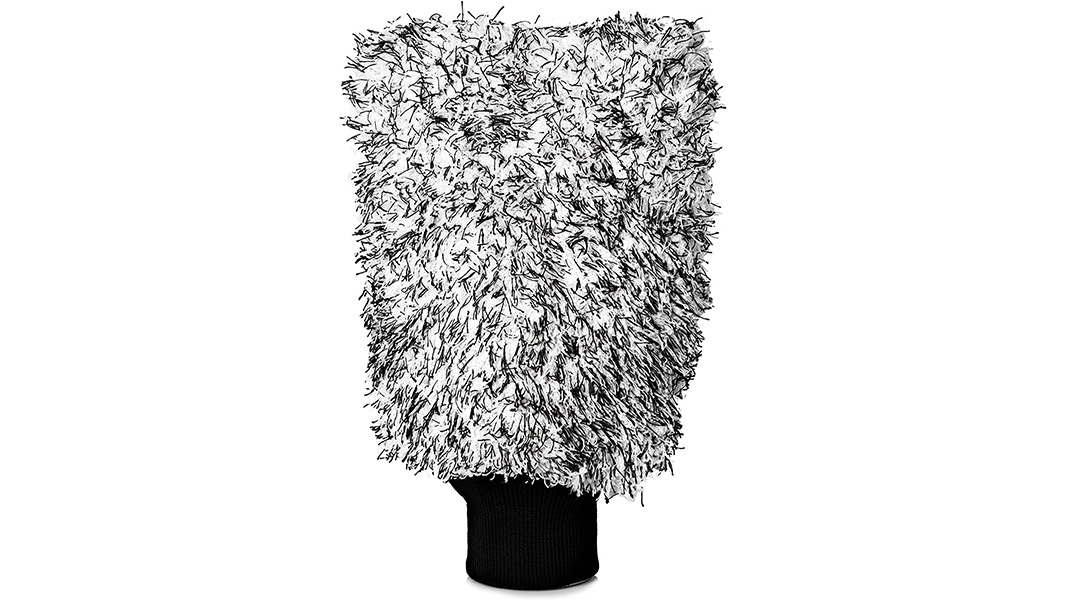 This microfiber car wash mitt from Adam's is a bit different than my top pick. It uses microfiber plush synthetic fur, which is a bit of a different texture than Chemical Guys' mitt. But it works just as well, holding tons of soap as you wash your car. Like my top pick, it uses a premium 70/30 blend of high quality microfiber which is large and dense. A thick elastic cuff helps ensure the mitt stays on your hand while you're washing your car.
Really, the only thing that hurts this mitt is its price. It's really up to you to decide whether or not it's worth the premium.
3. Meguiar's X3002 microfiber wash mitt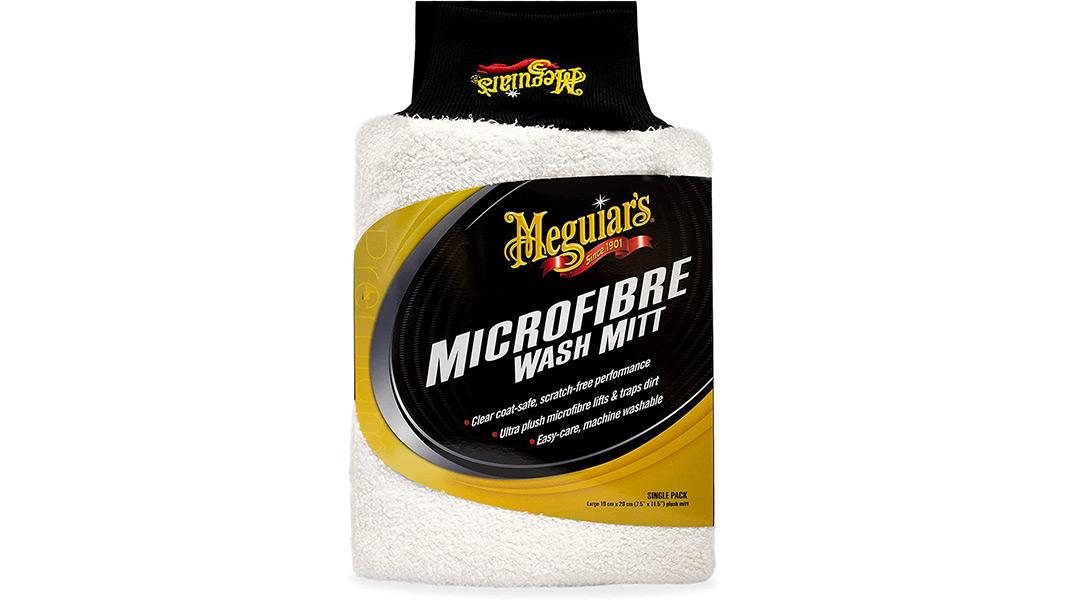 Typically, I recommend products from Meguiar's to those looking for a good value. With a wide assortment of offerings and decades of experience in the industry, Meguiar's is a trusted and dependable brand. You always know what you're going to get with a Meguiar's product: solid performance at a competitive price. However, that price advantage seems non-existent when it comes to a car wash mitt.
I find Meguiar's X3002 microfiber wash mitt to be a more conventional mitt; it's almost like a plush microfiber towel wrapped in a wash mitt shape. There's nothing really wrong with it, but I did find at times it took a little more effort to get stubborn stains off my vehicle when compared to using a chenille wash mitt. But on an average car wash, it's tough to tell a difference. If you use Meguiar's products and have been happy with the results, go for a matching car wash mitt.
4. Mothers premium chenille car wash mitt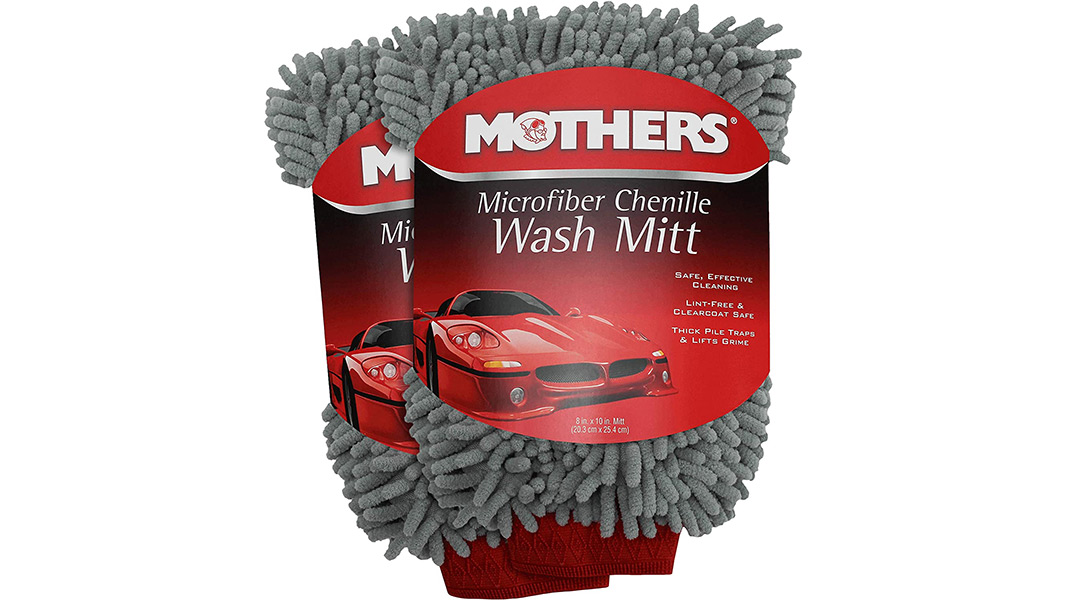 Like Meguiar's, Mothers is another reputable brand within the car care industry and has been around for decades. The company's wash mitt is similar to Chemical Guys, since it's also a microfiber chenille mitt. Truthfully, if I were to do a blind test while washing my car, I likely wouldn't be able to tell the difference between the two in terms of performance.
The main reason why it's further down my list of recommendations is that I don't know how well it holds up after years of use. I know the Chemical Guys mitt can last years with proper care, so I'm much more comfortable putting it at the top.
5. AIDEA microfiber car wash mitt
The final recommendation on this list is based on Amazon user reviews. It comes from a brand named AIDEA, which seems to primarily specialize in home cleaning products. It's a very affordable option since you're basically getting two mitts for the price of one, and they're available in blue, green, and grey. These mitts are also available in different sizes if you have smaller hands, and they're chenille microfiber mitts, just like my top recommendation and my pick from Mothers. They're machine-washable and dryable and have a pretty standard elastic cuff. As I mentioned earlier, I wouldn't be entirely surprised if they were essentially the same mitts as other brands. If you want two mitts at a really affordable price, give these a shot and let us know what you think of them in the comments.
Why do I need a car wash mitt?
I am among those who believe car wash mitts are the best choice for washing your car. A quality mitt, like our recommendations, is gentle and much less likely to scratch your paint compared to a sponge or worse, a brush. Car wash mitts are also better at trapping dirt, which means a cleaner car. Another major reason why I prefer car wash mitts is that you can toss them into the washing machine and dryer once you're finished. They'll last you years with proper care.
How do car wash mitts prevents scratches and swirl marks?
Car wash mitts are able to prevent scratches and swirl marks by lifting and trapping the dirt and grime, instead of pushing it around the surface. A high-quality car wash mitt will have soft, plush fibers that are gentle on your car's paint. They are also designed to hold a large amount of water and soap, which means they'll glide smoothly over your car's paint.
How often should I replace my car wash mitt?
There are multiple factors to consider that will affect how frequently you replace your car wash mitt: the quality of the mitt, frequency of use, and how well it's maintained. High-quality car wash mitts that are properly machine washed and dried after each use can last you several years. But if you're looking for a general rule, I recommend replacing your car wash mitt if there's any sign of wear, damage, or it doesn't seem as effective when it comes to lifting and trapping dirt. Also, you want to look for tears, frays, or thinning of the fibers.