If you're a new parent or expecting to become one, you're probably staring down an overwhelming checklist of items you need before that first trip home from the hospital. Driving with a newborn infant can be stressful if it's your first child, and one often overlooked accessory is a baby car mirror. Designed to help you keep an eye on your rear-facing infant while you're driving, some would argue that these affordable mirrors are a necessity.
As you can imagine, many baby car mirrors in today's marketplace are very similar. There's only so much innovation you can do with a product this basic. Still, there are better quality brands that have mirrors that will last years instead of months. You also want a product that is easy to securely install and adjust, so you're not spending hours getting the ideal view. Lastly, some baby car mirrors can deliver a very distorted view, and those are the ones you want to avoid.
Below, you'll find our picks for the best baby car mirrors, many of which are very similar in terms of specifications and construction. Choose based on the size of the mirror you want, as most of these have the same installation process and offer similar adjustability.
1. Top pick: Shynerk baby car mirror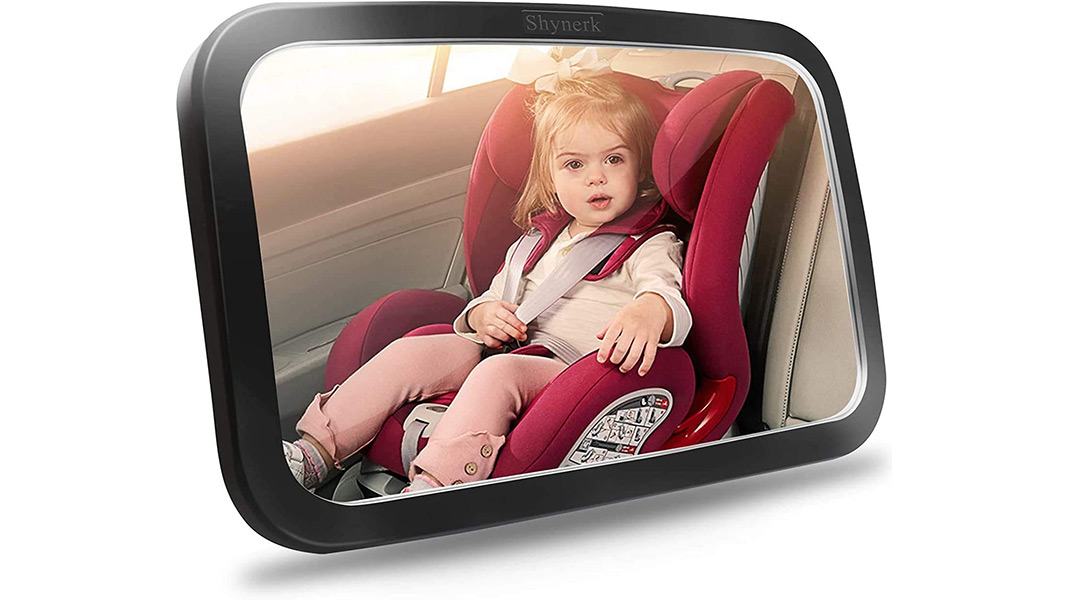 When it comes to ease of use and getting a quality product that lasts, our pick goes to Shynerk's baby car mirror. With tens of thousands of positive reviews, this mirror comes fully assembled right out of the box, so you simply have to strap it to the headrest and adjust the viewing angle to how you need it. The mirror features a 360° pivot, which makes it easy to get the perfect view of your little one while driving.
Constructed from shatterproof acrylic material, the Shynerk baby car mirror delivers a wide angle convex view. This baby mirror works on basically any headrest, whether it's fixed or adjustable. You just have to use the two retaining straps to secure it to the headrest.
Overall, it measures 11.4″ by 3.5″ by 1.2″
2. Runner-up: Onco baby car mirror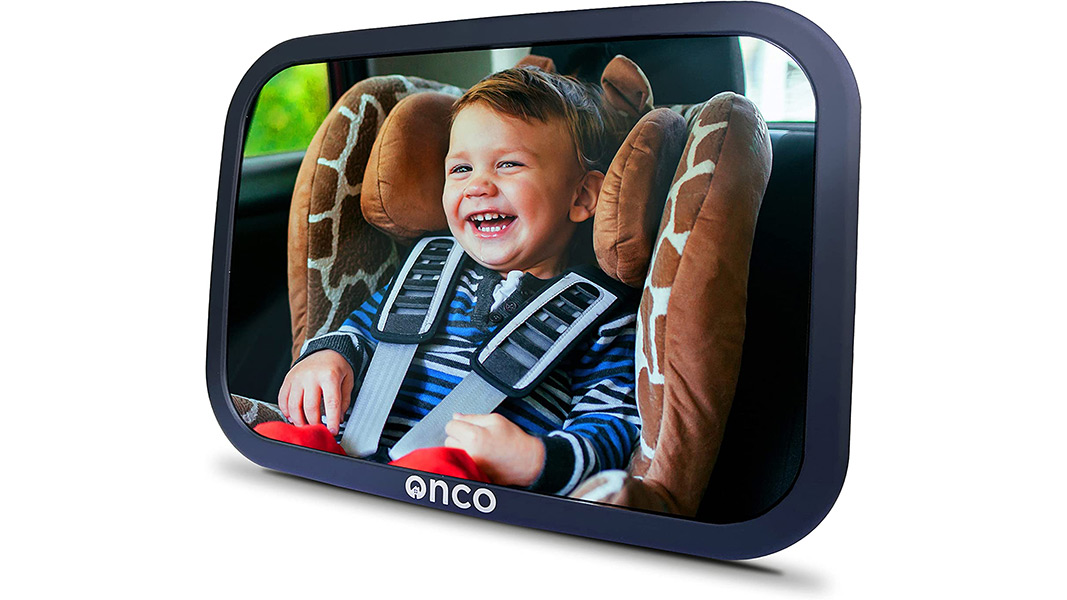 Our runner-up pick comes from Onco, which offers a design closer to a square than the more landscape option from Shynerk. This mirror measures 9.6″ by 6.8″ and attaches to your headrest with two buckle straps. These two straps can be configured in 3 different ways in order to accommodate most vehicles and their headrests.
Like our top pick from Shynerk, this baby car mirror can also be adjusted 360° and is made from 100% shatterproof material. It's a better pick for drivers who want more vertical visibility in their baby car mirror.
3. Best camera: Itomoro baby car mirror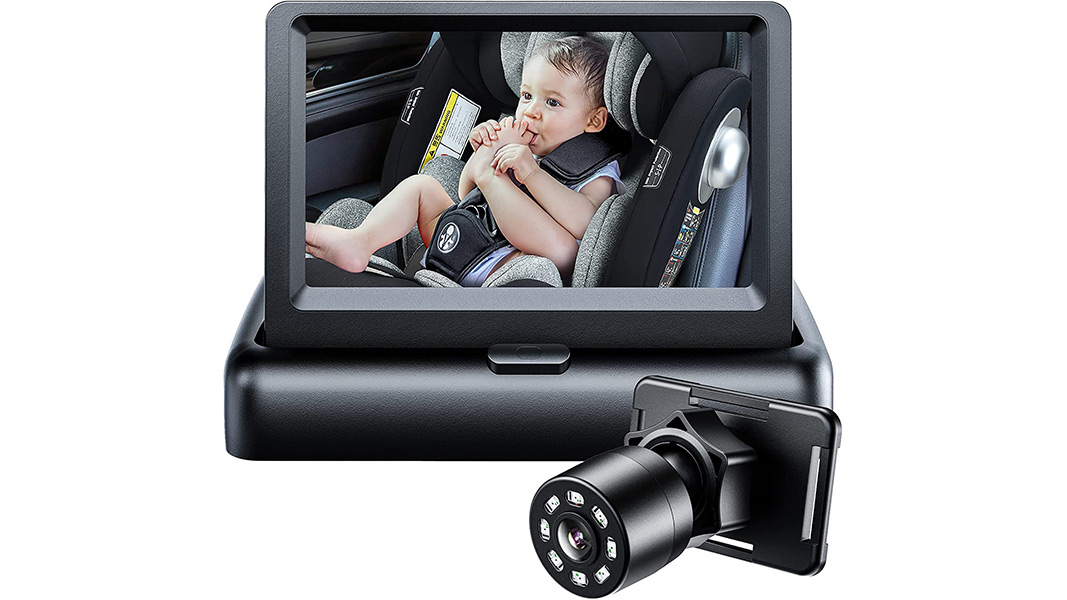 If you don't want a traditional mirror and desire a more high-tech solution, there are a few companies that offer basic and affordable camera systems. Naturally, installation is a bit more complex than simply buckling a mirror to your headrest, but camera systems are arguably safer to use since you don't have to glance at your rearview mirror to check on your infant.
This camera delivers a wide 149° angle of view and the mount can be adjusted 360° so you get the perfect view. For installation, you'll have to run a video cable from the camera to the monitor, which you can install on the dash or the center console. Keep this in mind if you dislike the idea of running cables through the interior of your car.
One major benefit to this system is the night vision mode, which gives you a good picture of your baby in the dark. Many owners find the camera system to be a significant upgrade over a conventional baby car mirror.
4. Best on a budget: Lusso Gear baby car mirror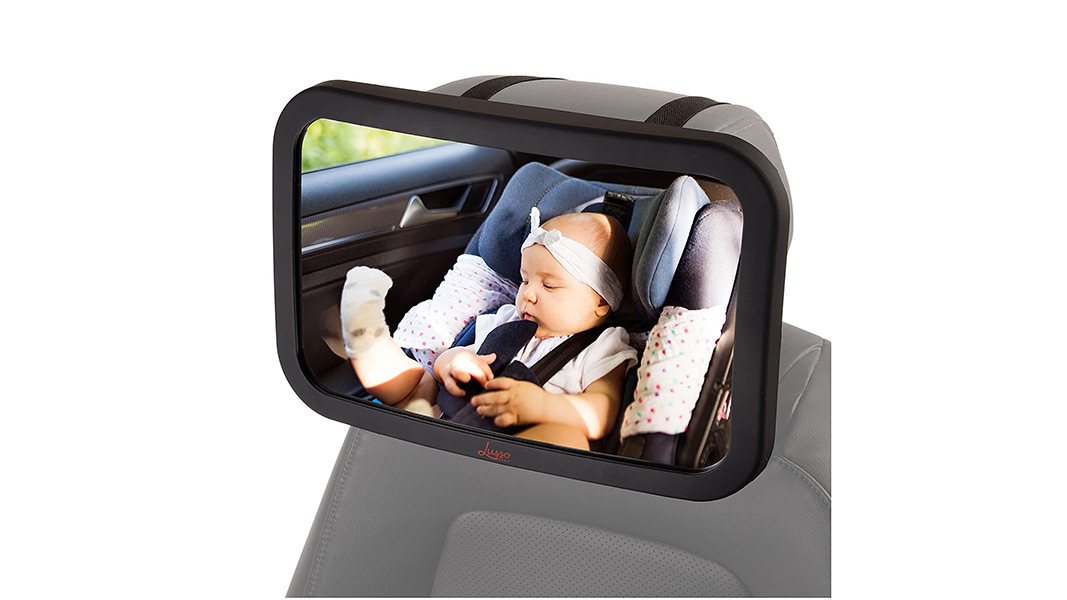 For those shopping on a budget, our best recommendation is Lusso Gear's baby car mirror. While the price difference isn't significant, especially since many of these baby car mirrors are often on sale, every dollar counts. Available in 3 different colors, this mirror measures 11.5″ by 7.5″ and uses 2 buckled straps for installation, much like our other recommendations. It too has a 360° swivel so you can adjust it for the ideal viewing angle, and it's made from shatterproof material so your baby stays safe.
Despite its more affordable price tag, Lusso Gear provides a lifetime warranty with all its accessories. If the size of this baby car mirror makes for a good fit inside your car, this is a great option to save a few bucks.
5. Also consider: Sunferno baby car mirror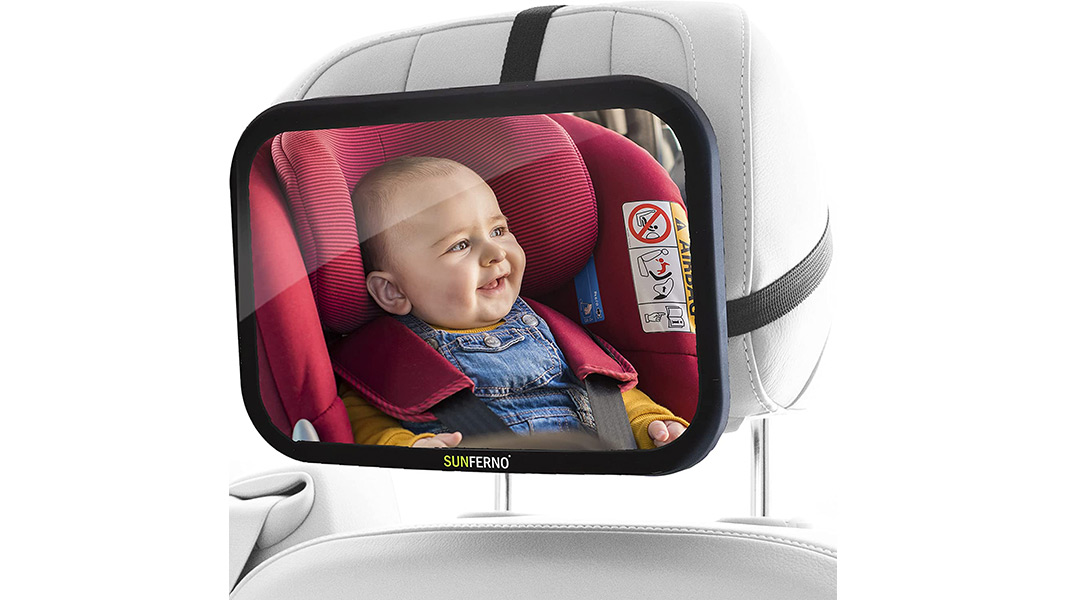 If you've been following along with all of our recommendations, our final one won't have very many surprises. It's often on sale, so it might actually be more affordable than our best on a budget option — so that alone is worth checking out. This mirror measures 9.7″ by 6.9″ and uses 2 straps to attach to your vehicle's headrest.
Like our other recommendations, it's safe to use thanks to its ABS and acrylic construction. Some users have reported that the straps broke after a few months of use, while others experienced issues with the pivot. Sunferno does however include a lifetime satisfaction guarantee, so you can always give it a shot and return it, if it isn't up to your standards.
Why do you need a baby car mirror?
We recommend baby car mirrors because it allows a driver to quickly check on their rear-facing infant without having to turn around entirely. More importantly, parents can monitor their infant's breathing with a quick glance at the rearview mirror. Still, drivers should occasionally turn around to check on their child when it's safe to do so.
What makes for a quality baby car mirror?
When choosing our recommendations, we had a few requirements. The most important factor is that the mirror is constructed from shatterproof material, so your baby stays safe if an accident was to occur. The other factors we looked at were ease of installation and versatility when it comes to adjustment. After all, a baby car mirror is useless if you can't get the perfect view you need of your newborn. We also looked for mirrors that don't have a distorted reflection.
Are baby car mirrors universal?
Many baby car mirrors are designed to be universal products that install onto your car's headrests. There are some products that are designed for a specific type of headrest or car seat. Most of our recommendations use adjustable straps that secure the mirror to a headrest, while some come with an attachment so they can be used on any application. Generally, if you have an adjustable headrest, you'll want to ensure the mirror you're purchasing is compatible with it.