The Annual Easter Jeep Safari is upon us, with the American automaker heading to Moab, Utah from April 1 to April 9 with seven concepts in tow. As part of Jeep's mission of Zero Emission Freedom, four new electrified concept vehicles will be part of this year's Easter Jeep Safari, headlined by the reimagined Jeep Wrangler Magneto 3.0. As the first battery-electric vehicle concept from the Jeep brand, the Wrangler Magneto is rather special and the third iteration is joined by three Jeep 4xe concepts.
"Every year, more than 20,000 Jeep enthusiasts descend on Moab, Utah, for Easter Jeep Safari to wheel in the most extreme off-road conditions, where our engineers continue to push the capability of our Jeep vehicles to next levels," said Jim Morrison, senior vice president and head of Jeep brand North America. "It's the perfect place to showcase our seven new Jeep concepts, because it's with these Jeep enthusiasts that we'll be able to push the limits even more and get their feedback on where they want to take the Jeep brand into the future."
Jeep Wrangler Magneto 3.0 Concept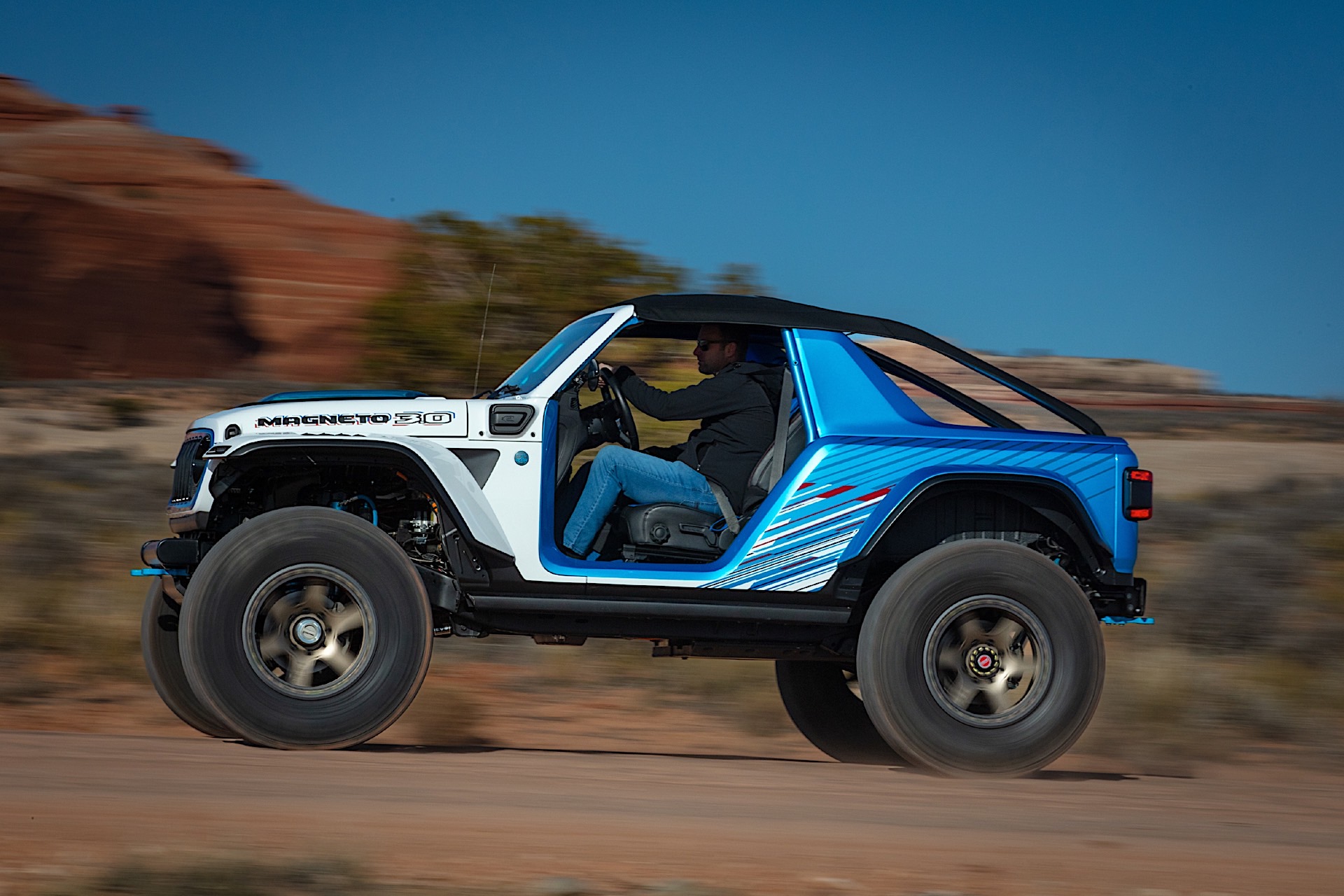 Starting with the star of this year's show — at least in our opinion — is the Jeep Wrangler Magneto 3.0 Concept. The first version of this concept was introduced in 2021, based on the two-door 2020 Jeep Wrangler Rubicon. Magneto 2.0 debuted a year later sporting 625 horsepower and 850 pound-feet of torque. For this year, Jeep added a new, more efficient motor that boosts torque output and updated the concept's programming, resulting in a 20% increase in usable energy and range.
To take advantage of the fully-electric powertrain, the Magneto 3.0 Concept now allows the driver to choose between two power settings: standard and maximum. The former delivers a modest 285 hp and 273 lb-ft of torque, while the latter is the more entertaining 650 hp and 900 lb-ft of torque. Of course, you don't necessarily always want that much performance when you're hitting the off-road trails, which is likely why the standard setting is available.
The two-stage power regeneration mode can be toggled off for normal driving, or enhanced brake regeneration can be used while the electric motor is engaged. Jeep also added an aggressive hill descent mode that offers true one-pedal, off-road driving in rock-crawling scenarios. To look and perform the part of a serious off-roader, the Magneto 3.0 is outfitted with Dynatrac 60 front axles, Dynatrac 80 rear axles, a 3″ lift, and 20″ off-road beadlock wheels wrapped with 40″ mud terrain tires.
An updated paint scheme on the exterior pays homage to all three evolutions of the concept. While the Bright White and Surf Blue motif remains, this version introduces more vibrant exterior details along with red accents. Inside the cabin, Jeep re-trimmed the interior with rich blue leather and red accent stitching to match those new exterior accents. The rear seats have also been tossed away and the floor has been Rhino-lined in Surf Blue.
1978 Jeep Cherokee 4xe Concept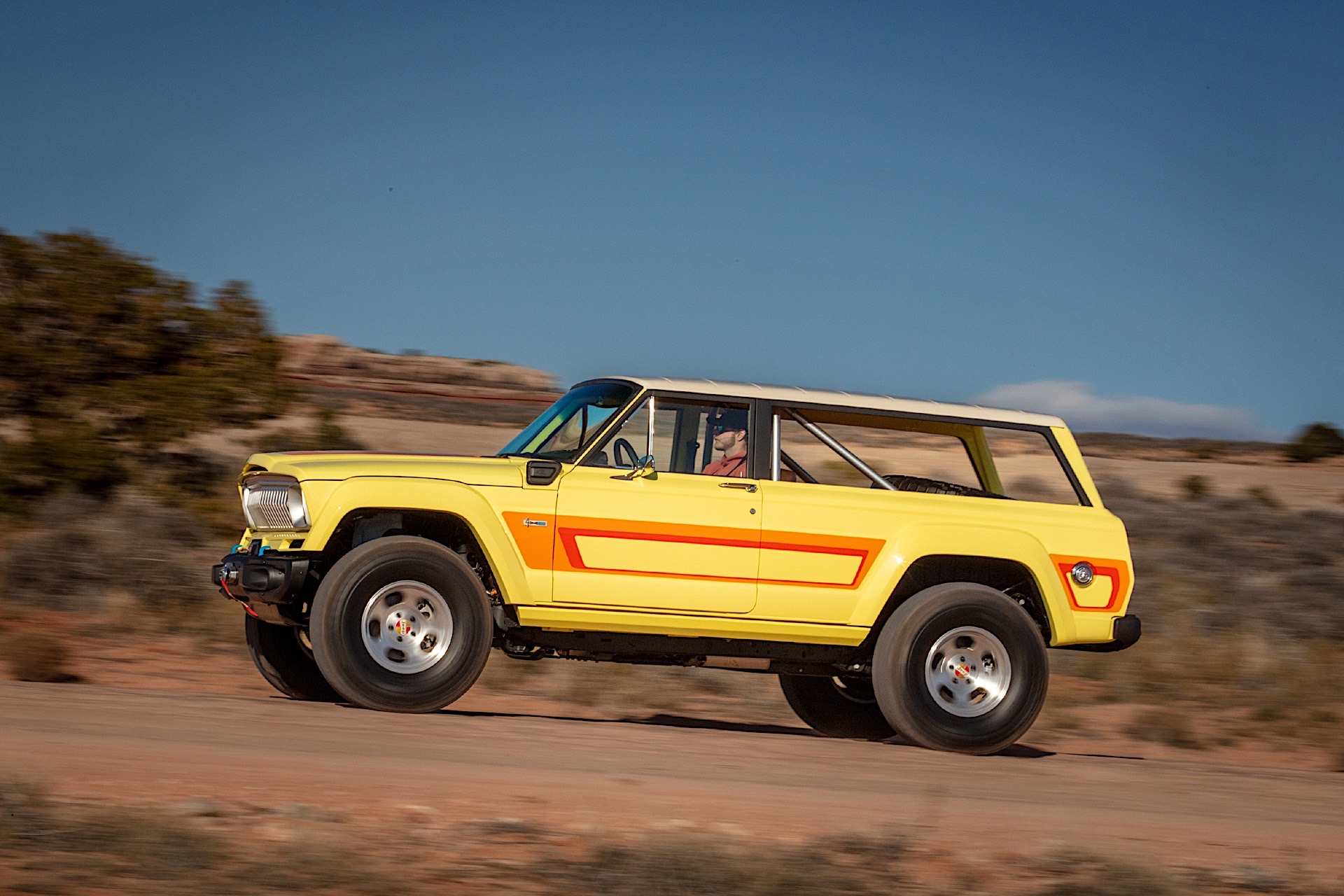 Personally, I love resto-mod projects so this 1978 Jeep Cherokee 4xe Concept appeals strongly to me. Paying homage to the Jeep Cherokee SJ, this first-of-its-kind vehicle reimagines the classic full-size SUV with a modern twist. That twist? The Jeep Wrangler 4xe powertrain has been incorporated under the hood. That means two electric motors, a battery pack, and the 2.0-liter turbocharged four-cylinder engine. All of that is mated to an eight-speed automatic transmission that delivers power to 37″ tires wrapping custom 17″ wheels.
Inside, Jeep gave the interior low-back bucket seats that have been trimmed in leather. The rear bench seat has been deleted and instead there's a four-point safety cage. The rear cargo space has been repurposed to carry a full-size spare tire for emergencies.
Jeep Wrangler Rubicon 4xe Concept
Perhaps the most tame of the four electrified concepts is the Jeep Wrangler Rubicon 4xe Concept. The folks at Jeep decided to take the limited-edition Tuscadero exterior paint that debuted in 2021 on the Jeep Wrangler and turned it up a notch. The result is this eye-catching, pink-hued shade contrasted by Gloss Black accents. The seven-slot front grille was taken from the new Jeep Wrangler Rubicon 20th Anniversary model, and works well with the custom hood graphic that has tone-on-tone print.
But this concept is heading out to Moab, which means some performance upgrades had to be done. An AccuAir air suspension kit allows the 17″ wheels and 37″ tires to fit underneath those fenders. American Expedition Vehicles (AEV) contributed with the Borah wheels, front and rear bumpers, differential covers, and a Warn Zeon winch.
Jeep Wrangler Rubicon 4xe Departure Concept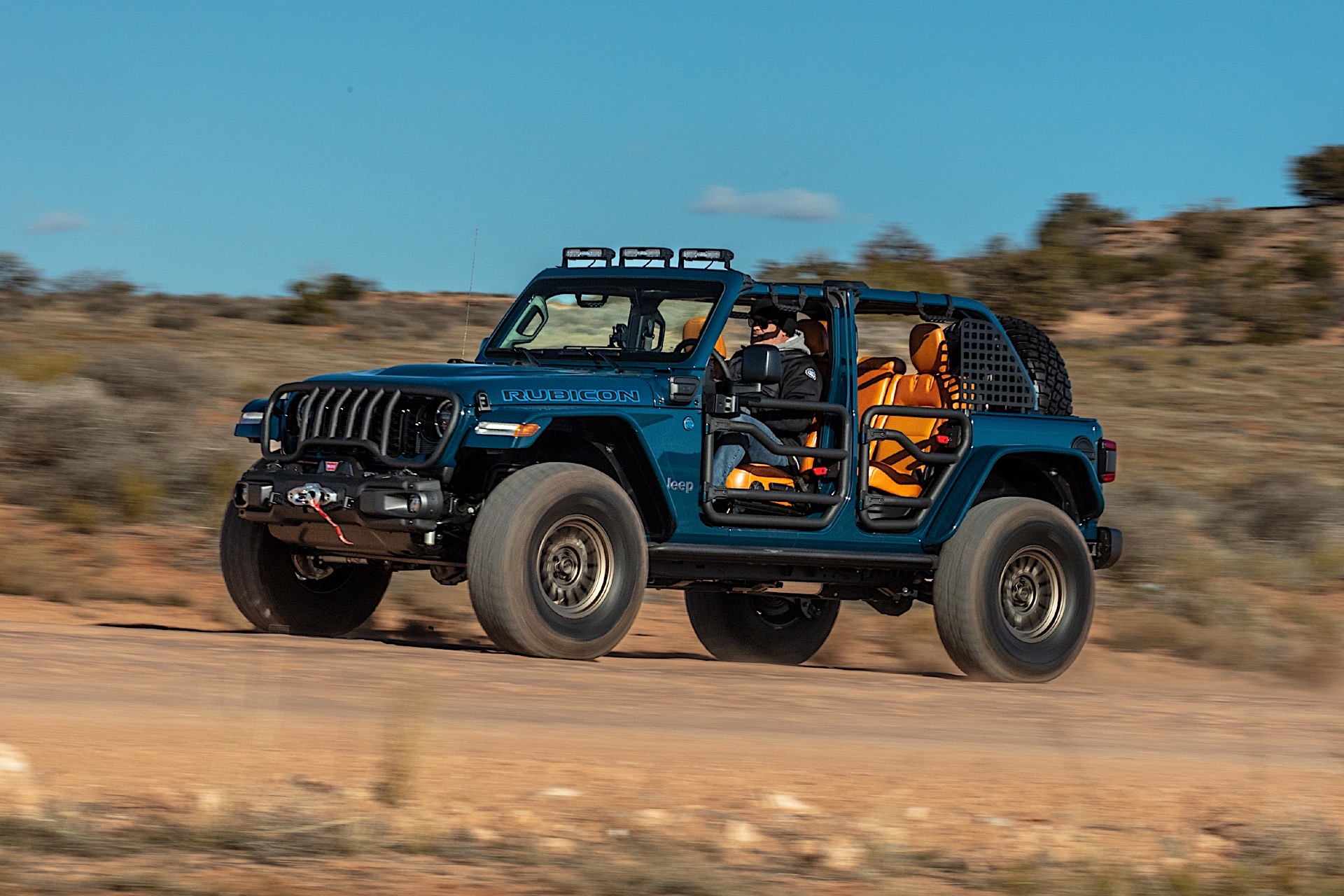 The final electrified concept from Jeep for this year's Easter Safari is the Jeep Wrangler 4xe Departure Concept. Featuring an open-air cockpit, this Wrangler Rubicon 4xe rides on 17″ KMC Impact OL wheels with a vintage bronze finish, wrapped with 37″ BFGoodrich rubber. JPP contributes with a 2″ lift kit, backed with Bilstein performance shocks with remote reservoirs. Other exterior modifications include a custom-designed tubular grille guard that folds down to transform into an innovative bumper bench. Underneath that grille guard is a modified Rubicon bumper with a winch from Warn.
To provide additional clearance for those larger tires, custom flat-fender flares and wheel liners were made. The fender flares also have integral removable daytime-running-light covers. Jeep says this concept boasts the first 50-state legal fender flare with OEM DRL and meets 50-state tire coverage requirements. Further lighting comes from a trio of 11″ TYRI rectangular LED lights that are mounted to the backside of the windshield header.
The blue paint finish is called Dark Harbor and it can also be found on the instrument panel inside the cabin. Speaking of the interior, it boasts Acorn Squash Nappa leather contrasted with darker Carnegie Hall brown Nappa leather, all of which is further accented with off-white Serafil stitching.